AUSTRALIA
2 January 2002 to April 2002
NORTH QUEENSLAND
15 March 2002 to 25 March 2002
As we drove north from Airlie Beach to Townsville we crossed a bridge with a sign that caused shivers. At last we had arrived in the Far North.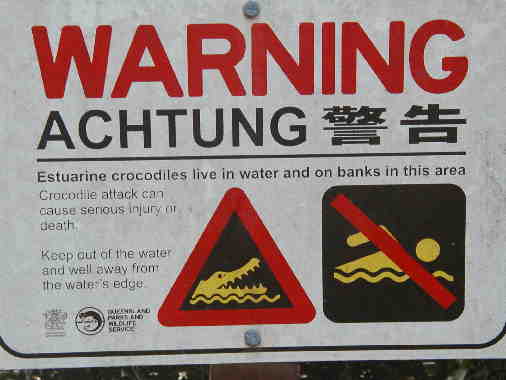 Townsville is an important port and university town, but has little interest for the tourist. The town held a modicum of interest for us as friends of ours, Ilan Paperna, a visiting Professor, and his wife Yael, had spent time at the university there. We went there, as it is the departure point for Magnetic Island, just twenty minutes away by ferry. ( CLICK HERE for Magnetic Island ). We went to the local Sunday market at Flinders Street Mall and enjoyed walking around and looking at the stalls and crafts for sale. A young man playing the didgeridoo fascinated us. The didgeridoo is one of the oldest wind instruments in the world. It is fashioned from a branch of a eucalyptus tree that has been hollowed out by termites. Its vibrating tones are both versatile and quite entrancing when played by an expert. It sounds as if the noise comes from deep within the body.
After we left Townsville, we came across a sign announcing we were entering the Wet Tropics. We spent the next ten days in and out of these pockets of rainforests, among the oldest in the world and a refuge for unique plants and animals that can't survive elsewhere. The land was a mosaic of Wet Tropics, either by the coast or high up inland, cooler and dryer rainforests inland and open savannah.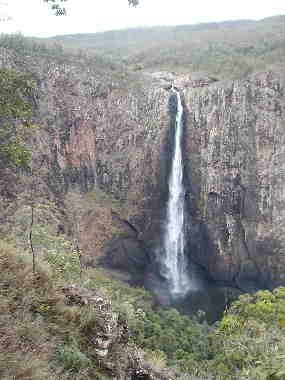 We left the coast and gained height as we drove inland to Lumholtz National Park. The scenery changed from coastal sugarcane to open grassland interspersed with a few trees and beautiful long-eared Brahman cattle. The road was unsealed and although dusty was generally smooth and only rutted in patches. This detour was for Nevat and Ilana Ephraty, our first Israeli friends. Many years ago they were surprised that I, a Durbanite, had not been to Howick Falls 80 km from Durban, which were the second highest falls in the Southern Hemisphere. Wallaman Falls in Lumholtz Park is the highest single drop falls in Australia and we thought a visit to the falls might make up for my lapse so many years ago. The high plateau was cool and part of the wet tropics.
At Wallaman Falls there were signs warning of the need to be fit, as the climb was strenuous and the track treacherous. Undeterred we walked down to the base of the falls, which only took 50 minutes, while the climb back up took 40, so it wasn't bad. More worrisome were the signs about stinging trees, which are prevalent along the path and we were urged not to stray. We'd heard stories of how loggers, if they accidentally fell onto a stinging tree, begged their friends to kill them and put out them out of their misery. We didn't really know how to identify the tree, so we avoided anything with large leaves. At the base we rested and admired the falls that have a 305-meter drop into a large pool. By the time the water reaches the pool it is all spray, hardly making a ripple on the surface of the water. The tension of the water seemed enough to deflect the spray so that it spread out in a cloud. On the way up we met a couple from our Whitsunday outing and chatted – nice to meet some one we 'knew'. Back again at the noticeboard I was glad I'd missed a sign about the amethystine python, the largest snake in Australia that liked to curl up in basket fern epiphytes attached to trees.
This was cassowary country and although there were plenty of signs telling us to slow down we didn't see any. Cassowaries are ratites, related to the ostrich, kiwi, emu and rhea. They have a striking blue casque that helps them move through the rainforest. They are endangered, due to loss of habitat and road accidents. Over seventy species of rainforest trees and shrubs are wholly dependent on the cassowary for seed dispersal and should cassowaries become extinct so will these trees.
We returned to the coast, stopping at Mission Beach. The caravan park was pretty – lots of grass and tall coconut trees. Signs warned of the dangers of coconuts falling on one's head – but this was a danger we could deal with and loved the lushness of the site.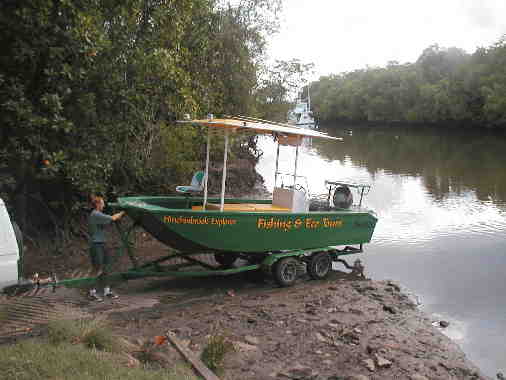 Just before dark we joined a crocodile tour. When asked what were our chances of seeing crocodiles, Dave replied he'd seen 15 the night before. We then knew we wouldn't see much that night. In fact we did see a small crocodile on the bank of the estuary, as well as a crocodile nest. Dave showed us marks in the mud where the dominant male liked to climb ashore. We were amazed because it was so steep, but he assured us that crocs are as agile as cats. When it became dark we were given torches and told to look for the reflector-like eyes of the crocodiles. With his help we did spot a few red eyes in the river. He obviously goes to crocodile-spotting school because to us the river was unrelieved black. It was a delightful evening and we always love to be out looking at nature at night.
Our granddaughters have a delightful ABC book listing strange and wonderful animals. We had already seen a K for kea in New Zealand, an E for echidna, had given up seeing a W for wombat, but still hoped to see a C for cassowary. A walk along wet tropics Lacey Creek ended up as an M for mosquito encounter, but no signs of the elusive bird.
Once more we zigzagged inland, and arrived at Millaa Millaa, in the Atherton Tablelands. It was cool and green everywhere. This was dairy country, but even here there were canefields. Our caravan park had its own little rainforest. The owner of the park told us to look for platypuses early in the morning. While it was still dark Eitan wanted to get up and look for platypuses but I persuaded him to wait a little longer. Just before first light we walked through wet grass to the river and stood very quietly under the trees so as not to disturb the platypuses. As instructed we slowly tore off bits of bread and threw them into the water. We saw signs of things making ripples in the water. Only when it became light did we see that we had gotten up at 6.00am to feed turtles. Not one sign of a platypus. Back at our motorhome we had a few more hours of sleep. There are many beautiful waterfalls in the area and we spent the rest of the day visiting them.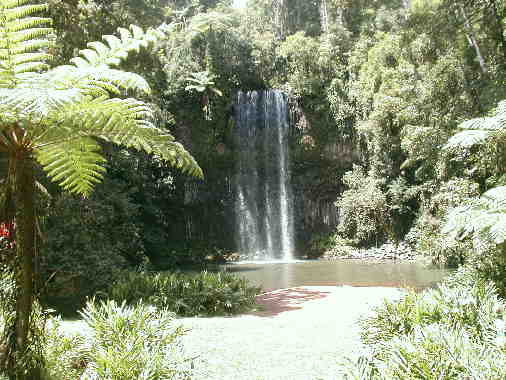 In Mt Hypipamee National Park there is a diatreme crater. The crater was formed by a violent explosion of volcanic gases that escaped through cracks in the granite and burst a hole through the mountain. The sheer-sided hole gapes 80 meters down to water covered with duckweed and continues under the water. It has been likened to the Kimberly Hole in South Africa, but of course that was man made.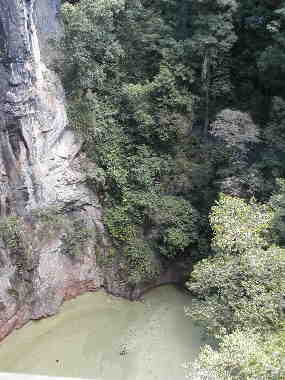 We then drove along the Atherton Tablelands to the Curtain Fig Tree that impressed us no end. A strangler fig was on a tree that collapsed sideways. The strangler fig sent out a curtain of roots down the trunk of the fallen tree, making a curtain effect and the fig then sent shoots straight down the supporting tree which it killed. You can still see the dead trunk with two strangler roots on either side. The curtain fig is 500 years old and a magnificent sight to behold.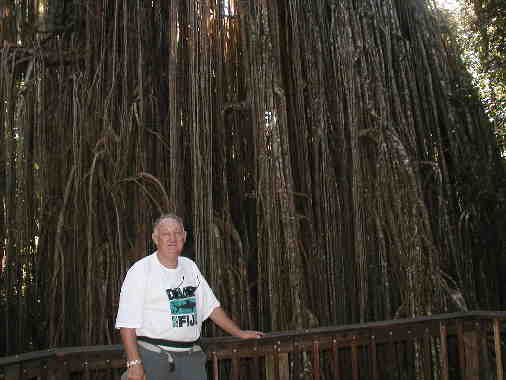 We ended our day at Lake Tinaroo, just outside Atherton. It is a large man-made lake but you wouldn't know it. We booked into the only caravan park on its shores and then went fishing. I caught a little fish and tried to use it as bait to a catch a really large barramundi. Eitan caught a number of small fish. There is no end to the dangers here: a sign warned of blue green algae, and although the owner of the caravan park talked of rains and churned water and assured us the fish we'd caught were okay, we had pasta for dinner.

The following morning we had breakfast, packed up and continued northward, because that's what we do every day. Coffee is grown on the high Atherton Tablelands and we stopped at a coffee plantation. We finally learnt the differences between arabica and robustica beans and the different drying and processing methods. The placards were more interesting than their arabica coffee. Our next stop was at Golden Drop mango wines. We passed acres of clipped mango trees and went inside to the shed. The mango season is over so all was quiet, but the owner explained that most of their mangoes are Kensington Red (a large hairless variety similar to the Israeli Maya) that are packed for local consumption and export. 10% is frozen and used for mango wine, which is fermented and made into dry, semi-sweet and sweet wine; it is not a liqueur. We liked the dry and semi-sweet, both having a hint of mango and surprisingly tasty. A few days later the dry mango wine complemented a stir-fried chicken dish I made.

We continued northward with no clear idea of exactly what to do. The fact that we had to return the motorhome in a week's time was looming large in our thoughts. We looked at the map and decided that we would skirt Port Douglas and drive up to Daintree National Park. Months ago I had read a brochure about it and now we were nearly there. We decided to drive until we got tired and then stop for the night. So we drove along the tablelands, past more sugarcane and a few patches of banana, passing Mt Molloy, Julatten, Mossman, still plenty of light and not tired, until we reached Daintree Village. There was a camping site by the river; we stood by the fence and looked down at the boat ramp and then looked behind us at the steps going up to the toilet. I remembered that crocodiles can travel great distances and are night hunters and I could already see them swarming across the campgrounds. To this we added visions of rundown toilets and decided we'd rather backtrack 15km to a caravan park we had passed on the way. When we saw the sign to the Daintree River ferry, Eitan suggested we go and look at the ferry crossing in case we didn't make it back in the morning.

Then a magical experience started, reminding us why travelling in a motorhome is so special. When we drew up to the river we saw that the ferry had just left. Since it was 6.00pm at a ferry crossing to nowhere, we thought we'd just missed the last ferry for the day. After a short walk about we saw there was a vehicle parked behind us. The driver said the ferry continued until midnight. We asked if we crossed now could we reach a place to stay before dark. He directed us to Cape Kimberley; it had no power but was very pretty, only 5 km along a dirt road that was steep, but do-able in first gear. With that we just managed to jump into our motorhome and drive onto the ferry and in a few seconds we were crossing the Daintree River. A few minutes later we were being urged to drive off the ramp and get going.
We arrived at Club Daintree at Cape Kimberley, a low-key resort with tall palm trees, ginger plants, grass, wooden huts and a glimpse of the sea through the trees. They even had powered sites although the generator switched off at midnight. They were having a hat party that night and we were invited. We parked on the grass and in the last light of the day we walked along the beach, which was lined with coconut palms. No swimming: stingers in the water and in the curve of the bay there were mangroves with crocodiles lurking. Although Annie had assured us that a crocodile hadn't been seen for years, we'd seen the crocodile sign by the river as we drove up. Locals brushed aside our worries saying the mosquitoes had already eaten the crocodiles.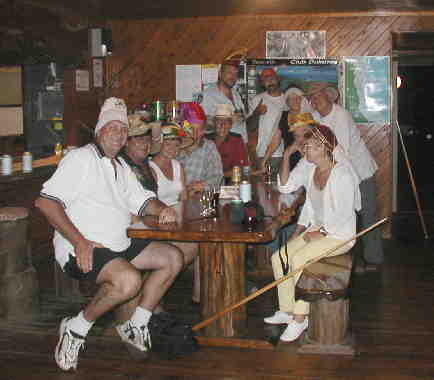 We dressed up in clean clothes, put on our hats and went to the bar. There were about 10 people, all from the area and they greeted us happily, inviting us to join them. Some of them were obviously already quite potted. A few hours and a lot of drinks down the line, Eitan and I were appointed judges for the Best Hat Competition. Both Eitan and I groaned, as we didn't want to have to decide between them. Well, we first asked for a parade of hats and with explanations how they came about their hats and what they wanted to be when they grew up. Then they each had to sing for us. And finally they had to tell a joke. Things were pretty uproarious by then and everyone, including us, was having a great time. Finally the time of judgement arrived. The only way out of the dilemma was to exercise a little diplomacy and give everybody a prize – the best hat, the best joke, the crudest joke, the best performance etc. They didn't mind the silly titles and were delighted that everybody was mentioned. Then there was music and we danced and talked some more. I spoke to Wayne who lived next door who told me about a 6 foot monitor lizard in his garden, an amethystine python whose head he had cut off as it was making his way through a wire fence, wild pigs, huge crocodiles and other delights of living in the wild. We learnt that a tourist at the Daintree Village campsite, where we had decided not to stay, was foolish enough to swim in the river despite warnings. He was never seen again! Horror stories to end a real fun evening.
The following morning despite the grey skies we made our way back to the Daintree River and joined the River Train cruise. A tropical downpour cut out all visibility but didn't deter the mosquitoes! We had come on the river cruise at the suggestion of Chris, one of the partygoers from the night before. He was supposed to be the guide on the river trip and had assured us he would show us crocodiles and snakes. When we boarded the river train Chris, looking worse for wear, lay down on a back seat, covered himself with a tarpaulin and we didn't see him again until the end of the boat ride. Because of the rain we had no expectations of seeing a crocodile, so we were delighted to see a small crocodile in between the roots of mangrove trees and a really large one, 3 meters at least, in the water. Another graduate of crocodile-spotting school! Crocodiles have 48 sets of 64 teeth, but the dominant male on the river is toothless! We also saw some egrets and a tree snake with its yellow belly on the branch of a tree.
Thoroughly delighted with our stay in the area we drove northward towards Cape Tribulation. The road was narrow and windy and we passed many signs warning of cassowaries and floods. This has been the driest wet season for 12 years but we could imagine that huge tracts of the road would be flooded in really heavy rains. Of course we never saw cassowaries but did take a picture of a very funny modified road bump sign.
On the way we stopped at the Daintree Ice cream Factory. For A$3.50 we got a cup with four flavours, blueberry, mango, coconut and wattle seed. The wattle (acacia) was the best ice cream I've had for ages; it tasted like hazelnut. We were surprised at the large number of busses on the road; it was obviously an important tourist destination. We passed little stores, private houses, a tea plantation, a surprising number of lodges and B&B's until we came to Cape Tribulation.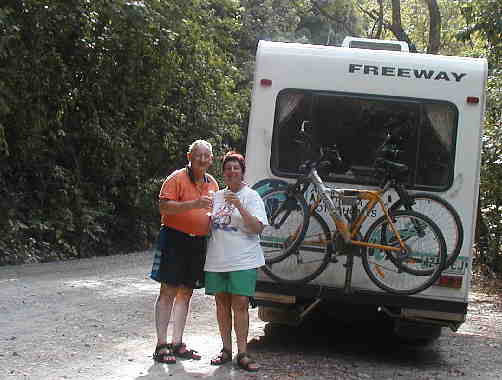 What a name, resonant of so much trouble. In 1770 Captain Cook had floundered on the coral reef here and had it not been for advice of one of his sailors to wrap a sail around the hull, all would have been lost. That advice enabled him to float his ship off the reef at high tide and he later managed to repair his ship. A sign by the beach said that all his troubles started here and it was he who named the area Cape Tribulation and a nearby mountain, Mount Sorrow. We drove until the tarred road stopped. A dirt track, suitable for 4X4 vehicles, continued for some miles but that too stopped. It was, in all senses of the meaning, the end of the road. We haven't done a great amount of mileage: a mere 10,000-km in three months isn't much. But it was quite something to think that three months ago we set out from Adelaide in the general direction of north and today could go no further. We opened our mango wine, made a toast and took a photo and then turned the motorhome around. It seemed quite peculiar to be travelling south – the sun setting to the right of us and the ocean to the left!

It was with a feeling of achievement and also a touch of sadness (not sorrow) that we made our way to Port Douglas, where we met Eitan's relative Daniel and his girlfriend Donna. They took us around Port Douglas and then to Mossman Gorge. We enjoyed the company, the scenery and the picnic lunch (a sample of Daniel's new venture, preparing packed lunches in a backpack.)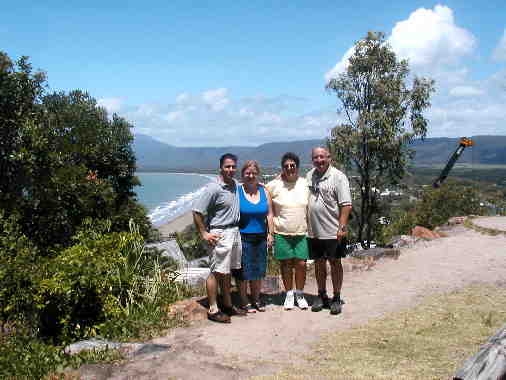 It still will be a few more days until we return the motorhome, but this chapter of our Australian adventure is over.