AUSTRALIA
2 January 2002 to April 2002
NORTH NEW SOUTH WALES & SOUTH QUEENSLAND
16 February 2002 to 27 February 2002
After leaving Hunter Valley wine region we made our way back to the coast. Port Stephens is a huge bay with a number of towns around it. We stayed at Windawoppa caravan park at Hawks Nest, hugging an estuary just off the bay. The following morning we went by ferry to Nelson Bay, on the otherside of the bay. A man who used to live in the area spoke most disparagingly about the ferry, but we found it delightful that the captain veered off course and then stopped so we could view some of the resident dolphins on the way, while being treated to tea and biscuits.
From Nelson Bay we cycled and walked to the top of Tomaree Heads, where gun emplacements stood in 1942, to protect against a Japanese invasion. It was a strenuous walk to the top – 161 meters in 1 kilometer –but well worth it because the view from the top was absolutely magnificent.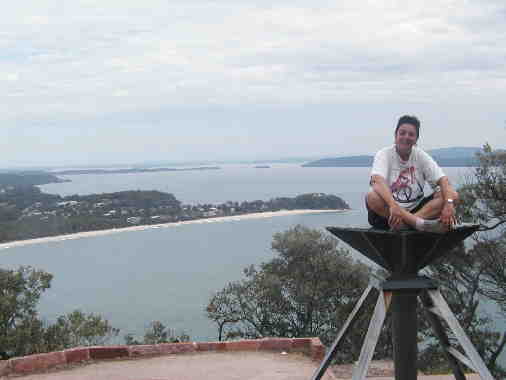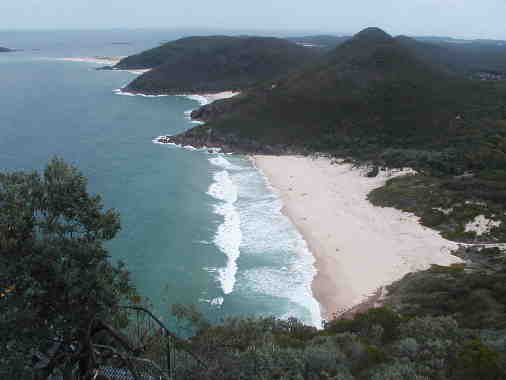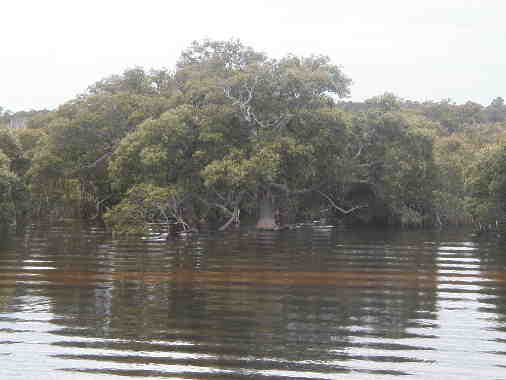 It was most amusing to see Windawoppa quite close by: we had come some 13 km by bike, ferry and foot to see our caravan park only 4 km away as the crow flies. The ferry ride back up the estuary was most interesting. We are not accustomed to the sea flowing into rivers and then receding, baring mudflats until the next tide. This time we could see oyster beds, many birds and huge mangrove trees, real trees. The stillness reflected the golden late afternoon light.
We had heard that there was a chance we would see dingoes, goanas and perhaps some koalas in the campsite, but we were disappointed. People had told us that big male koalas grunt like pigs. Since we thought that pigs snort, we didn't know what to listen for. Late at night we suddenly heard a huge snort - definitely a koala. I rushed outside with my torch but couldn't see anything. It was surprisingly satisfying to hear a koala burp! Winda Woppa!
Our next overnight was at Port Macquarie. When it became dark we walked to the small observatory above our campsite for a lecture. Following the lecture we looked at the stars through two telescopes, seeing Jupiter with its moons and Saturn with its elliptical rings. The lecturer told us about a woman who didn't believe a word he said as she belonged to the flat earth society. He firmly believes that people will be living on Mars in 25 years time. That too seems ridiculous - not getting there, but in such a short time frame. We saw a horrific picture of planet earth surrounded by all the debris in space – the spots of light reflected from all the stuff looked like earth had been given a bubblebath. Sadly, space too is polluted.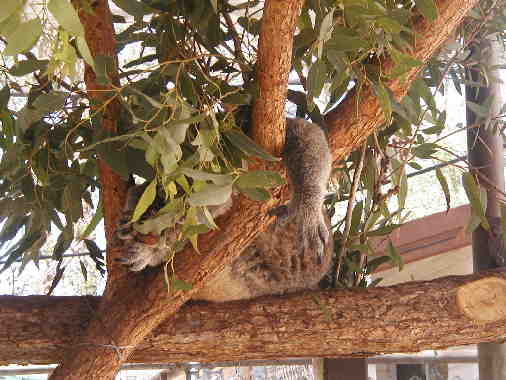 The next morning we went to a koala hospital, run by a volunteer group called Koala Preservation Society of NSW ( http://www.koalahospital.org/ ). The volunteers treat koalas injured by cars, fires etc., as well as those suffering from diseases like conjunctivitis, ticks and wet bottom disease, usually as a result of their habitat being destroyed. The society also plants food trees. Although there are over 500 hundreds of types of eucalypts, only about 30 can be eaten by koalas. In addition they plant tree corridors between isolated eucalypt areas. This is very important as koalas are territorial and the corridors enable young koalas to safely look for their own territory. While we were walking around the hospital trees we saw that koalas have two thumbs on their front paws to help grip tree branches. We adopted an injured koala in our granddaughter Dani's name. She will receive a certificate, a picture and history of "her" koala soon. Many years ago we adopted a dolphin in Vered's name and she loved it.
We passed Taylor's Arm, most famous for this bush ballad by Slim Dusty and Gordon Parsons
"It's lonesome away from your kindred and all
By the campfire at night where the wild dingoes call
But there's nothing so lonesome morbid and drear
Than to stand in the bar of the pub with no beer"
The pub, 100 years later, is called the Pub with No Beer and offers icy beers, a tourist attraction.
Eitan did quite a lot of fishing during this period, fishing in rivers, estuaries, from a boat and even in the sea. He is quite an accomplished fisherman. He caught many fish but brought only a few 'keepers' home. Warned that in Northern Queensland there are saltwater crocodiles in estuaries and even in the sea near rivermouths, I told him that further north there would be no fishing. He is supposed to bring home supper, not become supper to some hungry old croc.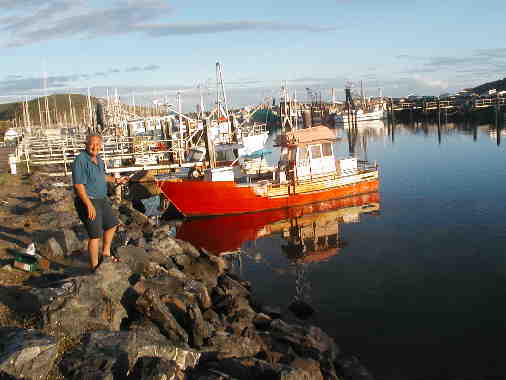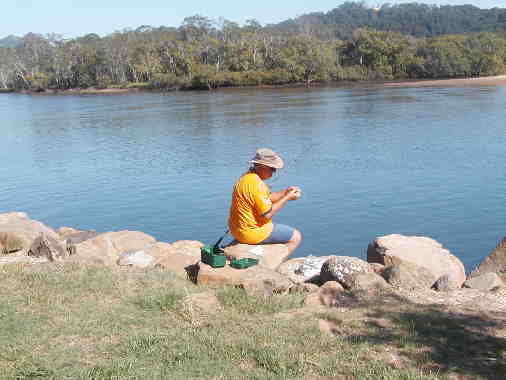 Not every day is wonderful: sometimes bad weather spoils a view or we can't decide what to do or we travel for miles, even hours and are disappointed by the sight of the site. After one such frustrating day I decided that we should spend the night at Woolgoolga. Why? Because it has a large Sikh population and boasts 2 Indian restaurants; a good curry would surely lift our spirits. Sadly we went to sleep feeling even worse that night! But in the morning we went for a swim and found a miles-long sand beach with clear water. Eitan remarked that he's seen people walk their various animals, but a pet shark was something else. We looked again and saw a man had a sand shark's head suspended from a rope that he was pulling over the sand in the shallow water. Another man was pulling out sandworms as they peeped out of their burrows to get a better smell. They would later make excellent bait. That was so funny it set us up for a wonderful day.
We see a lot of signs on the way – like the Big Banana, the Big Lobster, theme parks, and shops, but we never stop. One modest sign made us U-turn and make straight for the shop – "The Humble Pie". They offered a very big selection of savory pies and pasties as well as sweet tarts. We bought a few – beef stroganoff, curry lentil, tofu Thai, veggies and cheese. The pastry was crisp and flaky and the fillings moist and flavorsome. The pies were delicious.
We made a stop at Byron Bay, driving up to the lighthouse, which is the most easterly point in Australia. It was like being on the prow of the Titanic – the high headlands dropping straight down to the Pacific Ocean swirling below. At sea level are the Julian Rocks. Aboriginal tradition explains that a girl and boy from different tribes ran away together and were turned into rocks.
(See also the legend of the Three Sisters who were turned into rocks).
We were advised to stop at the Tweed River Regional Art Gallery. We wanted to see their unique collection of portraits but few were on show. Instead there was an exhibition of photographs "Still Action: The war photography of Damien Parer," who was with Anzac soldiers in Palestine in 1940. It was strange to see photos of Mount Scopus, Nazareth, Haifa, and Gaza so far away from home. It was peculiar to see photos of the land being fought over by people to whom it was just a battleground, a place to destroy the enemy and who have no part of the land today.
A few days after being at Point Byron, the most easterly point of Australia, it seemed a fun thing to climb Mount Warning, which is the first place on the continent touched by the sun's rays when it rises. Eitan didn't mind the height and even doing it in the dark, but when he read that it was strenuous his enthusiasm waned, but we actually did it! We climbed Mt. Warning 1157m in the dark to see the sunrise. We got up at 3.00am and even though it was cloudy and we knew it wouldn't be a good sunrise, we decided to do it since we were already awake.
Eitan said he might stop if it got too strenuous, but it never was an option - even though it was a hard 4-½ km uphill hike with difficult vertical rock climbs. Our shared torch lit the way as we negotiated the rough path up steps and over rocks and between roots of trees. It was really dark; the canopy of trees cut out all light and then later it started to drizzle and mist drifted in between the trees. The torch had to be held pointing downwards to prevent our being dazzled by the mist all around us. The last 200 meters is bare rock. We had to scramble up this part using our hands and feet, no mean feat because it was still totally dark. In one hand we had to hold a torch to find footholds and handholds and use the free hand to cling onto the metal chain and hoist ourselves up. When we reached the peak just before sunrise instead of breathtaking panoramic views of the area we were treated to a whiteout - mist, rain and wind. I don't think the sun rose that day because it never got really light.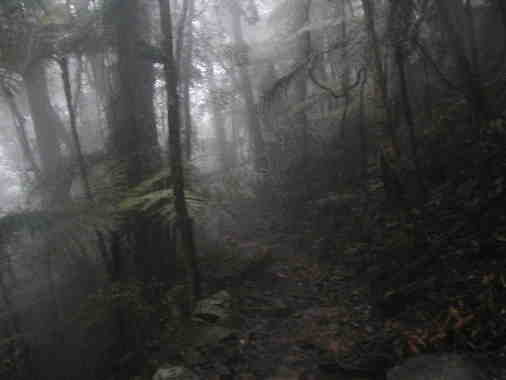 The way back was tricky and treacherous in the misty light and we were most impressed that we had negotiated all that by a narrow beam of torchlight and only lost the path once.
LEECHES!! Back at the motorhome Eitan showed me an effusively bleeding pinprick on his ankle and thought he may have been bitten by a snake, spider or leech. Later, when I was swimming I saw a 2cm black and orange thing with a tapering end on my ankle. With a huge aaargh!! and a flurry of hands I tried to get it off, realizing that this thing hanging from my leg was a leech. Surprised that it wasn't painful and I didn't die, I got out of the pool, showered quickly and briskly walked (didn't run) to the office where the manager picked off the leech. Actually Eitan and I were rather pleased with our single leeches although I would hate to find a bunch of them on my legs as Moran did in Nepal. (www.geocities.com/moranlevy/pages/nepal2001.html ) We shall now include packets of salt in our rainforest emergency hiking kit - salt gets rid of them as quickly as burning we were told. We also learnt that putting soap on your boots prevents the leeches from crawling up but that insect repellant is most effective. (see here for a later encounter with leeches).
We drove north to Surfers Paradise, a Miami Beach-like stretch of highrise buildings strung along miles of beautiful broad beach. The town is a strange mixture of beach culture - surfboard statues commemorate great surfers - alongside world famous expensive shops aiimed at Japanese tourists. We went there because of the Gold Coast Bridge Festival, so that Eitan could meet some of Australia's top Tournament Directors.
We then drove south and inland and spent a delightful two days in the Mount Tambourine area. We were really surprised to find upscale art galleries, sweet shops and Australiana shops in such a small rural community. We did a fabulous two hour rainforest walk, thick with palm trees and ferns, and alive with lyrebirds, log runners and brush turkeys. We even saw a pademelon, a very small kangaroo-like animal.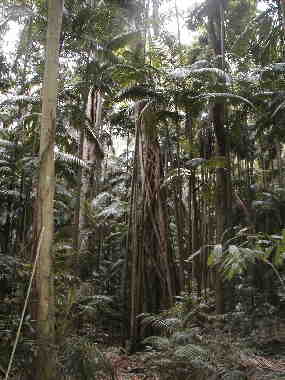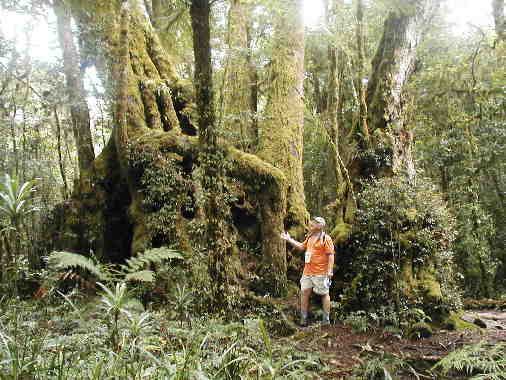 We were really disappointed that we didn't get a photograph of Mount Warning because of the mist. A few days later, at Lamington National Park, we thought ourselves most fortunate when there was an opportunity to hike the Border Track. This is a track that runs along the States' border and affords wonderful views of Mount Warning. So although O'Reilly's, in the Green Mountains, the start of the track, was only 6.3 km away as the crow flies from Bina Burra (where we were camping), it took the bus 1 ½ hours and 67 km to get there and we then had a 6 ½ hour 22km hike back to our campsite . The hike was long but not difficult. The well-graded track meandered through rainforest and eucalyptus forests and from the lookouts there were no wonderful views of Mt Warning, only mist. But we were glad we'd done it because we saw coppices of Antarctic beeches, some 5000 years old. These dinosaur trees are a relic from the past, from a time when the climate was much cooler.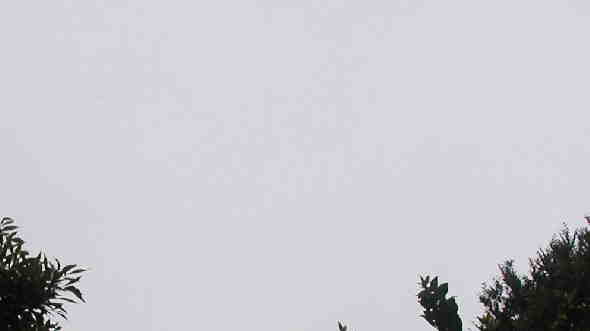 We also walked through moss forests and saw a Lamington Blue Crayfish, a freshwater crustacean that accosted Eitan as he walked along the damp leaf-strewn path. The picture of nothing is variously titled The View from Mount Warning, The View of Mount Warning and a few days later served just as well as The View of the Glass House Mountains.
MORE LEECHES! The hardest thing about the Border Track was the leeches. Hundreds of tiny filament-like worms galloping over our boots whenever we stopped for even a second, hastily making their way to a spot of flesh and blood. Since they weren't like the fat leeches from Mount Warning they were more annoying and unpleasant than frightening and we certainly didn't want them to become fat on us. Lunching with the leeches is what I call this picture.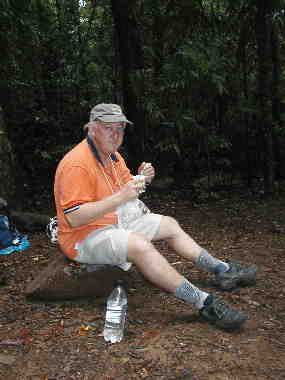 Intrigued by these bloodsuckers Eitan went to an Internet cafe and came back with some fascinating information. The English word leech comes from the Hebrew "aluka" mentioned in the bible. Some species of leeches were so extensively used for medicinal purposes that they nearly became extinct and today are protected species. Even today leeches are used in microsurgery, and are specially bred for this purpose.
While on the subject of animal trivia: at Tweed Heads, on the New South Wales border, we visited an Aboriginal Cultural Center. It is an interesting museum that gives a more rounded view of their culture and the pressures and indignities forced upon them by the Europeans. Aborigines lived off the land and ate seeds and roots, fish and shellfish, kangaroos and also bats. The bats, it seems, had a peculiar habit of determinedly hanging upside down without moving when it rained so the aborigines could literally cut down a branch and take home a string of bats for dinner.
Tweed Heads borders Queensland. In fact the southern side of Boundary Road is Tweed Heads New South Wales and the other side is Coolangata Queensland. At Point Danger in Coolangata there is a park by the sea called Centaur Memorial Park to remember the hospital ship that was sunk by the Japanese in 1940. We were surprised to read that 40 ships, Australian and American, were attacked or sunk by Germans and Japanese in Australian waters. We never realized that Japan, in its quest for Pacific control, tried to capture parts of Australia in WWII.
We headed for Brisbane, once more stopping at Austalia's favourite holiday spot, Surfers' Paradise - this time for a bicycle ride, a sushi meal served by conveyor belt and a great swim in the sea.
Back to Home Page of Round the World Trip
Go to Doreen and Eitan's Home Page