OUR TRIP TO AUSTRALIA 2013

HONG KONG - MELBOURNE - TASMANIA - BANGKOK - MYANMAR
BANGKOK



After Tasmania we decided to avoid the 24 hour direct trip to Tel Aviv, and make a stopover visit in Myanmar (formerly Burma). We overnighted in Bangkok on the way to Myanmar, and had ashort visit on the way back.
Bangkok has two international airports and we arrived at the one and our hotel was at the other. We drove along a raised toll road, but the driver didn't know how to negotiate the four different parallel roads, a railway line and a canal to our hotel. Only after 30 minutes, having driven past our hotel in both directions 4 times, by which time we were very tired and frustrated, did he get into the correct lane and deliver us at our destination. The next morning, with no need for a taxi, we went up the escalator from the hotel lobby, walked for 3 minutes on an air-conditioned bridge over the traffic below and arrived at the departure lounge of the airport, ready for our flight to
Myanmar.
On our return to Bangkok after our Myanmar visit we already knew to take the 3 minute walk to our conveniently situated hotel.
After having a late night with a delicious seafood meal and a walk around the night market, we woke up too late to visit the floating market. Instead we decided to go to Chinatown and shop. We went by sky train and subway and were impressed by the ease of use, efficiency and cleanliness. China town was closed because of the New Year so we walked around and visited yet another Buddha, the Wat Traimit Wittayaram where the Golden Buddha is situated. It was built 700 years ago from solid gold and weighs 5 tons; its value is estimated at over 45 million US dollars! Fearing conquerors the local people covered it in plaster and it was evidently forgotten or thought lost. Only in 1955, when it was moved to its present site, did the plaster break revealing the shining gold.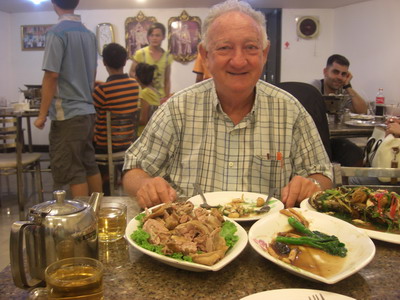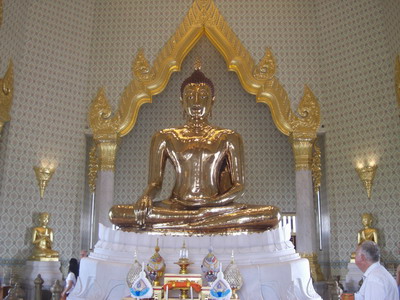 Back

at the hotel we packed and repacked 10 times and then finally made our way to the airport for our flight to Israel. Our holiday was over!
GO TO DOREEN AND EITAN'S HOME PAGE