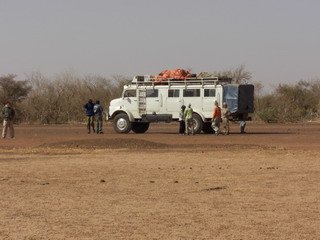 Almost three years ago, when Marianna Pencharz asked me to join her on a trip to Timbuktu, my response was: "Yes, of course," pause: "Where exactly is it?" We have just returned from that long-planned trip to Mali and we have a photo by a sign that says "Welcome to Timbuktu." See This Week's Picture

Towards the end of the trip I was overwhelmed by the poverty, the dust, the black plastic bags that lay scattered all over small hamlets, by visiting a long list of dusty markets and villages, being the butt of the ever persistent vendors, and kids asking for cadeaux.

But distance gives perspective and I look back and appreciate the interesting places we visited. It was a most enjoyable three weeks.
There are over 16 million people living in Mali. Most live on a subsistence level, based on agriculture, fishing or herding, cows or goats. The French were there for almost 100 years until independence and their presence is still felt in the common usage of French as the lingua franca and the surprisingly delicious baguettes and flutes. The distances between places are far and dusty over dirt tracks or piste. Our group of 9 traveled by minivan, jeep, and desert truck as well as 3 glorious days sailing on a pinasse on the Niger River.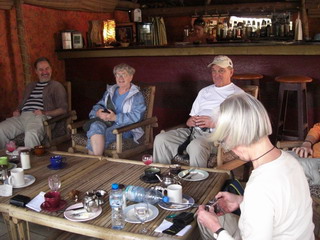 Our party gathered at Bamako where we were introduced. Ian, Janet and Jim relax after at the briefing.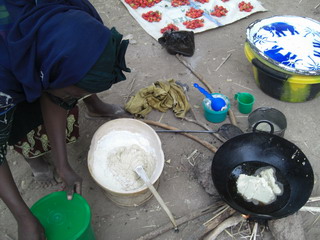 Making our way north we stopped at a Bambara village to see how they make Shea butter or karite. The nuts ripen at the same time as millet and sorghum – the main grains of Mali. The women dig a hole and place the nuts inside. In late January during the dry season, when there is not so much to do, the women take out the nuts and roast them, crack the shells and then pound, cook and purify the meat inside. The resulting shea butter is formed into large slabs. The family sets aside what they need for cooking and other household uses and then sells the rest at markets in spiked balls of shea butter. It is the main oil for cooking and especially useful as it doesn't need refrigeration.
Baobab trees dot the landscape. The trunks are stripped of the bark to make ropes. The branches support woven bee hives. Mali honey is dark and delicious, almost like maple syrup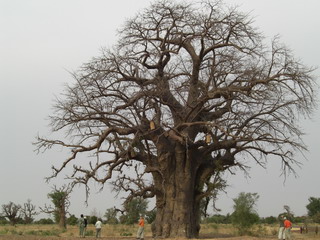 A calabash field. The calabashes will be sold as containers and as units of measure – most places sell dry goods by volume.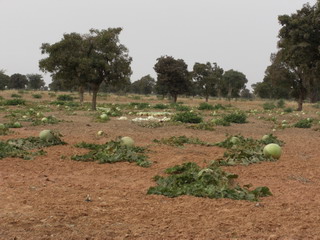 We overnighted at Djenne to see the famous Monday market and mud mosques. The ancient mosque with 100 pillars and numerous towers is made from special deep mud by master masons. The wooden poles are for decoration but also act as scaffolding when the mud plaster is renewed annually by the people. This is a UNESCO World Heritage site and many buildings have been restored by the organization.
Monday market Marlene with our favorite vendor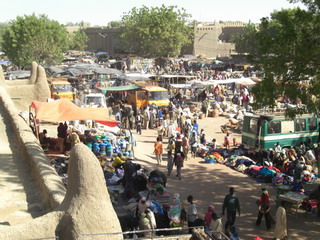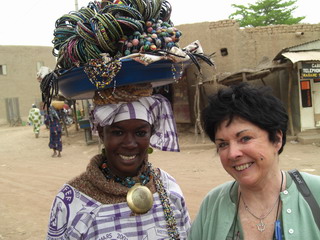 We saw French schools and madrasas where secular studies like math, geography, French etc are taught. Poor parents from outlying areas send their children to towns to study the Koran. The students prepare a wooden board covered with fine mud and then copy a sura from the Koran onto it. After learning it by rote (and not understanding the meaning, we were told) they are tested. Afterwards they re-cover the board and then copy out the next passage. Only as adults will they learn the meaning of what they studied.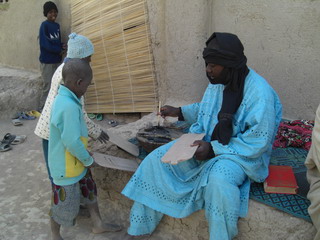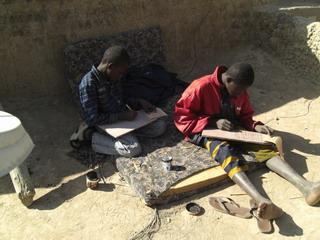 This picture taken in Timbuktu is of Talibe, young children who literally live and learn on the streets. They have no formal education, unlike the children who learn in Madrasas. They walk around with little buckets that the local population (and us tourists) are expected to fill with food for them and their teacher.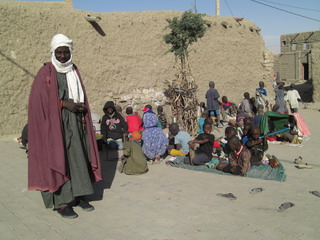 <>
Our next main stop was on the Bandiagara escarpment. We stayed at the delightful La Falaise, with its attractive courtyard and great gingembre or ginger beer. We ate a lot of couscous and rice during our trip as well as stringy chicken and delicious kapitaine or Nile Perch. We also tasted mutton in peanut sauce and yam. The food was generally good but surprisingl;y expensive, like everything else in Mali.

The escarpment, better known as

pay

s Dogon, is home to many animists. Although 90% of the population claims to be Moslem, animism has strong roots in these outlying villages. The village houses, like most of the rest of Mali are made from mud. We visited Songho village. Families live in compounds with a sleeping area, a room for each wife and a toilet. In addition there are a number of thatched granaries, either to store millet or female granaries which act as a treasure kist for the wives. A powerful and rich leader decorates his granary with animal skins, a Dogon ladder and millet sticks. What appears to be a window is actually the only entrance to the granary.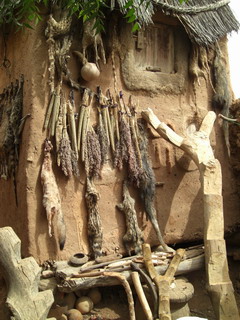 On the ridge above the village there is a circumcision ceremony every three years for boys aged 10-13. They remain secluded for a month and learn adult secrets. They then have a race. The winner is given a granary of millet, the 2nd is promised the most beautiful girl, and the 3rd gets cattle and goats.

Ancient Teli houses above the newer Dogon houses. Today the village is in the valley below but the ancient buildings are still used for storage, burial and ritual.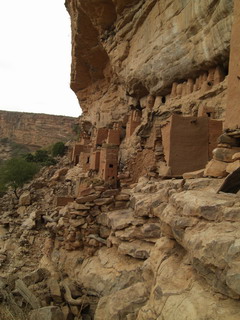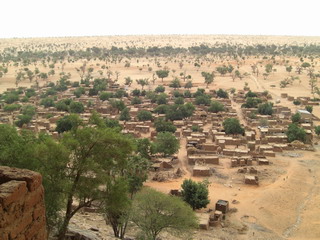 Modern Songho village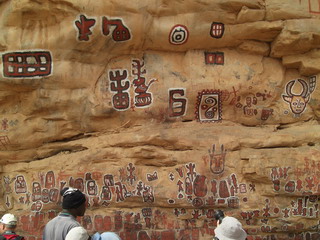 During the month of healing the boys are instructed in how to be a man and how to behave. Circumcised boys don't draw new paintings but repaint ancient ones. Our local guide told us that young girls are also circumcised.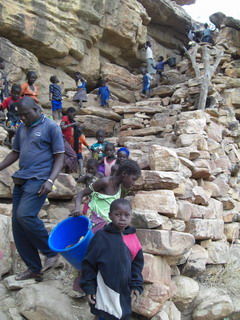 We also visited Neogora a very secluded hillside village. The steps are the only way into the village. Everything has to brought up into the village via these steps.

The roofs are used for drying hibiscus leaves for tea, peppers and calabashes
The tour was quite tiring. Here most of our group gets a welcome afternoon nap before the masked dancing at Emde. The masked dances were extremely powerful; they describe the world and have a strong ritual element. Even today children are not allowed near the dancers lest they identify the dancers.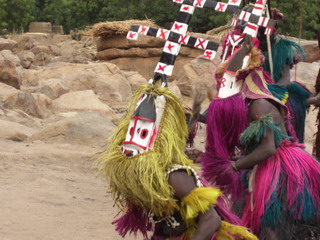 We met a Dogon priest Rojokuma who practises fox divination. In the late afternoon people come and ask him questions. He places sticks and stones in a certain order and scatters peanuts within the squares. At night the jackals come to eat the peanuts. According to their foot prints he is able to divine the future and the correct answer.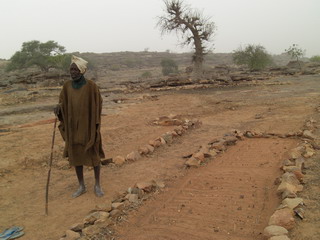 Mopti is one of the main ports. We saw salt slabs from the salt mines in the north, brought to Timbuktu by large camel caravans. Each camel carries 2 slabs on either side. From Timbuktu the salt is taken by boat along the river.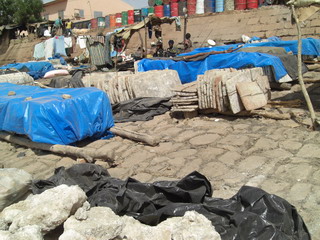 Everywhere we saw and smelled smoked and dried fish. The main fish is tilapia, but also little catfish. The fish were so small; I fear it points to overfishing. The Bozo people are nomadic fisherman. In the dry season when the rivers shrink, they follow the fish and live in temporary huts along the banks of the Niger river.

We also saw many onion fields, part of a US Aid project. Mali exports onions, both fresh and dried. Onions formed the basis of many delicious sauces. Along the river banks we saw people watering the onions by pump but also by calabash. All villages have wells and it is hard work drawing water. Some villages did have hand pumps. In the towns well water is free but there is a charge for drinking water from special pumps.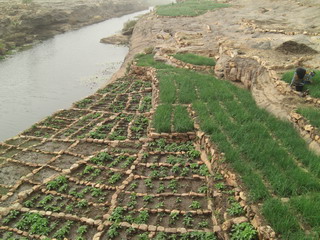 At the boat yard in Mopti we saw how the men shape mahogany planks to make their boats and also how they make nails from the bodies of old cars. Note bicycle wheel bellows.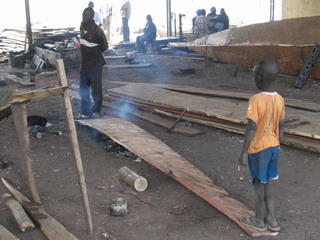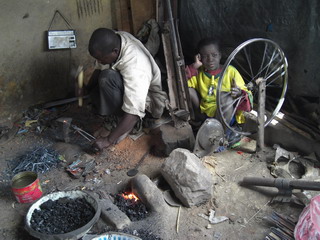 er.
We made our way to Timbuktu via pinasse. It was wonderful to see life on and along the Niger River at eye level. The River has its own rhythm and our captain kept a sharp eye out for shallow banks and often poled to gauge the depth.

A pinasse ferrying people and goods



Camping on the banks of the Niger River Hippos near the river bank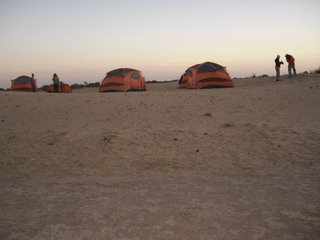 Reaching Timbuktu our group and Ya-ya our guide take a group photograph. The people on tour were very widely traveled. Mali does not top most people's 'must do' list. The group hailed from England, USA, and Canada. All had lived outside their own countries, working in Africa, Australia and the Arctic but particularly in Arab countries. It was a pleasure to share this adventure with such nice people.

Timbuktu's glory is in its mystique and fabulous past. It was a strategic point on the trans-Sahara caravan route, where salt, gold, ivory, and slaves were traded; as well as an important center for Islamic learning. We collected as many Timbuktu stamps on our passports as we could, including from the police and the post office. Even today Timbuktu is on the edge of the Sahara desert and 9 hours by dirt road from the nearest major town. While some rode a camel a few of us walked the dunes to a Tuareg temporary dwelling to enjoy Tuareg tea. It includes an elaborate ceremony of pouring tea from cup to cup and tea pot until it is foaming. Visitors are expected to have 3 cups of tea - one for life, the second for death and the third for love.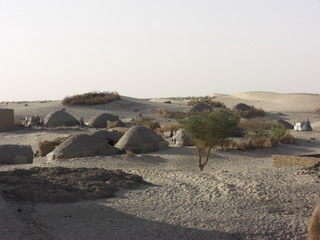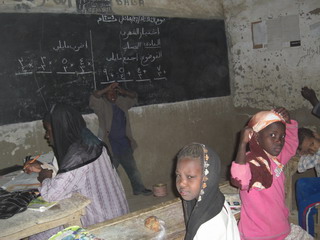 Children learning at a Madrasa in Timbuktu

The sign at the house where Rene Caillie lived in 1828. He was the first foreigner to reach Timbuktu and return alive. He learnt Arabic and Islam, posing as a devout Muslim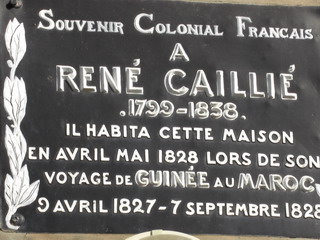 <>
After a long and very dusty ride by desert truck we reached Segou where we attended the Festival on the Niger.
The music festival had 2 parts, the day performances which were free and the evening performances which charged an entrance fee – a hefty 100 euro for visitors. We especially enjoyed the day activities with performances from Mali, Ghana, Burkina Faso, Portugal, Germany, and Mexico. There were troupes of dancers, all dressed up who came and danced if they liked the music. People in the audience would be overcome, get up and dance and then go and sit again. Everybody was there - dignitaries, tourists, locals from all over as well as the ubiquitous vendors who followed us from place to place. It was great fun.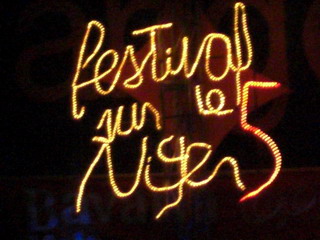 Segou still boasts faded French Colonial buildings. At the municipality we join the staff in some Malian dancing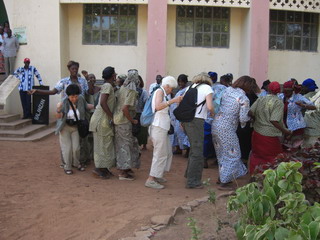 Marianna and Nora admire mud cloth materials drying on the sand as part of the dying process. The spinning is done by women but men weave the cloth in narrow dtrips and then paint them.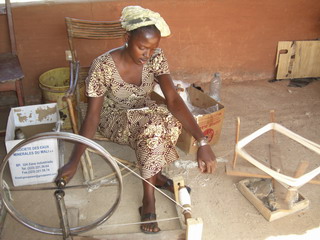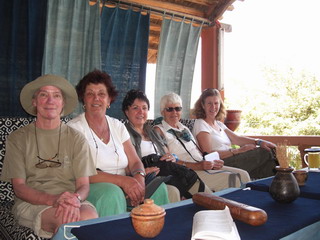 Marianna, me, Marlene, Willi and Nora wait for our ginger beer or hibiscus tea on a porch above the artisans workshop..

We returned to Bamako where the group split up, going home to England, Canada, the States and Willi continuing to Morocco. We look forward to Willi's DVD and Jim's photos.


On the last day in Mali I met up with Sheila Goldberg, a friend from Israel. We spent the day at the fascinating Maison des Artisans and the Fetish market. Sheila enjoys a welcome pineapple drink. We enjoyed a last kapitaine fish dinner at the Pirate with Marlene and Willi. The next morning Sheila and I flew to Addis Ababa where we overnighted before we returned to Israel.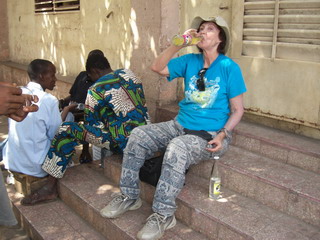 Although Mali does not offer exciting scenery it has many fascinating aspects. We saw a very poor African country where life is hard and daily existence is all consuming. We saw grandiose schemes that petered out and also attempts at grass roots projects which would seem to offer a chance for a better future. Although Moslem, it is a very mild form of Islam and when people found out I was from Israel I was always welcomed.


Should anybody require a guide in Mali, I highly recommend our guide, Yaya Keita. He is fluent in both French and English as well as in local dialects. He is well organized and knowledgeable and was always concerned about our welfare and safety - even when he was suffering from a bout of malaria!

He may be contacted either at +223-(7) 6106009 or via e-mail
bf07ykyaya@yahoo.fr