August 21, 2010 Week 342. (
Go to News August 21, 2010
)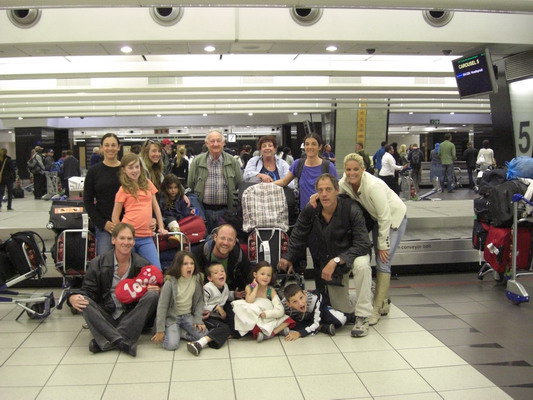 The end of a wonderful trip
(The suitcases on the right are also ours!)
Our family trip to South Africa comes to its end. After three weeks travelling in the Kruger Park, the Sabie area, Durban, Cape Town and Hermanus we arrived in Johannesburg for our last night together in South Africa. It was a wonderful trip, starting off with lions in the Kruger Park and ending with whales of whales in Hermanus. The highlight was the dedication of the Science laboratory at the Magqibagqiba school in memory of Fern Levy. (
see This Week's Picture 14/8/,
and
pictures of the Dedication
.).
---
August 14, 2010 Week 341. (
Go to News August 14, 2010
)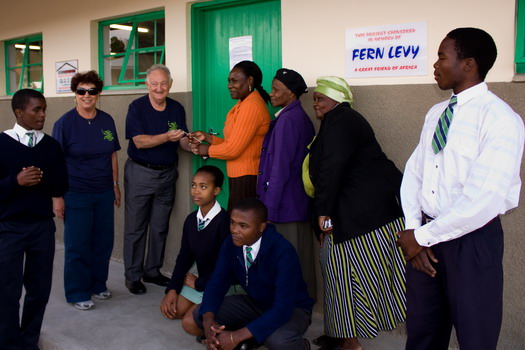 H
anding the key to Miss M.C. Tirivanhu, headmistress of Magqibagqiba Secondary School
and
Mrs Joyce Ngcobo, chairperson of the school governing body.
Before she passed away, my sister Fern asked me to use money she had in South Africa for the furtherance of African education in Kwazulu-Natal, the area we had grown up in. We got in contact with Suzanne Edmunds, the CEO of Project Build, an organization dedicated to the building of school facilities in needy areas. Suzanne is a friend from our school days and was a classmate and friend of Fern. Through her we sponsored the building of four science laboratories in rural areas.
Last Tuesday, the first of these laboratories was dedicated at the Magqibagqiba Secondary School, in the district of Inanda.
The other three laboratories will be at
Ethangeni Secondary School in Dundee, Usizo High School in Tugela and Makhanda High School in Port Shepstone.
Link to
more on the Dedication Ceremony plus pictures
Link to
Fern's Memorial Page
See also
This Week's Picture 22 May 2010
---
August 7, 2010 Week 340. (
Go to News August 7, 2010
)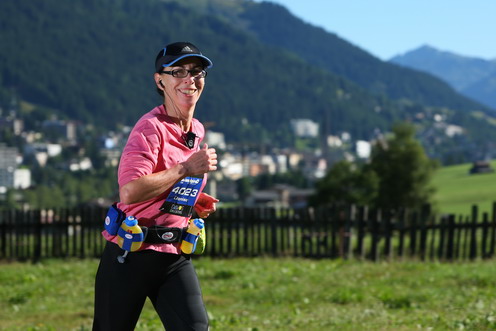 Denise Braverman running the Swiss Alpine Marathon
Brava, Denise! The Swiss Alpine Marathon in Davos, Switzerland is known for its multiple sport events ranging from 78Km ultra marathon, 42Km European highest altitude marathon, 42Km culture marathon, 21Km walk and 2.1Km mini for kids. Denise successfully completed her first full marathon, the 42K culture marathon.

Denise writes:

Though the days preceding the run were bitterly cold and mostly rainy, the marathon day was beautiful, not a cloud in the sky and great running conditions in comparison to running in the Israeli heat and humidity.
Still recovering from a knee injury, I took the scenic 42K culture marathon route, including photo stops
and made it to the finish line with a BIG smile after 5 hours and 26 minutes.



We're proud of you, Denise. Not only is this your first full marathon - it's also to the best of my knowledge the first full marathon in our family.

You can see the actual route at
http://connect.garmin.com/activity/43136491
(see
Glezer
,
Nochimovicz
,
Schank
family trees)
---
July 31, 2010 Week 339. (
Go to News July 31, 2010
)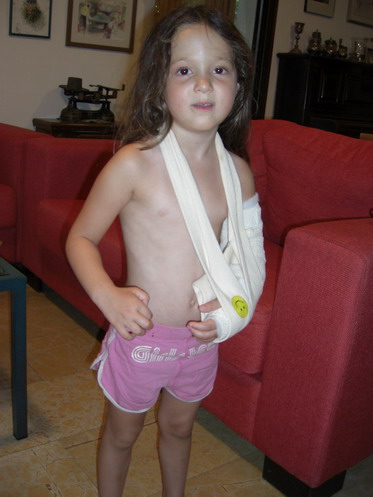 Well, we have started our family South African trip. Or, at least most of us. Poor Lotem Segoli fell off a jungle jim 3 days before the flight to SA and broke her arm in two places. Her arm is in a cast and she may need an operation in a few days. If all goes well, she and Dad Moran, who has stayed behind with her, will fly to South Africa a week late. They'll miss the Kruger Park, but will spend nearly two days in the Hluhluwe Park in northern KwaZulu-Natal.
---
July 24, 2010 Week 338. (
Go to News July 24, 2010
)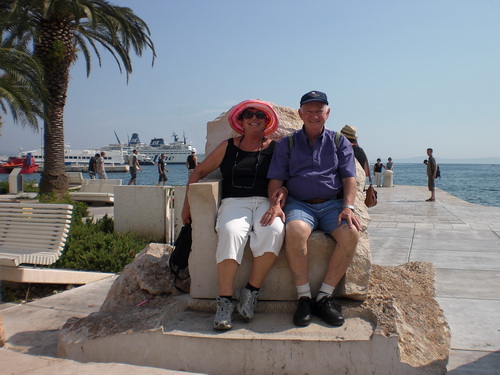 On our visit to Croatia, in Split, we walked to the waterfront, busy with ferry traffic, to the south of Diocletian's Palace. We had done a lot of walking and were happy to try out the regal chairs carved out of stone.
Click for more pictures of our visit to Croatia.
---
July 17, 2010 Week 337. (
Go to News July 17, 2010
)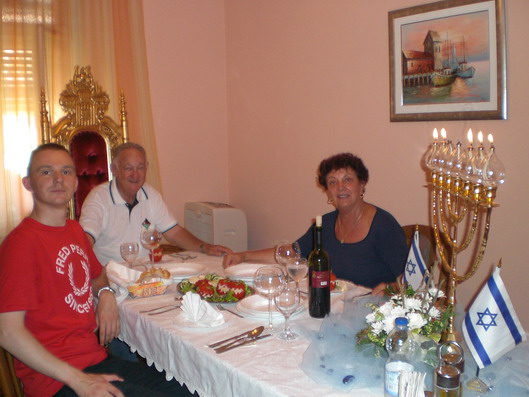 Doreen:
During our travels throughout the world I have made friends with clerical people - Sister Theresa a St Clare's nun and I worked closely in the Rape Crisis Center in Nassau Bahamas. I met sister Ruth Kennedy while in Mali, although she runs a home for orphans in northern Ethiopia. My friendship with Mathew, a Roman Catholic priest in Croatia, is a real friendship. I was his guide in Israel when he led a pilgrimage. We got along very well and unusually, we kept up contact. When he attended a course at Yad Vashem we were not in the country so we were delighted that the Bridge competition was not far from his home. From the picture you can see the richly carved chair that was reserved for the guest of honour and the trouble Mathew's cook took to present a special table for us,and prepare local dishes. What you can't appreciate is the delicious wine!
---
July 10, 2010 Week 336. (
Go to News July 10, 2010
)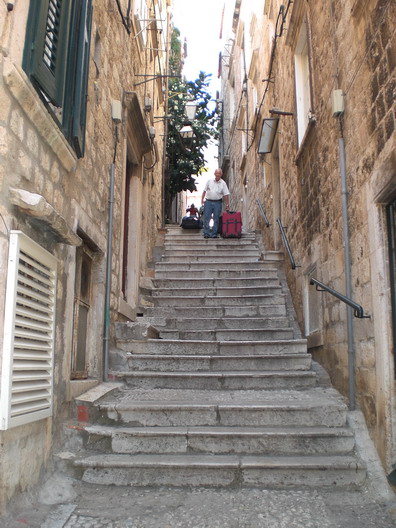 Today we flew from Zagreb to Dubrovnik. We are staying in an apartment in the walled old city. We knew that cars were not allowed in the old city but we thought that we could manage the short (on the map) walk from the gate to the apartment. What we didn't realise was that we had to carry our bags down hundreds of narrow steps, a few of which are shown here. We'll let you know later, but it looks like we'll be here for the rest of our lives as I don't see us shlepping those bags UP the steps when we have to leave.
The apartment is delightful and the old city and the views are absolutely beautiful, and supper was delicious - more, with pictures, next week.
---
July 3, 2010, Week 335, (
Go to News July 3, 2010
)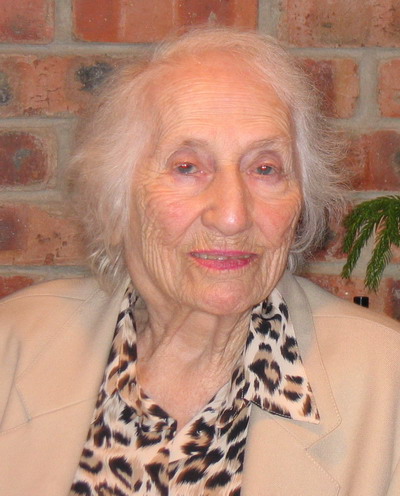 Berenice Engleberg 1915 - 2010
on her 90th birthday in 2005
We were deeply saddened by the news this week of the passing in Salt Lake City of Berenice Engleberg, aged 95. Berenice occupied a special place in our hearts. We met her for the first time in Salt Lake City 15 years ago, when we visited Utah on a three month RV trip. The two branches of our family had lost contact over the years and we succeeded in making contact with Berenice. She received us with open arms and we spent a very pleasant few days with her in her home, with our RV parked on the street outside her house. Through her we were introduced to her family and have maintained close contact with them ever since. Her granddaughter Rebecca with son Benjamin are staying with us now.
My father was one of 36 first cousins on the Matz and Levy/Hershovitz sides of the family, and with the passing of Berenice this generation has come to an end.
We extend our condolences to her son David,and daughter in law Charlene; and to her grandchildren Rachel, Rebecca, Leah and Louis. "Bubu" was special to her grandchildren and adored by them, and will be sorely missed.
---
June 26, 2010, Week 334, (
Go to News June 26, 2010
)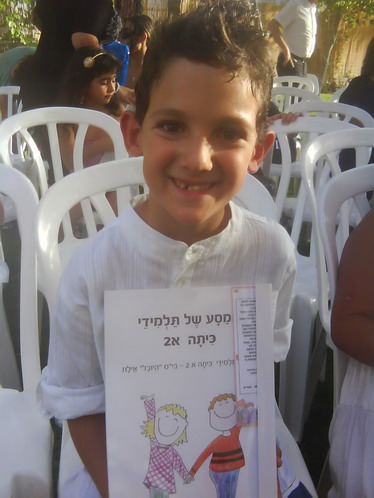 Itamar Levy finishes
kita alef
Congratulations to grandson Itamar on finishing
kita alef
- Grade 1. Have a good vacation, Itamar, and continue to excel also in Grade 2.
---
June 19, 2010, Week 333, (
Go to News June 19, 2010
)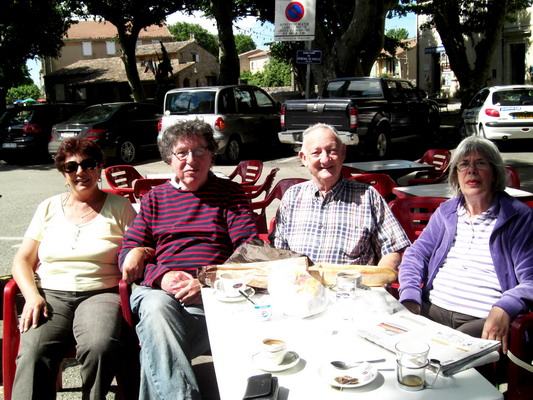 Breakfast in Aups

We have been with Hans and Lottie Reijzer in a house just outside the French village of Aups in the Var area of Provence since Thursday evening. Yesterday we had breakfast in Aups. We walked to the village, bought croissants, pastries and baguettes at a bakery; then continued to a coffee house where we ordered coffee and ate the food we had brought with us. For us it was strange - I can't imagine what rumpus we would cause in Israel if we walked into a coffee shop, ordered coffee, and then proceeded to eat our own croissants and muffins. However, it seems to be the acceptable thing here as there were others who also pulled out their own croissants and baguettes.
The trip to Aups was quite an adventure - see
this week's News.
---
June 12 2010 (
Go to News June 12, 2010
)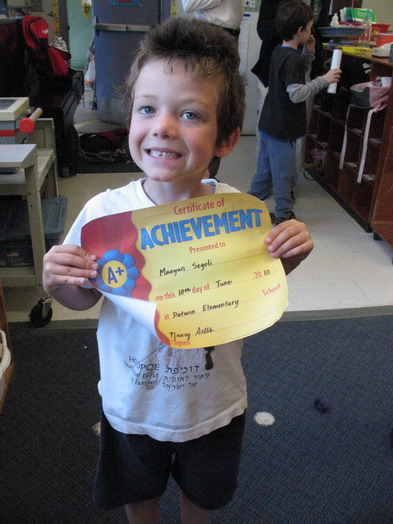 A graduate in the family

Congratulations to Maayan Segoli on graduating from kindergarten in Davis California. Even though he entered kindergarten a year ago with a language disadvantage he has enjoyed his classes and integrated very well. Next year he will start Grade 1 - good luck!
---
June 5 2010 (
Go to News June 5, 2010
)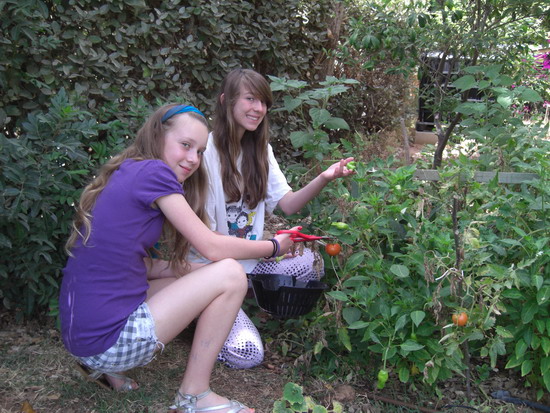 Granddaughters Dani and Lior help pick tomatoes and peppers

While both Vered and Aviv Ron were overseas with an overlap of two days we had the pleasure of looking after Dani and Lior. We decided to exploit the cheap labor and sent them to pick tomatoes and peppers from our garden. Yesterday evening Doreen took the girls to the beach - click for pictures of
Dani
and
Lior
.
---
May 29 2010 (
Go to News May 29, 2010
)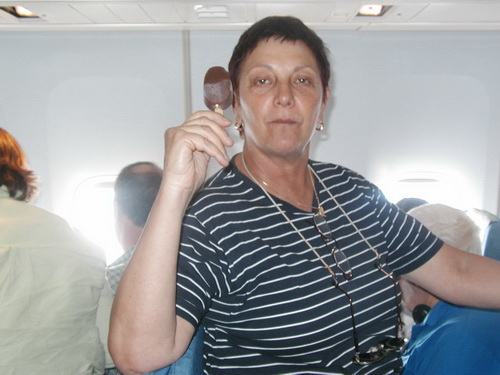 Eating ice cream over the ice of the South Pole
For this week here is another picture from the "past". Doreen and I have travelled widely and we have had many wonderful experiences. One of the highlights of our travels is our special flight, during our visit to Australia, over the Antarctic and the South Pole. The uniqueness, atmosphere and unexpectedness of the flight made for a once-in-a-lifetime happening. We saw the ice floes, drank champagne and icecream and watched the compass spinning when over the pole, spoke by radio to a station below, listened to explanations and talks by scientists on board, and dressed in Antarctic clothing.
This took place during our
round the world trip
in 2001. Even though the internet was still quite "young" we had a site devoted to our trip and we (actually Doreen!) recorded our experiences there. The site no longer exists, but before it was discontinued we were able to incorporate it into this site. So you can read about how we got to go on the Antarctic flight, and about the flight itself with pictures,
by clicking here.
---
May 22 2010 (
Go to News May 22, 2010
)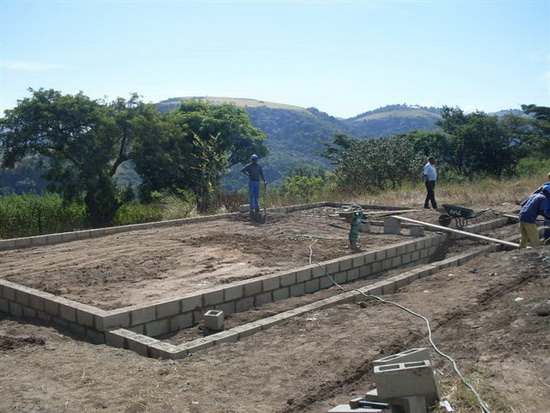 Construction starts on the Fern Levy Science Laboratory at
Magqibagqiba Secondary School in Inanda
Before my sister Fern passed away she asked me to use money she had in South Africa to further African education in Natal, the province where we lived. I contacted Suzanne Edmunds, an old friend of mine and Fern's, who is the CEO of the Natal Schools Project trust ("Project Build"). Together we decided to build four science laboratories as memorials to Fern. The picture above shows the start of the work on one of the laboratories. The other three are
Ethangeni Secondary School in Dundee, Usizo High School in Tugela and Makhanda High School in Port Shepstone.
In August Doreen and I and our children and grandchildren will visit South Africa and dedicate the laboratories to Fern's memory.

You can read about Fern's life and devotion to educating those less fortunate, on her Memorial Pages.
---
May 15, 2010 (
Go to News May 15, 2010
)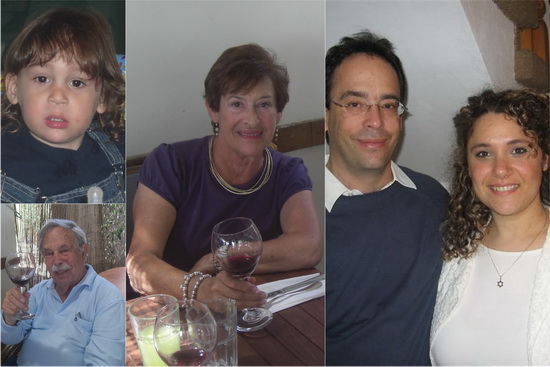 A hearty mazal tov to parents Richard and Rona, grandparents Julius and Laura, brother Leshem and all the Nickel clan, on the birth of a baby boy last Sunday 9th May.
See
Nickel/Nochimovicz family tree.
---
May 8, 2010 (
Go to News May 8, 2010
)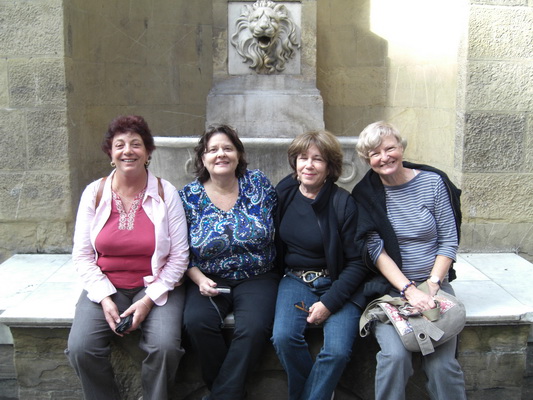 Doreen, Nina Schafer, Livia Passwell, Yael Paperna

Doreen and her three friends take a rest in Florence, where they are enjoying their holiday. They are also touring some of the other wonderful Tuscany attractions. We'll hear more about the trip when they return in a few days.
---
May 1, 2010 (
Go to News May 1, 2010
)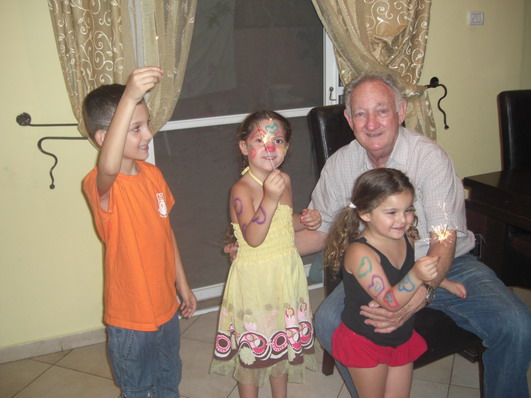 "Happy Birthday to
Saba
Eitan."
For kids, sparklers are much more fun than candles to celebrate a birthday, as the expressions on the faces of grandchildren Itamar, Amit and Ilai show. For me, they're also much preferred - they burn out quickly and I didn't have to blow out 70 candles.
I celebrated my 70th birthday quietly with Doreen and family - three times! First, on my real birthday date, Tuesday, with cake and
candles
sparklers, follwed by an enormous steak meal at our favorite Eilat restaurant. Then on Wednesday in Eilat with a
family barbecue
and then on Friday evening with the "northern" wing and part of the Californian wing of the family
(see pictures.)
---
April 24, 2010 (
Go to News April 24, 2010
)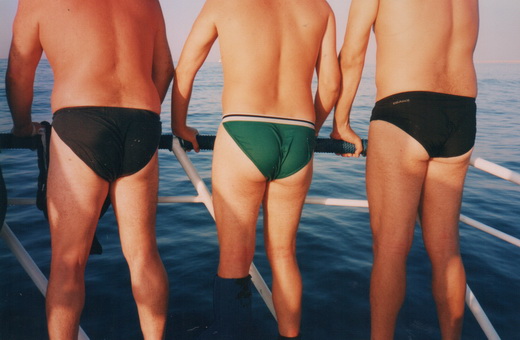 from left to right: .... why don't you guess?

Another picture from the family album of yesteryear. Oh dear, looks like I cropped the heads by mistake. And don't worry. It's not the first step towards turning this site into a pornographic money-making concern.
---
April 17, 2010 (
Go to News April 17, 2010
)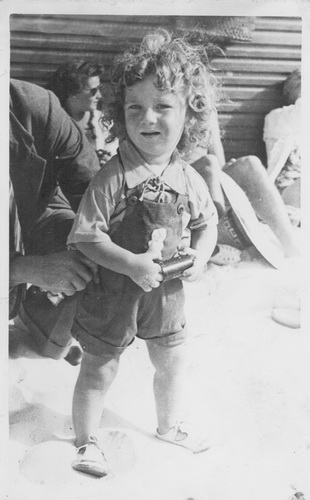 Don't get confused - this is This Week's Picture NOT the picture taken this week!
I wrote a few weeks ago that while doing some spring/pesach cleaning I came across some old photos, and that I would scan some of them for this site.
So, about 10 days before my 70th, I thought this picture of me taken a few years ago might be appropriate.
---
April 10, 2010 (
Go to News April 10, 2010
)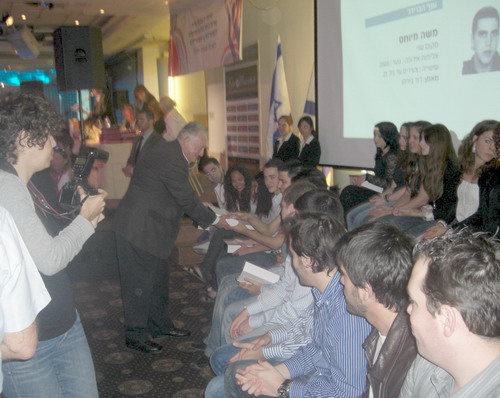 Presenting the Minister's awards to members of the Israel Youth teams

The minister of Culture and Sport has an annual ceremony for presenting awards to Israeli sportsmen and sportswomen who have achieved outstanding results over the past year. As bridge is recognized by the International Olympic committee as a non-olympic sport, the ministry of Sport now includes bridge as a recognized sport. Both our Under 21 and Under 26 teams won silver medals at the European Junior Teams Championships in Rumania (where I was the Chief judge,
see here
) and they were honored at the ceremony. The names and achievements of the sportsmen were read out and projected on a screen and the team trainer/coach presented the awards. The bridge teams' trainer, David Birman, was ill and I was asked to replace him.
---
April 3, 2010 (
Go to News April 3, 2010
)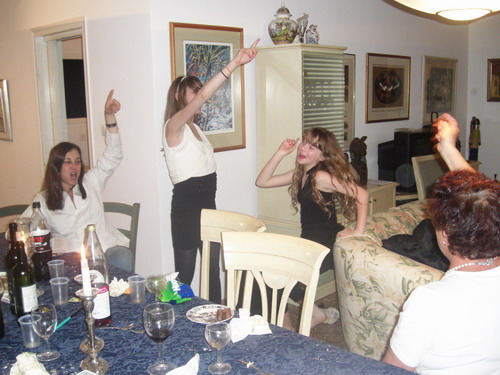 This year we celebrated the passover
seder
in Hofit with the Rons, the Aviv Levys and some of the Nickels. (
See more pictures
.). One of the highlights of our yearly celebrations is the song "Who Knows One" which is sung gustily with appropriate (more or less) miming and acting. The four cups of wine help the adults get into the swing of things and the kids don't need wine - they're naturally full of fun.
---
March 28, 2010 (
Go to News March 28, 2010
)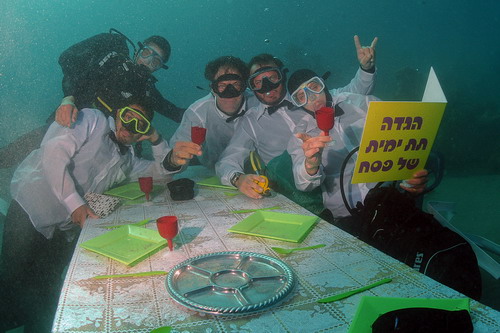 This coming week we will celebrate passover -
pesach
- the festival of freedom. At the traditional
seder
meal we will eat
matzah,
drink 4 cups of wine
and read the
haggadah
, the story of the exodus from Egypt. Aviv Levy and friends at the underwater observatory observed their own pre-
pesach seder
underwater.
Limor Levy had to be content with an "amphibious" seder -
see picture.
---
March 21, 2010 (
Go to News March 21, 2010
)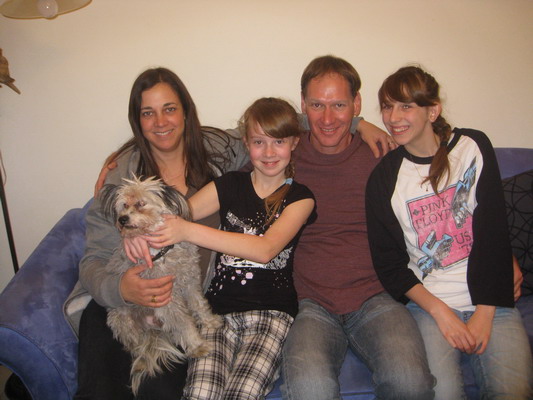 The Rons - Vered, Lior, Aviv and Danielle (and Lopsy of course)

Congratulations to son-in-law Aviv Ron on his 50th birthday tomorrow. We celebrated his birthday today at the home of his sister Orit on kibbutz Maagan Michael.
Doreen:
To be a mother-in-law is not so easy and I suppose to be a son-in-law isn't so easy either. But Eitan and I couldn't have asked for a better son-in-law: a devoted and involved father and parent to his daughters (Dani and Lior), a worthy companion to Vered and a thoughtful son-in-law to us. To him 50 seems old, but we know that his best years are still ahead and we also know that he will continue to succeed in everything that he does.
---
March 14, 2010 (
Go to News March 14, 2010
)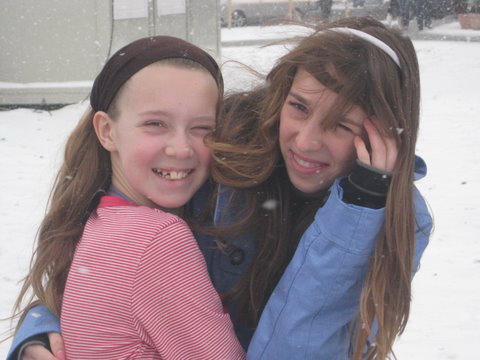 Granddaughters Danielle and Lior Ron enjoing the snow and activities on a ski holiday in Austria last week.
---
March 7, 2010 (
Go to News March 7, 2010
)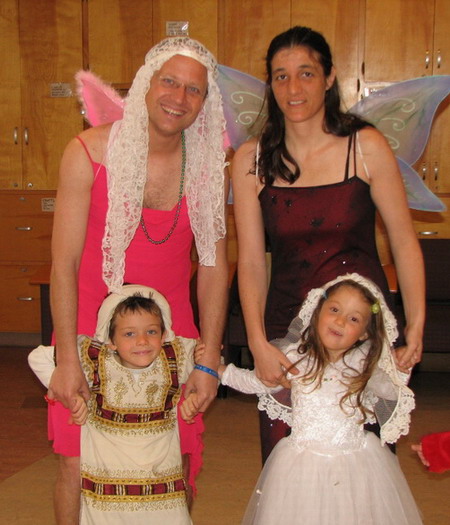 The Segolis celebrated Purim this year in Davis, California, together with the Jewish community there. As befits students at the School of Entomologyl at Davis, Moran was a butterfly and Mikhal a moth. As befits children, Maayan was Mordecai and Lotem a bride. There are some more pictures on the the pages of
Maayan
, as he listens to the reading of the
megilla
the Purim story as recounted in the Book of Esther, and of
Lotem
at her kindergarten celebration when she was Queen Esther.
---
February 27, 2010 (
Go to News February 27, 2010
)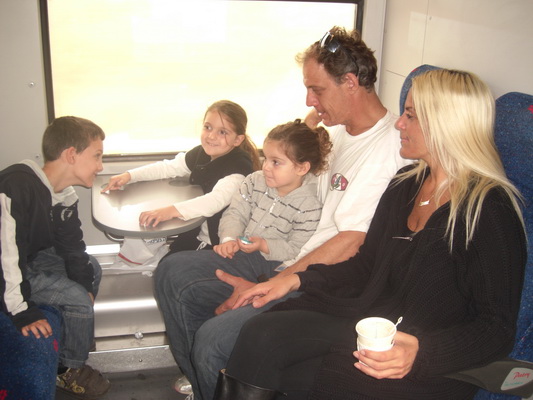 Their first train trip: Itamar, Amit and Ilai travel from Netanya to Rehovot.
Son Aviv and Limor,
with grandkids Itamar, Amit and Ilai,
spent a few days with the children in the Golan and the Gallillee on a trip organized by Aviv's work (Coral World.) .
After the trip they spent 5 days with us in Hofit this week. On Wednesday we took a train trip to Rehovot to see the Science Park at the Weizmann Institute. It was the first time the kids had been on a train and they enjoyed the new experience.
---
February 20, 2010 (
Go to News February 20, 2010
)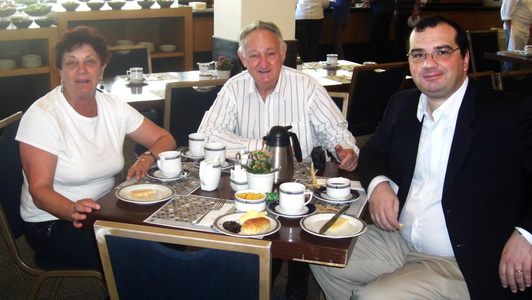 The Tel Aviv International Bridge Festival started this week. Apart from the bridge, the festival is a great opportunity to meet up with friends, both Israeli and from overseas.
One of the overseas friends is Maurizio di Sacco, who holds high positions in the European and World bridge federations. We have been good friends for many years since first meeting in Milan in 1996. We see each other regularly, both overseas and in Israel, where Maurizio comes every year. (
See picture from last November
when he came with his family). Last summer, on our trup to Italy, Doreen and I stayed with Maurizio for a few days at his home in Pisa and enjoyed our other common activity - opera - at the Puccini Opera Festival.(
see picture
)
The last time Doreen saw Maurizio was over breakfast in Pisa. As it turned out, Doreen finished her tour at the same hotel that Maurizio is staying at, and we enjoyed yet another breakfast together, this time in Tel Aviv.
---
February 13, 2010 (
Go to News February 13, 2010
)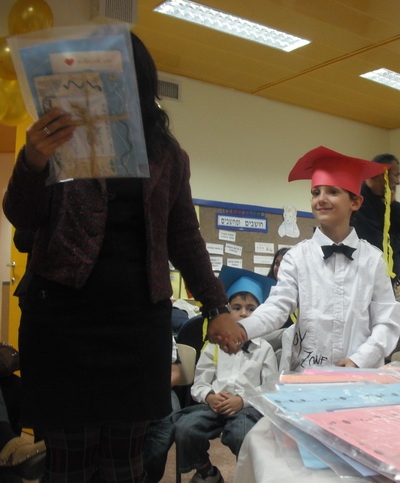 A graduation in the family! Itamar Levy received his very first school reportcard at the end of the first semester in
kita aleph
Class 1. We all wish you, Itamar, wonderful report cards for at least the next 12 years.
Another picture on Itamar's page.
---
February 6, 2010 (
Go to News February 6, 2010
)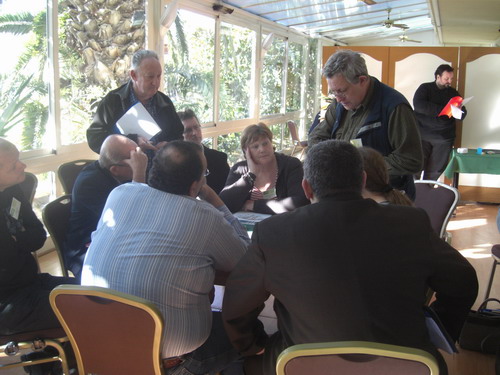 I'm in San Remo, Italy for a bridge seminar for aspiring international bridge judges. There are about 90 candidates, and they have an intensive 5 days of lectures, discussions, tests and practical simulated test situations. My main job here is to evaluate the performances of the candidates who have to give rulings in simulated real-life bridge situations.
In the picture four "players" (themselves candidates) have been briefed to enact a situation (usually rather complex) at the bridge table requiring the intervention of a judge. The guy standing on the right of the table is being tested as I look on ready to give him a grade. Some situations require careful examination of the hands that were dealt and decisions are delayed while the judge analyses the possibilities. The examinee at the back, on the right, is working on his solution to such a problem.
At the end of the seminar, probably about 4 or 5 will be certified as international judges while a further 10 or so will will get a lower certification enabling them to assist in judging international events, or high level national events, held in their home countries.
The international flavor of the seminar is illustrated by the make-up of this particular group: 12 examinees from Belgium, Bulgaria, Croatia, Egypt, Finland, Ireland, Israel, Netherlands, Norway, Poland, Sweden and Switzerland.
---
January 30, 2010 (
Go to News January 30, 2010
)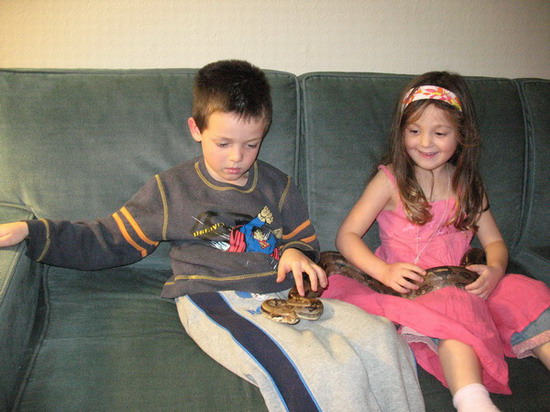 The Segolis are staying in an apartment complex in Davis, California, that has restrictions on owning pets. So what does a family who loves pets do when they are not allowed to have pets, like barking dogs, that might disturb other residents?
Simple. You get pets that don't disturb the neighbors, like a tarantula or a boa constrictor. Better still, get both!
This Week's Picture shows Maayan and Lotem enjoying quality time with Licky, their boa constrictor. He is named Licky since when they first got it, it smelled Maayan all the time and it looked like it was licking him. Maayan gave him the name. Moran tells me that Maayan isn't sad in the picture. This is his serious face - when he is learning something or worried (here he is worried that Licky is hungry).
Click for another picture of Licky with Lotem.
Oops - I nearly forgot the tarantula.
Click here to see the kids with the tarantula.
---
January 23, 2010 (
Go to News January 23, 2010
)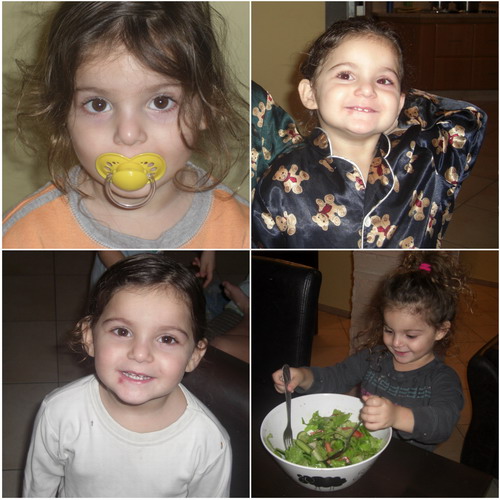 Ilai Levy turns 3 years old this Thursday 28th.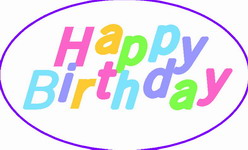 Happy Birthday to our youngest and littlest grandchild!
---
January 16, 2010 (
Go to News January 16, 2010
)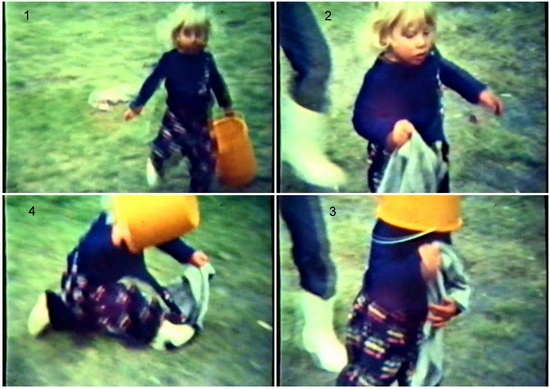 Moran's birthday is on January 30, and when I was thinking whether to update his picture on the
January birthdays site
I was reminded of the family's favourite picture of Moran.
In the summer of 1974 we went on a motorhome holiday in Scandinavia. We had a marvelous time and still talk about it. The kids were very young (Vered 8, Aviv 6 and Moran 18 months) but we all had our well-defined "housekeeping" chores. For example, Aviv would take the garbage bucket to empty and clean it, and Moran would accompany him (carrying his security blanket) so that he could carry the empty bucket back to the caravan. On this particular occasion Moran dropped his blanket while carrying the empty bucket (picture 1), put down the bucket, picked up his blanket, and then flatly refused to pick up the bucket again. (picture 2). Aviv of course insisted but Moran, obstinate as always, refused. Aviv's solution was simple - he put the bucket around Moran's head (picture 3). Moran pretended to ignore this and continued walking but after a short while fell down, still of course clutching his blanket (picture 4). We were all laughing so much that none of us remember who eventually brought the bucket back - it certainly was not Moran.
(Apologies for the quality of the pictures: My excuse is that it was shot on 8mm film, then transfered to video tape, then transfered to DVD, then to JPG images, all at home without (unfortunately!) any professional help.)
---
January 9, 2010 (
Go to News January 9, 2010
)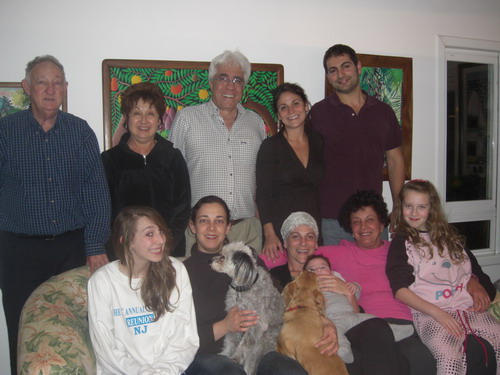 Back: Me, Beryl and Joel Klotnick, Leah Engleberg and friend Ziv Foreman

Front:: Danielle and Vered Ron with Lopsy and Flopsy, Rebecca and Benjamin Engleberg, Doreen, Lior Ron

A month ago I wrote on this page:
"Leah Engleberg has made aliyah and is staying on Kibbutz Maabarot. Leah is a nurse and is studying at the medical ulpan in Tel Aviv. Just a month or so ago another Matz family made aliyah - Joel and Beryl Klotnick.(See
This Week's Picture 28/11/09
and
Matz familty tree
). Joel and Leah are second cousins but I don't think they have ever met. Now that both are in Israel Doreen and I will have to rectify that situation soon."
So we rectified the situation! We had a delicious meal and a lovely evening and we all enjoyed the family gathering of old and new immigrants and sabras.
---
January 2, 2010 (
Go to News January 2, 2010
)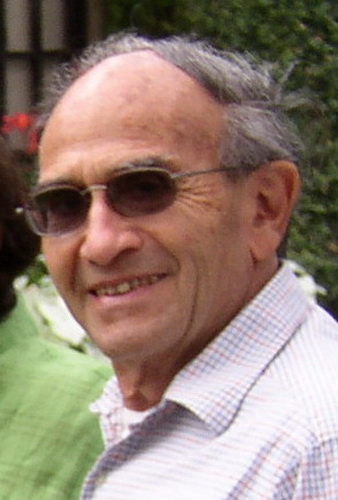 Steve Schafer

We are delighted that this coming Friday night the St Thomas Hebrew Congregation in the US Virgin Islands will honor its former rabbi Steve Schafer by naming the Camp Scholarships
The Steve Schafer Scholarships.
We have known Steve and Nina since our St Thomas days. Steve is not only "our Rabbi", but also a close personal friend whom we love very much. Our families have stayed in close contact all these years and we closely follow the fortunes (and misfortunes!) of our respective families.
Mazaltov to you Steve, and to Nina, Zach and Hanna. For an idea of what an amazing person Steve is,
read Nina's tribute to him.
---
December 26, 2009 (
Go to News December 26, 2009
)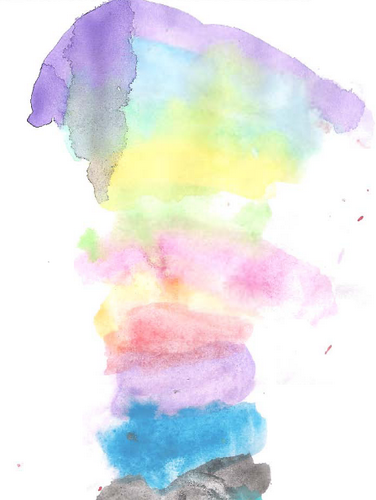 Lotem Segoli's "Happy Rainbow"
For our 45th anniversary this month our 4 year old grandchild Lotem drew a "Happy Rainbow" for Saba Eitan and Granny Doreen. She asked Daddy Moran to send it to us with the wishes "I love you saba and granny because you are the mommy and daddy of my daddy."
The sight of a rainbow is always exciting (Wordsworth:
My heart leaps up when I behold a rainbow in the sky
) and stirs within us so many positive feelings - promises of hope, happiness, beauty and good times ahead - that I thought it appropriate with the new year coming up to share this drawing with you, and to wish you a New Year of hope, happiness, beauty and good times. And Lotem's message of unconditional love for family is a wonderful message for all of us on this family website.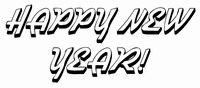 ---
December 19, 2009 (
Go to News December 19, 2009
)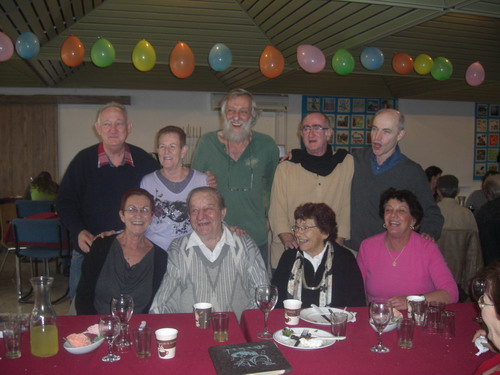 "We come from Durban, we are suburban to towns like Johannesburg..."
Back row l-r: Eitan, Naomi Forster (nee Levine), Jackie Metzger, Mike Levine, Johnny Landau
Front row l-r: Estelle Sapir (nee Rothschild), Eddie and Yael Nemenoff, Doreen
On Friday we attended the celebration of Eddie Neminoff's 80th birthday at Kibbutz Kfar HaNassi. Eddie was the Habonim
shaliach
(youth movement emissary) to Durban when we were members of the Habonim youth movement. Doreen and I formed close friendships with Eddie and his wife Yael and on occasions babysat their children Amir and Dorit . (Orna was born later). When Doreen and I encountered opposition from her parents over our plans to get married Eddie was our go-between with Doreen's mother. We also found that that Eddie and I shared a love for the game of bridge, and we met regularly in Israel at various bridge competitions.
After Durban, Eddie was also a shaliach in Johannesburg. At the party we had a chance of meeting many old friends from our Habonim days we had not seen for some time, like the ex-Durbanites (in the picture above) and others from Johannesburg, including Ron Lapid (Lipshitz) and wife Riwa (nee Durbach), Steve Helman, Les Oshry, and Errol Sapir (Saposhnik).
Click here for a picture
(thanks Ron) of some of us who were Habonim members at the time Eddie was shaliach and who were directly or indirectly influenced by Eddie to come to Israel.
---
December 12, 2009 (
Go to News December 12, 2009
)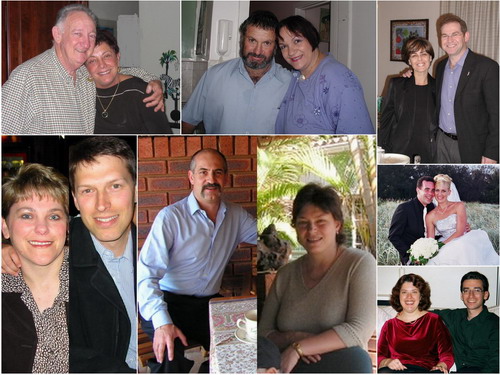 December anniversaries

Clockwise, from top left: Doreen and Eitan, Cecille and Raymond Cotton, Wendy and David Ginsberg, Joshua and Natasha Leibowitz, Melodie and Mark Nathan, Vanessa and Giorgio Tarazza, Suzan and Mark Glasser.


Doreen and I celebrate our 45th anniversary this week December seems a popular month for weddings - ten couples in our family trees celebrate
anniversaries this month.
Happy anniversary to all of us!
---
December 5, 2009 (
Go to News December 5, 2009
)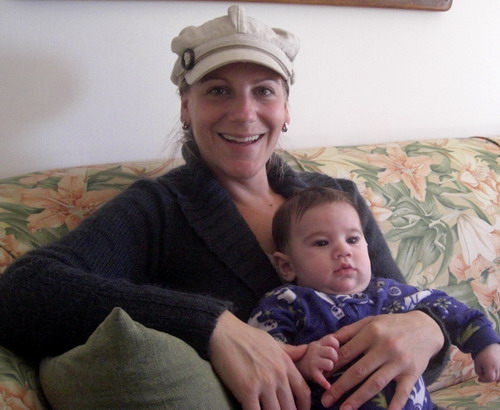 Rebecca and Benjamin Garbawy

We had a lovely visit from Rebecca (nee Engleberg) and got to know her son Benjamin, the newest member of the
Matz family tree.
We have a special relationship with Rebecca (she stayed with us for some time some years back) and it's always nice to have her visit. She also updated us on the Englelberg family news. (see
This Week's News
).
---
November 28, 2009 (
Go to News November 28, 2009
)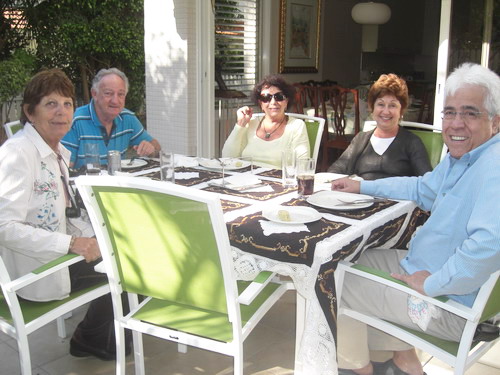 Louise Braverman, Eitan, Beryl Klotnick, Doreen, Joel Klotnick

The klotnicks, new immigrants to Israel (see
This week's Picture 26/9/09
), have settled down nicely in a lovely apartment in Raanana. Louise and we enjoyed a delicious lunch there today. Now that they are over the initial frustrations and difficulties we hope to be seeing more of the Klotnicks. (see
Matz family tree.
)
---
November 21, 2009 (
Go to News November 21, 2009
)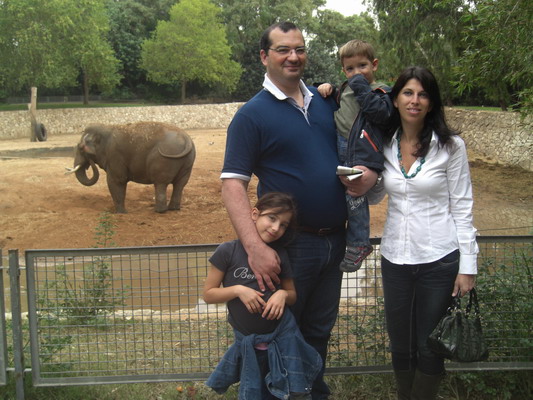 Maurizio and Marcella di Sacco with Mathilde and Marcello

One of the pleasures of my international bridge career is the opportunity of making new friends from all over the world, and meeting them fairly often. (
See here
, for example.)
I first met Maurizio at a seminar in Milan in 1996 and we have been good friends since then. Among Maurizio's many positions is Chief Tounament Director (judge) of the European Bridge League and Technical Director of the World bridge Federation.
We meet at least once a year at various competitions, as well as in Israel at the bridge festivals. Last August we stayed at his house during our visit to Italy and for a change
enjoyed a non-bridge festival together
- the Puccini Opera Festival.
This year Maurizio brought his family to the Eilat Bridge Festival, and we managed to find time to enjoy a visit to the Safari and Zoo in Ramat Gan with his wife Marcella, and children Mathilde and Marcello.
---
November 14, 2009 (
Go to News November 14, 2009
)
While in Eilat this week I took this picture of sisters Amit and Ilai Levy.
There are more pictures on the pages of
Itamar
,
Amit
and
Ilai
. (And also a
picture of Amit
, who is 4 this week, on the November birthdays page.)
---
November 7, 2009 (
Go to News November 7, 2009
)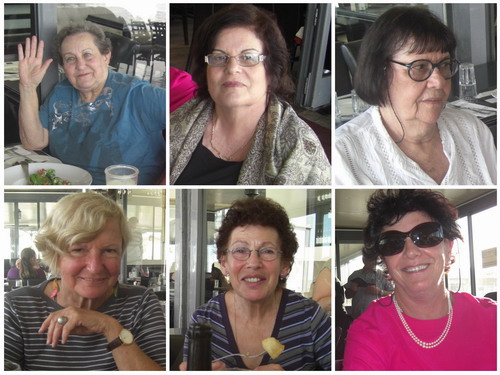 Top: Ziona Glassman, Roni Dagan, Dalia Lamdani
Bottom: Yael Paperna, Caroline Livneh, Doreen

Another meeting of the "Eilati Old Girls Club" (
see picture from previous meeting
), this time at "Beni HaDayag," an excellent fish restaurant in the Old Port of Tel Aviv.
Tel Aviv port was founded in 1936 on the background of Arab riots, and is referred to as the first Hebrew port, serving the British Mandate and then the new State. In 1948 the first ship to arrive carried survivors from the Holocaust who had been prevented from entering into Mandate Palestine.With the opening of Ashdod Port in 1965, Tel Aviv port became terribly run down but today is a delightful area of restaurants, boardwalks, and shops .
---
October 31, 2009 (
Go to News October 31, 2009
)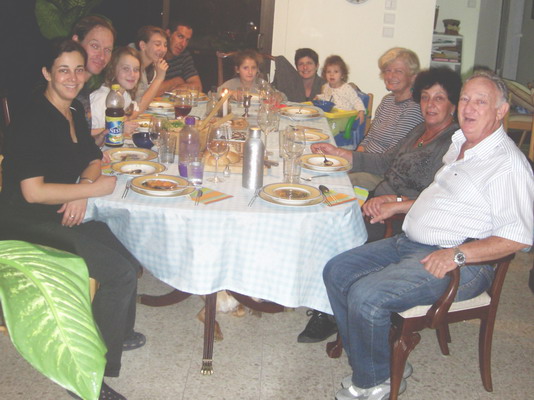 Vered, Aviv, Lior and Dani Ron, Yisrael Yaniv, Maya Yaniv, Roni Paperna Yaniv, Yuval Yaniv, Yael Paperna, Doreen and Eitan Levy

We enjoyed Friday night dinner at the Rons in Raanana, especially as the Papernas were also there. The Papernas were neighbours in Eilat and we formed a close friendship with them which continues today. We see Yael frequently, and Vered and Roni and families also keep up regular contact.
---
October 24, 2009 (
Go to News October 24, 2009
)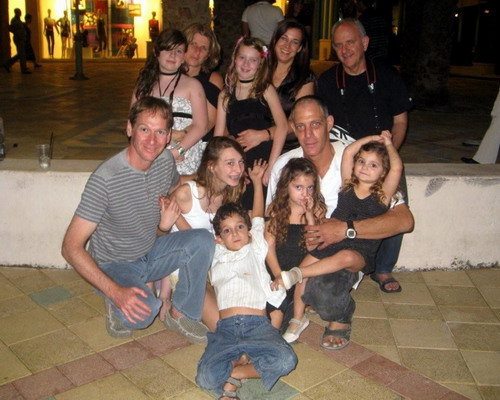 Back: Dina and Yarden Levy, Vered and Lior Ron, Jonathan Levy.
Middle: Aviv Ron, Danielle Ron, Aviv Levy with Amit and Ilai.
Front: Itamar Levy
Last week the Rons were in Eilat celebrating the barmitzvah of the son of close friends. They went with cousin Jonty Levy and family, and sent me this picture of them with the two Levy families.
---
October 17, 2009 (
Go to News October 17, 2009
)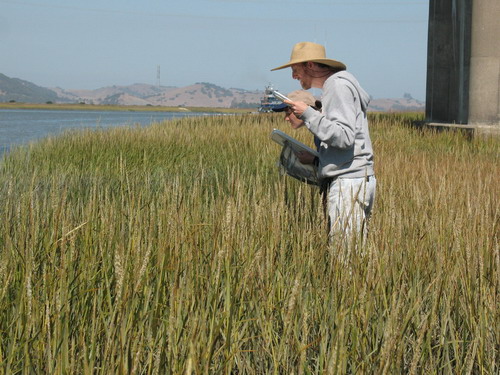 Looking for tiny wasps in the salt marshes of San Francisco
This is one of Mikhal Segoli's field sites and she and her professor, Jay Rosenheim, are looking for, and at, tiny (less than 1 mm!) wasps among the Spartina grasses in the salt marshes of San Francisco. I asked Mikhal to tell us why!
"We are looking for tiny wasps of the genus Anagrus because we want to estimate their fitness (their reproductive success). We do this by measuring their body size, and counting the number of eggs in their body. We are looking at different factors that limit their reproductive success. In one project we compare their success between natural fields and agricultural fields. In the agricultural fields the wasps are used for biological control as they parasitize a leaf hopper which is a major pest of grape vines. Understanding what limits their success may help improve biological control. In another project I look on the effect of Wolbachia- a bacteria found in the body of many insects, on the wasps' success. Many of these questions were looked at in lab conditions but not in the field."
Link to Mikhal's pages
on the University of California Davis Entomology Department for more details.
---
October 10, 2009
(
Go to News October 10, 2009
)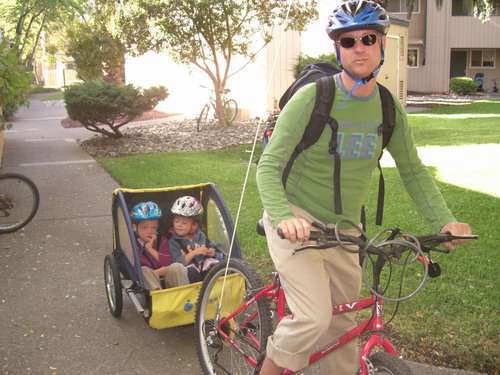 Transportation in Davis, California

As
I wrote last week
, bicycles are the the prefered form of transportation for many in Davis, California where every road has its adjacent bicycle path. So when Moran took the kids to a picnic in the park with friends I was not too surprised to see the above.
---
October 3, 2009
(
Go to News October 3, 2009
)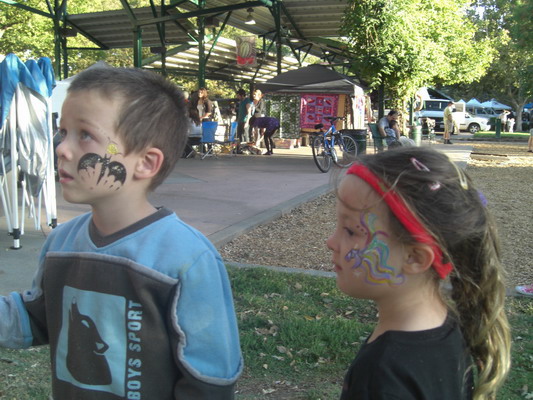 Maayan and Lotem Segoli at the Davis Farmers' Market
I'm in Davis, California, visiting and helping the Segolis. Davis is a small, pleasant American city that is based largely on its university (University of California, Davis), and its character is what one would expect from a university town - clean, organized, environmentally conscious, no high-rise buildings, no large shopping malls or centres. Davis is known for being the the second most-educated city in the US, and for its large amount of bicycle paths. (To me, it seems that there are more bicycles on the road than cars).
On Wednesday we went to Davis' Farmers' Market, and enjoyed the large variety of foods to eat and fresh organic produce to buy. There was plenty for the children too. Maayan and Lotem enjoyed climbing and sliding, (
see picture here
), jumping and falling in the inflatable bouncers, and having their faces painted. For Maayan the highlight was the rock climbing (
see picture here
) and I was surprised as he showed no fear climbing up the sheer wall - three times.
---
September 26, 2009
(
go to News September 26
, 2009
)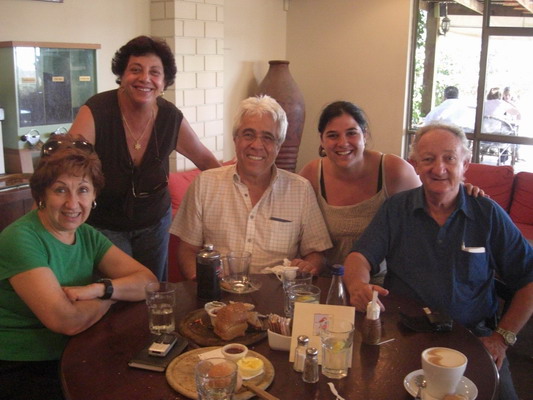 Beryl Klotnick, Doreen, Joel Klotnick, Tarryn Klotnick, Eitan
A big welcome to Joel and Beryl Klotnick who have come on
aliyah
to live in Israel. Somehow they found time between organising their apartment and other arrangements to meet with us for lunch. As always, we thoroughly enjoyed their company, but even more so this time for we had an opportunity of meeting their delightful niece Tarryn who was on a visit from London. Tarryn has updated me in the past on family tree matters and I exploited the occasion to get some more information about her side of the
Matz family tree
. Keep in touch, Tarryn!
---
September 19, 2009
(
go to News September 19
, 2009
)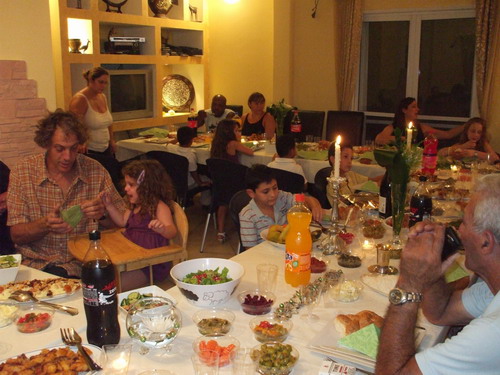 I went down to Eilat to celebrate Rosh Hashanah with Aviv and Limor and family. Vered and Aviv Ron and the girls were also there. We all enjoyed the delicious meal prepared by Limor, her sister Kinneret Arad and especially by her mother Margalit Sadeh. It was a lovely evening.
There were 27 people celebrating there - too many to fit in one photo - so there are
more pictures here.
---
September 12, 2009 (
go to News September12
, 2009
)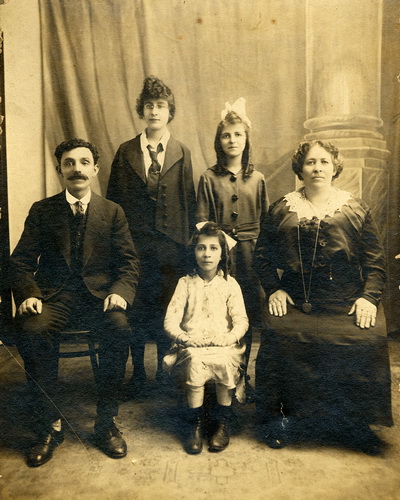 The Nickel family circa 1913/14: Barnett, Ray, Fay, Rosa, Sarah (in front)
We received this wonderful old picture from Roslyn Hakim, Sarah's daughter, and it got me thinking about the long distances, geographical and other, the families of our "shtetl" ancestors have travelled. Rosh Hashanah, the Jewish New Year, is here; and it's a time for reflecting on the past and on our mistakes and on our dreams, and on the future and on our hopes and on our plans. What did Barnett's father, Pinhas, hope for his children as he celebrated Rosh Hashanah in Byelorussia? What do his descendants, in South Africa, Australia, Canada, USA, Israel, South America; secular, traditional, ultra-orthodox; less successful, more successful; hope for their children and their future?
As I reflected on the past and on the future I also thought about the family trees that I research and organize. What do the descendants - most of whom have never met or even know about each other - have in common, apart from many shared genes and a common heritage? Do they want to know about each other? There are about 200 living descendants of Pinhas listed in the
Nochimovicz/Nickel tree
, and many many more I don't know about. Is it worth the trouble to continue searching? Should I make a new year's resolution to make more effort to trace these unknown family members?
And should I continue with this family site and its weekly updates? And so now I'm back to Roslyn Hakim, Pinhas's great-granddaughter. She and another of Pinhas's great-granddaughters, Doreen Levy, got "reconnected" when Ros
chanced upon this site
. This incident is not unique, there have been a few like it and we even connected with a
relative in Estonia
through the site. So because of incidents like these I'll probably resolve to continue with this site. I have until Yom Kippur to decide!
---
September 5, 2009 (
go to News September 05
, 2009
)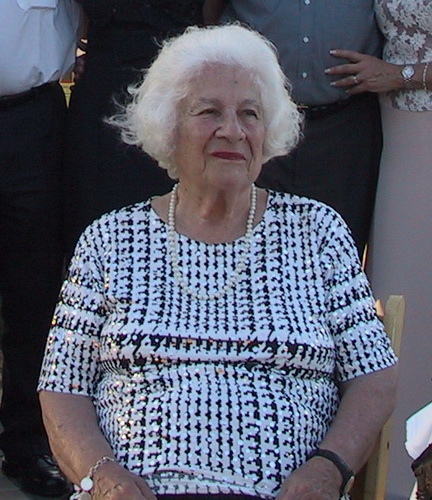 Milly Klotnick ז"ל
28.8.2009 - 11.10.1915
Last Saturday I received the sad news that Milly Klotnick had passed away in Johannesburg, South Africa. Doreen and I extend our deepest condolences to her sons, Joel, Alan and Steven, her daughters in law Beryl, Lama and Charlene, and her granchildren and great grandchildren (one of whom was born 4 days after Milly's death).
Milly was one of my father's 30 first cousins, and she was very special to me. When I was studying at University in Johannesburg, my father asked me to visit Milly and Barney, whom I had never met. At that stage of my life I was not particularly interested in family, but went one Friday night to visit the Klotnicks as a favour to my father. I found such welcome and warmth there that that I returned many Friday nights after that to enjoy Milly and Barney's company (and to beat Joel at chess!).
Rest in peace, dear Milly.
The sadness at Milly's passing away is tempered by the news of the birth of two Matz 4th cousins. Milly's great-granddaughter was born to Darren and Hayley Klotnick on September 1; and Berenice Englelberg's (a cousin of Milly and my father) great-grandson was born to Kobi and Rebecca Garbawy on August 27. Life goes on.
see
Matz family tree.
---
August 29, 2009 (
go to News August 29
, 2009
)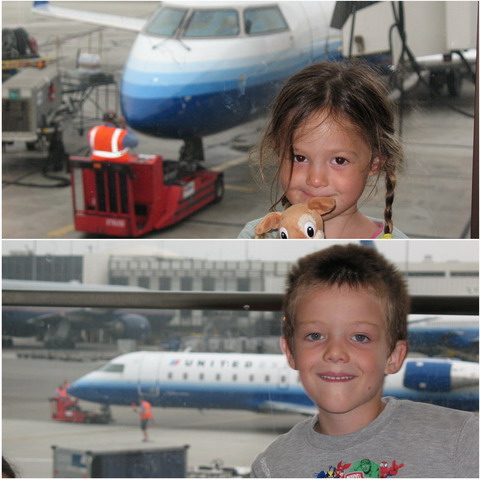 Maayan and Lotem Segoli at the airport

Last week Moran, Mikhal, Masyan and Lotem Segoli left for Davis, California, USA, where
Mikhal will do a post-doctorate
. For the kids this was a period of mixed feelings - excitement of unknown new places and worry about unknown new places. Maayan in particular was worried about a new school and a new language, Lotem is too young to worry about such practical matters. More pictures on the pages of
Maayan
and
Lotem
.
---
August 22, 2009 (
go to News August 22
, 2009
)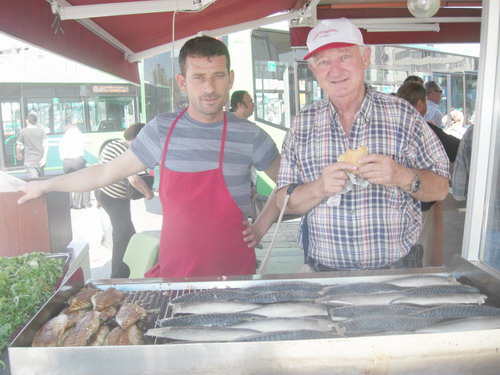 Doreen:

Istanbul is a visually beautiful city, with minarets that pierce the sky and the blue of the Bosphorus a constant backdrop. It oozes history and culture and don't forget the shopping. But when Eitan got his first free afternoon I first dragged him to get a taste of Istanbul - by the ferries are little stands that quickly grill filleted palamida and stuff them in a roll with fresh vegetables. After that we were ready to explore Istanbul.
---
August 15, 2009 (
go to News August 15
, 2009
)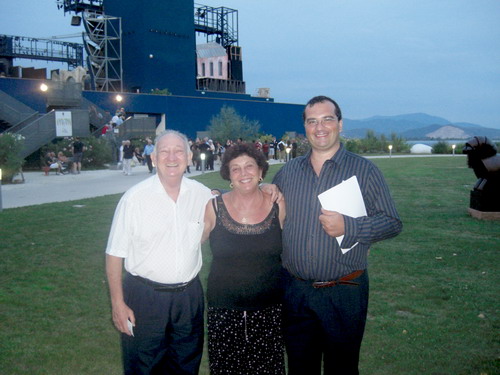 Me, Doreen and Maurizio di Sacco at Torre del Largo Puccini
We spent 6 days in Pisa at the home of Maurizio di Sacco. Apart from his bridge expertise, Maurizio is an excellent cook (
he has prepared Italian specialities at our home in Hofit
) and after sightseeing we returned to enjoy delicious typical Toscana meals that he had prepared for us.
We also share a love of opera, and attended two performances (
Manon Lescaut
and
Tosca
) at the Puccini Festival at Torre del Largo just north of Pisa.
Maurizio and I attended a course for International tournament bridge judges many years ago, and we have been good friends ever since. We see each other regularly at bridge events, especially as Maurizio comes to Israel every year as Chief Tournament Director (judge) of the Eilat Festival. He is also in charge of the Youth Championships in Istanbul, where I am presently directing.
---
August 8, 2009 (
go to News August 8
, 2009
)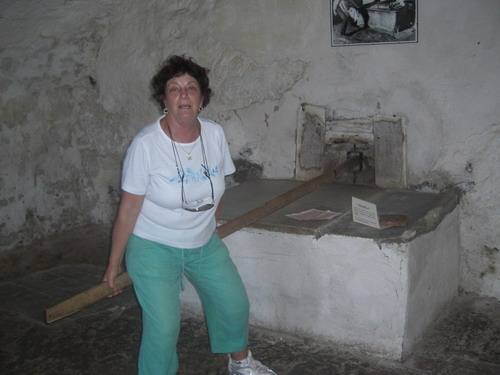 Kneading bread dough in Pitigliano
The dough was placed on the slab, and "kneaded" by the baker sitting on a hinged wooden lever and moving up and down.
As all who have eaten at our place know, Doreen is an excellent cook and bread baker. Less know is that she did a number of baking courses at the New York School of Culinary Arts. She also worked for some time as a professional baker in a speciality bakery. But this method of kneading the dough prior to baking was new to her. On our visit to Italy we stopped in for a few hours in Pitigliano in Tuscany. There is a rich history of Jewish presence in Pitigliano dating back to 1570 which ended in 1939. There are now only 3 Jews living there - in the mid 19th century Jews numbered 30% of the population, and Pitigliano was known as "Little Jerusalem". Even today the locals have speciality delicacies that are part of the local tradition and whose origins are Jewish.
Many of the original Jewish buildings remain or have been restored, including the synagogue - most of which was destroyed when the cliff on which it was built broke away.
We also visited the
mikveh
(ritual bath), wine cellar, kosher slaughter house and bakery, and bought a bottle of the local kosher wine which has been made there for centuries. On a previous visit to Pitigliano we also bought a bottle of their wine which we drank at the passover
seder
- we will repeat this at our next
seder
.
---
August 1, 2009 (
go to News August 1
, 2009
)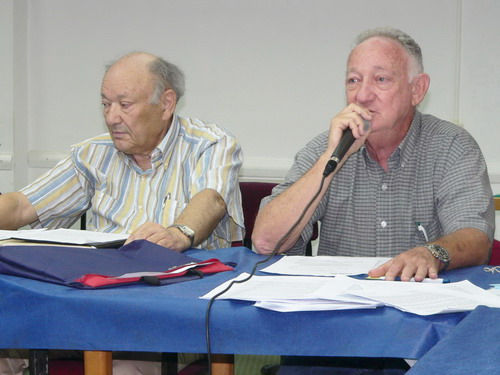 On Friday,at a meeting of the Council of the Israel Bridge Federation (IBF), I was elected President of the IBF, following the retirement of the former President Zvi Ben Tovim (to my right). Zvi and I have been colleagues and close friends for over 40 years, during which time Zvi has served the IBF in various capacities. For many of those years he virtually ran the IBF single-handedly. When I moved to Eilat in the 1970's Zvi was elected in my place to the position of National Sports Captain - so it is fitting that now that he has retired I am replacing him. Be well, Zvi, and enjoy your new experience of taking it easy!
---
July 25, 2009 (
go to News July 25, 2009
)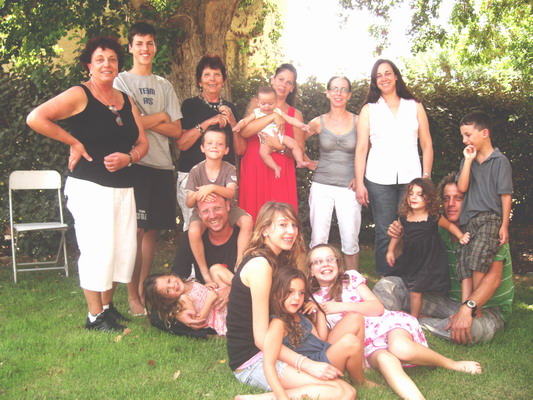 Mike Glasser meets the Israel descendants of Mottel and Nessie Glazer

Standing: Doreen Levy, Michael Glasser, Louise Braverman, Yahel and Rafael Braverman, Denise Braverman, Vered Ron
Sitting: Moran, Maayan and Lotem Segoli,Danielle Ron, Amit Levy, Lior Ron, Ilai Levy, Aviv Levy

Mike Glassser, the son of Mark and Sue Glasser (see
Glasser family tree)
from
Melbourne
Australia
, is spending a few days with us after participating in the 18th Maccabiah Games in Junior Basketball. Today we invited for lunch all his relatives (see also
Schank family tree
) living in Israel to meet him. (see
picture of all the relatives.
)
---
July 18, 2009 (
go to News July 18, 2009
)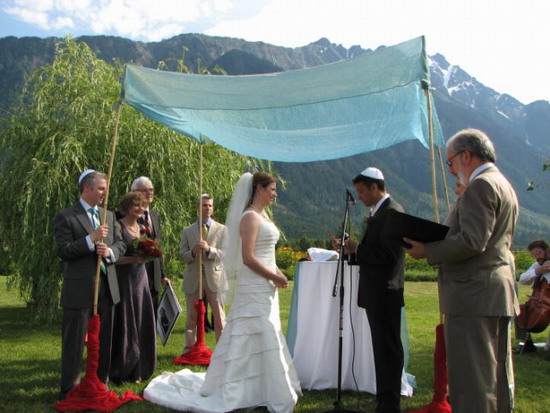 The wedding of Caryn and Rhetick
---
July 11, 2009 (
go to News July 11, 2009
)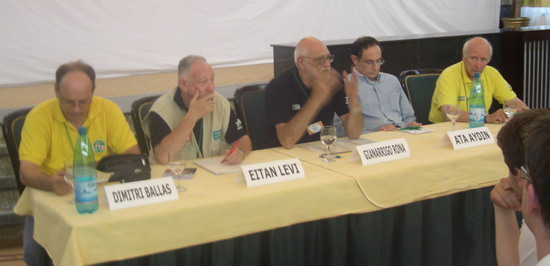 At the Captains' Meeting at the
22nd European Youth Bridge Championships
in Poiana Brasov, Romania, where I am the Chief Tournament Director (judge.). The Captains' Meeting is held immediately prior to the start of the Tournament to remind and update the Captains of the participating teams of important rules and regulations.
Click for
another picture
from the competition.
---
July 4, 2009 (
go to News July 4, 2009
)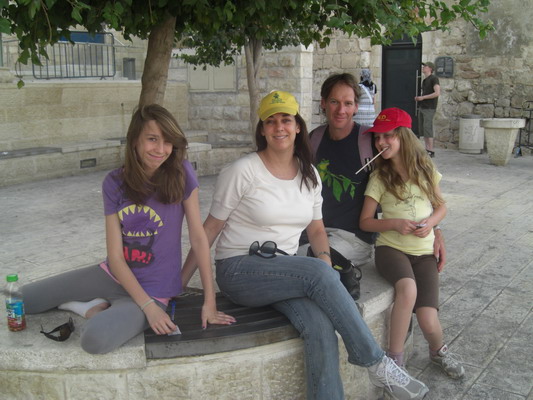 Danielle, Vered, Aviv and Lior Ron

Doreen: "A Day in Jerusalem" has become a summer holiday tradition. This year the theme was underground Jerusalem. In the Jewish Quarter of the Old City we visited the Herodian mansions and walked below ground through rooms dating to just before the destruction of the Second Temple. In the picture above, the Rons with notes in hand, are pictured before going to the
Kotel,
the Western Wall. While by the Wall, we watched Ethiopian new immigrants received their Israeli ID cards. Not far away a group of soldiers, from a unit of troubled youth, prepared a small ceremony after a day in Jerusalem. As we walked into
Minharot HaKotel
- the Tunnel excavated beneath the Moslem quarter - we heard each group end its separate ceremony with the singing of
HaTikva
.
Minharot Hakotel
runs parallel to the continuation of the Western Wall. The tunnel is excavated through arches, ancient cisterns, and a Hasmonean water tunnel underneath the houses of the Moslem Quarter of the Old City.
Here is a picture of Lior
pointing to the largest of the ancient stones, 560 tons, from the time of Herod's renovation of the Second Temple in 18 BCE.
Click for a picture
of the Rons and Segolis on a tour of Jerusalem with Doreen 5 years ago.
---
June 27, 2009 (
go to News June 27, 2009
)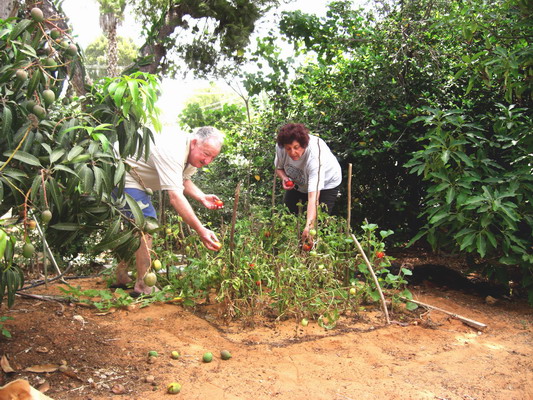 Picking tomatoes in one of our tomato patches
We've had mixed success with our gardening this spring/summer. Our vegetables have done well - fantastic lettuces, ruccola, spinach and tomatoes, with plenty hot peppers on the way. Our fruit trees seem less successful. What looked like bumper leechee, mango and avocado crops has turned into piles of fallen underdeveloped fruit.(You can see the mangoes on the ground). We hope there'll be something left to salvage from these. The yield for citrus is fair (but lemons excellent), pomegranates poor, gooseberries weak, passiflora disappointing, persimmons zero. Our attempts to pollinate the annona (custard apple) seem fruitless (literally!), and our lime graft appears not to have taken. But the tomatoes are plentiful and delicious!
---
June 20, 2009 (
go to News June 20, 2009
)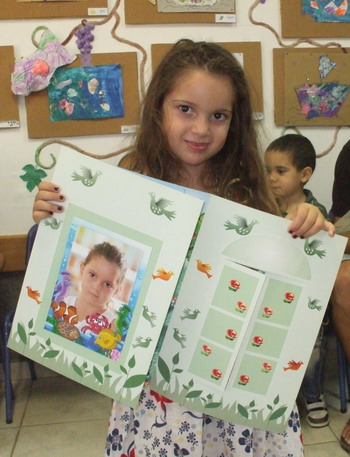 Amit Levy at the end-of-year kindergarten ceremony

Once again another school year draws to its close, and the end of year ceremonies and Aviv Levy's birthday on the 21st (tomorrow) remind me that I'm about to start my summer vacation. This week's picture of the week is of Aviv and Limor's daughter, Amit, at her kindergarten ceremony holding her colourful "report card". Happy birthday, Aviv, and wonderful vacations to all our grandchildren. Here are
some more pictures
of Aviv and his family.
---
June 13, 2009 (
go to News June 13, 2009
)
Vered (#10) slams the winning point!

Raanana has a "Mothers' Volleyball
(kadureshet)
League" of 17 teams consisting of the mothers of pupils of the schools of Raanana. The 17 teams were split into two sections, and the wining team was determined by a playoff of the winners of each section. Our daughter Vered was in the
Yachdav
School team and they topped their section without losing a game (the only undefeated team in both sections). The final was closely fought and the winning point was slammed by Vered! Consideriing how ill Vered has been and that she is not yet fully recovered we are delighted not only by her performance, but also by the fact that she can perform at all!
Some more pictures of the final here
and
previous pictures here.
---
June 6, 2009 (
go to News June 6, 2009
)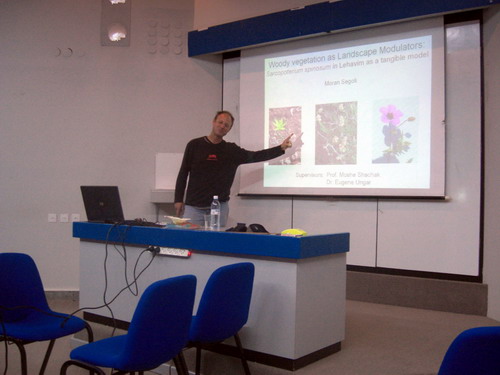 Moran Segoli is in his final stages of finishing his doctorate, and on Tuesday we attended his final seminar given before the academic staff at the Sde Boqer campus of Ben Gurion University. We were proud of him and impressed with his talk and the handling of the questions asked. In August he and Mikhal and the kids will leave for USA where Mikhal will take up her grant at the University of California (Davis), (see
News 9/5/09
) and Moran is working hard to finish his thesis before then.
---
May 30, 2009 (
go to News May 30, 2009
)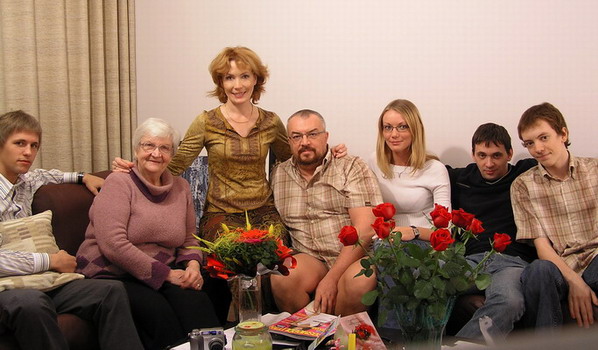 Heini Drui and family
from right to left: sons Gert and Tanel, stepdaughter Triin, Heini and Tiina, Mother Asa and Jaanus (Triin's partner)
Our "new" family in Estonia! This week we received an email from Heini Drui in Estonia. He wrote "About a month ago I started making my family tree. As luck would have it I found your website. It was absolutely amazing to see all my relatives." Heini is a first cousin to Yaffa, Yaakov, Rochelle, Rachel and Zvika. (see
Schank family tree
) and a second cousin to Doreen. There had been contact between the Israeli and Estonian branches, but contact was lost about 20 years ago. We are delighted that Heini has renewed contact and we hope that some day we'll meet.
The
Schank family tree
has been updated.
---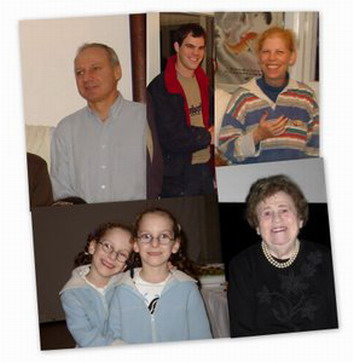 Clockwise from top left:
Noam Heiman (28/5), Uri Haberman (20/5/), Shuli Haberman (16/5), Sarah Olkienitski (23/5), Yael and Michal Gilad (14/5)
May is the gift-giving month for the Olkienitski clan - six of them have birthdays this month. Mazaltov to all of them - as we say in Hebrew - עד מאה ועשרים - "May you live to 120!"
See Goldberg family tree.
---
May 16, 2009 (
go to News May16, 2009
)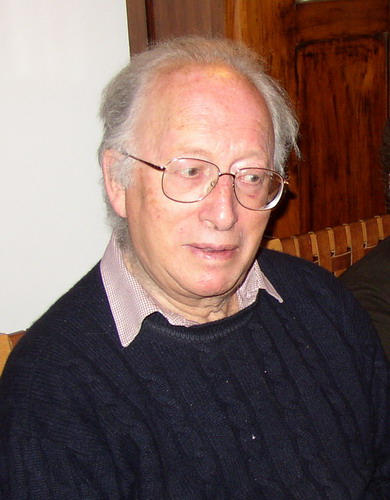 Michael Cohen 1928 - 2009 ז"ל


We were saddened to hear of the death last week in London, England, of Michael Cohen. Michael and Janet were frequent visitors to Israel and next year's Channuka party at the Habermans won't be the same with Michael's absence.

We extend our condolences to his wife Janet, children Jeremy and Emily, and grandchildren.

See Goldberg family tree.
---
May 9, 2009 (
go to News May 9, 2009
)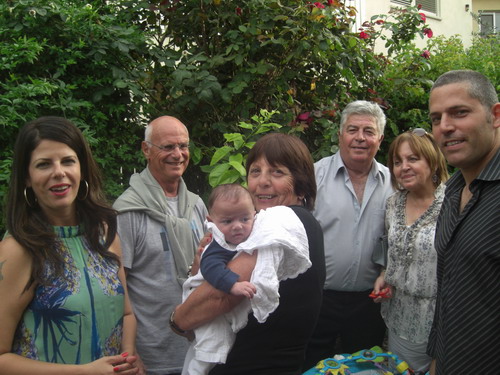 Rafael with parents and grandparents
l to r: Yahel Braverman, Melly Braverman, Rafael with Louise Braverrman , Menahem and Genia Dvir, Doni Dvir.


We all had a lovely time today at a party to meet Rafael, son of Yahel Braverman and Doni Dvir. It was fun meeting so many family and friends again.
More next week!
---
May 2, 2009 (
go to News May 2, 2009
)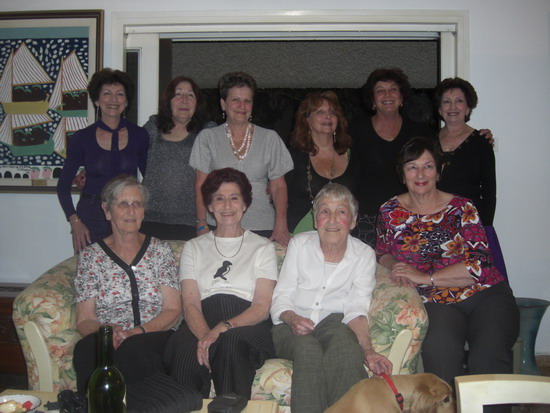 Back, l to r: Janice Friedberg (nee Sacks), Naomi Vinocour (Hertz), Suzanne Edmunds (Price), Shelly Rosenberg (Weiss), Doreen Levy (Glazer), Zena Berelowitz (Sacks)
Front, l to r: Judy Kessel (Stone), Shirley Frame, Riva Sandler (ex-Cape Town), Maureen Fain (Konigsfest)
Suzanne Edmunds (nee Price), long-time friend from our younger days in Durban South Africa, visited Israel, and we were delighted to have the opportunity of seeing her again, and having some of the ex-Durban "girls" over. It was a wonderful evening and everyone was delighted to catch up on news and renew friendships after so many years. Joining us were Sue's relatives (and close friends of ours) Colin Kessel and Riva and Basil Sandler. Come again Sue and let's do it again!
Click for

another picture .
---
April 25, 2009 (
go to News April 25, 2009
)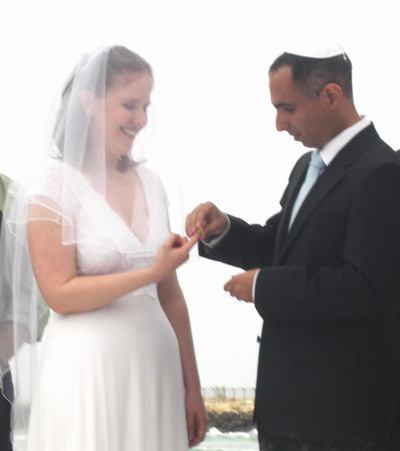 Efrat Levy and Gal Shabtai
"הרי את מקודשת לי בטבעת זו כדת משה וישראל"


Yesterday, 24.4.09 we celebrated the wedding of Gal Shabtai to Efrat, the daughter of my cousin Jonathan Levy and Naomi Weiner. Mazaltov to the couple, the parents and the grandparents.
Click for more pictures
.
(See
Levy/Hershovitz
and
Matz
family trees.)
---
April 18, 2009 (
go to News April 18, 2009
)
This year Pesach was a real family celebration, with grandparents, children and grandchildren in a noisy, joyous and meaningful re-enacting of a well-loved ancient ritual. We had special
with our pictures inside. The back page was in memory of Rael, Louise and Melly's son, who passed away this last summer.
night, and all seven of our grandchildren slept over with us for two nights. During he daytime we had family outings to Caesaria, Rosh Hanikra and a picnic lunch at Park Raanana.