MISCELLANEOUS PICTURES 2008

GO TO DOREEN AND EITAN'S HOMEPAGE

GO TO MISCELLANEOUS PICTURES 2007

GO TO MISCELLANEOUS PICTURES 2006

GO TO MISCELLANEOUS PICTURES 2005

INDEX OF PICTURES 2008
December 2008- Jerusalem with the Rons and Rasmussens.
25 December 2008 - Jimmy Rabinowitz's 70th birthday
December 2008 - Channuka celebrations
December 2008 - Breakast at Terry and Carol Kessel
December 2008- Lopsy is recovering from an operation
December 2008 - At Denise and Shai
Zacharia Sklar aged about 3 months
Dotan Shavit aged 6 weeks
Rebecca Engleberg and Kobi Garbawy announce their marriage
November 2008 - Moran runs in the Tel Aviv half-marathon.
November 6, 2008 - Welcome to Erica Leibowitz
October 2008 - Sukkot.
October 2008 - World Mind Sports Games - Beijing
September 2008 - Rosh Hashanah
August 2008 - A short visit to Amsterdam
August 2008 - Welcome to the Yaniv twins
August 2008 - The Rons in California
August 2008 - Alec Ron celebrates his 75th birthday
August 2008 - The Gilberts of Manchester visit.
July 2008 - A visit to Gill and Roy Myers
July 2008 - Welcome to Yonatan Kasorla
July 2008 - Congratulations to Caryn and Rhetick
July 2008 - Tali continues the Klaff sporting tradition
July 2, 2008 - The Presidents Awards for Volunteers
June 21, 2008 - Aviv Levy's 40th birthday
June 2008 - Alma Pashas
June 11, 21, 28 - June is Levy birthday month
May 2008 - Bridge seminar in Torino, Italy
May 2008 - Denise Braverman and Shai in Paris
May 2008 - Doreen's flowers
May 2008 - Alex Klaff finishes the Gulf Coast Triathlon
May 2008 -

Yom Ha-atzmaut

(Independence Day) at Yaakov and Ziva Bortenstein
May 2008 - Gail Nickel's 60th birthday
May 2008 - The family goes sky diving.
April 2008 - The Rons visit to Thailand
April 2008 - Eitan's 68th birthday
April 2008 - Passover
April 2008 - preparing for

pesach

(passover)
April 2008 -

Brit mila

of Leshem Aaron Nickel
April 2008 - Oren and Amalia visit Israel.
April 2008 - The Hakim family
March 2008 - The Berkowitz family
March 2008 - Purim and the

adloyada

in Sde Boqer
March 2008 - Yahel and Donni's visit to South Africa
January 2008 - Maayan's 4th birthday weekend
January 2008 - Visit of Mike Belman
---
December 2008- Jerusalem with the Rons and Rasmussens.
On Friday Doreen took the Rons (Aviv, Vered, Dani and Lior) and the visiting Rasmussens (Patisa, Jens and Sofia)on a tour of Jerusalem.
(See This Week's Picture of 20/12/08)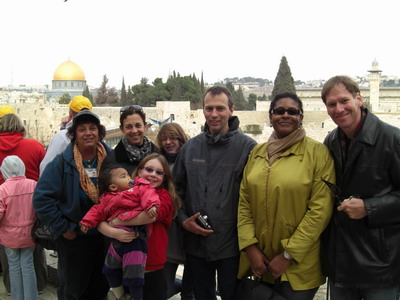 ---
25 December 2008 - Jimmy Rabinowitz's 70th birthday
This week we joined Tamara and Jimmy Rabinowitz at the celebration of Jimmy's 70th birthday. Tamara and Jimmy are friends from South Africa, and Tamara is also related to Doreen (see Glezer family tree.). It was a most enjoyable evening, with a wonderful film depicting Jimmy's life and achievements.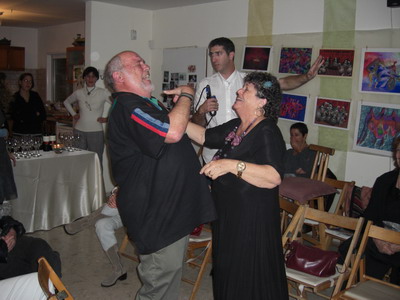 ---
Channuka

celebration - December 2008
The

Channuka

holiday (Festival of Lights) is one of the most popular of Israel's holidays, especially for children. It commemorates the rededication of the Temple after the Maccabean revolt against the Greeks, and the miracle of one day's supply of oil in the temple lasting for 8 days. Apart for eating

sufganiyot

(fried doughnuts) for 8 days, the children have special

Channuka

plays and shows at school and kindergarten, sing songs and light the

channukiah

(candelabrum) every night. On the first day we light one candle and then for 8 days we light another candle every night until on the last night we light 8 candles. Often, each night is celebrated at a different place, and everyone brings their own

channukiah

so that sometimes there are tens of

channukiot

to be lit.

At the (by now traditional) Channuka lighting at Eitan and Shuli Haberman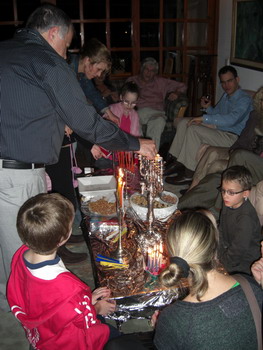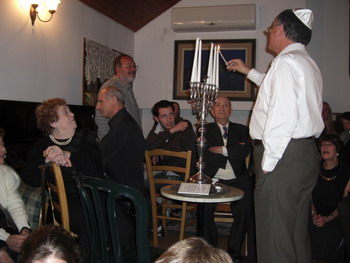 Lotem at her

gan

(kindergarden)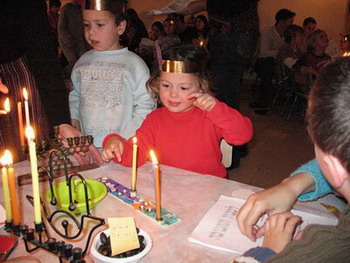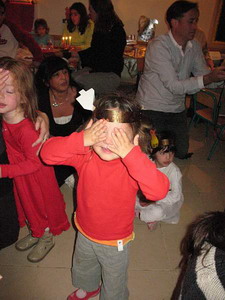 Celebrating at the Rons, with the Bravermans and Patisa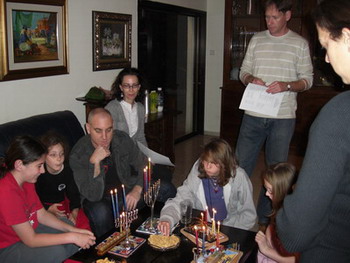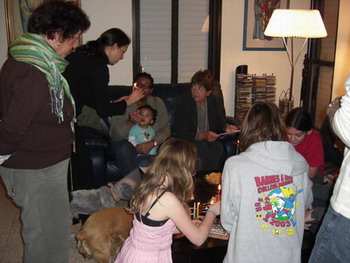 Maayan and Lotem at the Sde Boqer celebration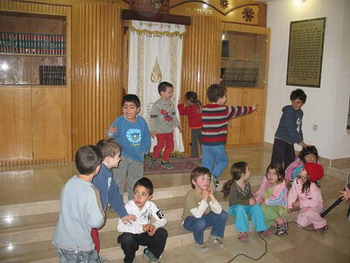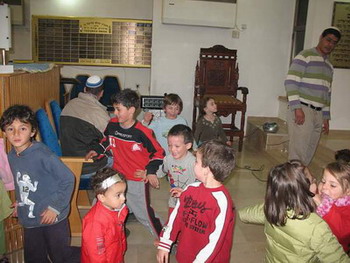 At Maayan's kindergarten he had two roles -
He was a Maccabi soldier ... ... and ALSO a candle!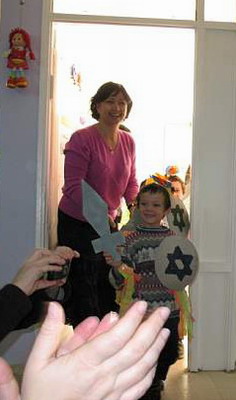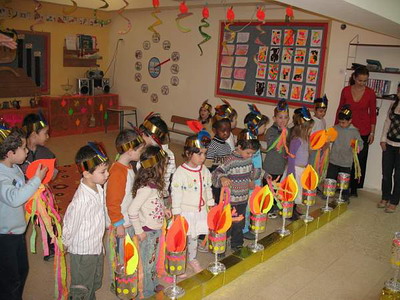 and father Moran was one of actors in the play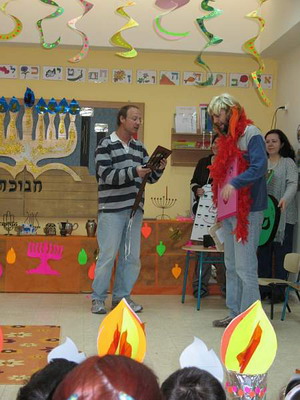 ---
December 20, 2008 - Breakast at Terry and Carol Kessel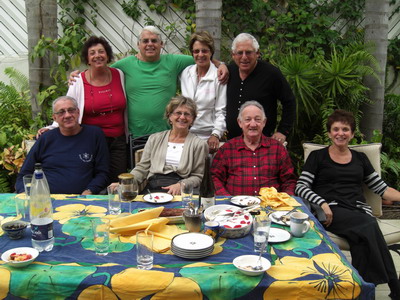 Doreen, Terry Kessel, Barbara Faktor, Colin Kessel
Jossi Faktor, Louise Kessel, Eitan, Carol Kessel
We spent a lovely
shabbat
morning at Terry and Carol Kessel, where we enjoyed a delicious brunch, and the company of good friends.
---
December 2008- Lopsy is recovering from an operation

The Ron's dog, Lopsy, although he has been in the family for nearly 14 years, is not quite "family", but he is certainly the "family dog". Poor Lopsy (see picture) had an operation this week to remove a growth "the size of a nectarine" on his prostate. He is recovering well, and no doubt eagerly anticipating his walks.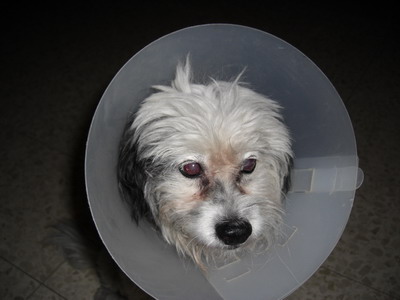 ---
December 2008 - At Denise and Shai

On Friday night 12/12/08 Denise Braverman (see Glezer, Nochimovicz, and Schank family trees) and her companion Shai Arroyo invited Denise's family for a family dinner. (See This Week's Picture 13/12/08). The delicious meal and excellent company ensured that we enjoyed a really lovely evening.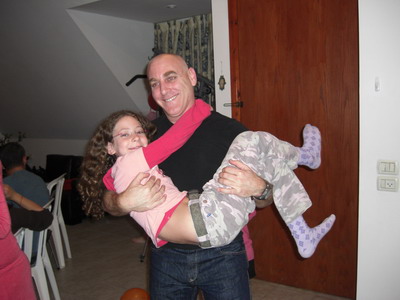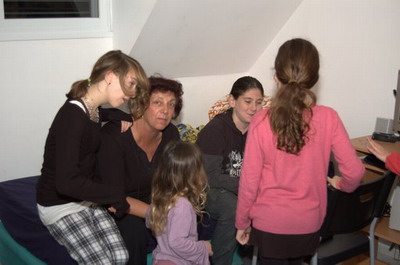 The food was delicious and and ended with delicious desserts - including the chocolate coated strawberries prepared by Lotem (with Doreen's help!) .....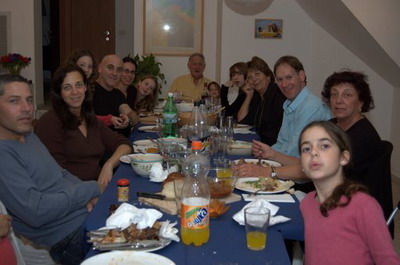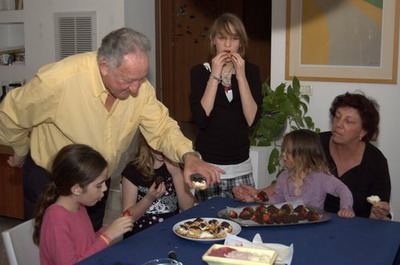 ....... and the birthday cake baked by Yahel for Gabi Dvir, whose birthday we also celebrated.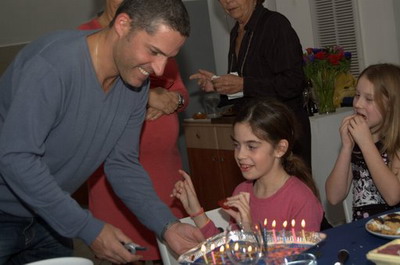 ---
Zaharia Sklar, aged about 3 months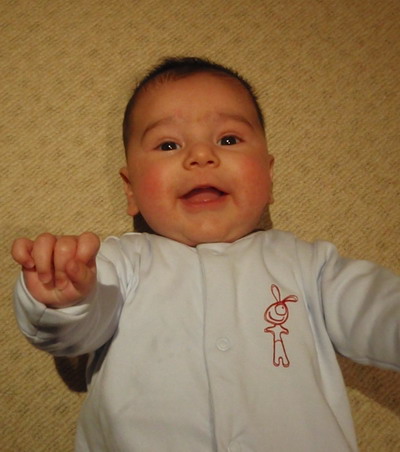 Zac Sklar, son of Jonathan and Melanie, grandson of Joel and Beryl Klotnick (see Matz family tree).
Click here for more.

---
November 2008 - Dotan Shavit at 6 weeks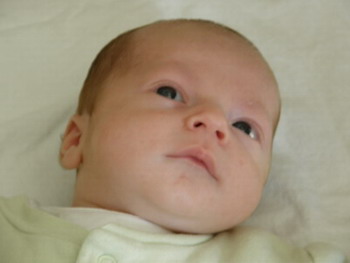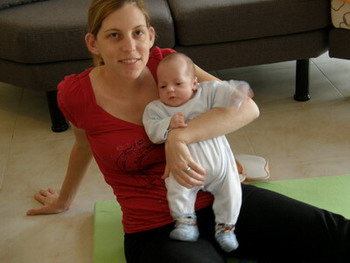 We received these pictures of the lovely baby Dotan, son of Vered and Yoav Shavit. (see Schank family tree). See also This Week's Picture archives.

---
Rebecca Engleberg and Kobi Garbawy announce their marriage
Congratulations to Rebecca Engleberg (see Matz family tree) and Yaakov (Kobi) Garbawy who have announced their marriage. This picture of Rebecca and Kobi was taken in our house in Hofit on Rosh Hashana (New Year) 2006.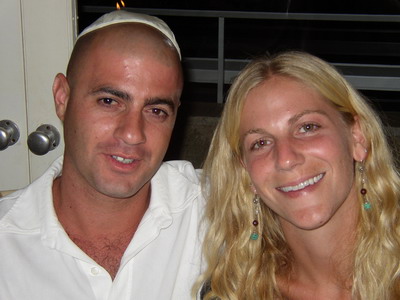 ---
November 2008 - Moran runs in the Tel Aviv half-marathon.
Congratulations to our son, Moran Segoli, on running - and finishing - the Tel Aviv half-marathon on 7/11/08. The birthday of Moran's close friend, Ran Kagan, fell on the day of the marathon, and Ran asked Moran and two other friends to run with him in the marathon as a birthday present.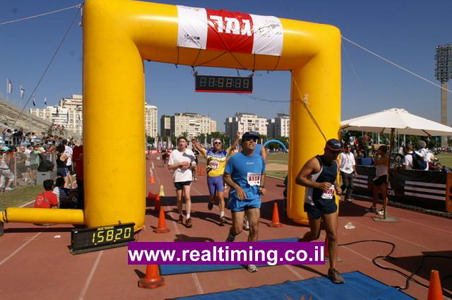 Moran (in yellow/blue shirt/) at the finish line of the Tel Aviv half-marathon
---
6 November 2008: Welcome to new family member, Erica Leibowitz
Mazeltov to parents Daniel and Donna Leibowitz of Port Douglas Australia on the birth of their first child, a daughter, Erica Lily May, on November 6th in Cairns, Australia. Mazeltov to grandparents Joe and Sharon Leibowitz on their third grandchild. See Matz and Hershovitz family trees.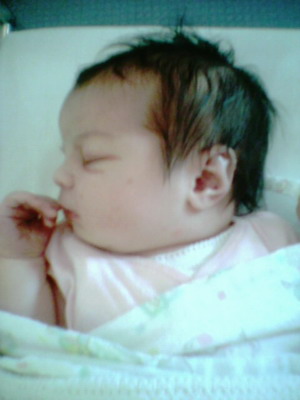 Erica Lily May Leibowitz, aged about 1 day


---
October 2008 - Sukkot.



Doreen reports:





Erev Sukkot

is an annual celebration at the home of Wendy and her son Dan Kansky, together with the rest of the Kansky family, Malia Levy with her son Jonathan and family, Vered and Aviv and their girls. Aviv leads the blessings and explanations and this year he out did himself with some very fancy lulav waving in all directions.

Caroline and I attended a sunrise concert by David Broza, part of the Dead Sea Festival, on the summit of Massada. David Broza has a unique relationship to his guitar and enthralled the appreciative crowd with songs in Hebrew, Spanish and English. It was overcast that morning so we didn't see the sunrise but our beaming faces as we were photgraphed with David Broza made up for it.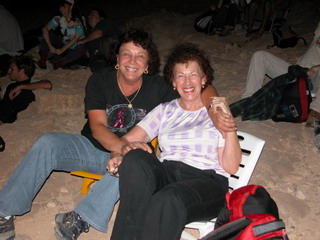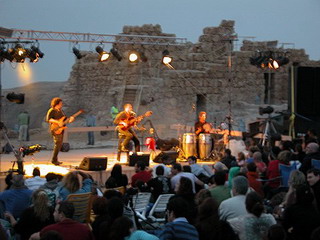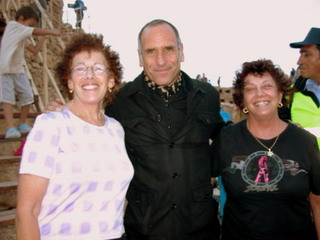 The Eilat part of the holiday started with an amazing fish barbecue with lavish salads prepared by Limor, eaten in their lovely

sukka

that included figure painting and home made decorations.
Limor giving Ilai, the excellent eater, her food. Dani holding Itamar with Aviv Ron and Vered looking on.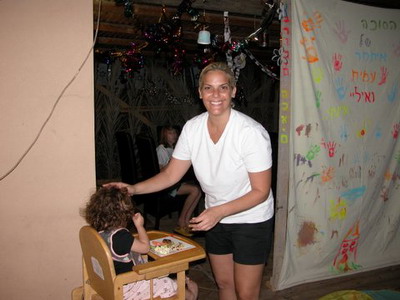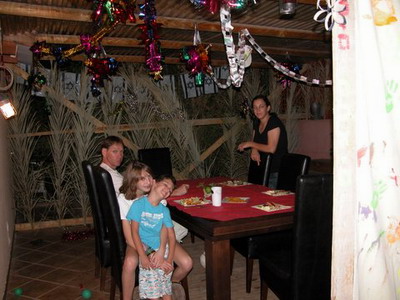 Scuba diving is much more than the 30 minutes or so spent under the water. The preparation can and did take hours, including refresher dives for Mikhal and Caroline and Aviv bandaging and waterproofing a deep cut in my finger. After dividing into buddies and a briefing by Aviv, we had a last group picture before we descended to the cool depths of the beautiful Almog Nature Reserve. We all enjoyed the dive tremendously. (See This Week's Picture). The highlight was when Dani declared that even though she has done 8 dives, this one was by far the best.(see Dani's page). This just may be the beginning of an annual Family Dive.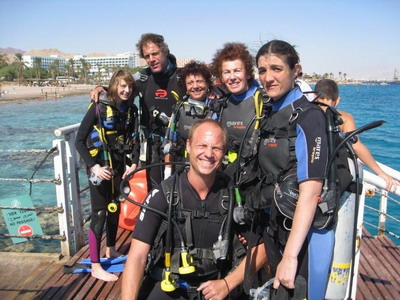 l to r: Dani, Aviv, Doreen, Caroline, Mikhal, and Moran in front

Coral World offers unlimited opportunities for children to enjoy themselves. Here Dani and Lior are engaging their younger cousins while the parents take a welcome break.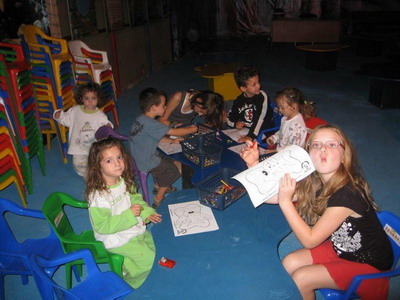 When Vered said that they with Aviv Levy and kids had gone to the

Canyon Ha Adom

for a picnic lunch I was most surprised. A shopping mall in Hebrew is called a 'Canyon' and I couldn't understand why they would want to have a picnic at the mall. When they sent the picture it became clear that they were referring to a hike and lunch at the challenging Red Canyon in the Eilat Mountains.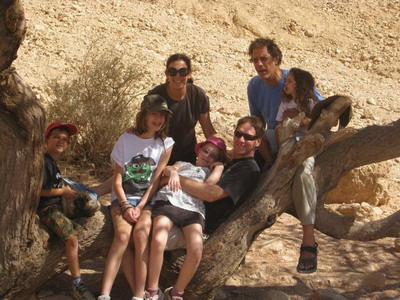 Some

sukkot

are very lavish but perhaps the most unusual

sukka

was at the Underwater Observatory. Here Aviv (on the left) with another diver are holding the 4 species as they fulfill the commandment to sit in the Sukka open to the sky.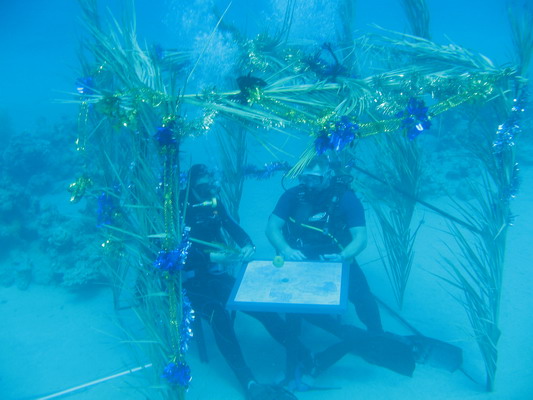 We ended the holiday with Eitan back from Beijing and a most pleasant dinner prepared by Aviv Ron (see This Month's Recipe).

It was wonderful to see Israel on holiday with festivals and fun activites all over the country. Everywhere there were

sukkot

, reflecting the traditions of the different communties, open to all.

---
October 2008 - World Mind Sports Games - Beijing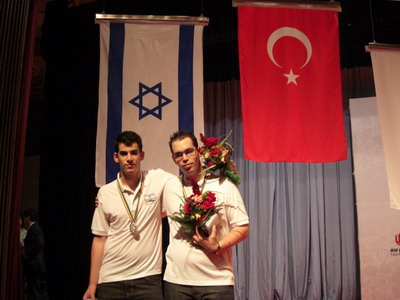 I enjoyed my time in Beijing at the 1st World Mind Sports Games. (see picture , and News ) I also got a lot of pleasure from the Israel Youth Bridge team, who played well and behaved well. Their results were impressive, and with a little bit of luck could have been even better. Israel finished 5th out of 74 countries in the qualifying stage of the under 28 teams championships but were knocked out by hosts China in the quarter finals. Lotan Fisher and Ron Schwartz excelled by winning the silver medal in the Juniors pairs competition, with Alon Birman and Eliran Argelazi finishing 7th. Gilad Ofir and Bar Tarnovski were third in the Consolation final..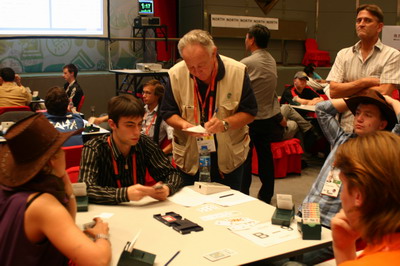 As a tournament director/referee there were no real problems. If you know a little bridge try this example of one of the easier cases I had to rule on.
Both sides vulnerable. Board 4
S AQT43
H 97653
D 2
C QT
KJ 762
KJ84 AQ2
AK94 T6
A75 J9432
985
T
QJ8753
K86
The bidding:
W N E S
1 D 2D* P 2S
...P* P 3C P
3NT All pass
* 2D showed both majors and W hesitated significantly before passing. (The length of the hesitation was disputed.). The contract of 3NT could fail but N made it easier for W by leading the 3S and W made 9 tricks for a score of 600.
After the play NS called me to complain about E's 3C bid after partner's hesitation.
These are all the relevant facts. How would you rule?
Click here for ruling given in the competition.

---
September 2008 - Rosh Hashanah
This year we celebrated Rosh Hashanah,the Jewish New Year, at the home of Vered and Aviv Ron.Vered, Aviv, Danielle and Lior hosted Julius and Laura Nickel; Richard, Rona and Leshem Nickel; Louise Braverman; Denise Braverman;Yahel Braverman and Donni Gabi and Avigail Dvir; Mellie Braverman; Moran, Mikhal, Maayan and Lotem Segoli, and Doreen and I.

Doreen returned from guiding a tour a few hours before the festivities, just in time to pick some pomegranates from our tree. It is traditional to eat pomegranates on Rosh Hashanah, and also apple dipped in honey. Pomegranates and honey express the wish for a "sweet" year, so naturally Doreen tried the special honey vodka Aviv had brought from Poland. Lotem was only allowed to taste afew drops.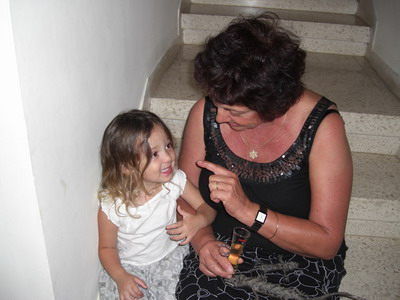 Everyone brought something to the meal, but the main food (delicious!) was prepared by Vered and master-chef Aviv, and enjoyed by young and old.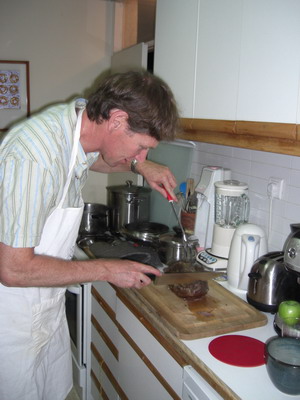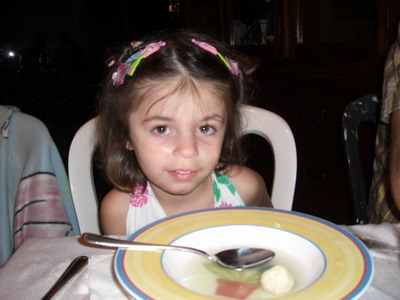 This was also an opportunity to welcome Leshem Nickel to family celebrations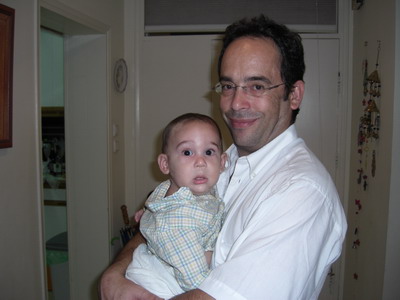 Shofar-blowing has become a tradition at our family New Year celebrations (
see here
) and this year was no exception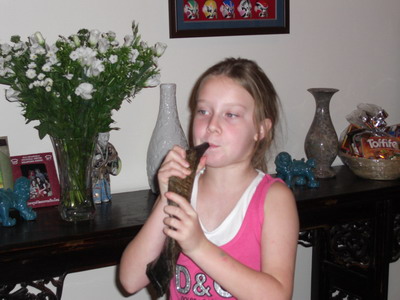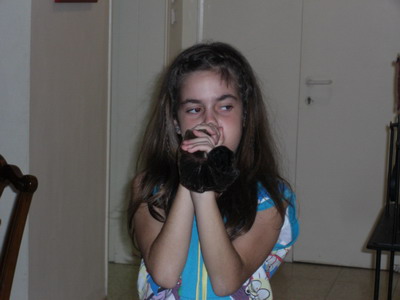 and the icing on the (birthday) cake was celebrating Danielle's 13th birthday, which this year coincided with Rosh Hashanah.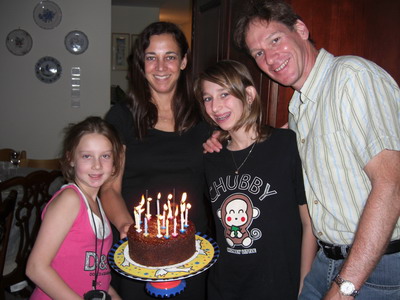 ---
August 2008 - A short visit to Amsterdam


At the last minute we decided to travel to Amsterdam for a short break and to celebrate the

barmitzvah

of Moran Reijzer, son of Ezra and Rivka Reijzer, and grandson of old and dear friends Hans and Lotti Reijzer. (see archives of "This Week's Picture" from 30/8/08 and News from 23/8/08.)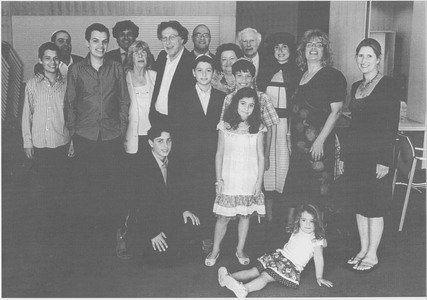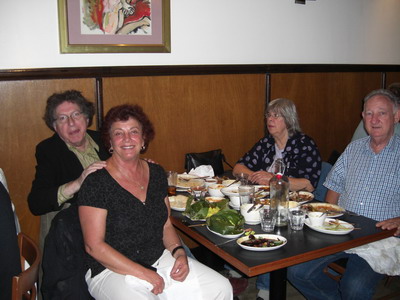 The family of Moran, the barmitzvah boy Enjoying a
rijstafel
with Hans and Lotti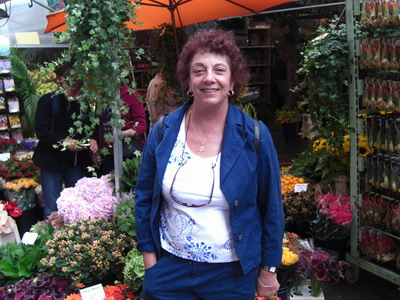 No visit to Amsterdam is complete without

Doreen's visit to the flower market or my visit(s) to a herring stall.
---
August 2008 - Welcome to the Yaniv twins, Ido and Amit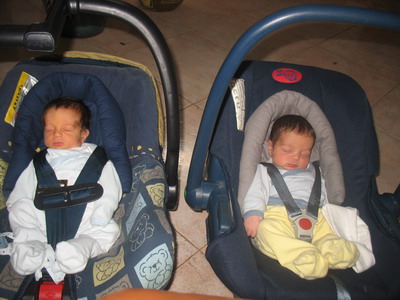 Ido and Amit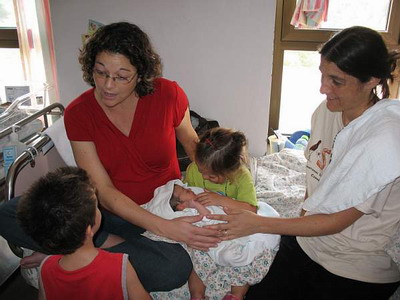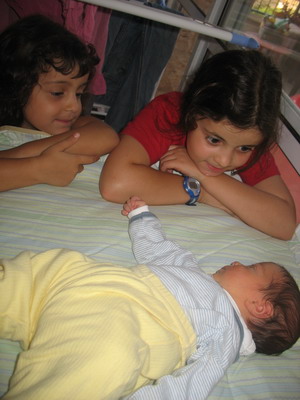 Aunt Mikhal Segoli and cousins Maayan and Lotem listen to mommy Naama talking about the new baby twin; Rotem and Nitzan admire one of their new brothers.

See also: This Week's Picture (23 August 2008), Maayan's page, Lotem's page.

---
August 2008 - The Rons in the USA in the petrified forest in California.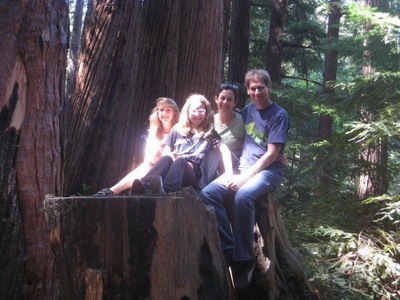 Vered and Aviv and the girls have been in USA since the beginning of the month. They were on the East coast visiting many of their friends, then in California where they attended the Klaff wedding. Now they are touring the California coast. In the picture they are enjoying a rest while visiting the Petrified Forest. They are due to return at the end of the month.

---
August 2008 - Alec Ron celebrates his 75th birthday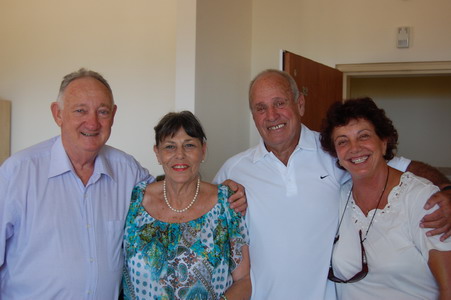 Today (16.8.08) we celebrated the 75th birthday of Alec Ron. Alec and Rachel were among our first friends when we moved to Hofit 40 years ago. Even though we lived out of Hofit for more than 20 years, and Alec and Rachel no longer live in Hofit, we remain in close contact and have remained close and dear friends. It's always a pleasure being with them. (And thanks to their lovely daughter Mikhal for the picture).

---
August 2008 - The Gilberts of Manchester visit.
While we were supposed to be holidaying in USA Viki and Jack Gilbert and daughter Hannah from Manchester England were going to stay in our house on their Israel holiday. Following our change of plans, they are now sharing our house with us. They are delightful people and it's a pleasure having them. See Matz family tree.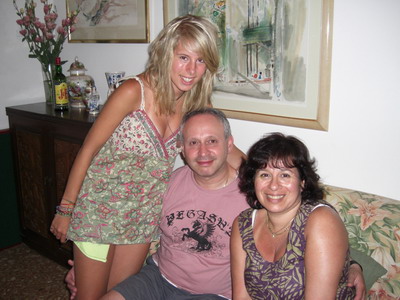 ---
July 2008 - A visit to Gill and Roy Myers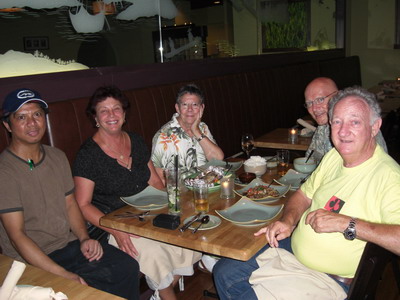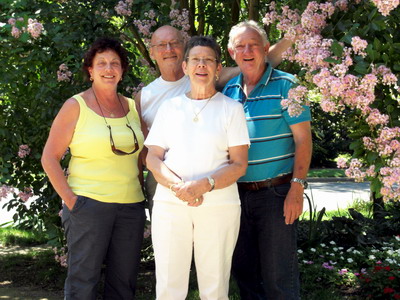 It's always a pleasure meeting Gill and Roy Myers again. Gill and Roy are both doctors and every year they volunteer at a mission in Thailand on the Burmese border. They speak fluent Thai and we got served a special meal prepared by the Thai cook at the local Thai restaurant in Crofton, Maryland.. Eitan (Anthony then) and Roy were at high school together, and they and Gill were friends at University, but then lost contact. Years ago we met by chance in St Thomas in the Virgin Islands and we have maintained a warm friendship ever since.

---
July 2008 - Welcome to Yonatan Kasorla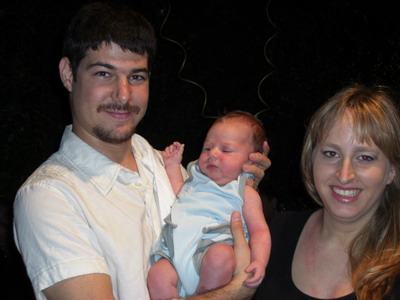 Dvir, Yonatan, Lital Kasorla


On Friday 18 July Doreen went to the party to welcome Yonatan, son of Lital and Dvir Kasorla, and first grandchild of Yaakov and Ziva Bortenstein. (see Schank family tree). (I had to miss the party as I was in Poland). The party was in the garden of the family home in Gedera. All our grandchildren were there and they had a marvelous time together, which means that a happy time was had by all.

---
July 2008 - Congratulation to Caryn and Rhetick
Congratulations to Caryn Klaff, daughter of Frankie and the late Vivian (see Goldberg family tree) and Rhetick Senguptaon on their engagement. We're looking forward to meeting Rhetick on our visit to USA soon.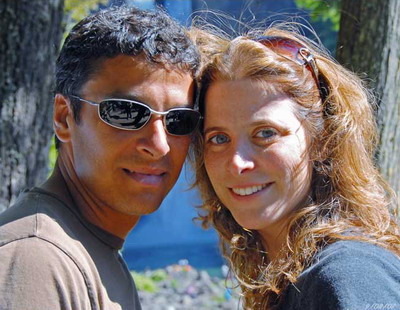 ---
Tali continues the Klaff sporting tradition


A couple of months ago we wrote about the sporting achievements of Alex and Tamir Klaff (

click here

for details of Alex's triathlon and Tamir's Primal Quest success. ). See

Goldberg family tree.

Tali, their daughter, is certainly taking after her parents. On July 4 she marched in the parade with her gym class and entertained the crowd by doing cartwheels and splits on the road.Tali's the one in the green leotard, doing the full splits.
This week she competed in her first swim meet and won her heat in the freestyle, came in second in backstroke and third in the relay. (See This Week's Picture)

---
July 2, 2008 - The President's Awards for Volunteers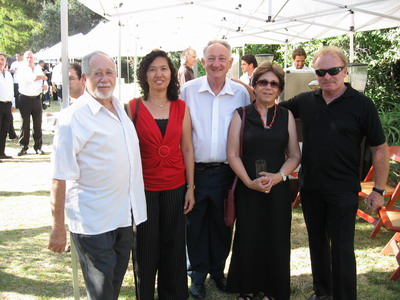 I attended the ceremony at the President of Israel's residence where Volunteer Awards were given to 12 outstanding individuals and groups, recognizing their selfless contributions to society. Among the awardees was our friend Morris Kahn, the founder of Lead Israel, a project that develops leadership and community responsibility among high-school students. Among the friends there to join in his achievement were Dovvie Glasman, Lynn, me, Livia Passwell and Shlomo Ravid.
---
June 21, 2008 - Aviv Levy's 40th birthday

The family celebrated Aviv Levy's 40th birthday today, with a family meeting of the siblings, spouses, parents and cousins in Jerusalem (See This Week's Picture Archives).



On Friday night the adults celebrated with a festive meal at a Jerusalem restaurant (how else would the Levy's celebrate if not by eating?)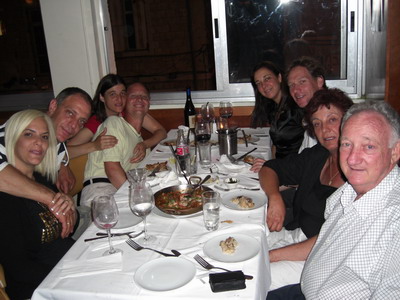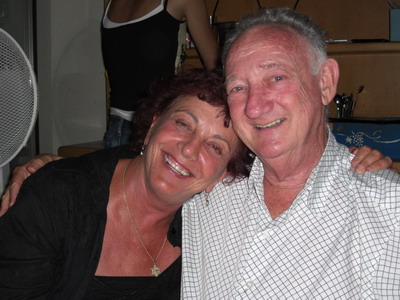 On Saturday morning we all met for breakfast at the Sheraton Hotel.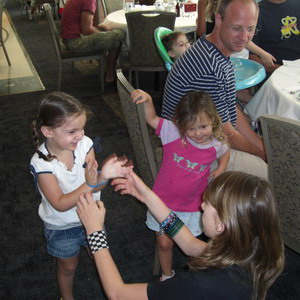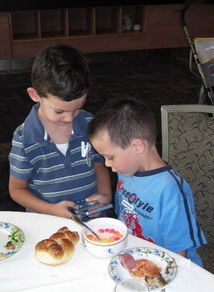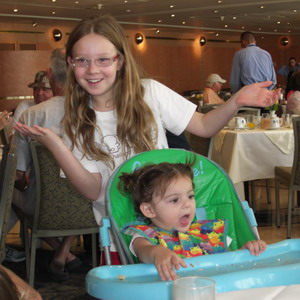 ---
June 2008 - baby Alma Pashas, with savta Rochelle. (see Schank family tree)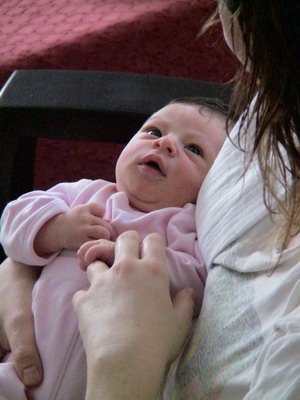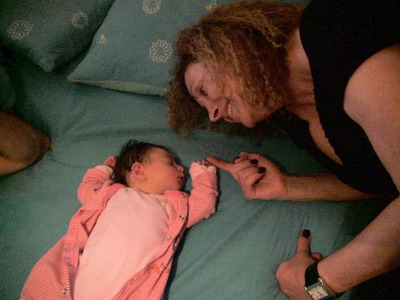 ---
June 11, 21, 28 - June is Levy birthday month
For This Week's Picture I looked for a picture showing only Doreen, Vered and Aviv, who all have birthdays in June. I only found two: this one taken while white-water rafting on the Green River in Colorado, and the one in This Week's Picture.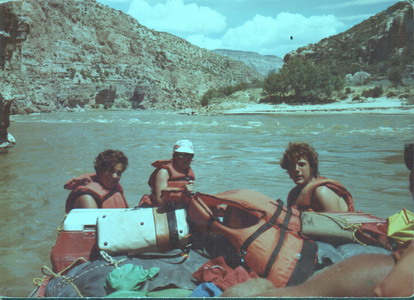 ---
May 2008 - Bridge seminar in Torino, Italy





I attended a seminar on the new laws of Bridge organised by the European Bridge League. At the seminar the members of the World Bridge Federation Laws Committee presented and explained the reasoning behind the changes in the new laws.

In the picture below left, two Laws committee members, Ton Kooijman of Holland and Grattan Endicott of Great Britain, are explaining the intricacies of a much-changed law.

Each country was entitled to send a maximum of two participants to the seminar. In the picture below right Ilan Shezifi and myself, from Israel, enjoy a meal with Rahmi Illilikci and Fahir Uzumcu, the two top Turkish Tournament directors. Rahmi and I have become good friends, and he and Fahir entertained us when we visited Istanbul with Moran and Maayan a few years ago.

A rally of Ferrari owners took place at the same hotel and at the same time as our seminar. It's not often that one sees parking lots filled with these sexy cars. The picture on the left shows a small portion of one of the hotel's parking lots.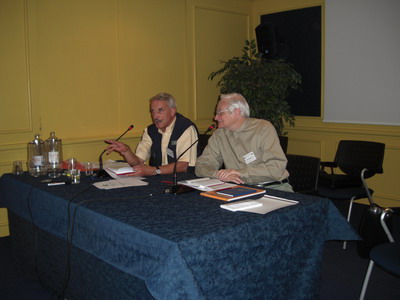 ---
May 2008 - Denise Braverman and Shai in Paris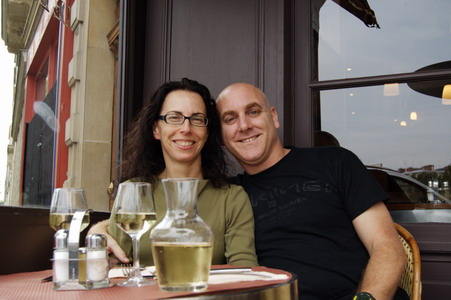 Denise Braverman and Shai enjoy a meal in Paris.
---
May 2008 - Doreen's flowers
Doreen is back from her tour. Her bus included people from SouthAfrica, Switzerland, Norway, Germany, Denmark, Australia, New Zealand, Hong Kong, Netherlands and Greece! They were obviously very happy with her as she came back with a huge and lovely bouquet of flowers.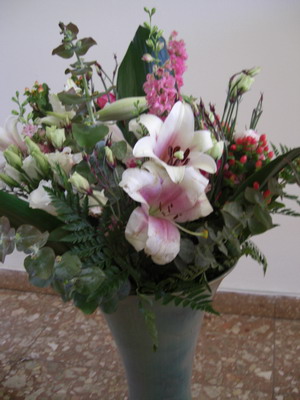 ---
May 2008 - Alex Klaff finishes the Gulf Coast Triathlon
Congratulations and many "wows" to Alex who finished the 70 mile (112 km) triathlon (swimming, bicycling, running) in 6 1/4 hours. We're proud of her physical achievement and social achievement in raising money for a good cause. (see previous report on this site). There are more pictures. here.


Alex writes:

Well, I survived all 70.3 miles of my half ironman in Florida this past weekend!! The race went extremely well, despite my anxiety of the heat. Race morning started with body markings at 4:45 am and getting our gear all set up. My wave, women 35 and older, went first with the swim after the elite. The water was choppy but the temperature was relatively comfortable at about 75 degrees. The 1.2 mile swim took me 40 minutes to complete and luckily I survived it without any nausea from the choppiness of the water. I then transitioned onto the 56 mile bike where I quickly realized that being in the front of the pack meant I was up there with the elite, nice to be there but I was quickly put in my place! The course took us out and back with head winds for the majority of the 28 mile return portion, but overall I fared well finishing the 56 miles in 3 hours. The run was the hardest, it always is. By the time I started running it was about 10:30 and the temperature hit a good 85 degrees without any shade anywhere. They handed out sponges soaked in ice water and that really did the trick, but the water soaked my shoes and socks so my biggest challenge was blisters on my feet, which I felt every step of the 13.1 miles! Words cannot describe what crossing that finish line meant. I finished in my goal 6 hours 14 minutes (my goal was 6:15) and after crossing, it was a feeling of complete relief to finally have done this race.

---
May 2008

Yom Ha-atzmaut

(Independence Day) at Yaakov and Ziva Bortenstein.

The traditional way to celebrate

Yom HaAtzmaut

is by having a 'mangal' or barbecue. We were delighted when our cousins Yaakov and Ziva Bortenstein (see Schank family tree) invited us to share their family event. The food was plentiful and delicious, but best of all was the opportunity to spend time with our family at a happy event.



Doreen writes:

My earliest memory of Yaakov is when I came to Israel after finishing high school. I went to kibbutz ulpan in the Western Negev and on my first free Shabbat I went to my relatives, the Bortensteins (Yaakov, Yaffa and Rochelle). When I got off the bus in Gedera there were Yaffa and Yaakov with a horse and cart to drive me to their parents' moshav. For me it was a uniqe experience.

Yaakov stands by his professional barbecue as he expertly prepares the steak and chicken. Ziva looks lovely as she prepares lunch for some 30 guest without looking the least bit flustered. Their son Lior is studying architecture at Bezalel in Jerusalem. We had much to share as he had done a parachutists course while in the army (see and read about my jump) . Lior is standing with his pregnant sister Lital and her husband Dvir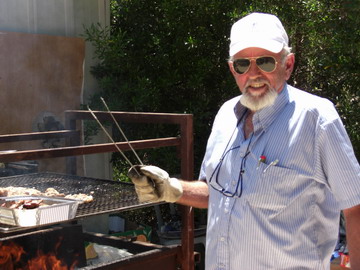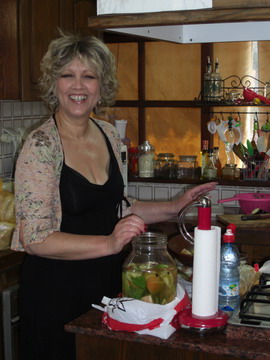 More cousins, Zahava and Zvika Karlsbad on the left. Rael adding his expertise to the roasting meat.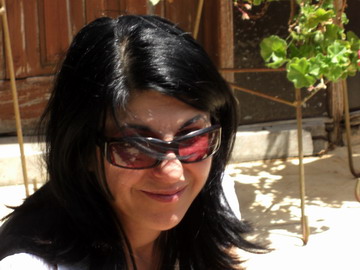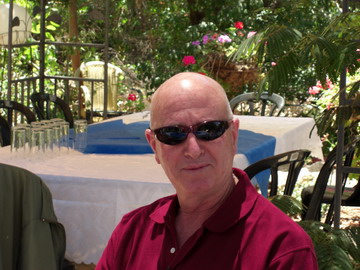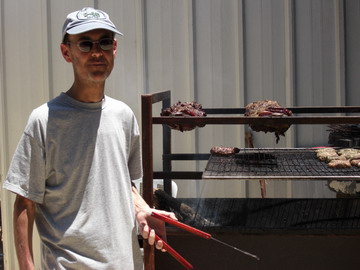 Moshe and Rochelle Kirshner with their son Raz. Our granddaughter Dani shares a laugh with her cousin Roni Karlsbad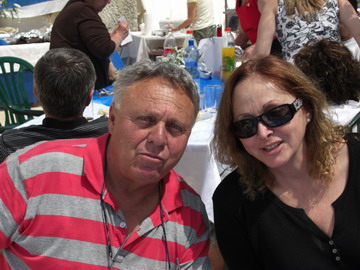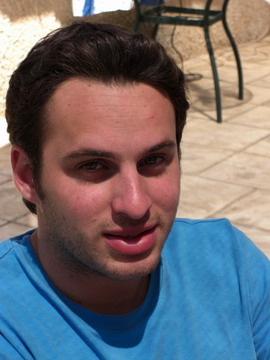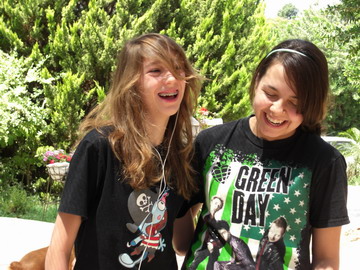 Andy Loew wondering what all the photographing is about, while his wife Yaffa poses with Dani. Rachel Karslbad and her daughter Roni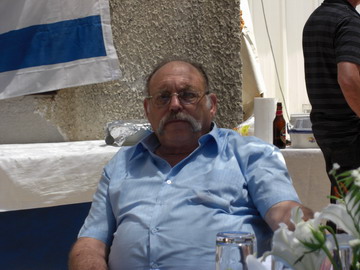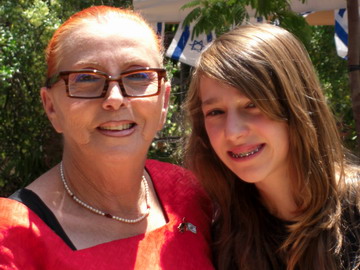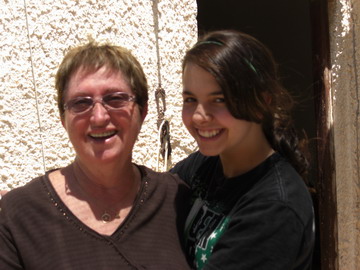 Louise, Doreen and Denise. What is there to say?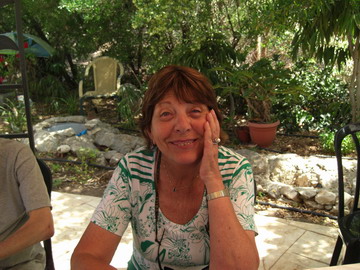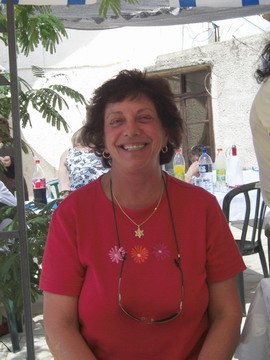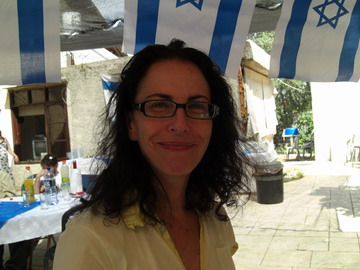 ---
May 2008 - Gail Nickel's 60th birthday
Congratulations to Gail Nickel (see Nickel/Nochimovicz family tree) who turned 60 on 3rd May. Her sisters flew her down to Cape Town from Johannesburg to celebrate the happy event with the family. .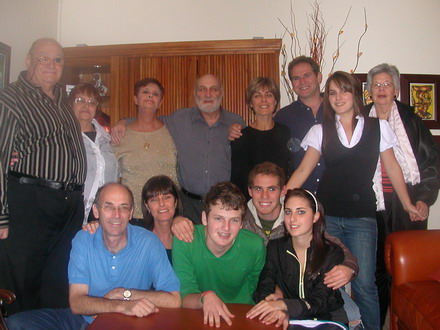 Back row: Monty and Gail, Lucille and Graham Melamed, Wendy and David Ginsberg, Natalie Ginsberg and Hazel Ginsberg (David's mother)
In Front: Marlon, Carmen and Jaryd Kay, Saul Ginsberg, and Talia Kay
---
May 2008 - The family goes sky diving.
See also This Week's Picture, and a video of one of the dives (mainly of vered, also of Doreen and Mikhal)

Doreen writes:


What's the use of jumping if there is no audience? Encouraging the jumpers (Vered and Aviv Ron, Mikhal Segoli, my niece Denise Braverman, friend Caroline Livne and her son Gideon Collins, and me) were: Louise Braverman; Rael Braverman; Eitan; Moran Segoli and Maayan and Lotem; Gideon family Sharon and Ori; Caroline's daughter and grandson Avigail and Almog Collins.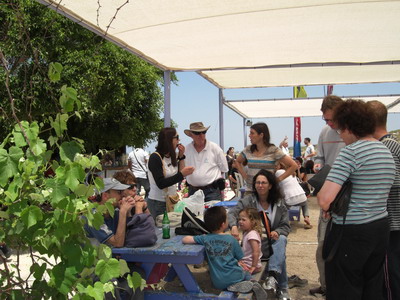 The shirt I'm wearing was bought in New Zealand and I remember looking at it after I bought it with the awful realization that I had just committed myself to bungee jumping. Aviv looks good as he suits up ready to jump.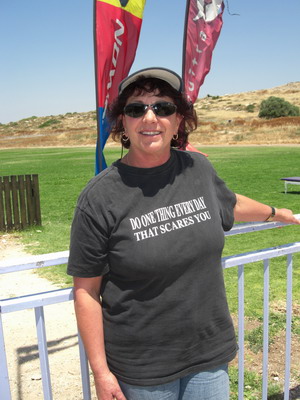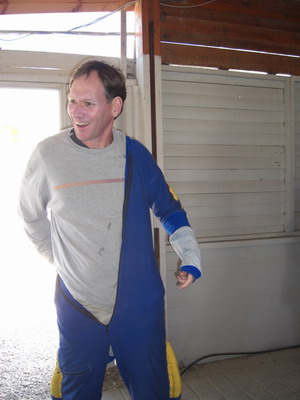 The first group of Aviv, Denise, Caroline and Gideon pose for a group photo. Aviv get those legs up!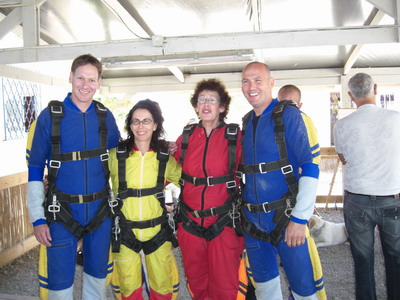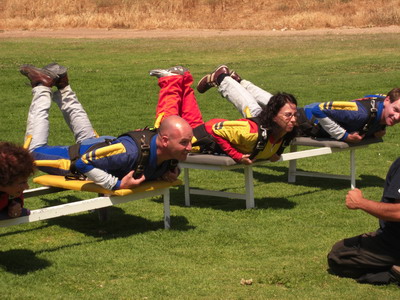 .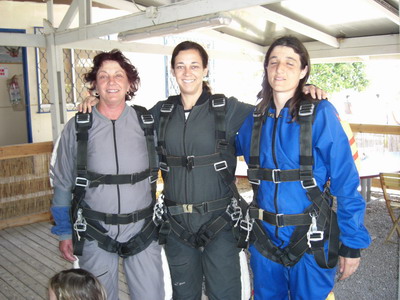 The second group. Doreen, Vered and Mikhal, looks professional.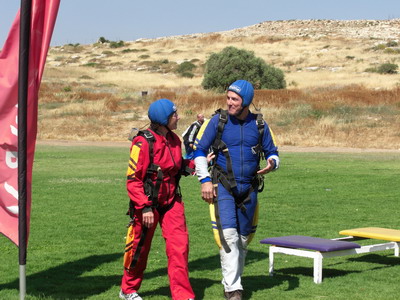 Caroline and Gideon share the excitement of their jump
Aviv about to land with feet well up. Vered smiling for the camera as she free falls at 12000 feet Denise smiling for the camera at sea level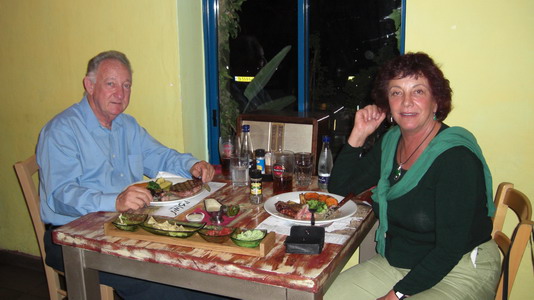 We celebrated Anthony's (aka Eitan) birthday quietly, without grandchildren or friends - just the way we wanted. With my being away from home so much, just being together is a celebration. After cutting down trees in the morning (where does he find the strength?) in the evening we went to Limosine, an excellent meat restaurant.

Happy birthday to my husband, my friend and my hero. I love you very much.
Doreen

---
April 2008 - Passover seder in Hofit
Our passover seder this year broke all records - for the fewest number of participants. Nine of us (us, Louise, Rael and Denise Braverman, Moran, Mikhal, Maayan and Lotem Segoli) read the

haggad

ah, ate

matza

and bitter herbs and eggs in salt water, reclined in our chairs, proudly heard Maayan ask the "four questions" (assisted by Lotem), and enjoyed another of Doreen's delicious meals. Our main course this year was lamb (instead of the usual turkey), and after Maayan found the afikoman, we ate the chocolate matza cake prepared by Doreen and her two able helpers, and strawberries.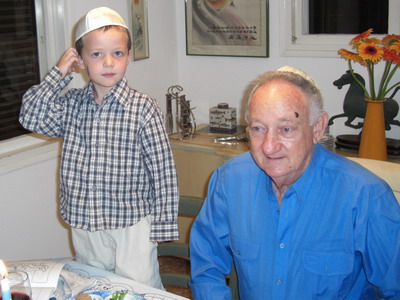 ---
April 2007 - preparing for

pesach

(passover)
Doreen helping the two cooks, Maayan and Lotem Segoli, prepare a special chocolate

matza

cake.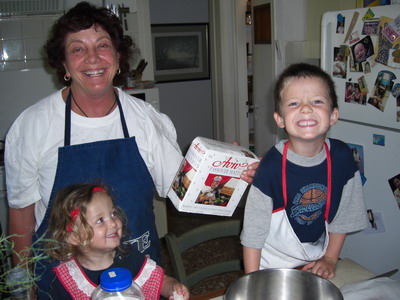 ---
April 2008 -

Brit mila

of Leshem Aaron Nickel
See also Archives of This Week's Picture, and the Week's News.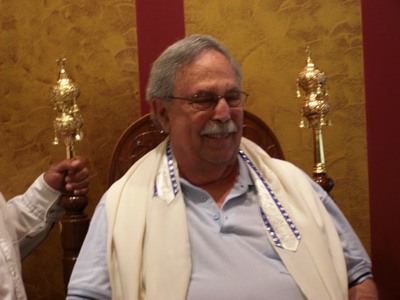 Grandpa Julius (the
sandak
, godfather) is ready to hold baby Leshem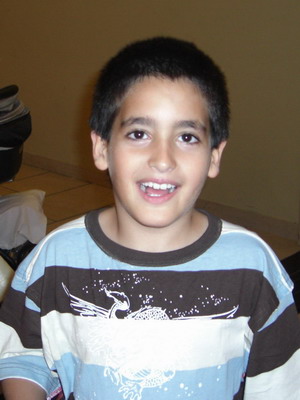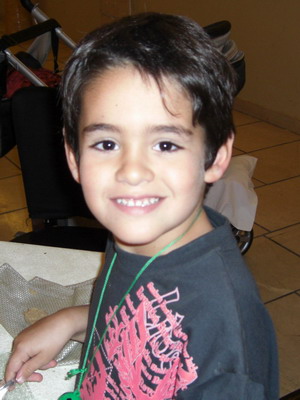 A new Nickel cousin for Nevo (left) and Itai (rigjht); and Amit, Assaf and Galit (with dad Louis).

---
April 2008 - Oren and Amalia visit Israel.

In April, Oren Klaff and his fiance, Amalia Cima, visited Israel. The did a lot of touring and had a wonderful time. They spent some time with us, and thoroughly enjoyed the typical

mizrahi

salads and food we had at our favourite local restaurant.
In August this year we plan on being at their wedding in California.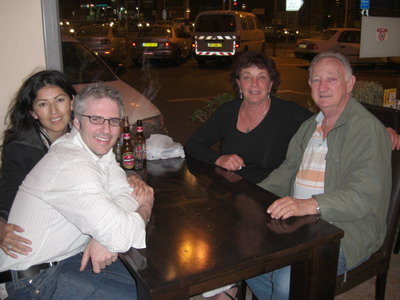 ---
April 2008 - The Hakim family

Jean-Marc, Roslyn, Daniel, Claude Hakim
Once again this site has been instrumental in finding "lost" relatives. We were thrilled to receive an email from Roslyn Hakim, from Sydney Australia, Roslyn had found her grandfather's name (Barnett Nickel) on the site and wrote to us. She is a second cousin to Doreen on the Nickel side, and they both remember playing together in Johannesburg when they were young . They haven't seen each other, or heard from or about each other for more years than I am allowed to say. Thank you, Roslyn, for the updates, information and pictures about your family. The
Nochimovicz/Nickel family tree
has been updated accordingly.
---
March 2008 - The Berkowitz family
Saul, Lauren and Aaron Berkowitz. Have you ever seen a happier looking baby?
See Matz Family tree, and also News Archives.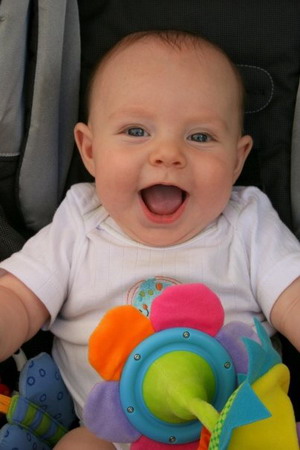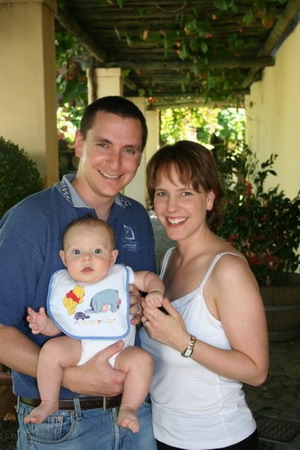 ---
March 2008 - Purim and the

adloyada

in Sde Boqer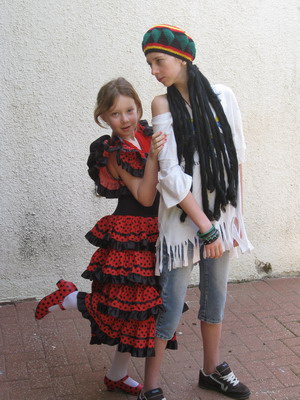 Purim, the Jewish holiday that commemorates the deliverance of the Jewish people of the ancient Persian Empire from

Haman

's plot to annihilate them, as recorded in the Book of Esther. Purim, especially in Israel, is the occasion for fancy dress - during the day the streets are filled with children in costume (often reflecting the current "heroes"/celebrities), and the adults enjoy their costume parties at night. In many towns there is also an

adloyada

, a carnival-like procession of floats and costumed participants. Other customs in Purim include reading

megilat ester

with lots of noise at each mention of Haman, eating of

hamantaschen,

giving mutual gifts of food and drink (mishloach manot), and giving charity and gifts to the poor.

On the left is Lior our "Spanish" granddaughter, and our "Rasterfarian" granddaughter Danielle. Below are some more pictures of how some of our family celebrated Purim.
There are more pictures on the pages of Dani and Lior
There are also pictures of the

adloyada

in Sde Boqer.

For Purim pictures from previous years see
Purim 2004 T W Picture 2004 Danielle 2004 Lior 2004 Maayan 2004 2005 TWPic 2007


Gabi Nathan (the smaller Pooh bear) in Florida A blond Caroline Livneh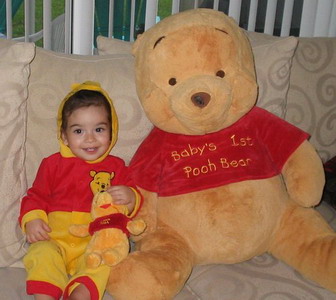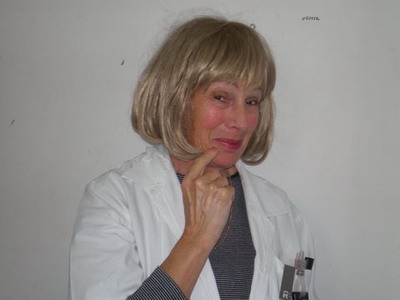 The Segolis preparing mishloach manot in Sde Boqer; and reading the

megilla

(Scroll of Esther) in synagogue, and making a noise whenever the evil Haman is mentioned.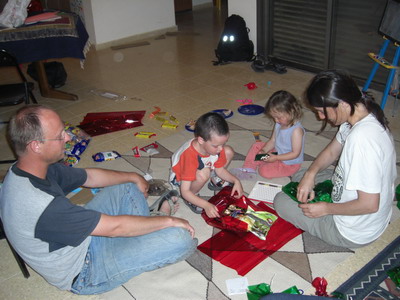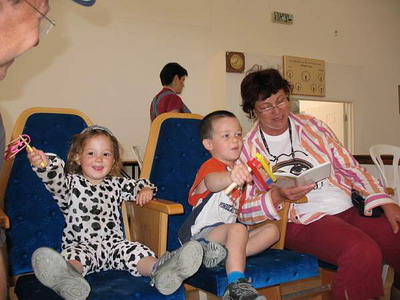 For more pictures see the pages of Dani and Lior

.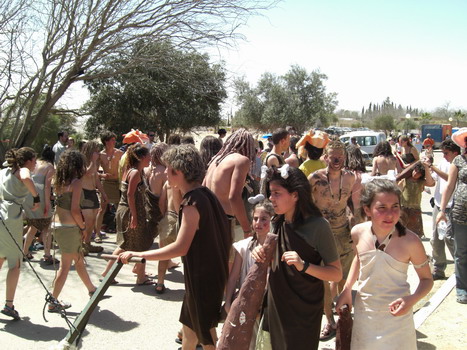 The

adloyada

at Sde Boqer

During Purim, many towns in Israel celebrate with an adloyada, which could be described as an Israeli carnival. There is a parade of floats, accompanied by music and costumed participants, usually loosely tied to a theme.

The High School for Environmental Studies, in Sde Boqer, puts on an adloyada every year prepared almost entirely by the pupils. In addition to the parade there are stalls selling food, trinkets, jewelry, toys etc. The adloyada is very popular and a large crowd attends and a good time is had by all. We joined the Segolis for this year's adloyada.

Each grade has a theme, and the classes in that grade prepare floats and costumes dealing with that theme. The four themes this year were Prehistory, Global Warming, Ancient Egypt, Black and White


Prehistory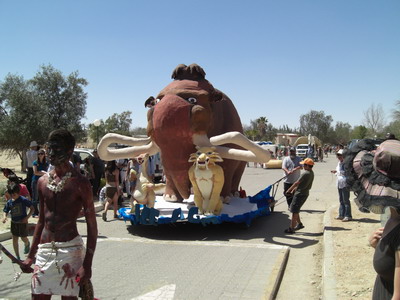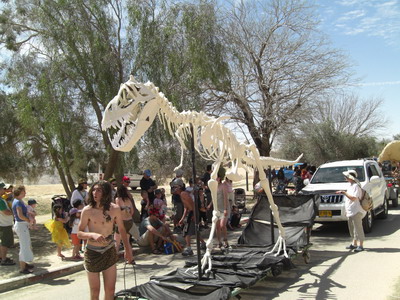 Global Warming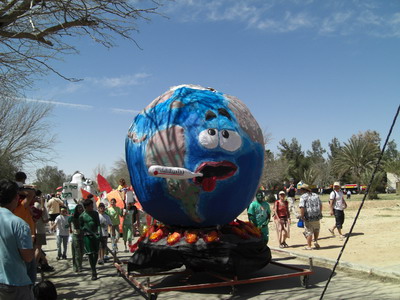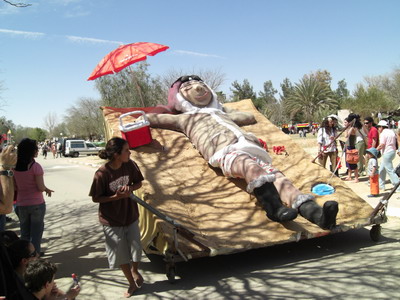 Ancient Egypt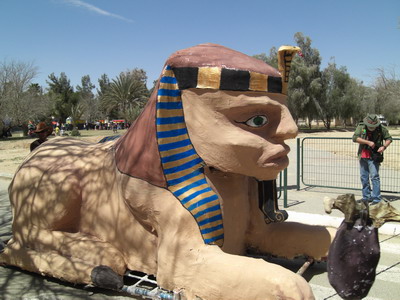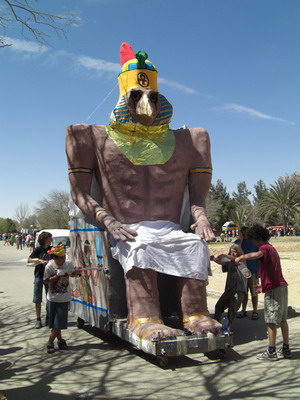 Black and White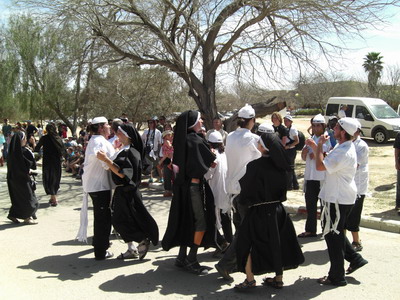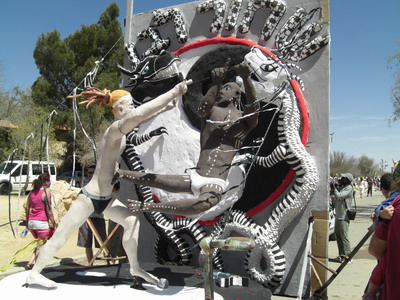 ---
March 2008 - Some pictures from the holiday of Yahel Braverman and Donni in South Africa.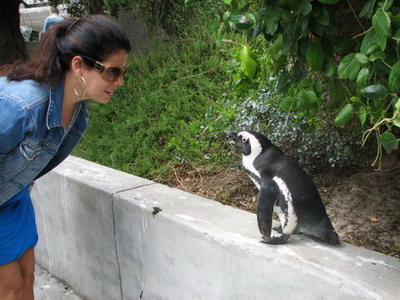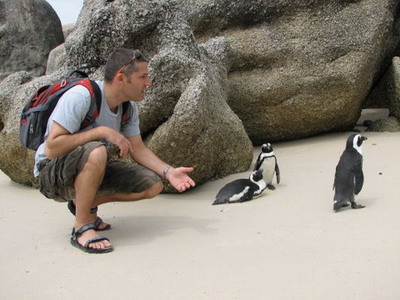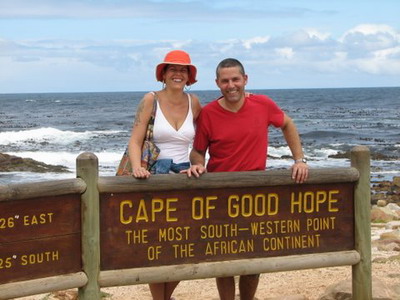 ---
January 2008 - Maayan's 4th birthday weekend

On January 4/5 the Segoli and Levy families celebrated Maayan's 4th birthday at Sde Boqer. Friday night was Sushi night, with everyone, including the children, rolling their own sushi rolls. It was certainly a fun way to eat and spend an evening; and also surprisingly tasty.
On Saturday there was a hike in Nachal Zin/Nachal Karkash, followed by a picnic-style lunch on Moran and Mikhal's new lawn at their house.
More pictures: Click for This Week's Picture of 5 cousins bathing together; and also on the pages of Danielle, Lior, Itamar, Maasyan and Lotem.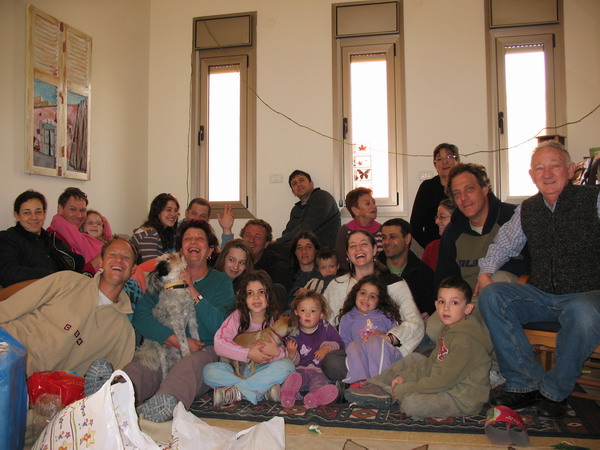 Cousins, uncles, aunts, grandparents (and even a great-grandmother) at Maayan's celebration.
Back rows

: Vered Ron, Aviv and Lior Ron, Moran Segoli, Ofra Segoli and Oded, Doreen Levy with Lopsy, Danielle Ron, Avraham Segoli, Pini, Mikhal Segoli with Maayan, Dikla Segoli, Rochella Segoli,
Moshik Yaniv,
Naama Yaniv, Yael Segoli, Aviv Levy, Eitan Levy


Front row

: Nitzan Yaniv, Lotem Segoli, Rotem Segoli, Itamar Levy


After receiving a lesson and watching a demonstration by sushi expert Moran-san, everyone knew how to prepare sushi.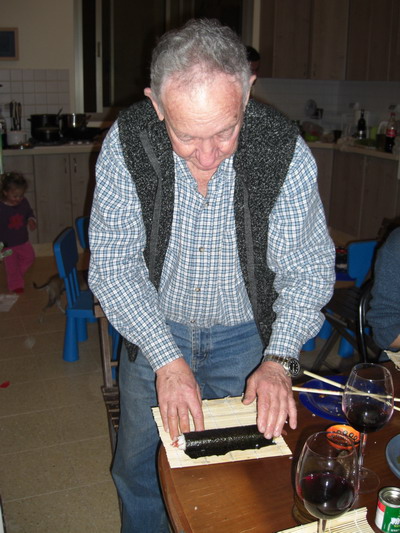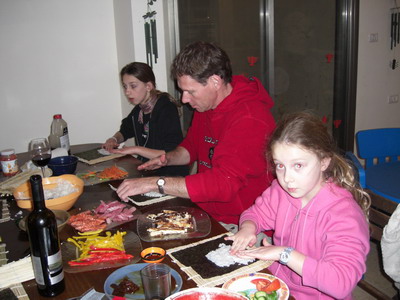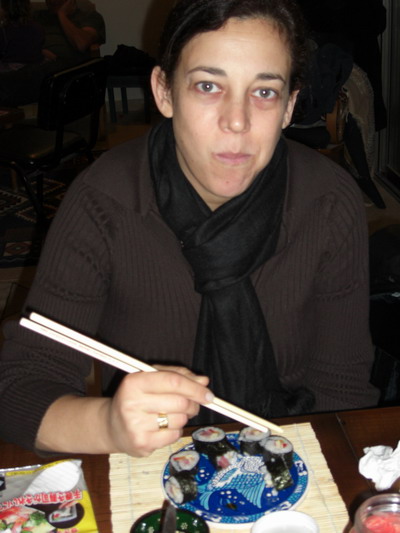 While the adults were eating they were entertained by the children, including the Sde Boqer Children's Quartet.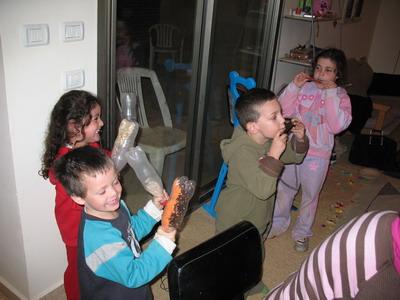 Saturday morning was

tiyul

- hike - time: up and down, walking, running, jumping, holding hands; just simply having a fun time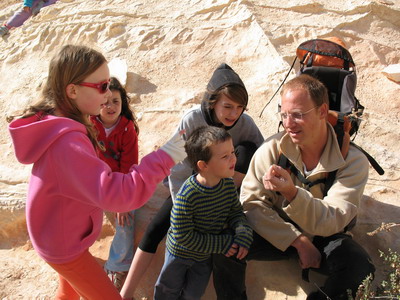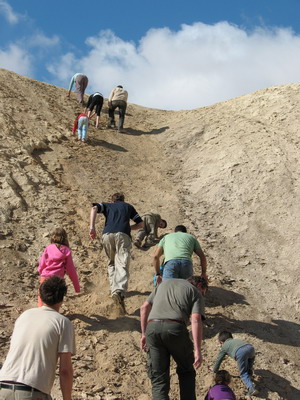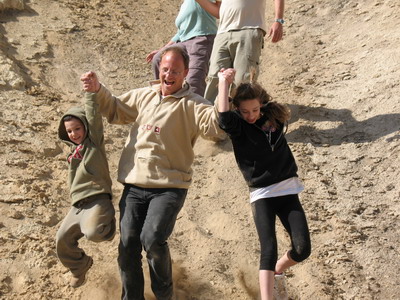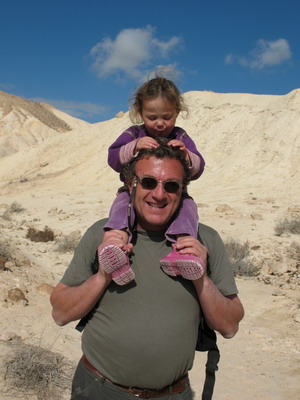 Hungry after the hike, a picnic meal on the lawn was just what everone wanted.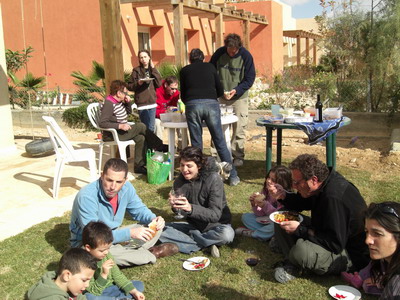 ---
January 2008 - Visit of Mike Belman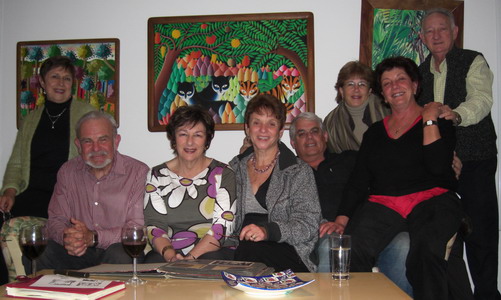 Lorna and Mike Belman, Maureen Fain, Carol and Terry Kessel, Livia Passwell, Doreen and Eitan


Doreen:

When Mike Belman, one of our good friends from

Habonim

days, contacted us to say that he and Lorna would be visiting Israel, it was cause to invite friends over for dinner. Maureen Fain (nee Konigsfest) and I were very excited at the prospect of a mini-reunion with Mike. Maureen brought old photo albums to jolt our memories. Our delight was shared by Anthony (who was one of Mike's

madrichim

in

Habonim

). Terry (a close friend from

Habonim

and an honorary Durbanite), Carol (who was at school with Lorna), and Livia (who worked at the same hospital as Mike).
See also
This Week's Picture
. and
This Month's Recipe
---
---