THIS WEEK'S PICTURE
ARCHIVES 2004 - 2008

To access Archives from 2009, CLICK HERE

GO TO HOME PAGE

---
January 2004
February 2004
March 2004
April 2004
May 2004
June 2004
July 2004
August 2004
September 2004
October 2004
November 2004
December 2004
January 2005
February 2005
March 2005
April 2005
May 2005
June 2005
July 2005
August 2005
September 2005
October 2005
November 2005
December 2005
January 2006
February 2006
March 2006
April 2006
May 2006
June 2006
July 2006
August 2006
September 2006
October 2006
November 2006
December 2006
January 2007
February 2007
March 2007
April 2007
May 2007
June 2007
July 2007
August 2007
September 2007
October 2007
November 2007
December 2007
January 2008
February 2008
March 2008
April 2008
May 2008
June 2008
July 2008
August 2008
September 2008
October 2008
November 2008
December 2008
from January 2009
Starting from February 10, 2007, the "News" items appearing each week in the Home Page can be seen by
clicking here.
---
Itamar's 5th birthday
. Danielle was the one who got the big present: an introductory dive in the open sea in full SCUBA equipment with uncle Aviv Levy. Aviv L is a certified dive instructor and he took 12-year old Danielle for her first dive. Danielle says it was the best experience she has had in her whole life, and Aviv reported that Dani's reactions in the water were excellent and that she is a natural diver. We're all proud of Dani, especially granny Doreen, who was the first Israel woman to receive a 3 Star open water diving accreditation.
See Dani's page for
more pictures
.
---
April 5, 2008
The operation went without a hitch, and at the time of writing Moran is home and well, although in a bit of pain. we all wish him well and a speedy recovery. His arm will be in a sling for 6 weeks, and he is not supposed to use his arm during this time.
---
March 29, 2008
Matz family tree
- beautiful Tamar, daughter of Yuval and Rachel (nee Engleberg). (see
This Week's Picture Archives
). Yuval is the son of neighbours Ralli and Yossi Moskowitz. We're sure that they and grandparents David and Charlene are very proud of their grandchild - the first for the Englebergs. Auntie Leah Engleberg is visiting Israel and staying with Auntie Rebecca, and they both assured me that Tamar is even prettier than in her picture.
---
March 22, 2008
---
March 15, 2008
---
March 8, 2008
---
March 1, 2008
bulbusim
(limestone nodules) that are found in the area. These round rocks, called
bulbusim
in Hebrew after an Aramaic word for potato, consist of limestone containing unoxidized organic matter, and are dark in colour. When broken (which you are not allowed to do as they are protected) they give off the "rotten egg" smell associated with sulphur compounds. There are some more pictures on
Maayan's
and
Lotem's
pages.
---
February 23, 2008
---
February 16, 2008
We went down to Eilat this weekend and took our eldest granddaughter Danielle with us. We had missed celebrating Ilai's 1st birthday a couple of weeks ago, so we decided to have another birthday cake and sing "Happy Birthday". Everyone was happy with the idea - any reason is a good reason for a celebration.
---
February 9, 2008
The 42nd annual Israel Bridge Festival opened in Tel Aviv this week, and as usual I am playing my part in directing (judging). Once again this year we welcomed Ton Kooijman, of the Netherlands, as our Chief Tournament Director. Ton is a chief Tournament Director of the European Bridge League and the organizer of the biennial European course for aspiring international directors. Among other positions he holds, Ton is also a member (and past chairman) of the World Bridge Federation Laws Committee. We took the opportunity of discussing and clarifying some of the finer points of the new Laws of Bridge which come into effect later this year.

---
February 2, 2008
January 26, 2008
While moving his boxes, albums and other things to his new home in Sde Boqer Moran found some old photographs, including this one taken probably about 1976, which brought back many memories. Doreen thinks it was taken while she was recovering from meningitis.
On the right, in front, is the late Mussie Karsblad (nee Drue), a first cousin of Doreen's late father Maurice. (see Glezer family tree.). Standing at the back are Mussie's niece, Yaffa Loew (nee Bortenstein), and her daughter Rachel Karlsblad. In the middle Doreen is with her late mother Gertie Glazer (nee Nickel) and Vered, Aviv and Moran (on her lap).
---
January 19, 2008
Moran, Maayan and Lotem spent Thursday night in Hofit on their way up north. We're still in the middle of an exteme cold spell (for Israel) and what better hot water bottle than Flopsy. There is an ongoing love affair between Flopsy and the grandchildren, and Flopsy has performed calming-down and other duties in the past. (See Flopsy babysitting Maayan (aged 3 months) and Itamar (aged 11 months),
---
January 12, 2008
January 5, 2008
Left picture:
Doreen, Mike, Maureen
Right picture:
Mike (back row - left; Doreen (middle row left); Maureen (middle row 4th from left)
Doreen:

When Mike Belman, one of our good friends from Habonim days, contacted us to say that he and Lorna would be visiting Israel, it was cause to invite friends over for dinner. Maureen Fain (nee Konigsfest) and I were very excited at the prospect of a mini-reunion with Mike. Maureen brought old photo albums to jolt our memories. We, joined by Anthony (!), Terry and Carol Kessel and Livia Passwell - all going back many many years - spent a delightful evening.
See picture
and also
January Recipe.
The last time the three of us were photographed together was in Durbs a million years ago. Thirteen years ago when visitng Los Angeles I stayed with Mike and Lorna; and Vered, then living in Manhattan, flew over to tell me personally that she was pregnant (with Danielle).
---
December 29, 2007
---
December 22, 2007
---
December 15, 2007
---
December 8, 2007
---
December 1, 2007
---
November 24, 2007
November 17, 2007
---
November 10, 2007
---
November 3, 2007
---
October 27, 2007
---
October 13, 2007
---
October 6, 2007
---
September 29, 2007
---
September 22, 2007
---
September 15, 2007
---
September 8, 2007
---
September 1, 2007
---
August 25, 2007
---
August 18, 2007
---
August 11, 2007
---
August 4, 2007
---
July 28. 2007
---
July 14. 2007
---
July 7. 2007
---
June 23, 2007
---
June 16, 2007
---
June 2, 2007
---
May 12, 2007
---
May 5, 2007
---
April 28, 2007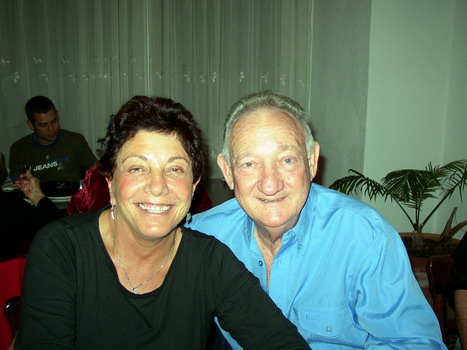 It was my 67th birthday yesterday, so I thought that for a change I could have a picture of me as This Week's Picture. This picture of Doreen and me was taken last night by granddaughter Danielle at a restaurant Vered and Aviv and daughters took us to to celebrate. Click here for a picture of all of us.
---
April 21, 2007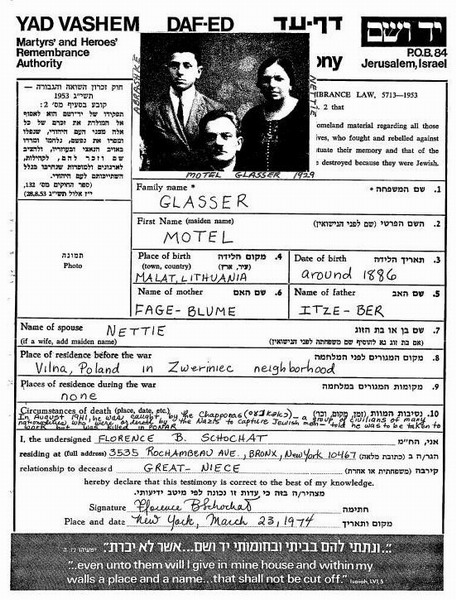 The Page of Testimony for Mottel Glasser, from the Archives of the Yad Vashem database.
Yom Hashoah
, Holocaust Memorial Day was commemorated this week. On this day we pause and remember the 6 million Jews murdered by the Nazis and their collaborators.
Many of our relatives were murdered during the holocaust, including Doreen's grandfather and grandmother. The Page of Testimony above is for Doreen's grandfather, Mottel, who together with his son Abrashke (Doreen's uncle) and nephew Elke were captured by
Lithuanian collaborators
in Vilnius (Vilna) and taken to the forest of Ponar (Poneriai) and shot and buried in a mass grave. Click here for a summarized
account of the extermination of the Jews
of Vilnius, and here for an account of the
Ponar Massacres
.
The picture attached to the Testimony is of Doreen's grandfather Mottel and grandmother Nettie/Nessie ( who perished in the town of Olshan in Belarus), and Abrashke. The picture is cropped from a
picture taken in 1929
in Vilna.
Doreen's father Maurice had two brothers: Michael who lived in Rhodesia (Zimbabwe).and Abrashke. Michael's grandson
Mikie Glasser
celebrated his barmitzvah this week.
In April 1999, we visited Poland and Lithuania and the
visit to the forest of Ponar
was particularly moving. Many of the Lithuanian Jews met their death in the camps of Poland, and Doreen has written a moving
account of her visit to Majdanek
concentration camp just outside Warsaw.
---
April 14, 2007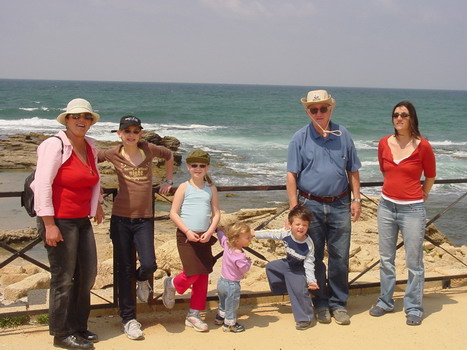 The Segolis stayed over on 2nd Passover eve and the next day we had a lovely time in Caesaria with the Segolis and Danielle and Lior.
( See also the pages of Lotem, Maayan, Lior and Danielle). Caesaria has certainly changed since the days when we would spend a Saturday on the beach there. It is now an excellent tourist attraction, that has succeeded in finding the right balance between an modern attraction and an important historical site. The interactive "interviews" with historical characters was particularly impressive.
---
April 7, 2007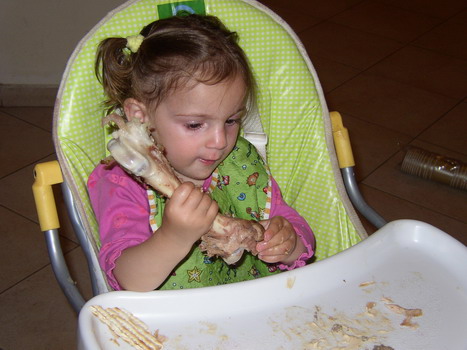 Pesach 2007: This year we celebrated the Pesach seder in Eilat with Aviv and Limor and family, together with Vered and Aviv and the girls, and Rael Braverman. For a change, we didn't have turkey for the main meal, but a big, delicious leg of lamb, cooked to perfection by Doreen. The change proved very popular, especially for Amit, who thoroughly enjoyed eating what remained of the leg bone. Another picture here.
---
March 31, 2007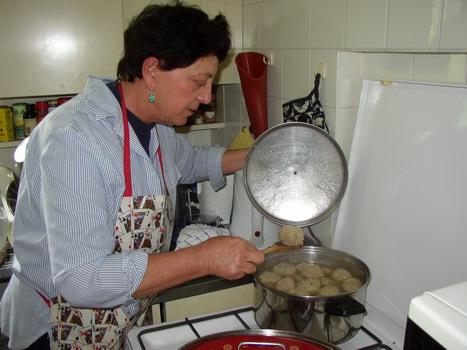 <>
Doreen only finished her tour last night, but already today she was in the kitchen preparing food for the Passover seder. We are going down to Aviv and Limor in Eilat for the seder. Doreen is preparing most of the meal, which we will take down with us. For us, there is nothing like Doreen's mock chopped liver, her chicken soup and
kneidlach
(matza balls), and of course her
gefilte fish.
My pesach culinary skills are limited to preparing extra-hot horse radish. While Doreen was expertly evaluating her gefilte fish (see picture) I was shedding copious tears (in spite of the protective goggles) and sneezing and coughing as I grated the horse radish and beetroot.
---
March 24, 2007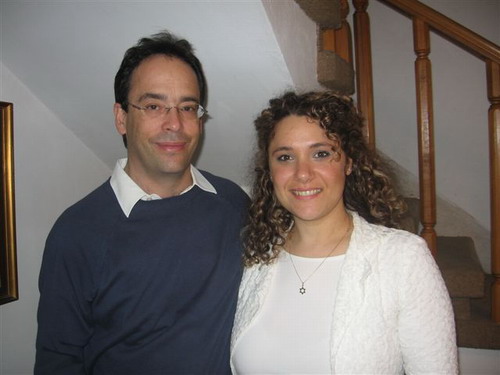 Mazeltov to Richard Nickel and Rona Mazor on their marriage last Thursday, 22 March 2007 in Rishpon, Israel. Congratulations to parents Julius (Yudel) and Laura Nickel and Racheli Mizrahi. (See Nochimovicz family tree.). They were a handsome couple, and Rona was a beautiful bride. We await pictures from the wedding.
---
March 17, 2007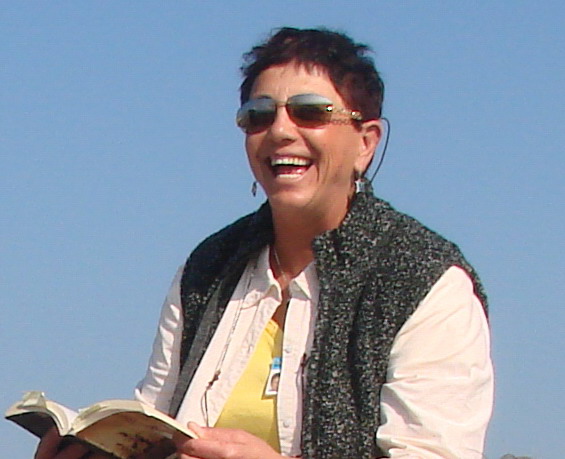 Doreen has been away guiding so much the last two months that I thought I'd put a picture of her here so that I'd remember what she looks like! She has no groups scheduled in Pesach/Easter ad I'm sure she's looking forward to the rest.
This picture was taken by one of her group members while Doreen was explaining something. She certainly looks like she's enjoying herself
---
March 10, 2007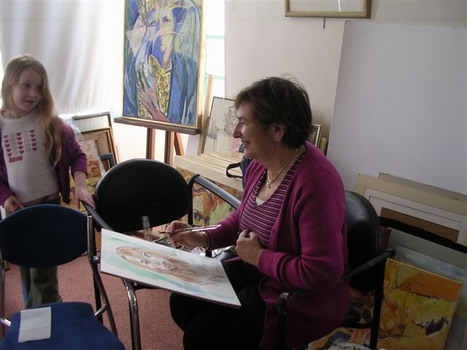 Our two oldest grandchildren, Danielle and Lior , had their portraits painted last week by
long-time friend
and well-known artist,
Maureen Fain.
See the pages of
Danielle
and
Lior
for photographs of the portraits.
---
March 3, 2007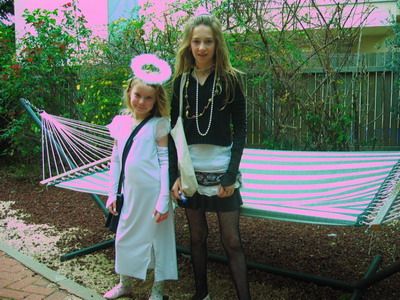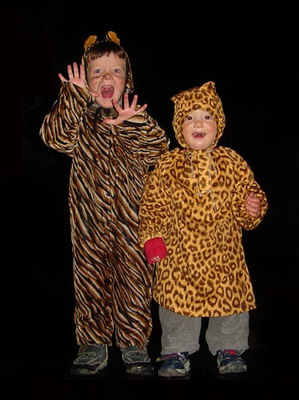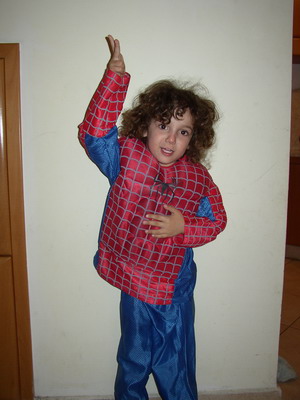 This weekend we celebrated the festival of Purim. For most Israelis the festival has lost much of its religious meaning and is an opportunity to party, especially in fancy dress. There is hardly a Jewish child in Israel who doesn't wear fancy dress for Purim and the days preceding, and the malls and public places are full of colorful costumes ranging from Queen Esters to Spidermen to George Bushes. Our family chose an angel, a funky waitress, a tiger and a leopard, and Spiderman.
---
February 24, 2007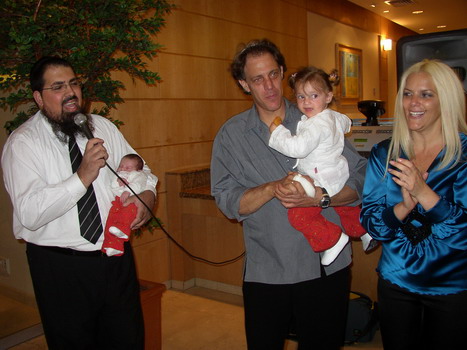 On Thursday we went to Eilat to celebrate the brita (naming ceremony) of our newest granddaughter, 3 week old Ilai Levy. If you look carefully you can see little Ilai in the Rabbi's arms, as parents Aviv and Limor and big sister Amit look on and join in the blessing. There was a lovely function at an hotel in Eilat, well-organized and with excellent food. Mazel Tov!
There are pictures of the event on
Ilai's home page.
---
February 17, 2007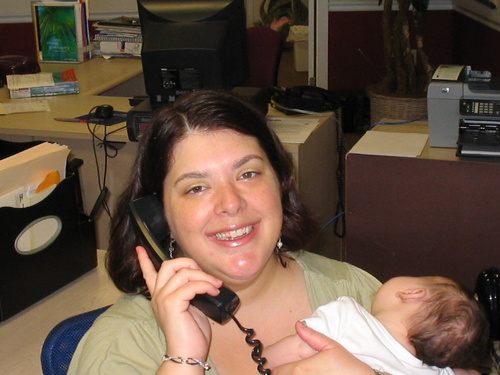 Thanks to Melodie Nathan (see Nickel/Nochomovich family tree) for keeping us informed and up to date about her family. Melodie has gone back to work, and on her first day back took 8 week old Gabi (see pics) to see what it's all about. Here we see Melodie and Gabi at the office, or, as Melodie puts it, Mommy multi-tasking.
---
February 10, 2007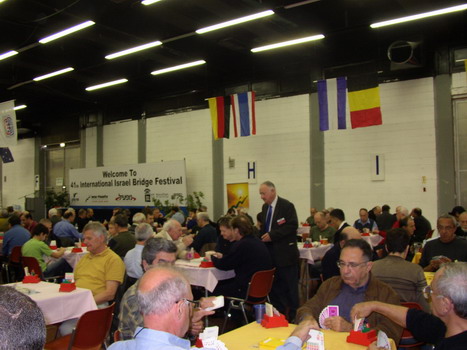 This week the 41st International Bridge Ffestival is being held in Tel Aviv and I'll be kept busy "directing" (that is, refereeing) there. Although it's hard work (I'm still teaching at school this week) I enjoy it and enjoy meeting "old" faces again.
---
February 3, 2007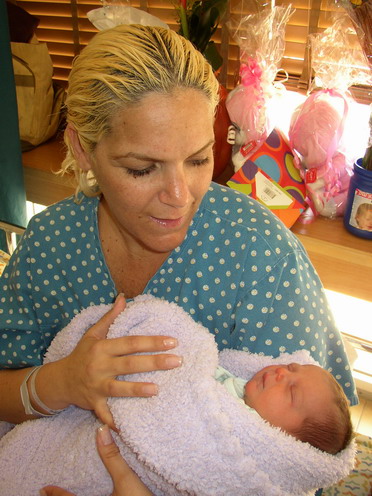 We are delighted to announce the birth of a baby girl, 2.640 kilos, born January 28; to Limor and Aviv Levy; their third child, sister to Itamar and Amit; and our seventh grandchild. Mother and child are doing well, as can be seen of this picture of Limor and the baby, aged two days. More pictures are on the baby's site.
---
January 27, 2007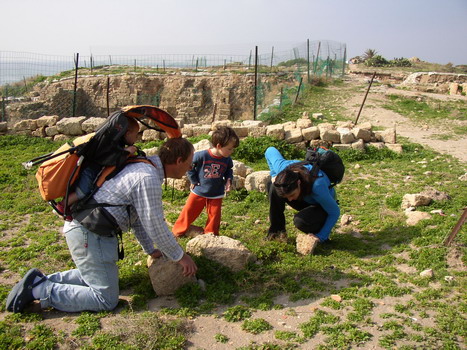 A Shabbat tiyul with the Segolis doesn't cover a lot of ground. What was supposed to be a long relaxed walk along the Dor-Nahsholim shore turned into long stops at a pile of seashells which the children threw into the sea, ancient columns and walls which were ideal for climbing, rock pools where they looked for crabs and sea cucumbers and finally overturning stones to see what invertebrates live underneath. Anyone who read last week's story would not be surprised that ants, worms and isopods fascinate the Segoli family.
---
January 20, 2007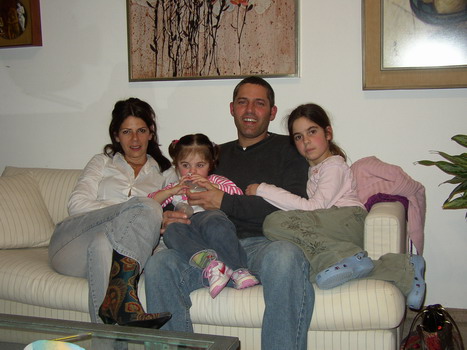 Yahel Braverman, Avigail, Donni, Gabi

At a family dinner last Friday night at Louise's, we were pleased to see the Levy-Rons, and Rael, Denise and Yaheli Braverman, and to meet again Yaheli's companion, Donni Dvir, and his daughters Gabi and Avigail.
---
January 13, 2007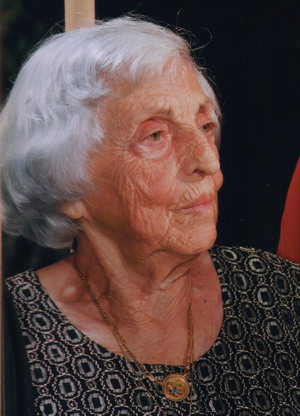 Riva Bortenstein 1919 - 2007
---
January 6, 2007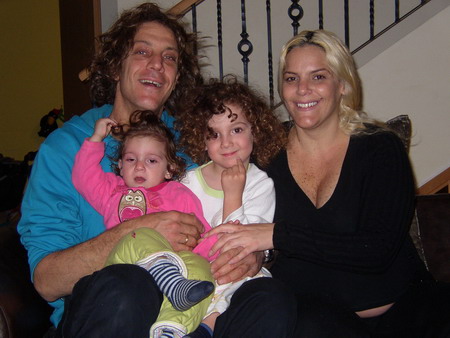 We started off 2007 with a visit to Eilat for a long weekend. Limor is "very" pregnant (
see picture
) but the baby decided to stay a little longer in the warm tummy. We enjoyed being with Aviv, Limor, Itamar and Amit. On Saturday we had a picnic lunch at Timna - for Itamar the highlight was filling the bottles with colored sand. Itamar was on his best behaviour and Amit tried hard despite having a cold and cough. While in Eilat we attended three enjoyable concerts at the Eilat Classical Music Festival.
---
December 30, 2006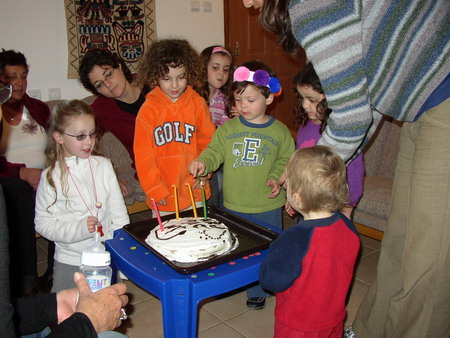 We celebrated Maayan's 3rd birthday today at Kibbutz Dvir. Lots of family joined in the celebration (although seasonal flu and the cold spell prevented some from attending.) Watching Maayan light the candles on the cake which he helped bake and decorate are Doreen, Lior, Naama, Itamar, Rotem, Nitzan and Lotem. There are
some more pictures
here.
---
December 23, 2006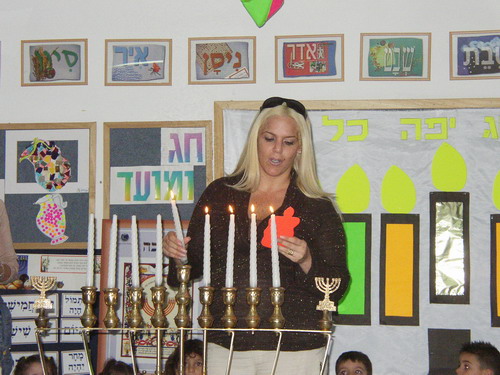 After a week of candle-lighting and eating traditional doughnuts, Chanukah, the Festival of Lights, ended today. We attended many celebrations and candle-lighting ceremonies during the week, starting with Doreen in Eilat for Itamar's celebration at kindergarten, where Limor lit the candles.
For more chanukah 2006 pictures from all our parties,
click here.
---
December 16, 2006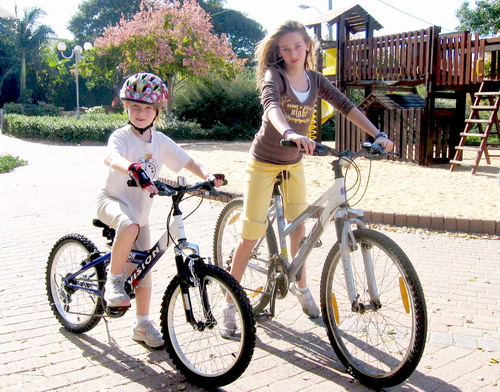 After many attempts, my two oldest granddaughters, Danielle and Lior, are now (almost) expert bicycle riders, with not too many falls, scratches and bruises. They are now quite addicted to it, and exploit every opportunity to ride their bikes. Danielle has already ridden to school on her bike.
---
December 9, 2006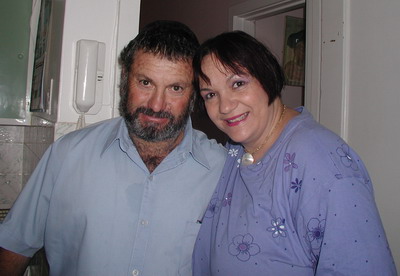 Mazaltov to Raymond and Cecile Cotton (my youngest cousin) on their wedding anniversary on December 11th. Raymond and Cecille live in Johannesburg, South Africa, and have
three lovely children
. This is the first time that pictures of the Cotton family are appearing on my site - thank you Cecile for sending me the pictures.
---
December 2, 2006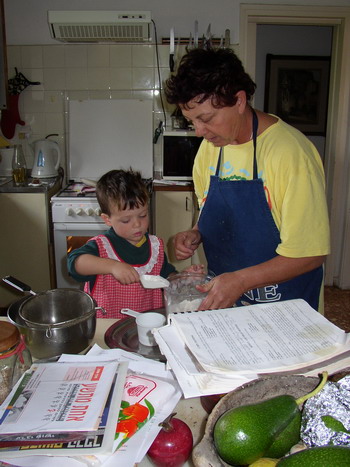 Granny's little helper: "Helping" Doreen cook and bake is one of our grandchildren's favorite activities. Maayan is no exception, and here he is helping prepare Bran Muffins from the recipe in Doreen's cookbook. Doreen, who is usually very pedantic and demanding in her kitchen, shows remarkable patience and understanding when the grandchildren want to help.
---
November 25, 2006
sorry, temporarily not available
---
November 18, 2006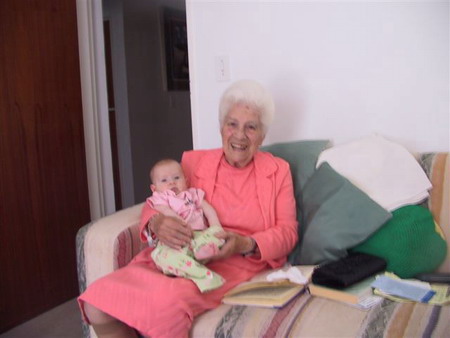 91 and 91
Great-grandmother Milly Klotnick holding great-granddaughter Devorah. Apart from 4 generations, why is this picture so special? The picture was taken on November 8, when Devorah was 91 days old, and she's being held by Milly who had just turned 91 years old. Days, years, they're both 91. Thanks to grandpa Joel for the picture.
See Matz family tree.
---
November 11, 2006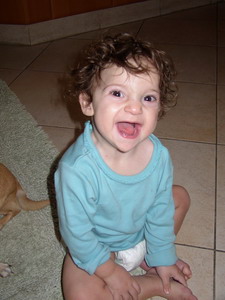 Happy Birthday to my youngest grandchild Amit - who turns one year old on Friday. There are more pictures of her on her page.
---
November 4, 2006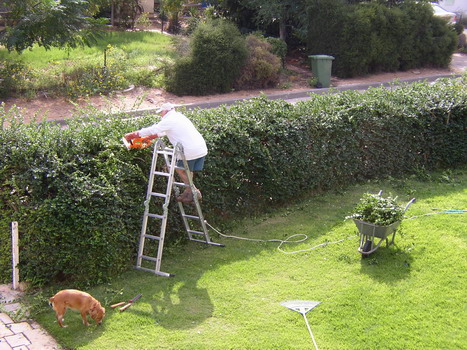 Cutting the hedge in Hofit
We took advantage of a lovely autumn day to spend the day working in the garden, finally getting around to doing a lot of what we have been putting off for weeks. It doesn't look too hard, but cutting the hedge is very tiring and as usual led to discussion of replacing the living hedge with a fence. Maybe this time we'll do it ....
---
October 27, 2006

Aviv Ron,Jack , Vered Ron
One of the advantages for Vered and Aviv in coming back to Israel is renewing old friendships. Vered has been friendly with Jack since school days, and they and their spouses are close friends today..

Last summer they spent a holiday together in Italy. This week and his wife celebrated their 40th birthdays and Aviv and Vered joined in the fun as everyone celebrated in the style of the 80's.
---
October 20, 2006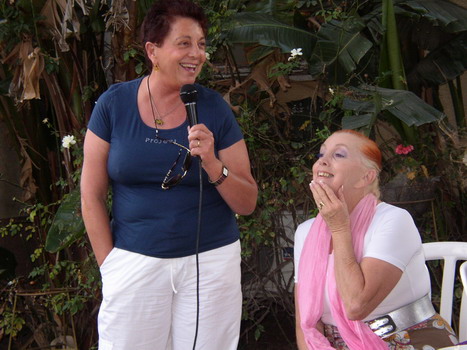 We celebrated Yaffa Loew's 60th birthday today at a delightful garden party and lunch at the Loew residence in Kfar Mishar. There was excellent food and it was a wonderful opportunity to see the Schank side of Doreen's family. (see
Schank family tree
.). Friends and family paid tribute to Yaffa, and her strength and friendship. Sister Rochelle and niece Moriah Kirsh had prepared a special version of the Givatron song
Bat Shishim
and the "family choir" (
see picture
) sang it. For the words (in Hebrew),
click here
.
---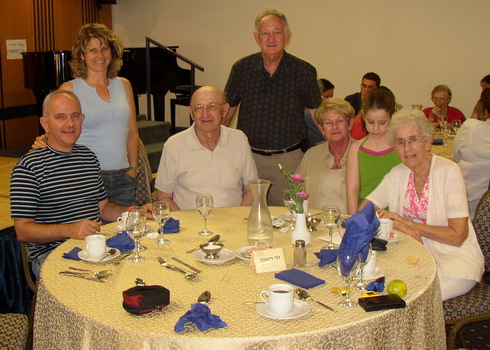 Jonathan and Dina Levy, Nathan Kansky, Eitan Levy, Shirley Kansky, Yarden Levy, Malia Levy
Another tradition in the making - a sukkot meeting of the Israel branch of the Levy clan - the three cousins and spouses (except for Doreen who was ill with a stomach virus), Yarden and Aunt Malia - at Aunt Malia's. Last year we had a lovely time - and this year was no different. Thanks, Malia, for everything. (Note for Dina: This time the picture is not blurred!)
---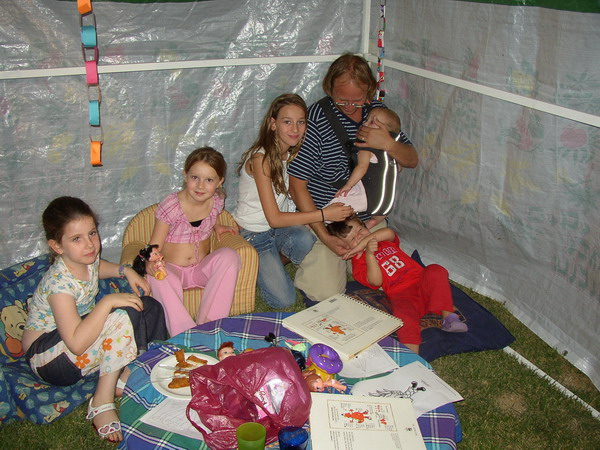 Sukkot at Wendy Kansky
Enjoying the sukkah: Yarden, Lior, Dani, Lotem, Maayan and Moran.
As is our custom at Sukkot, we celebrated at the apartment of Wendy Kansky, where we all had the opportunity of sitting in a sukkah and shaking the Lulav and Etrog. As always, we had a lovely time, as Doreen and I, and Vered and Moran and their kids celebrated with cousin Shirley's family (Nathan; Wendy and Dan; Cheryl Tal and Adam and Meital, Ben, Ron; Braham and Zahavit, and cousin Jonathan's family (Aunt Malia, Dina and Yarden. ). Click here for more pictures, (and here for pictures from two years ago.)
---
September 30, 2006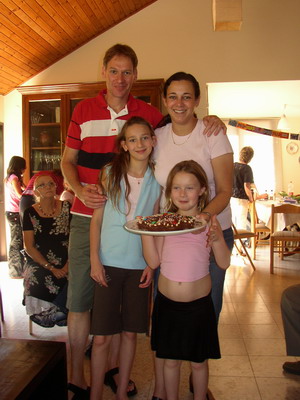 Dani and Lior Ron's Birthday Party
Lior's birthday is on the 13th of September, and Dani's on the 30th, and one of their birthdays usually falls on or very near to the the Jewish New Year, Rosh Hashanah. So Rosh Hashanah is a convenient day to celebrate the girls' birthdays with family. This year was no exception and on the second day of Rosh Hashanah the family got together to celebrate.
Click for pictures of the party.
---
September 23, 2006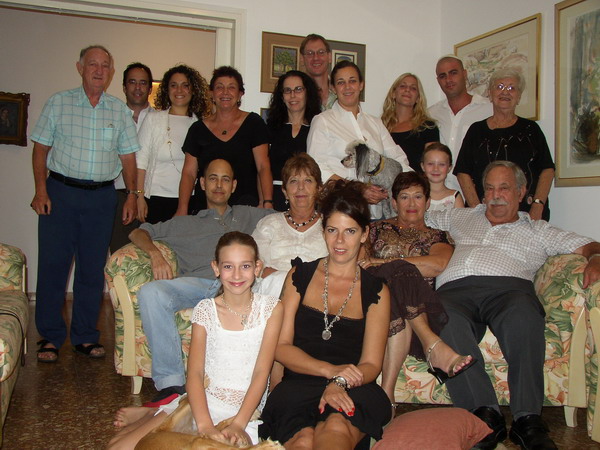 Fom le
:
ft to right, back row:

Eitan, Richard Nickel and Rona, Doreen, Denise Braverman, Aviv and Vered Ron, Rebecca Engleberg and Kobi, Maureen Hershowitz.
Middle row:
Rael Braverman, Louise Braverman, Laura and Julius Nickel with Lior Ron between them
Front row:

Daniel Ron, Yahel Braverman

We celebrated Rosh Hashanah this year in Hofit, with a relatively small number of celebrants - only 18.
Although we didn't have to order extra tables and chairs this year,
Doreen still had to work in the kitchen for two days cooking and preparing the delicious (as usual) meal.
This year we again had a shofar-blowing competition (see the Shofar competition in 2004) - it's on the way to becomimg a tradition. Most of us tried our luck, but despite the valiant efforts of the adults, notably Rebecca Engleberg, the winner this year was again one of the children, Lior, who blew real cool, deep notes. See pictures of the blowers.
---
September 16, 2006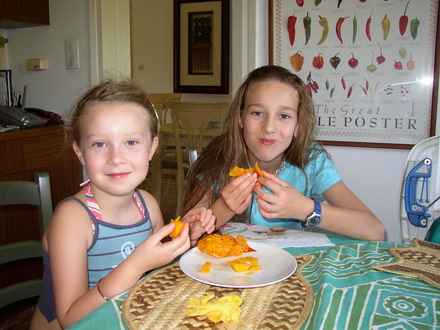 If happiness is a warm puppy, then it looks like bliss is eating a delicious mango from Granny and Saba Eitan's garden. This year we had a reasonable amount of really delicious magoes from our small tree; and they were all much enjoyed. September is not only mango month, it is also Ron children's birthday month: congratulations to Lior on her 7th birthday on the 13th, and to Dani on her 11th birthday on the 30th.


---
September 9, 2006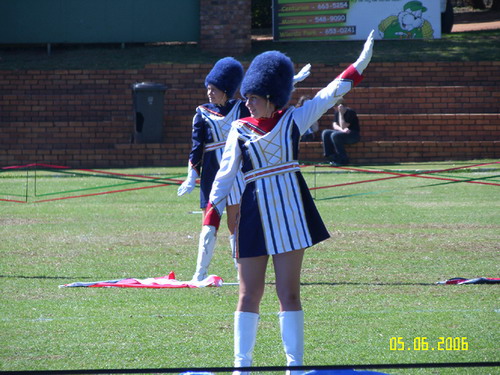 I've never met Cinzia Tarazza, daughter of Giorgio and Vanessa (nee Glasser), but she keeps me informed of her family news and regularly sends me pictures. Cinzia is a drummie and recently got promoted from flaggie to rifle. Drum Majorettes, or squad marching, is not an activity I knew too much about, and I was surprised to learn how much time is devoted to it. If the terms drummie and flaggie are strange for you too, then read this interesting account written by Cinzia of what it means to be a drummie. Thanks Cinzia, for the news, the pictures and the description. I hope we meet someday.
---
September 2, 2006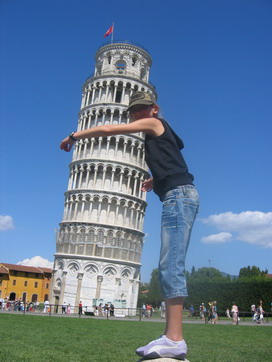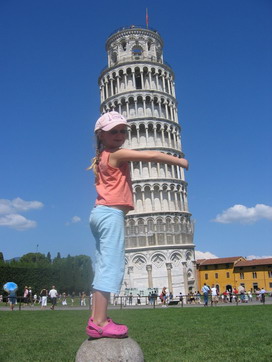 Have you ever wondered why the leaning tower of Pisa has never fallen over? After Dani and Lior's visit to Italy this summer we finally know the answer.
---
August 26, 2006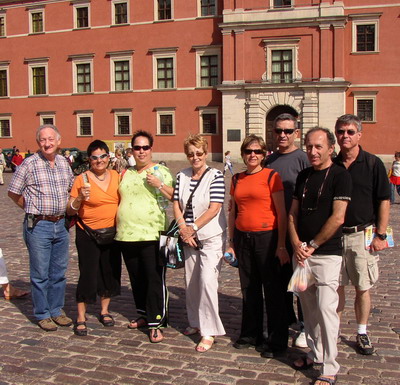 In Warsaw for the 48th European Bridge Team Champioships.
On our free day we went around the Old City. In Castle Square we were glad to meet some of the members of the Israel Ladies and Seniors teams, also enjoying the break from the competition.
---

August 19, 2006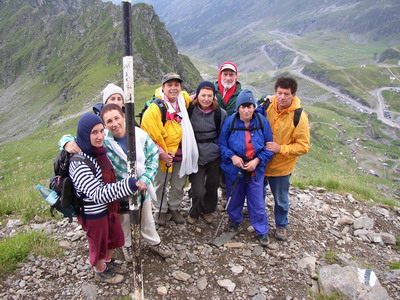 Doreen (centre, in yellow jacket) with group of friends from Israel in Transfagaras Mountains above Balea Lac.
This was another trek organized by Ivan (in red hood), this time to the Carpathian Mountains of Romania. They also hiked the beautiful mountains of Pietra Criolla and marvelled at the green alpine meadows and cool weather. Stories of "Granny climbs a mountain" will follow next week.
---
August 12, 2006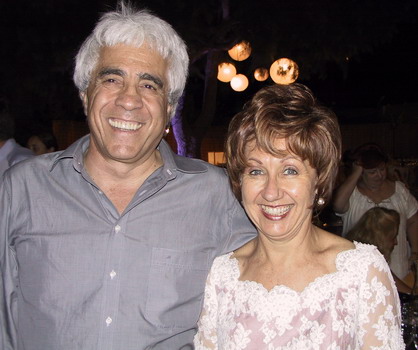 Lots of celebrations for the Klotnick clan. These few weeks belong to the Klotnicks with good news all around.
Mazal Tov to Ian and Talya Klotnick on the birth of a
baby daughter
in Johannesburg on August 9, sister to Raphael and Aharon, 4th grandchild of Joel and Beryl, and great-granddaughter of Milly..

Mazal tov to
Daniel Klotnick
in Australia, son of Steven and Sharlene, on his barmitzvah on August 5
Mazal tov to Rrichard Klotnick (son of Alan and Lama) on his engagement to Tali Goldin.

And mazal tov to the Klotnick birthdays this month - Jordan (7th), Sarina (11th), Richard (25th), and Mark (25th)
This is an opportunity to say thank you to Joel for his interest in the family tree, and for keeping me up to date with news and pictures.

---
August 5, 2006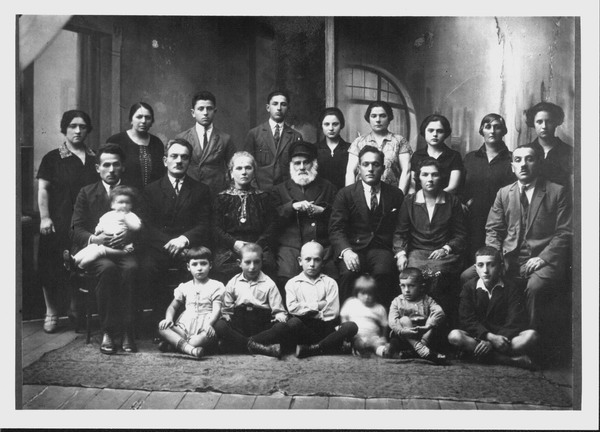 Vilna 1929
This wonderful picture of many of Doreen's family was taken about 1929 in Vilnius (also called Vilna), Lithuania (then occupied by, and part of, Poland). Some of the family (including Joe Glasser, Doreen's great-uncle, and Maurice Glazer, Doreen's father) had already left Lithuania for South Africa. This picture was taken on the occasion of Joe's visit to Vilna with his wife and infant son. The patriarch of the family, Itze-Ber Gleze (Doreen's great-grandfather) is seated in the middle (with beard and hat)..Doreen's grandmother Nessie is second from left in the back row, and her grandfather Mottel is the second adult from the left in the middle row.
Of the 23 people in the picture, 3 died before WW2, 12 perished in the holocaust, and 8 made it safely (either before or during WW2) to America or South Africa.

(We are indebted to Florence Levin, Doreen's second cousin, for the picture.)
For a full list of the individuals in the photo, with their kinship to Doreen, click here.
---
July 29, 2006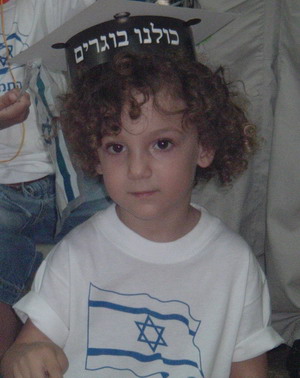 Graduation!

We have a graduate in the family. Itamar graduated from his pre-kindergarten and will now go into his "real" kindergarten. More pictures on
Itamar's page
.
---
July 22, 2006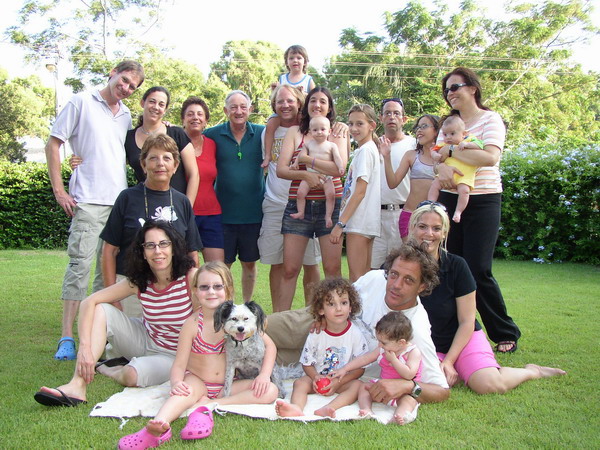 Family Reunion "Summer Camp" July 2006

Because of the security situation we had to cancel our planned weekend in the north, and decided instead to have a family reunion in Hofit over the weekend. As you can see from the picture there were a lot of us, including cousins Eti and Louis Nickel and kids - who were "refugees" from the bombing area - and we pitched a tent in the garden to take the overflow at night. The reunion was different this time. Instead of visiting outside attractions and outside activities we had a "summer camp" at our house (except for a visit to the Hofit swimming pool.). In the mornings we had different activities suitable for all the age groups, and in the afternoon, games and competitions. The highlight was the watermelon-eating competition. Everyone had a great time and it was wonderful being together.
Go here
to see pictures of our activities.
---
July 15, 2006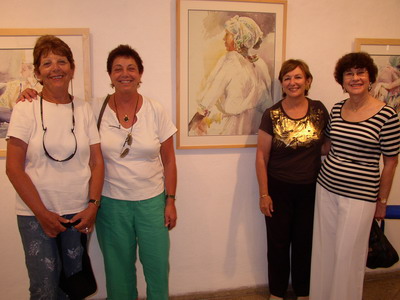 Maureen Fain's exhibition of watercolours at Ein Hod artists' village

Louise, Doreen, Maureen, Carol (Maureen's in-law)
I've known
Maureen
since she her early teens, and she and Doreen were at school together and have remained close friends. Maureen and Dick live in Jerusalem and we manage to see each other fairly often. Maureen is a
well-known artist
who has exhibited all over the world. We visited her current exhibition at the Ein Hod Artists Village, together with Louise and Caroline Livne and family. Although well attended, the exhibition had less visitors than expected as the fighting up north led to most people staying at home this weekend,
---
July 8, 2006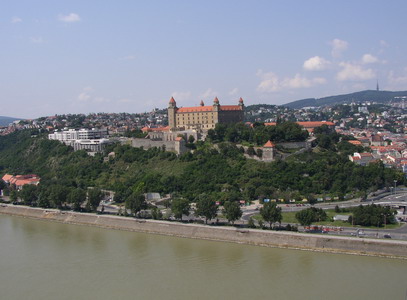 A view of the Bratislava Castle and the Danube River

I'm in Piestany, Slovakia. I was at the
6th World Junior Pairs Championships
as a Tournament Director (judge) and stayed on for the
Junior bridge camp
. There are about 180 youth from all over the world having a great time both socially and at bridge. As part of the camp activities we had a trip to the Slovakia capital Bratislava. The old town was fairly interesting, but nothing special. I walked around for a few hours and visited all the tourist sites and churches in the old city. I also went to the mausoleum of the Jewish sage, Chotam Sofer, but had to be content with seeing it from the outside as it is closed on Saturdays.
---
July 1, 2006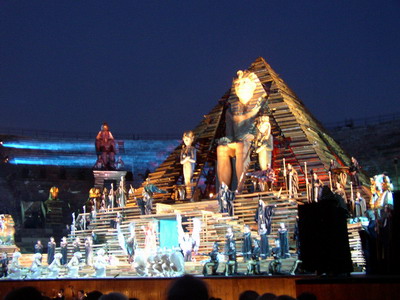 Part (about a quarter!) of the vast stage in the Verona Arena for the spectacular Zefferelli production of Verdi's Aida.
To sit in this enormous arena with 15,000 other people and watch hundreds of performers on a vast stage in a spectacular grand opera is a truly unforgetable experience.

---
June 24, 2006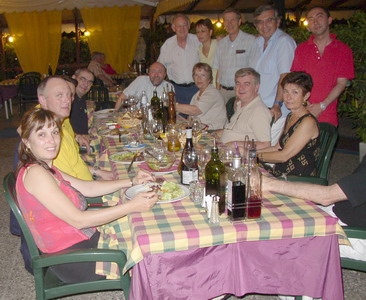 Some of the Tournament Directors (judges) enjoying a meal after a long day.
<Doreen writes>: We are in Verona for the World Bridge Championship.
The (bridge) tournament is very demanding both for the players and the directors. Perhaps because of this in the evenings everybody chills out over Italian wine, German beer and good food. Most of the bridge staff stay at our hotel and the feeling of camaraderie among the directors is very real. They discuss the day's problems and rulings that they had to give.

I'm preparing a profile of tournament directors.
Besides the real love of bridge and their fascination with its rules, they all seem to be night birds and most think that a midnight double espresso is just the thing to put them to sleep. Needless to add most aren't at their very best in the morning, however when we walk into the breakfast room we exchange greetings with the director from
Egypt
and say hello to the Mexican director (Jewish) as he piles proscuttio onto his plate and tells me that it's not kosher. We make sure to eat dinner at the Chinese restaurant recommended by the director from Hong Kong (not very good) and have a beer with the (Moslem) director from
Pakistan
. Slavek from
Poland
gives us a bottle of Polish vodka Rahmi from Turkey entertained us when we were in
Istanbul
last Pesach; all the directors join us in promising to come to
Istanbul
if he gets married. Pierre from Switzerland and I exchange loaded remarks about sharing the same bed which causes a few raised eyebrows as the other directors don't know that Eitan and I were
guests at their house in Lausanne
when Pierre and Francoise were away last summer.
And then there is Dimitri from
Greece
who always likes Eitan to work with him at the World Junior Championships so he (Dimitri) will have good company. This year it works out well – Eitan will continue from
Italy
and I will return home to work immediately.
And we haven't even mentioned Anda, the other Israeli director, Max the Chief Director from
England
who apologizes that because we're going to
Warsaw
he couldn't fit
Brighton
into this summer's itinerary for us, Richard from Australia, Gustavo from Uruguay, Rui from Portugal, Petr from Czech Republic, and the Italian, French and American directors.
See Doreen's impressions of Verona.
---
June 17, 2006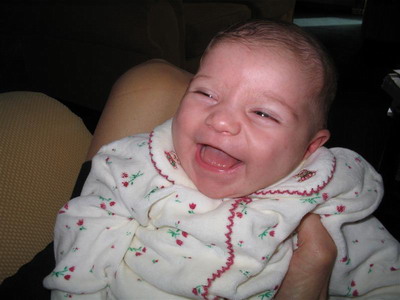 This week's delightful picture of the week comes all the way from Australia. Baby Keira Leibowitz certainly seems to be enjoying life, and I'm sure parents Josh and Tash are enjoying Keira. Thanks to grannie Sharon for keeping us up to date and sending us the picture.
Click for more on Keira.
---
June 10, 2006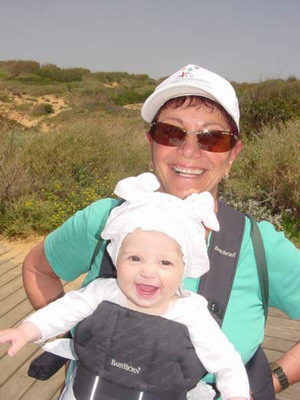 Happy birthday Doreen! A wonderful wife and a wonderful grannie. Although working hard Doreen still found time to be with, and babysit, the grandchildren. She and Lotem are certainly enjoying each other's company.

---
June 3, 2006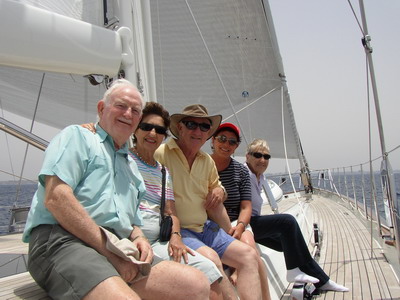 On board the Antares in Herzliya - Robert and Fanny Lieberman, Eitan and Doreen Levy, Riva Sandler

We spent a delightful Friday on board Morris Kahn's yacht, the Antares, sailing and eating. As always, Morris was a gracious and generous host. It was wonderful being with good friends again, especially Robert and Fanny Lieberman who were visiting from South Africa. Robert didn't disappoint - we were hilariously entertained by his magic tricks and jokes.
More pictures here.
Link to the
launching of the Antares
---
May 27, 2006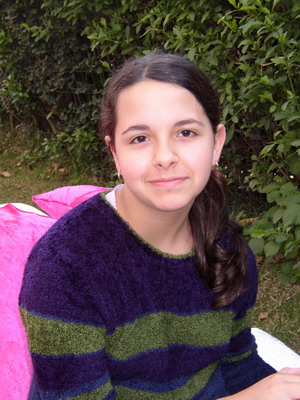 Best wishes to Roni Karlsbad who is celebrating her batmitzvah on Friday this week. Mazal tov also to mom Rachel, and grandfather Felix.
---
May 20, 2006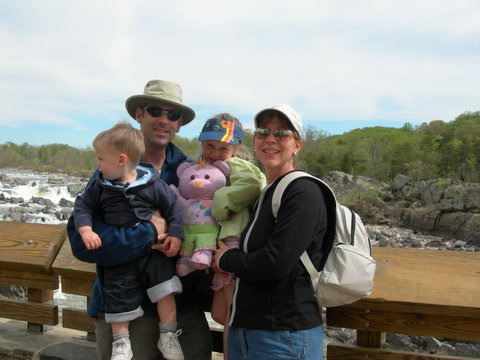 Cale, Tamir, Tali and Alex Klaff

Thanks to Alex for keeping us updated on the comings and goings of the Tamir Klaff family. We don't know where they are, but they certainly look as if they're enjoying themselves.
---
May 13, 2006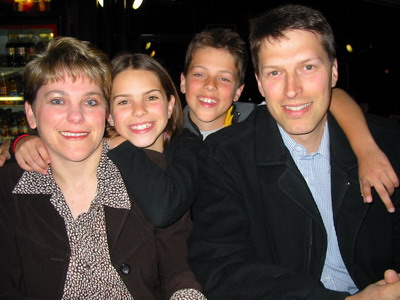 Sue, Danielle, Mike and Mark Glasser

Congratulations to the Australian Glassers (see
Glezer family tree
) who recently moved into a new home in Melbourne. We received a lovely newsy letter from Sue and were happy to learn that Mark is over his medical problems. He has decided on a career change and is moving into the security business. We wish him the best of luck. His hobbt is photography, so perhaps he'll send us an updated picture of the whole family?
Sue is still working part-time in an accountants office and helps Mark in their Traser Watch agency.
Both children have excellent academic results at school and are also excellent sportsmen representing their school in the A teams in their respective sports.
---
May 6, 2006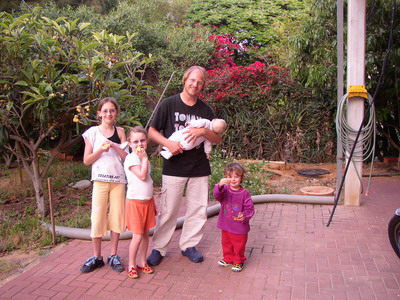 Picking loquats
Spring has arrived, the grass is bright green and the garden is looking lovely and colourful. We're a bit late this year but soon we'll start this year's vegetable plantings. The fruit trees are looking healthy, and the loquat tree, the first to bear fruit (except for the lemon tree which has had fruit for months now) had a smallish though reasonable yield this year. The Rons and Segolis came over and helped to pick and eat.
---
April 29, 2006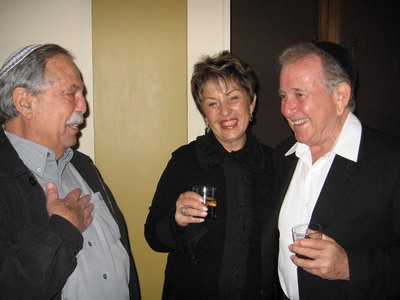 Mushe Kirsh celebrating her birthday with uncle Julius (Yudel) Nickel and husband Issie.
A few weeks ago we joined in the celebration of Mushe Kirsh's 70th birthday. Husband Issie had prepared an amazing surprise party. The Kirsh's were visiting Israel, celebrating the wedding of granddaughter Debra Bortz. Issie arranged for Mushe's children, grandchildren, brothers, sister and many other friends and relatives to come from all over the world a few days later for the surprise party. It was not only a party but a heartwarming family gathering, and we had a chance to meet new family and get re-aquainted with many others.
See
Nochimovicz family tree.
---
April 22, 2006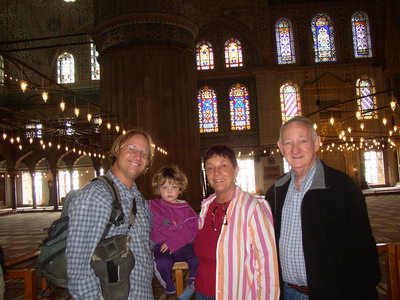 We spent a very enjoyable week plus in Turkey last week. Moran and Maayan were with us for 4 days in Istanbul and then we spent 3 days in the beautiful and unique Cappadocia area. During our trip we visited the impressive Blue Mosque in Istanbul.
Click here
for pictures and details of our trip.
---
April 8, 2006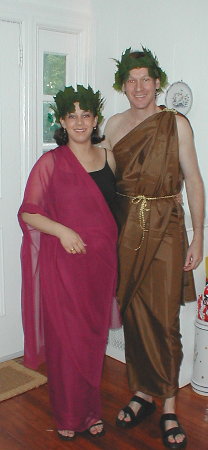 Congratulations to Vered and Aviv on their 15th wedding anniversary on the 14th. May they celebrate many more in happiness. We'll be in Turkey on the 14th, so we won't be able to celebrate with them, so being This Week's Picture will have to make do until we get back.
---
April 1, 2006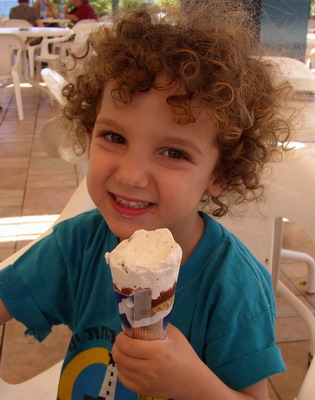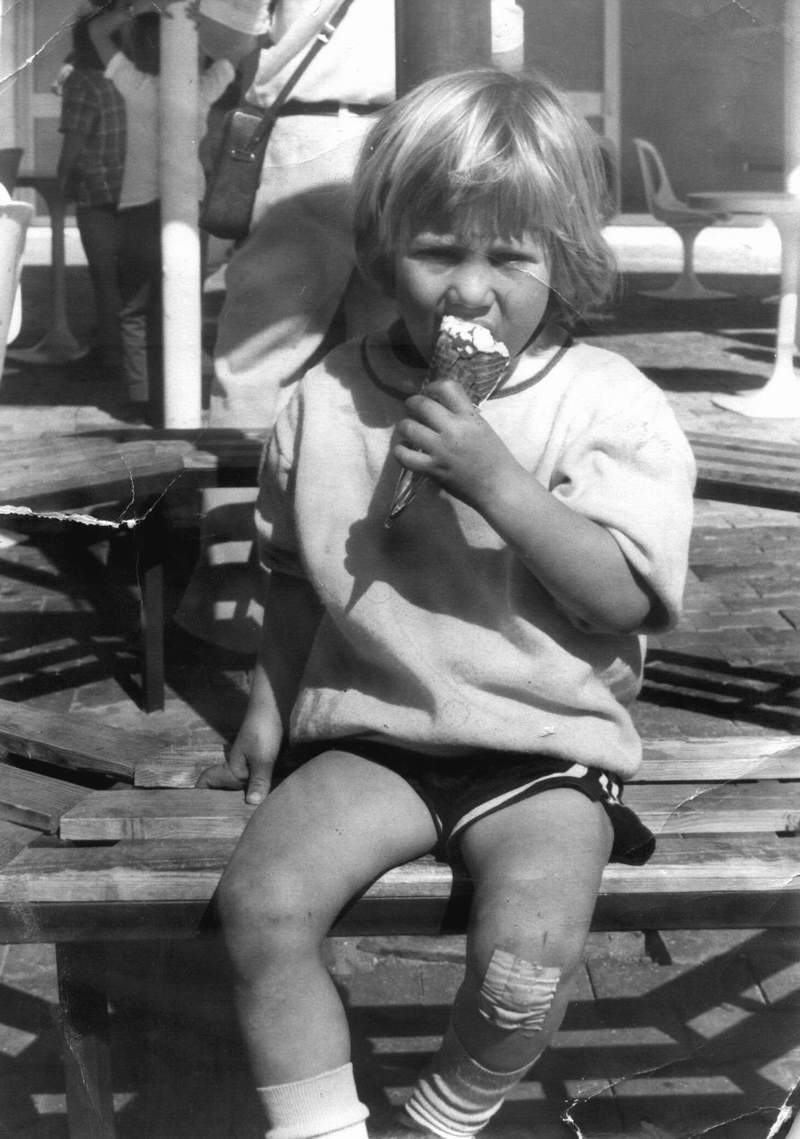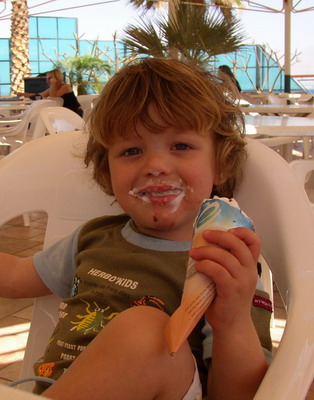 In January 2004 the centre picture above of Moran eating ice cream was This Week's Picture. I wrote then "
When Moran was small he was a frequent visitor to Coral World Underwater Observatory, often going there and back home by himself by bus. As can be seen from this week's picture, the main attraction for him at Coral World was not the fish but the ice cream.
" I was reminded of this when we took Itamar and Maayan to Coral World last week.
Click to see
who also likes ice cream.
---
March 25, 2006
Aviv and Limor have just moved into their new lovely new house in Eilat. We popped over to Eilat for the weekend with Danielle, Lior and Maayan. to wish them well. The kids had a lovely time with their cousins Itamar and Amit, and we enjoyed the intewnsive babysitting.. One of the highlights of the visit was getting to pet a turtle at Coral World.
---
March 18, 2006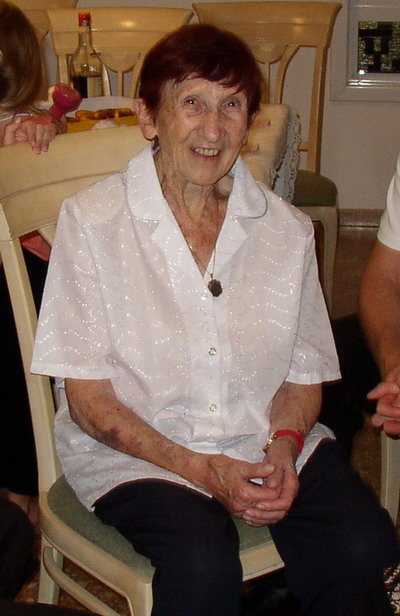 Tova Ron 24 August 1922 - 14 March 2006
Our deepest condolences to our son-in-law Aviv Ron, Vered, Danielle and Lior on the death of Aviv's mother, Tova.
Tova was not only an in-law; she was part of our family and we felt part of her family too. We had a wonderful relationship with "Savta" Tova and will miss her very much. Our thoughts are with her 6 children, 15 grandchildren and 8 great-children.
---
March 11, 2006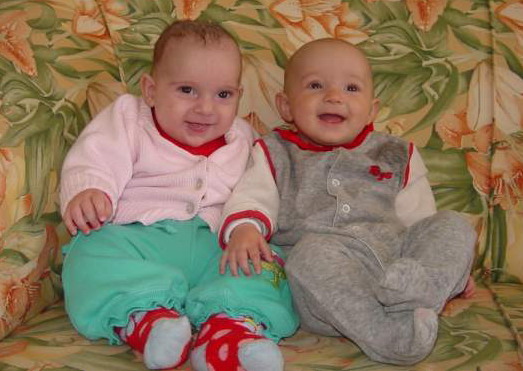 This is such a great picture (taken by Moran) of our two newest granddaughters, Amit and Lotem, that it just HAD to be This Week's Picture.
---
March 4, 2006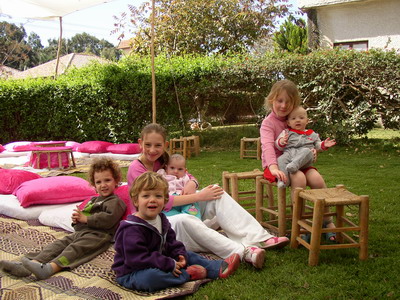 Our six grandchildren
Itamar, Maayan, Danielle holding Amit, Lior holding Lotem
The highlight of the week was todays party in honour of our two new granddaughters, Lotem Segoli and Amit Levy. We had over 100 guests in our garden.The weather was kind to us - it was a beautiful spring day and the event was very successful and enjoyable. In addition to introducing the two new additions, the party was also for our six grandchildren - this was the first time all six of them were together at the same time.
---
February 25, 2006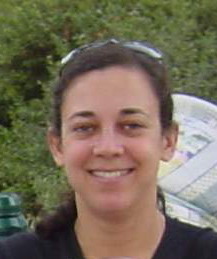 We are all very proud of Vered. This week she attended the 13th annual Columbia Women in Business Conference in New York She was a panel speaker in the session "
International Woman: Investigating International Careers and Managing Diversity". We understand that her talk went over very well. Click here for more information and Vered's biographical sketch.

---
February 18, 2006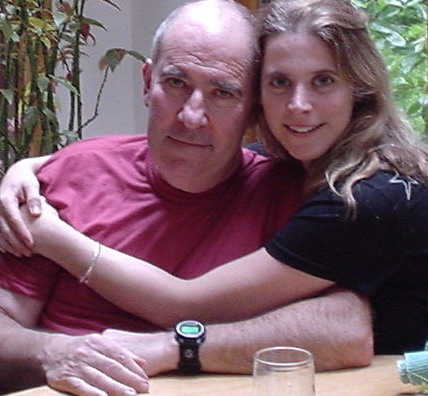 Caryn Klaff with her late father, Viv.

Caryn has begun training for a "century bicycle ride" (100 miles) in order to raise money for the Leukemia and Lymphoma Society. The ride will take place in Lake Tahoe, NV on June 4th, 2006.
In Caryn's words:
" .....Through countless emails and personal accounts over the past months, I have learned more and more about how much my father and his work meant to people; I am humbled by how much he gave to the community, his students, his extended family, and his chosen field. In order to keep his spirit of service alive, I have chosen to raise money and train for the century bike ride. ...... I have committed to this because I know my efforts will help change lives. Every 10 minutes, another child or adult is expected to die from leukemia, lymphoma, or myeloma; leukemias are the leading fatal cancers in young men and women under age 20......"
Caryn has committed to raise $4200 for the Leukemia & Lymphoma Society; and you can track her fund-raising effort (as well as donate if you wish) at http://www.active.com/donate/tntnca04/carynklaff . You can also express your moral support by sending her an encouraging email at cklaff@mindspring.com.
---
February 11, 2006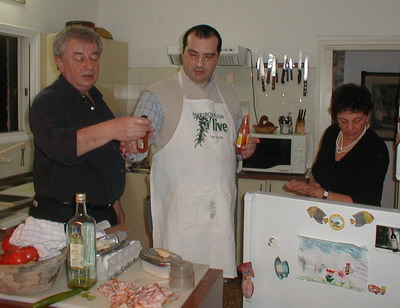 Do three cooks spoil the broth?

Definitely not these three.
Our hosting of the overseas directors togwther with the leading Israel ones, has become a tradition of the international bridge festival taking place in Tel Aviv and this year was no different.
Edek Levnaor, Maurizio Di Sacco and Doreen combined for a delicious (and enormous!) dinner at our house.
Guests of honour were Toin Kooiman from Holland(Chairman of the World Bridge Federation Laws Committee) and Maurizio Di Sacco (Chief Director of the Italian Bridge Federation and Assiestant Chief European Director).
We were joined by Edek and Roni Levnaor, Ilan and Chana Shizifi, Barry Avnerre, Anda Enciu, and Gadi and Tali Leibowitz;and not only was the food excellent but the company too, and a great time was had by all. Click here for some pictures.
Maurizio's cooking has also become something of a tradition. This year he prepared my favourite pasta dish, spaghetti carbonara, and last year fritelle di riso di Carnevale.

---
February 4, 2006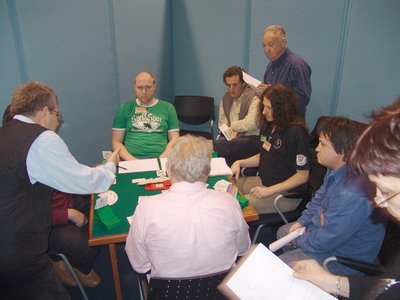 Tournament Directors' Seminar - San Giorgio Canavese, Italy

I participated in, and was a group leader at, the International Bridge Tournament Directors' Seminar held at the end of January. The seminar was a refresher for accredited international TDs, and also a qualifying exam for qualified TDs aspiring to international accreditation. The participants were divided into work groups, and in this week's picture I can be seen evaluastiong the performance of candidates at a simulation of a real-life problem at the bridge table. At the seminar I learnt that I had been appointed Assistant Chief Tournament Director of the European Bridge League.

---
January 21, 2006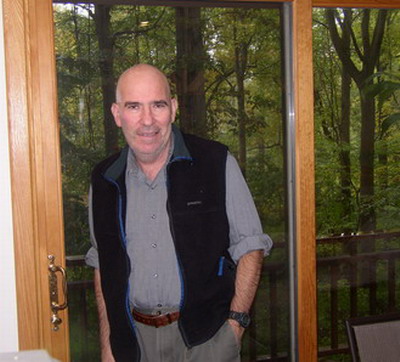 Vivian Klaff passed away this week at his home in Maryland, USA, He was 63. Six months ago he was diagnosed as suffering from a terminal sickness. I took my farewell of him last October, and took this picture of him the last day I saw him. Viv was not only a cousin - he was my only cousin on my mother's side - he was also my close friend since childhood days. When he married Frankie, Doreen's closest friend, the bond between us only strengthened. We lived much of our life geographically close to each other, and when he moved to the States.the emotional closeness remained, reinforced by frequent visits to each other.
We will miss you, Viv. Rest in peace.

Tributes to Viv are on the

Memorial Page

.

Please send condolences, thoughts, reminiscences, pictures etc to levy.eitan@gmail.com
---
January 14, 2006

Doreen writes: It's 32 years since my Dad Maurice died here in Israel. He was 64. A week later his brother Mike died and a weekafter that Moran our youngest son was born. So these last weeks of January are always a mixture of sadness and joy. Today we have many friends who are healthy and vital well into their 70's and even 80's. This picture was taken when Anthony (Eitan) and I got married. He died 9 years later. I would so have liked my father to have seen the person I have become, to have him been a part of our children's lives and just to be there for me. I miss him.
---
January 7, 2006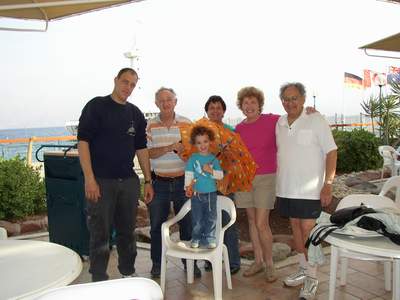 While in Eilat we met with Aura and Hilton Greenberg - long-time friends from South African days (Doreen went to school with Aura in Durban). Although they live in Canada, we manage to see them every few years, and again it was lovely seeing them again, especially as we could show off our Eilat family. We had an enjoyable visit to Coral World with Aviv and Itamar.

---
December 31, 2005
Isaac Olkienitski lights the Chanuka candles at the home of Shuli and Eitan Haberman.

Lighting the Chanukiah has beconme a tradition at the home of Shuli and Eitan, and this year was as enjoyable as ever.
The Ron family were visiting in Eilat, the Segolis were not well, Doreen was on tour; so I was the family representaitive. The Olkienitkis and offspring were there in full force, and overseas visitors included Joe Woolwich and Michael and Janet Cohen.

---
December 24, 2005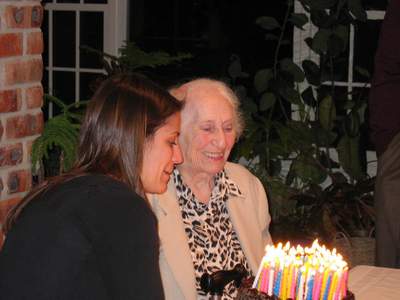 That's a lot of candles to blow out! Congratulations to Berenice Engleberg (nee Matz) on celebrating her 90 th birthday. Berenice is one of my father's 24 Matz cousins. Berenice is well, active and lucid and we send her the traditional Jewish greeting "may you live to 120!". Berenice lives in Salt Lake City, Utah, and she celebrated with her family in Colorado. Click for some more pictures.
---
December 17, 2005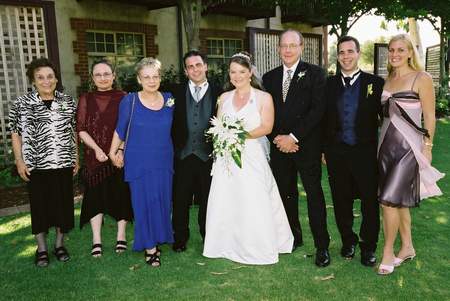 The Leibowitzes, l to r: Winnie Levy, Natalie, Sharon, Daniel and Donna, Joe, Josh and Natasha. (Taken at D & D's wedding last January).

December is Leibowitz month. Three birthdays and an anniversary. Sharon (Levy) Leibowitz is my first cousin on my father's side and she lives with huband Joe and family down under in Melbourne, Australia. (see Levy family tree).
Daniel's birthday is on the 17th, Tash and Josh have their anniversary on the 18th, and both Sharon and Tash have birthdays on the 21st.
In addition, we have just learned that Josh and Tash are expecting in April, so this month lots of "mazaltovs" to the Leibowitzes.
---
December 10, 2005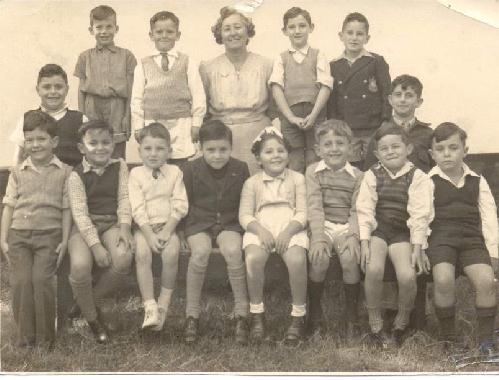 I suppose when they start finding things wrong with one's heart, one starts reminiscing about youth. Anyway, I thought it would be appropriate to show this picture of my Class 1 group at the Jewish Primary school in Durban in about 1947. Can you see where I am?
Check here
to see if you were right.
Added in 2021 -
Colourized picture (with names)
---
December 3, 2005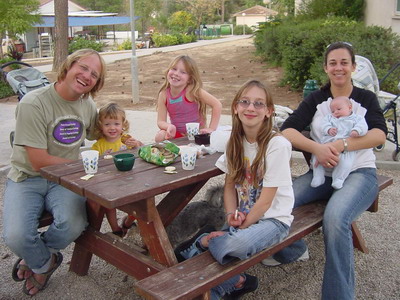 Doreen took this lovely picture of two-thirds of our children and grandchildren (Vered, Dani and Lior; Moran, Maayan and Lotem) at Kibbutz Dvir today, enjoying the unseasonable warm and sunny weather..
---
November 26, 2005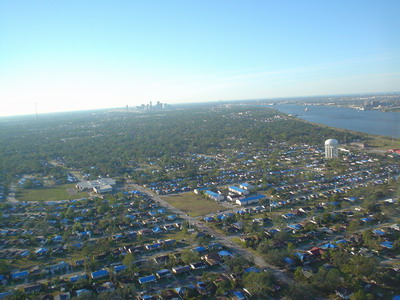 This past week we've had some fascinating emails from Caryn Klaff describing her impressions of her work in New Orleans as a Community Involvement Coordinator following the devastating hurricane, Katrina. (Caryn works for the Environmental Protection Agency in Washington.DC.).
She took this picture from a helicopter. Note the large number of blue roofs. Operation Blue Roof provides a free temporary roof to residential structures, schools, daycares and all publicly owned facilities. These temporary roofs are plastic sheeting and allow occupants to return and remain in their homes and facilities. The temporary roofs will provide short term relief until the owner can make permanent repairs.
Click here to read some impressions and see more pictures taken by Caryn..

---
November 19, 2005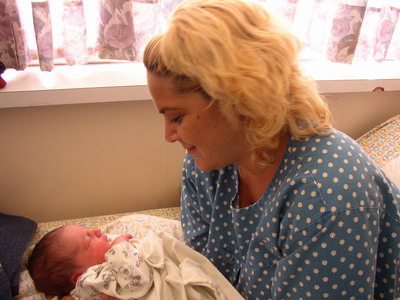 Mazaltov to Limor and Aviv on the birth of a sister for Itamar, and our sixth grandchild. She was born in Eilat on Thursday 17 November and weighed a healthy 3.310 Kgs. The birth went smoothly and Aviv and Limor are ecstatic. Both baby and mother are well.
---
November 12, 2005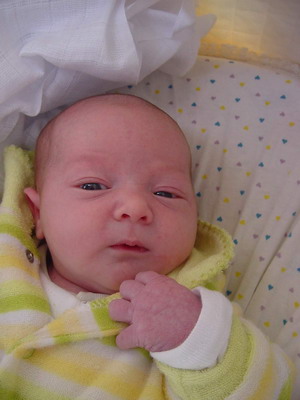 Lotem aged about 10 days. I think she looks like Lotem, but as with every new baby we hear various theories about who she looks like, whose nose she has, etc. I don't think she looks like her paternal grandparents, but decide for yourself.
---
November 5, 2005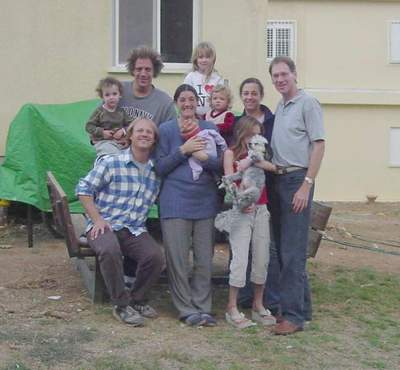 Children and grandchildren Aviv and Itamar went north from Eilat; Vered, Aviv, Dani and Lior went south from Raanana; Moran, Mikhal, Maayan and Lotem remained at Kibbutz Dvir; and the Levy offspring and spouses welcomed Lotem to the family. The four cousins met their new cousin Lotem, and the uncles and aunt their new niece. It was almost a family reunion, except for Doreen who was guiding, me (busy with a meeting), and Limor (home-resting and getting ready for cousin/grandchild number 6.)
For another picture, taken by Dani, click here.

---
October 29, 2005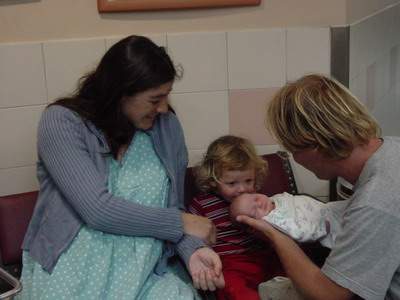 We are delighted to announce the birth of Lotem Gaia in Beer Sheva on 26 October 2005 to Moran and Mikhal Segoli. A healthy lovely baby, sister to Maayan, and our fifth grandchild. Maayan is fascinated with the new baby and is getting to know his baby sister.
More pictures on Lotem's home page.

---
October 22, 2005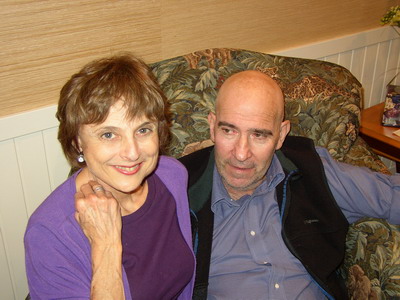 During the week of 15-22 October 2005 I visited Viv and Frankie Klaff in Maryland USA. Viv had just finished a round of chemo- and radiotherapy, and was about to start a new round of chemotherapy.
Also visiting the Klaffs was another ex-Durbanite and ex-Habonimite, Dave Rothschild, whom I haven't seen for about 40 years. It was good meeting again and recalling past experiences.
This picture was taken at the home of Errol and RuthAnn Ger, close friends of the Klaffs, where we ate a delicious meal and spent a lovely evening.

---

October 15, 2005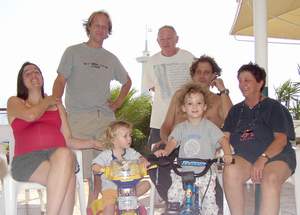 Yom Kippur 2005

It's now a tradition: This is third Yom Kippur we have spent at Coral World, keeping Aviv company while he fed the fish, patrolled and generally made sure everything was running smoothly. The three M's, Moran, Mikhal and Maayan joined us and we had a lovely relaxing time. Unfortunately, Limor couldn't be with us as she was in hospital under observation. During Yom Kippur, in the absence of traffic, the streets are taken over by cyclists. Coral World was taken over by tricyclists. Itamar rode his most of the day, whereas Maayan was more interested in the animals.

---

October 8, 2005

Rainman.

Not Dustin Hoffman, but Moran.
If you need to see the effects on rain in an area where it doesn't rain, what do you do? Simply watering is not good enough, for you need rain drops - water the size, shape and velocity of rain. So you use a rain machine.Here Moran is getting ready to produce "rain" at his experimental site in the Negev desert.

---

October 1, 2005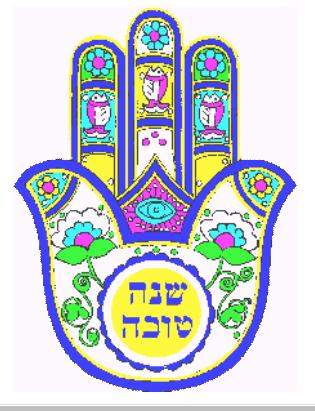 We wish you all a Happy Rosh Hashanah. May you have a happy, healthy and prosperous New Year, and may the New Year bring peace to Israel.
Doreen and Eitan

---

September 24, 2005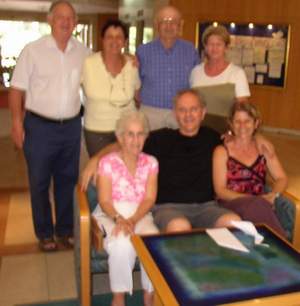 A meeting of the Israel branch of the Levy clan - the three cousins and spouses and Aunt Malia. Thank you, Malia, for your hospitality and for getting us all together. It was a lovely afternoon. (Apologies for the blurred picture - you were right, Dina!).
back: Eitan and Doreen, Nathan and Shirley (Kansky)
front: Malia, Jonathan and Dina

---

September 17, 2005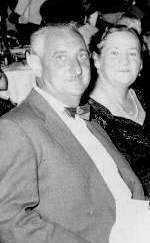 Today was my late father's birthday (17th September 1904) and my late mother's birthday falls next week (25th September 1904). This week's picture, taken at the barmitzvah of the late David Levy in 1957, is in memory of Hayman and Queenie. Queenie died in 1960 at the age of 56, and Hayman in 1977.

---

September 10, 2005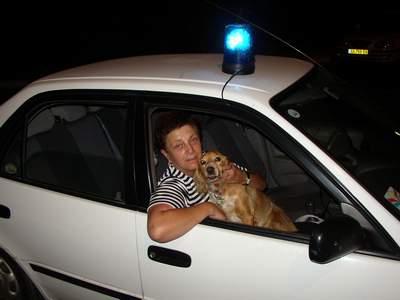 During the night between Thursday and Friday, no break-ins or thefts were reported from the area of Hofit, Kfar Vitkin, Bet Herut. This was no doubt due to the fear inspired by the presence of the Neighborhood Watch that evening.

---

September 3, 2005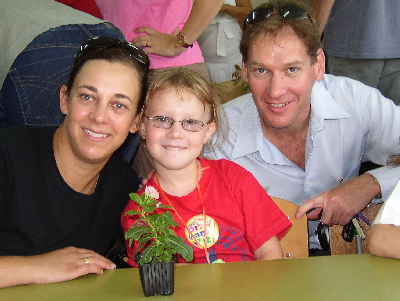 Back to school! For Lior, it wasn't back to school, but starting school. There was lots of excitement getting ready for Kita Aleph (grade 1) and going to the same school as big sister Dani. Some last minute encouragement from Mommy and Daddy at her school desk before starting the big adventure.

---

August 27, 2005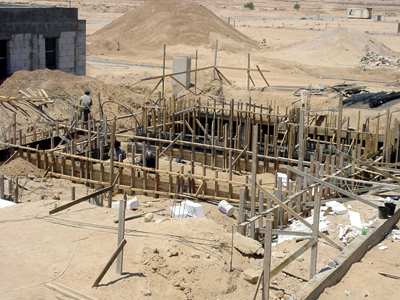 No, it's not an archeolgical dig in the desert. It is a desert, but it's the beginnings of Moran and Mikhal's house. Work has finally started on their house in Sde Boqer, in the Negev Desert, and we all wish them good luck.

---

August 20, 2005



This could have been a picture of my computer, but unfortunately it was stolen yesterday from my hotel room.

---

August 13, 2005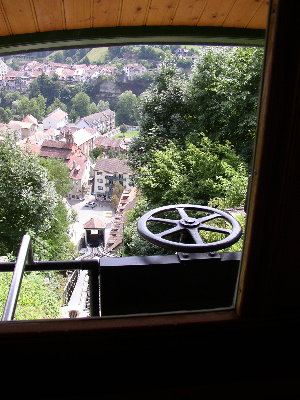 The funicular in Fribourg, Switzerland.

The easiest way to get from the upper part of Fribourg to the lower is by funicular. We decided to go down by funicular and then walk back up again. On approaching the funicular we noticed a terrible smell, like sewage. Later, on our way up we passed the funicular again and again noticed the smell. We had read that the funicular, built over 100 years ago, worked on water, and on enquiring we learnt that it works on sewage water!
The top funicular cabin is connected to the sewage system and its base fills and thus becomes heavier than the lower cabin. As the heavier cabin descends it pulls up the lighter bottom cabin. The speed of the cabins is controlled by brakes on the upper cabin. When the sewage-filled cabin reaches the bottom it discharges the sewage back into the system, while the new upper cabin is now filled with sewage, and so on. See details on this internet site devoted to funiculars.
For over 100 years the residents on Fribourg have been going up and down the mountain in a funicular working on sewage.

---

August 6, 2005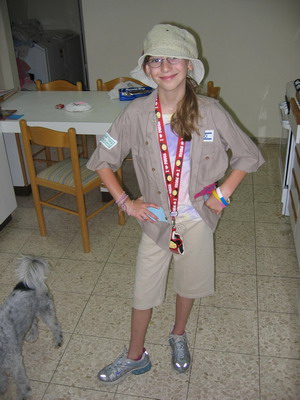 Off to scouts summer camp! Danielle getting ready for the scouts summer camp last week. Three days of sleeping in sleeping bags outside, and lots and lots of daytime activities. This is the first time Dani has been away from home for so long and she had a good time.
Vered joined the parents accompanying the kids and spent her time in the kitchen and doing guard duty.

---

July 30, 2005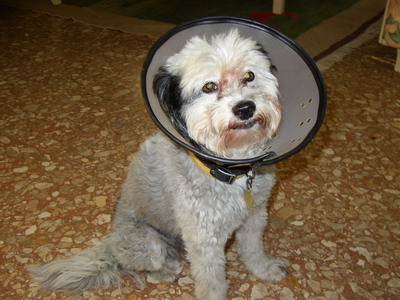 Doreen wasn't the only one to need stitches recently. Lopsy, the "family dog" (now with the Rons, see story) on a visit to Hofit had a disagreement with Shimshon, a friend's dog which was also visiting. Lopsy was badly bitten, and has been walking around for about 10 days with a protective collar, which makes him look either like an angel, or a satellite dish, or a lampshade without the bulb (depending on which family member you ask.).

---

July 23, 2005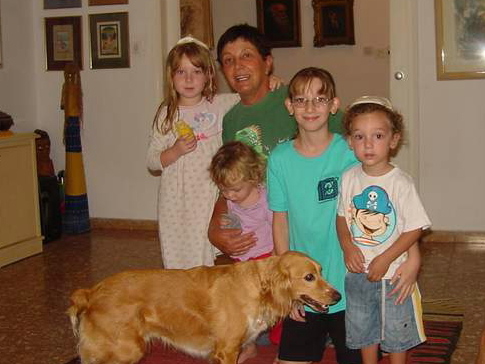 Last week, just before flying to join me in Italy, Doreen had the family over for Friday night dinner. It was an opportunity for grandma to be together with all four grandchildren.

---
July 16, 2005
All our family loves the sea, especially underwater activities like snorkeling and scuba diving. It looks like Maayan is no exception and will follow in the family footsteps. He loves the water, and the 'underwater". This delightful picture of him posing underwater (with eyes open) was taken by Moran last week.

---

July 9, 2005

Heartiest congratulations to Aviv Ron on being appinted CEO of the Commatch company ("the world's leading provider of Last Mile Voice and Media over IP solutions for Telecom Operators.") You can read about Commatch and about Aviv. We wish you every success in your new job, Aviv, and are sure that you will be an asset to the company.

---

July 2, 2005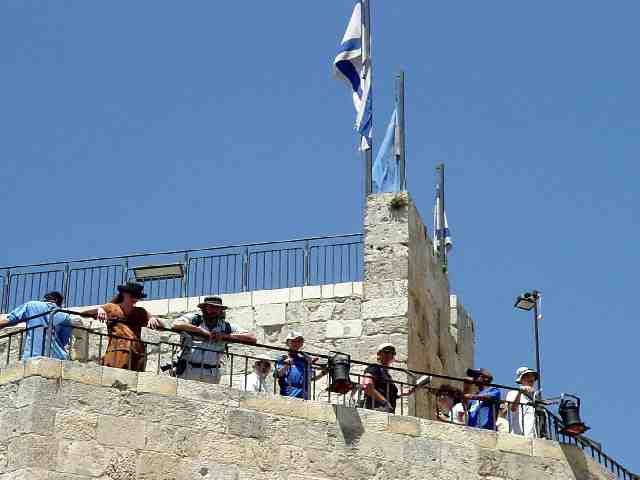 Moran sent me this picture of Doreen guiding her group in Jerusalem. I'm not sure how he got to be there to take the picture, but I suppose he was also going to be in Jerusalem at the same time as Doreen and knew her itinerary.

---

June 25, 2005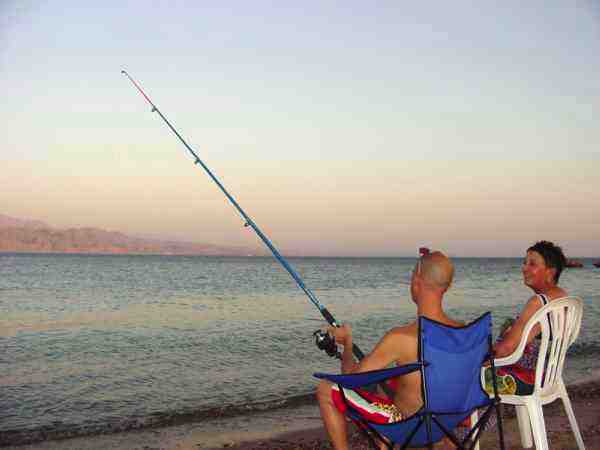 Just before going on her tour, Doreen went down to Eilat and spent a wonderful night on the beach with Aviv, Limor and Itamar; Moran, Mikhal and Maayan; and Rael Braverman. Rael took the chance to relax and do some fishing, with Doreen ready to help land the big one.

---

June 18, 2005
Moran and Mikhal officially received their Master degrees at a graduation ceremony at Ben Gurion University. Mikhal received her degree Summa Cum Laude at a special ceremony. Congratulations to both of you. We're very proud of you both.

---

June 11, 2005
It's Doreen's birthday today. Many happy returns to my darling wife. We spent the day quietly, me on the computer and preparing for my overseas trip; and Doreen mainly in the garden, tending to her lettuces and trees and picking a big round squash that turned out to be a small melon.

---

June 4, 2005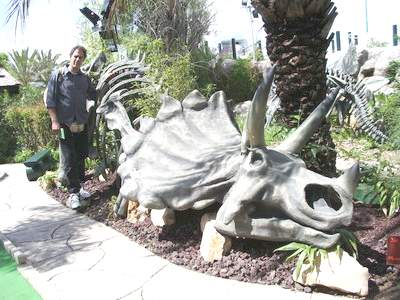 It's not quite a fish, but Aviv Levy took a break from fish on his visit last week to the aquariums in France (Antibes and Monaco) and Spain (Valencia and Barcelona) to check the mini-golf at the Antibes Marine Park.

---

May 28, 2005 THIS WEEK'S PICTURE SOUNDS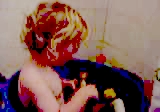 Maayan is at the stage when he gets excited hearing and making animal sounds. On a visit to Hofit he was fascinated with a video of farmyard animals - Old MacDonald's Farm style - and enthusiastically joined in the sounds. Here he is in his bathtub in Lehavim and conducting a duel between his plastic animals.

Switch on the sound, and click moo
---

May 21, 2005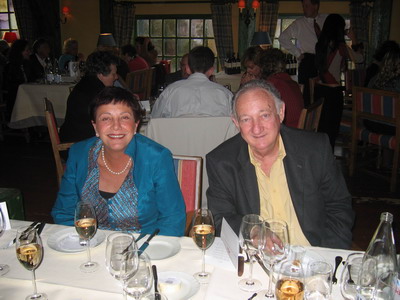 We spent a fabulous 3 days in Amsterdam as guests of Morris and Jackie Kahn at the launching of Morris's new yacht, Antares. It was great fun being with people we know so well and like so much. Morris is a wonderful host, and we were taken care of very well. Basil Sandler took this lovely picture of Doreen and I enjoying ourselves.
Morris's new yacht is superb. For pictures of yacht and more people, click here.

---

May 14, 2005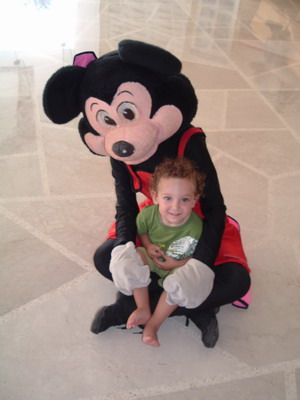 At the beginning of May, Aviv Levy, Limor and Itamar spent a few days at the Meridien Hotel at the Dead Sea. They had a wonderful time, but for Itamar the highlight was undoubtedly his meeting with Mickey Mouse.

---

May 7, 2005

Granny Doreen, by Danielle Ron
Doreen, Vered, Denise de niece, Caroline Livneh and Yael Paperna enjoyed a walking tour guided by Yona Wiseman. The tour was of the Bahaus/Modern Movement buildings of Tel Aviv (the "White City of Tel Aviv", a UNESCO World Heritage site). At lunch time Vered's husband Aviv and daughters Dani and Lior joined them for lunch. While waiting for the pizzas to arrive Dani drew a portrait of granny Doreen.

---

April 30, 2005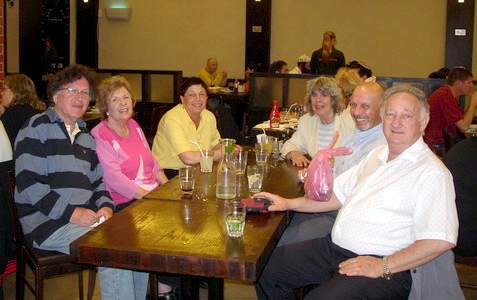 Forty years ago we learned Hebrew at Ulpan Ben Yehuda in Netanya. Among those learning together with us were Hans and Lotti Reijzer from Holland and Gordon and Shirley Poluck from England. Although both the Reijzers and Polucks returned to their native countries we have maintained contact with them over the years, especially with the Reijzers, with whom we have spent many holidays together. This year Hans and Lotti stayed with us for the Passover week, and Gordon and Shirley visted their daughter and her family who are living in Israel. It was fun having an "ulpan reunion" after so many years.

---

April 23, 2005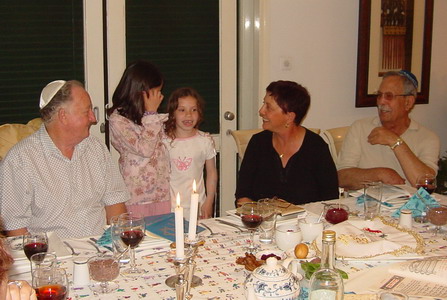 Passover Seder: Gali and Amit Nickel asking the "Four Questions" ( Ma-Nishtanah ). Taking part in the seder were Aviv, Limor and Itamar; Moran, Mikhal and Maayan; Avraham, Yael and Ofra Segoli, Julius and Laura Nickel, Louis, Etti, Gali and Amit Nickel, Richard Nickel and Rona, Louise and Rael Braverman; and Hans and Lotti Reijzer from Amsterdam..

---

April 16, 2005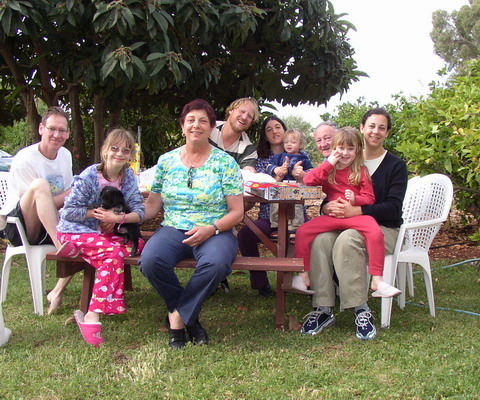 We spent the weekend in the Galil, with the Rons and the Segolis. We visited the Agamon (Hulah Reserve). We didn't see nearly as many birds as on our last trip there. We did see birds, though, and spent a few lovely hours there being driven around by Dani. On Saturday we went to a concert performance of Purcell's Dido and Aeneas beautifully performed by the Moran Ensemble, at the Tabga Church, while Dani, Lior and Maayan were looked after and played with some cute puppies.

---

April 9, 2005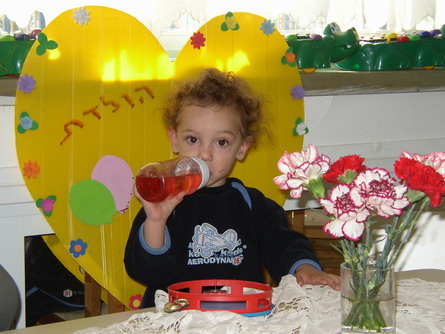 Doreen writes: Moran and I went to Eilat for Itamar's second bithday which was celebrated in style - one birthday party at Coral World and the following day another at his kindergarten. By the second party he was tired and overwhelmed and wanted only to sit on the birthday throne behind the table (above). I laughed the whole time - remembering how, as a parent I always wanted my child to shine - and now how as a grandmother I could accept that Itamar just wanted to be a spectator.

---

April 2, 2005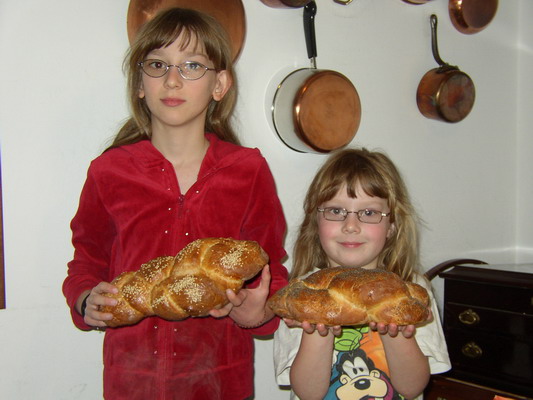 Our granddaughters Danielle and Lior slept over with us last Friday night, and here they are showing the delicious challot which they baked in the afternoon ("Granny helped us a little"). I avoided a "diplomatic incident" at the Friday night meal by making two "brachot" (blessings over the bread) - one for each granddaughter's challah.

---

March 26, 2005
Limor has opened up a shop in Eilat at the Solel Boneh Centre in Hatamarim Boullevard, selling lingerie. The interior of the shop is lovely and we wish her success in her new venture. So if you're in Eilat don't forget to visit Limor at "Olam Ha-Isha" (Women's World). If you mention this website, maybe she'll give you a discount!

---

March 19th, 2005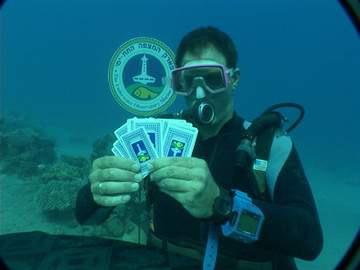 Aviv Levy appeared again on television. This time it was on channel 10, and it was a mini-feature on a channel 10 reporter learning to dive, and diving with sharks. Aviv was the diving instructor, and also guided and accompanied the reporter on his shark dive. Aviv came over very well, and displayed knowledge and expertise. We're very proud of him.
I don't have any pictures of him diving with sharks, so instead here's a picture of him playing bridge under water.

---

March 19th, 2005
Unexpected visits and even more unexpected good weather this weekend led to an impromptu picnic on our lawn in Hofit.

---

March 5th, 2005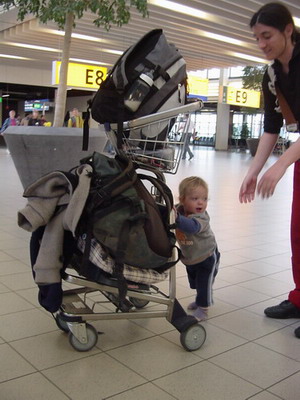 The Segolis are back from their trip to the USA. Fortunately Moran and Mikhal were able to get help at the airport for their luggage. As a proud grandfather I can only say "My grandson the porter."
Camping out (sleeping in tents etc) in deserts with a one year old is not everybody's idea of fun, but they thoroughly enjoyed it. The great pictures of their trip on Moran's site attest to the wonderful time they had.

---

February 26th, 2005
A hearty mazelov to Phil Solomon, doyen of the Nochomovich branch of Doreen's family, who celebrates his 92nd birthday in New York today.
Phil lives with his son Martin and his wife Joy. His daughter Alice also celebrates a birthday this month.
About seven years ago, Phil's beloved wife, the late Fae came across an ad that offered prizes for new poetry. She pushed and prodded Phil to enter the contest, as she knew poetry was an old love of his. Phil says that he had not written poetry for many years, but to please Fae, he wrote a poem for that contest. He didn't win any money but the editors sent him the Special Editors' Award. Ever since then Phil has been submitting new poems to the International Library of Poetry , and each year has received the Special Editors' Award.
Phil continues to write many poems to Fae, who died in 2002. He loved her greatly. Three of his poems appear on the site.

---

February 19th, 2005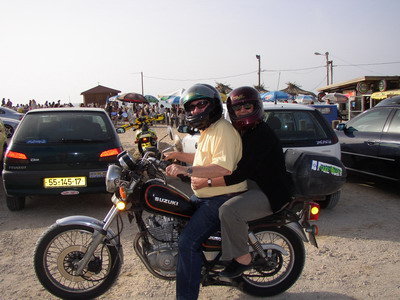 Although I'm almost 65, my motorbike is still my preferred mode of transport. And that gorgeous chick behind me is also in her sixties! A khamsin (hot, dry desert wind) changed Friday and Saturday from cold, rainy winter days into temporary lovely summer ones. Vered, Aviv and family took the opportunity (together with hordes of others) of going to the beach, and had a seaside lunch there with Aviv's sister, Orit, and family. We went by motorbike and negotiating the heavy traffic was much easier.

---

February 12th, 2005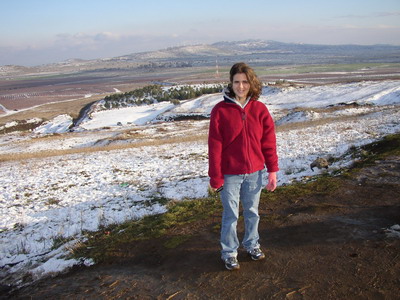 Hannah, the daughter of our good friends Nina and Steve Shafer, is learning Hebrew and working in the kitchen at kibbutz Hazerim. We were delighted that she took time off from her ulpan and be with us for the weekend. Hannah went straight from the airport to the kibbutz and has seen hardly anything of Israel, so we were unfazed by snow and storm warnings and went to see a little of Israel. Atypically, the northern Golan was covered with snow. Here Hannah stands in the cold wind with the Kuneitra area of Syria in the background.

---

February 5th, 2005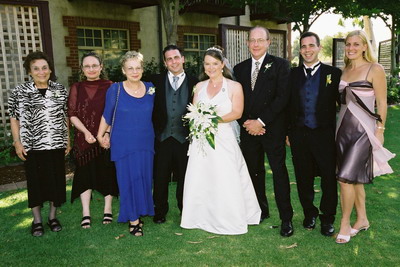 Winnie Levy (extreme left) with the Leibowitzes: Natalie, Sharon, Daniel, Donna, Joe, Joshua and Natasha, at the wedding of Daniel and Donna
Happy birthday for the 10th, Aunt Winnie. We hope you rest on your birthday after all your globetrotting to your grandchildren's weddings. Three grandchildren married in the space of a month and a half: Katherine to Sean on December 8th in South Africa, Joshua to Natasha on December 18th in Australia, and Daniel to Donna on January 22nd in Australia. Add to this the extra excitement of seeing Joshua and Daniel again after so many years. So take it easy on your birthday, and build up strength for your great-grandchildren.
See also Winnie's week.

---

January 29th, 2005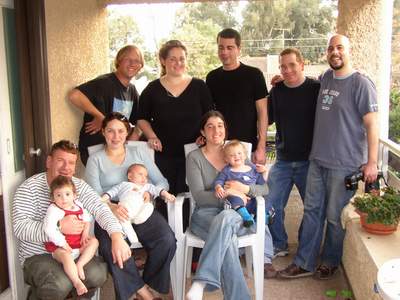 Back, l-r: Moran, Michal, Erez, Roy, Perry
Front l-r: Guy (holding Alma),Ayelet (holding Noam), Mikhal (holding Maayan)

A gathering of old school friends for Moran's 32nd birthday, in Hofit. The boys have been the closest of friends since they were at high school together at Sde Boqer. Now, with wives and children, they don't pass up any opportunity to get together and have a good time.

---

January 22th, 2005
While going through some old files looking for something else, I came across this picture taken many many moons ago in Eilat. I can't believe how big that shark was, and how thin I was!

---

January 15th, 2005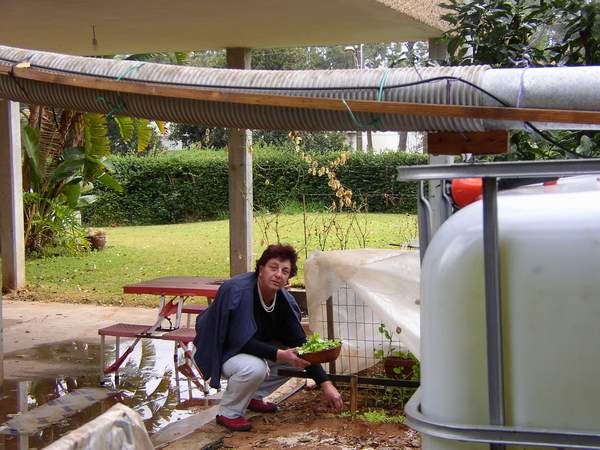 Doreen collecting freshly picked lettuces leaves in our garden for a lunch salad. We both thoroughly enjoy our little vegetable garden. In winter we grow lettuces - about 7 different varieties - under plastic. They are organic; we don't use any pesticides and use compost we have made ourselves. We have a big container that collects rain water from the roof, and in the periods between the rains we use this water.

---

January 8th, 2005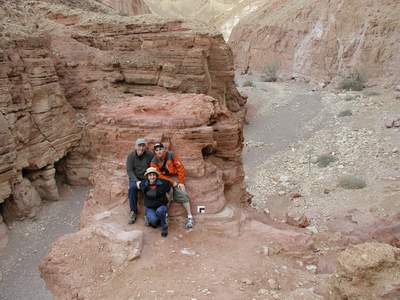 Viv and Frankie Klaff were with us for about 10 days, and were joined by eldest son, Oren. They also visited Eilat, and Doreen took them on a hike to the Red Canyon.

---

January 1st, 2005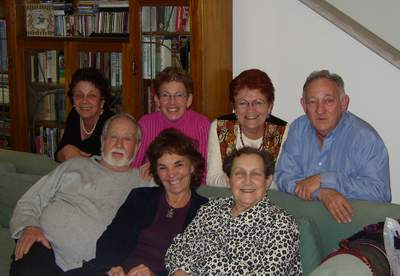 back: Doreen, Caroline Livneh, Ruti Marks, Eitan
front: Dovvie Glassman, Yona Weissman, Ziona Glassman.

Over supper at the Glassmans, Yona Weissman shared with us her harrowing struggle to stay alive after the train she and her friend Dani were on was hit by the tsunami. On the train were more than one thousand passengers; they were among the handful of survivors. The carriages of the death train were filled with dead bodies and watery mud up to their necks. Incredibly, Yona with great courage and tremendous strength and despite her fear of water calmly decided to come out of the ordeal alive. You can read her story here.
Another picture.

---

December 25th, 2004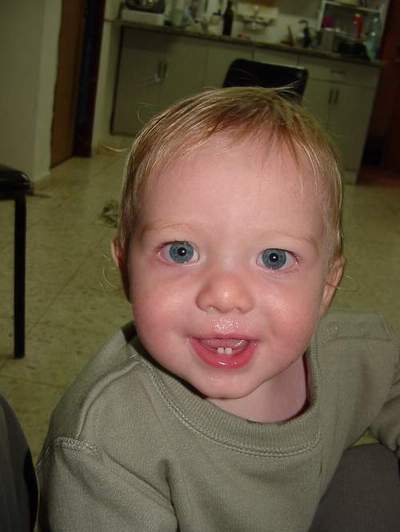 Happy 1st birthday, Maayan! Ma'ayan, the son of our Moran and Mikhal is our youngest grandchild. Like all our other granchildren he exudes charm and conqers hearts with his winning personality. A cutie!.

---

December 18, 2004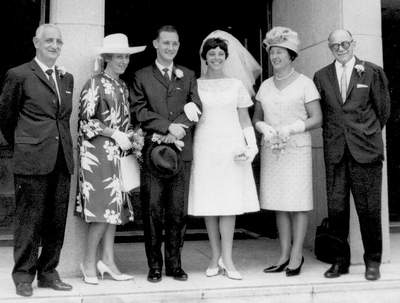 We celebrated our 40th anniversary on the 16th. Looking at our wedding photo (how young and thin!) brought back nostalgic memories.

---

December 11, 2004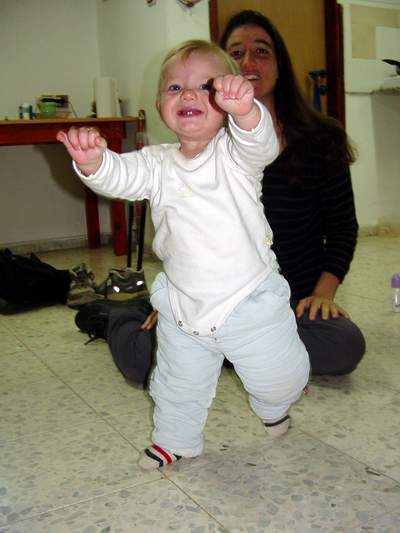 To quote Moran: "One small step for mankind - one great step for Maayan". Maayan takes his first steps alone. Watch out switches, on-off buttons, electricity outlets, keys, breakables; little boy on the prowl.

---

December 4, 2004




May 2007: Sadly, Katherine and Sean got divorced, so the picture that had appeared here has been removed.

---

November 27, 2004
Congratulations to Aviv and Limor on their 6th wedding anniversary on November 26. (This picture was taken last week at the wedding of Limor's sister Ophira). The family gave them a present of a weekend in a hotel in the Galilee while we took turns looking after Itamar: Friday Vered and Aviv R and family came to help us, and on Saturday M&Ms joined us.

---

November 20, 2004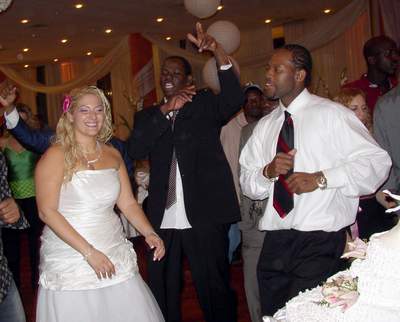 We went to Eilat to celebrate the wedding of Ophira Sadeh and James Gevintor (right, in white shirt). It was great fun, as guests from both sides danced and celebrated non-stop.
Ophira is our daughter-in-law Limor's youngest sister, and she and James, originally from Liberia, have been going out for about 4 years. Congratulations to the happy couple, and good luck for the future.

---

November 13, 2004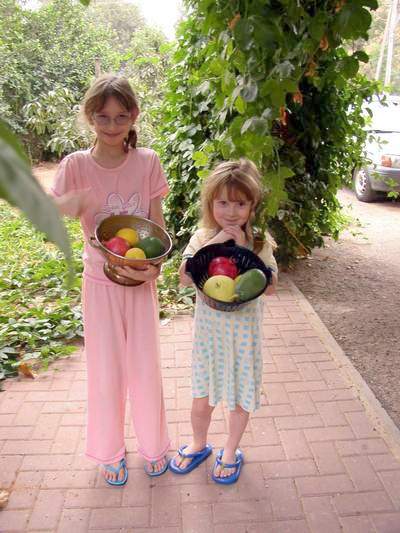 Vered and Aviv were both overseas, so Dani and Lior spent the weekend in Hofit with us - or rather with Doreen, since I was busy for most of the time with a previous bridge committment. First thing in the morning, Doreen took the girls, still in their nightclothes, to the garden (Lior calls it "Granny's grocery") to pick breakfast: avocados, pomergranates, passion fruit, oranges; and a pomelo to take home to Raanana.

---

November 6, 2004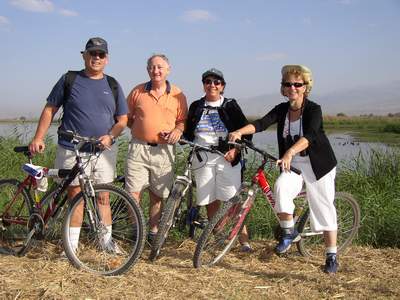 We spent a delightful weekend in the Upper Galilee with Carol and Terry Kessel. Wonderful company, interesting activities, and excellent food. On Friday we cycled around the Agamon area in the Hula, and saw tens of thousands of birds. Then on Saturday we went on a hike from the village Jish (Gush Halav).. For more pictures and details, click here.

---

October 30, 2004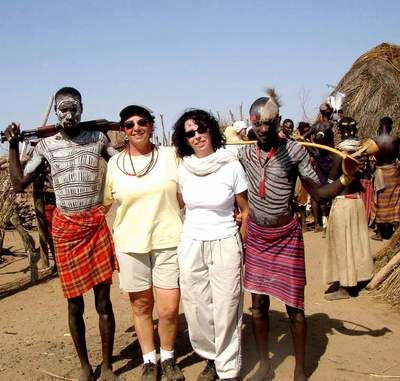 Doreen and Denise have just returned from a jeep trip in south Ethiopia. Here they are flanked by traditionally body-painted tribal warriors with rifles. An account of the trip with pictures will be posted later.

---

October 23, 2004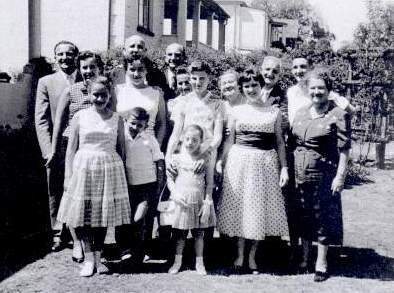 The Levy Family - 1959

from left to right: Abe, Malia, Sharon, Eric, Winnie, Charles, Joe, Ethel, David, Miriam, my mother Queenie, Fern; my father Hayman, me, Ethel (William, nee Levy).
The anniversary of my father's death was this week, and as I lit the yahrzeit candle I got to thinking about him and his brothers and family. So I went and dug out this picture, which I think was taken in Uitenhage on the occasion of Shirley's wedding to Nathan. (This would explain Shirley's absence from the photo!). Two other cousins are absent; Jonathan, who was only 4 at the time, and Cecile who had not yet been born.
It is saddening to realise that nine of the fifteen in the picture are no longer with us.

---

October 16, 2004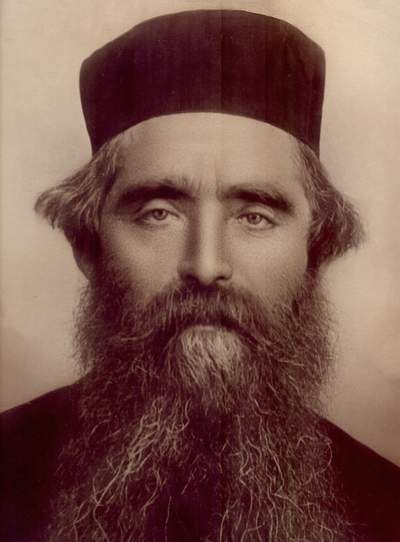 Pinkas Aaron Nochimovich, born about 1860, in Slonim (?) Byelorus.

During the last couple of weeks (at Milly and Aaron Hock's initiative) we have been receiving emails from Solomon and Hock family members with family tree details, and the Nochimovich family tree has been updated.
The Hocks are from an American branch ("Solomon") of the Nochimovich family. Another branch of the family went to South Africa. (The "Nickel" branch.). The earliest ancestor that we have on record is Pinhas Aaron Nochimovicz. He married Musha Leshnik and they lived in Slonim at the turn of the 19th century. (Pinhas had at least two daughters, one of whom went to South Africa and one to USA. We have not had any contact with these branches.)
We're not sure why the Nochimovich's changed their name to Solomon and Nickel, and any help in solving this puzzle, or finding the "lost" Nochimoviczes will be most appreciated.
Doreen is a great-grandchild of Pinkas; a great-great-grandchild, David Hock (Phoenix, Arizona) sent us this wonderful picture of Pinkas.

---

October 9, 2004
On Friday we took a break from the Abu Ghosh music festival, and Vered, Moran and families joined us for a visit to the Old City and Western Wall. This was the grandchildren's first visit to Jerusalem and they were lucky to have Doreen as their expert guide.

---

October 2, 2004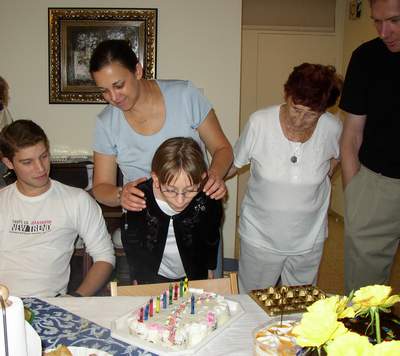 On 29/9/04 we joined our eldest granddaughter Danielle in celebrating her 9th birthday - her first in Israel, with lots and lots of family present. Both Danielle and sister Lior are thrilled to have so much family around here in Israel.

---
September 25, 2004

Getting ready to break the fast, Yom Kippur 2004.

The animals at the Coral World Park don't fast on Yom kippur, and Aviv is on duty to feed them and look after them and generally see that nothing goes wrong with any of the essential systems. This is the second year we have joined him, so it's already a family tradition. We had a lovely time, resting, reading, talking and simply taking it easy. More pictures on Moran's site.

---

September 18, 2004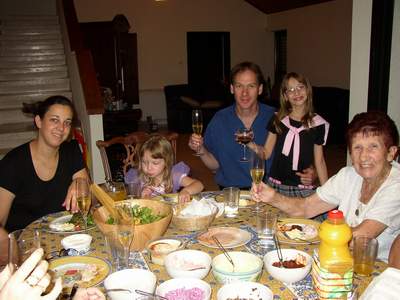 We celebrated Lior's 5th birthday - her first in Israel and the first celebration in Vered and Aviv's house in Raanana. Lior was absolutely delighted - this is the first time they have celebrated a birthday with so many family - her sister, parents, Saba Eitan, Granny Doreen, Savta Tova and Auntie Louise and Rael.

---

September 11, 2004

ETHEL LEVY (nee SOLOMONS) August 4, 1912 - September 7, 2004
My Aunt and godmother Ethel Levy, nee Solomons, passed away quietly in Port Elizabeth South Africa last Tuesday. Aunt Ethel was one of the warmest persons I have ever met. I was always very close to her, and loved her very much. She had a wonderful marriage to my father's brother, Joe, and she faced the tragedy of losing three children and her husband with courage and strength. Our visit to her in Port Elizabeth on our trip to South Africa three years ago was the last time we saw her, although we spoke a few times on the phone.
Our thoughts are with her devoted daughter Shirley and families; with Sheryl, the late David's wife; and with her brothers Bertie and Donald, and their families.
I'll miss you, Aunt Ethel.

---

September 4, 2004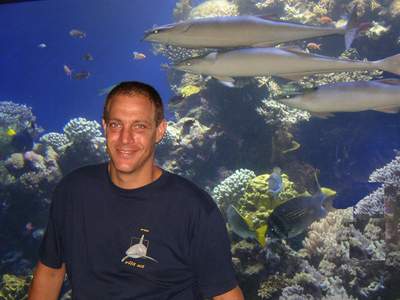 Congratulations to Aviv (Levy) who has been appointed curator of Coral World in Eilat. His duties include responsibilty for all the animals and exhibits, as well as underwater maintenance. We wish him all the best and know that he succeed in this highly responsible job. We're proud of you, Aviv!

---

August 28, 2004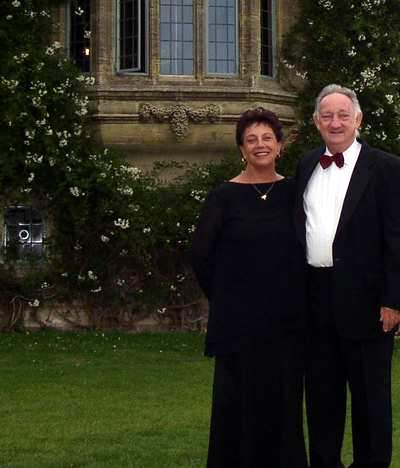 A Night at the Opera. It is not often that Eitan can be inveigled into wearing a tuxedo, but at the Glyndebourne Opera Festival it is de rigueur. The last time we appeared similarly attired was in Paris 20 years ago at a Skal conference.
Opera at Glyndebourne is a happening. The performance starts late afternoon and is preceded by strolls in the large manicured grounds, while sipping champagne or wine. The interval lasts an hour and a half; ample time to enjoy a picnic basket on the lawns, or a meal in one of the three gourmet restaurants. We were enchanted and moved by a stirring performance of Jenufa, a wonderful opera by Janacek.The key role of Kostelnicka was magnificently portrayed by Kathryn Harries.

---
August 21, 2004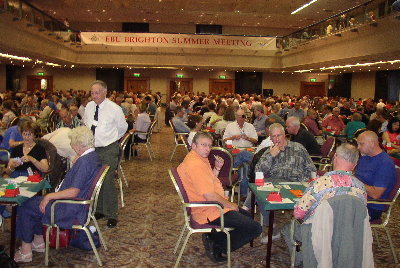 We're at Brighton at the Brighton Bridge Congress. This is the fifth time that we have spent August here while Eitan directs and we generally have a great time meeting friends and having a rest. The bridge directing has gone well and Doreen has been busy visiting the sales, going to London, working out in the gym and just relaxing.

---

August 14, 2004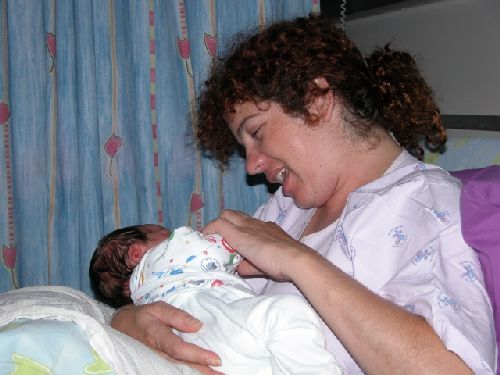 Welcome to this world, Almog Collins, born this morning. Although not a relative, new granny Caroline has been part of our family since our Eilat days, and we wish her, mommy Avigail and uncle Gidon a hearty mazal tov

---

August 7, 2004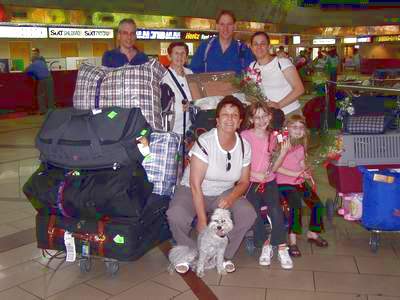 Welcome to the Ron family on their return to Israel! Aviv, Vered, Danielle and Lior (and Lopsy) arrived at Ben Gurion airport on August 3, 2004 with 13 suitcases. They have rented a house in Raanana and will be staying with us in Hofit until their lift arrives from America. The plan is that they will move to Raanmana by the end of August.
---
July 31, 2004
While we were in the USA, Aviv and Moran and families popped into Hofit on their way to the upper Galilee for the weekend. They slept at Bet Hillel near Kiryat Shmona and Aviv took the opportunity to exchange alligators for the Coral World Amazon exhibit.
In Hofit the grandsons sampled some of our garden's produce (passion fruit, litches and tomatoes). Maayan in particular was crazy about passion fruit.
We are very proud of our garden. Much of our watering is done with rain water (which we collect in containers in winter), with water from air conditioning (in summer), and with "recycled" saltier-than-normal water (from our reverse osmosis drinking water.). This year we had bumper crops of lettuces and raddichios (9 varieties!), arugula, tomatoes (3 varieties), peppers (2 varieties), passion fruit, litches, kumquats and loquats. We had more than we could eat, and neighbours and friends shared in our bounty (especially the lettuces and litches), and we pickled the peppers (delicious!). We were only moderately successful with lemons and limquats, and our orange and pomella yield was almost non-existent. We are still expecting moderate amounts of mangoes and avocado.

---

July 24, 2004
To make things a little easier for Vered and Aviv while they were packing for the move to Israel, we took Danielle and Lior on an RV (motor home) trip to the Washington DC area. On the way we visited the Six Flags Park where the girls had a wonderful time. The highlight of of the Six Flags visit was the trip down the Coyote Creek Rapids, where to their delight they got sopping wet.

---

July 17, 2004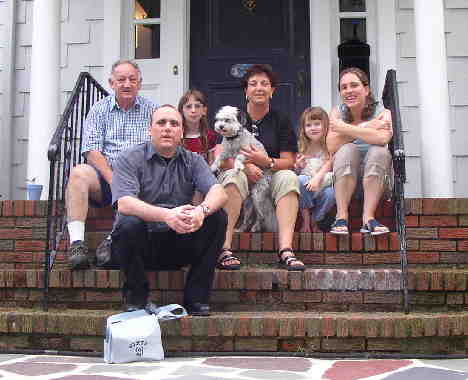 On my first day in America we had a delightful visit from Rami and Tahel Erez. The Erez family are friends dating back to our Eilat days (and Ruthie organized Doreen's 60th surprise party.). We take great pleasure that our friends' children make the effort to come and see us whenever they are invited. Rahmi is an architect and Tahel is starting a post graduate program in Forensic Physchology here in New York.

---

July 10, 2004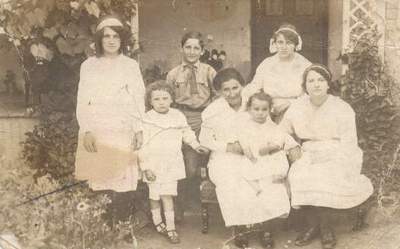 My grandmother Olga Levy (nee Matz) with 6 of her children (Abe was not yet born) in about 1916
l to r: Annie, Joe, Hayman, Olga holding Eric, Fannie, Ethel

The picture this week is in honour of the Matz family. During the last week I had access to a census list from 1834 for the Lithuanian town of Darbenai, where my Matz forebears lived. I discovered a lot of new information on the family, including 12 new individuals and went one more generation back. I was also able to confirm dates that I had previously only surmised.

I now have the names of 9 generations of my Matz family, from Nachman, born about 1735, through Aaron, Shevach, Shaya, Olga, Hayman, Eitan and Vered/aviv/Moran to Danielle/Lior/Itamar and Maayan, born 6 months ago.
So Danielle, Lior, Itamar and Maayan: The name of your great great great great great great grandfather was Nachman.

All the new information has been incorporated into the family tree. You can see an outline of the Matz descendants by clicking on Matz family tree.

---

July 3, 2004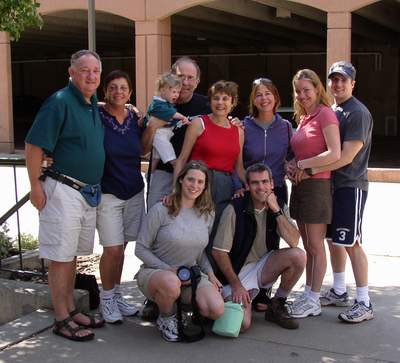 back: Eitan, Doreen, Tali, Viv, Frankie, Alex, CJ (Oren's friend), Oren
front: Caryn, Tamir.
This week is a celebrations for the Klaffs. Viv and Frankie celebrate their 39th anniversary on the 4th, Viv's birthday is on the 6th, and son Tamir's birthday is on the 7th.
Vivian Klaff is my only cousin on my mother's side. My mother was one of five children. Sister Rose married Sholem Klaff, two of her sisters never married (Dora and Bess Shapiro), and her brother Willie had no children. (See Goldberg family tree). Viv grew up on a farm in the Magaliesberg area in South Africa. Later the Klaff family moved to Rustenburg and then to Durban, where we lived, and where our fathers shared business interests. I spent many wonderful holidays with Viv in Magaliesberg and Rustenberg and our close relationship continued in Durban. The relationship was cemented when Viv married Frankie Silberman, who was Doreen's best friend then and has remained so today.
Although the Klaffs live in the USA we still manage to often see them and their children Oren; Tamir, Alex and Tali; and Caryn. This week's picture was taken on the occasion of Viv's 60 birthday, which we celebrated with his family in a resort in the Colorado area.

---

June 26, 2004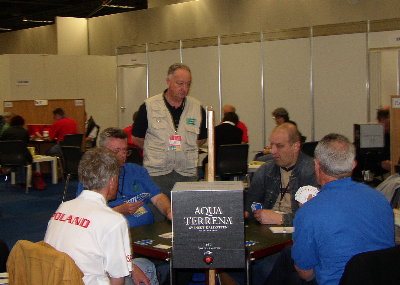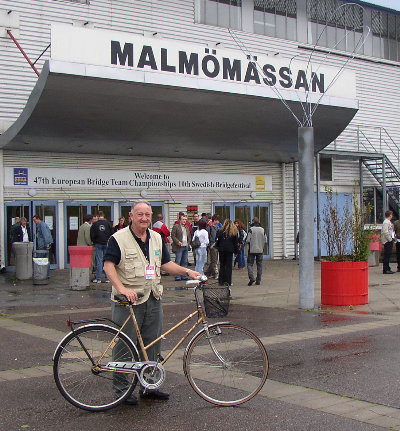 I'm in Malmo, Sweden, at the European Bridge Championships, from June 18 to July 3. For those of you who don't know I'm a certified International Tournament Director (bridge judge). That's me in the picture, keeping an eye on things. The hotel I'm staying at is far from the venue, and the easiest transport solution is a bicycle.

---

June 19, 2004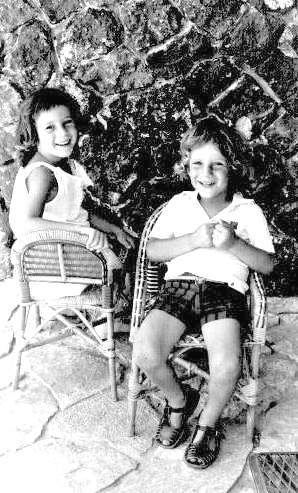 Our two eldest children are both June babies. Aviv was born on the 21st and Vered on the 28th. We have so many pictures of them that it was difficult choosing. Here they are together, many years ago, looking relaxed, happy and beautiful.

---

June 12, 2004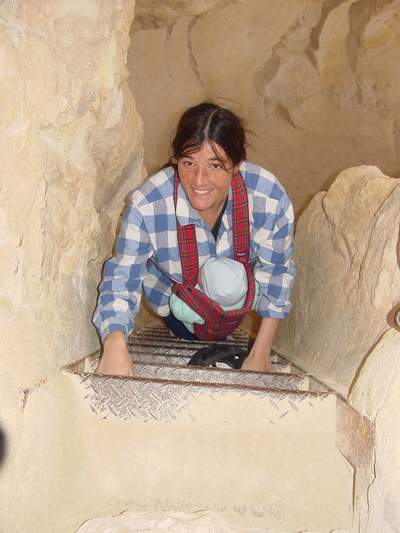 Congratulations to Mikhal! She has been awarded a prestigious Kreitman Fellowship for her doctoral studies. We are very proud of you, Mikhal. May you climb even higher on the road to success.
Go to the Segoli's page to see what an honour it is being a Kreitman Fellow.

---

June 5, 2004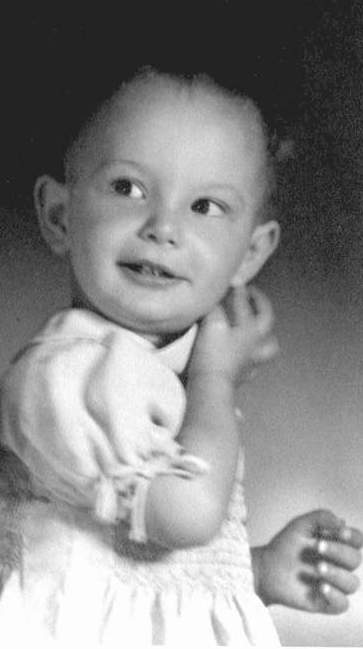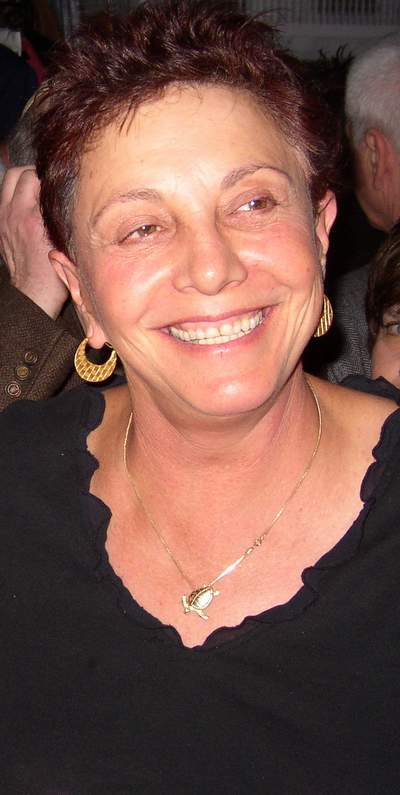 Happy 60th birthday on the 11th, Doreen! You were lovely then and you're lovely now. I love you very much and feel so privileged to be married to you, my love and my friend.

---

May 29, 2004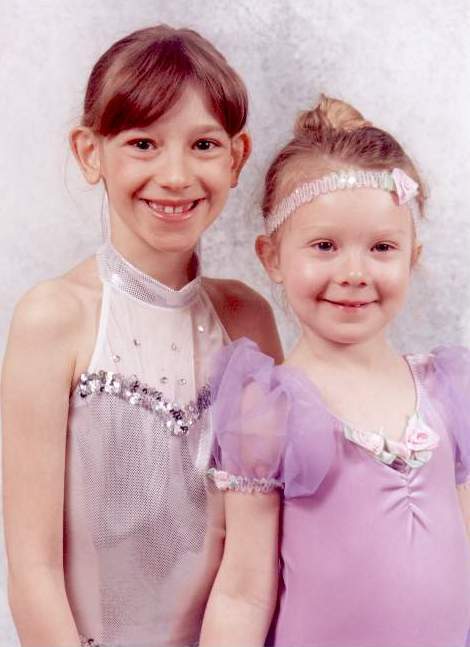 This week there is a delightful picture of our granddaughters, Danielle and Lior, taken in their dancing costumes. They are getting ready for a performance this week with their ballet class. Good luck, Dani and Lior!

---

May 22, 2004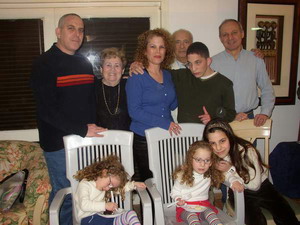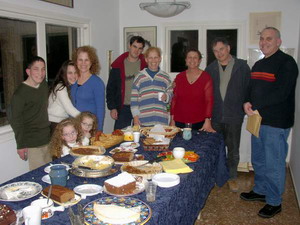 I don't have too many relatives on my mother's side, and the two closest are my first cousin, Vivian Klaff, and my mother's first cousin, Sarah Olkienitski (nee Goldberg). There is also a branch of the family in England.(Goldberg family tree) The amazing story of how contact was re-established among the family after the war never fails to move me.
Sarah is the sole Holocaust survivor from her family. She and husband Isaac have raised 12 wonderful children and grandchildren, who are not only our relatives but also our friends.
May is a month for celebration, for 6 family members celebrate birthdays. It is also a month for sadness, for eldest daughter Miri, born on May 13, died at the age of 49 on May 24, 2000. In honour of Sarah's descendants, and in memory of Miri, this week is dedicated to the Olkienitski family.

Left picture: back: Avi Gilad, Sara, Racheli Gilad, Isaac, Yoav Gilad, Noam Heyman
front: Yael, Michal and Naama Gilad

Right picture, from left to right: Yoav, Naama, Racheli, Uri Haberman, Shuli Haberman, Doreen, Eitan Haberman, Avi

(Missing from the pictures:Dani and Michael Haberman, Idit and Maayan Heyman)

---

May 15, 2004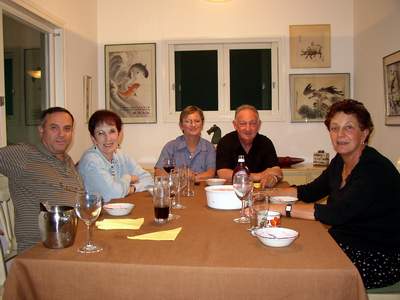 Who says we don't keep our promises? Over two years ago when we took an organized tour to the Red Center of Australia we met Ariella and Nomi. Actually we had met them on a bus in Cairns a few days before so when we saw them on our trip we felt that they were 'landsman,'. We got on very well and promised we'd meet soon. That was in Pesach 2002 - so when Nomi and her husband Yair and Ariella came for dinner this week we were a little apprehensive but had a delightful time and arranged to meet again, together with Ariella's husband 'soon.' Nomi and Ariella are remarkably good friends - remarkable because Ariella's ex is Nomi's present husband.

---

May 8, 2004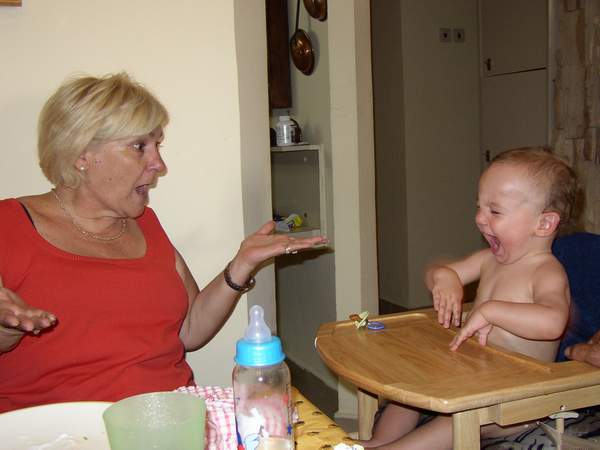 We spent a lovely weekend in Eilat with Limor and Aviv and Itamar. We call Itamar "Mr Smiley" and here he and Savta Margalit share a joke. Another thing that Itamar enjoys is eating hummus.

---

May 1, 2004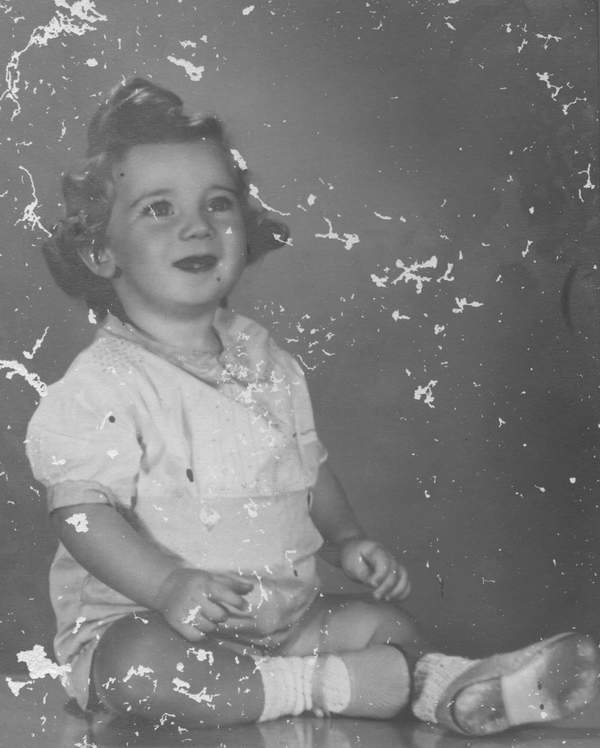 While going through some old pictures we came across this delightful picture of Anthony (aka Eitan). The picture is the worse for wear, but then so is Eitan!

---

April 24, 2004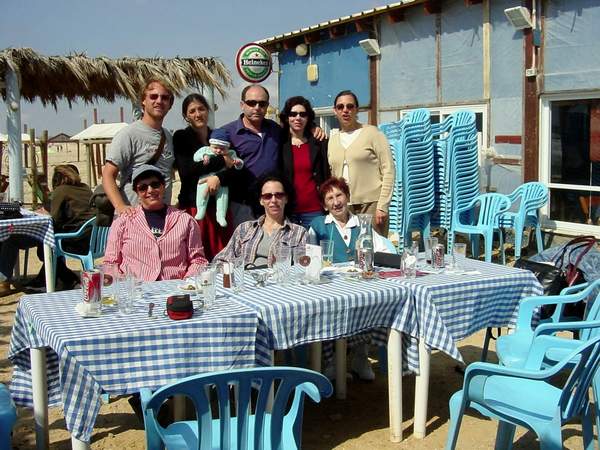 Back row : Moran, Mikhal and Maayan, Moshe and Orit (Aviv Ron's sister), Vered
Front row: Doreen, Denise de niece, Tova Ron (Aviv's mother)

Vered spent a very busy week in Israel. A few hours before flying back to Maplewood NJ she enjoyed a few hours of sunshine on the Bet Yannai beach with family.

---

April 17, 2004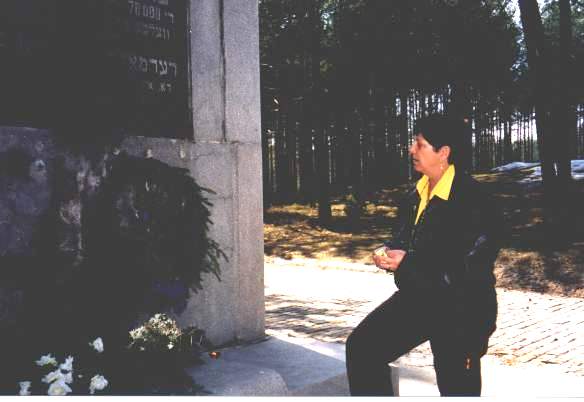 Doreen stands at the memorial in the Ponar Forest (Paneriai), outside Vilnius in Lithuania.

Holocaust Memorial Day falls this week. On this day we pause and remember the 6 million Jews murdered by the Nazis and their collaborators.
In April 1999, we visited Poland and Lithuania, and visited many of the infamous sites. Doreen wrote a moving account of her visit to Majdanek concentration camp just outside Warsaw.
The visit to the forest of Ponar was particularly moving, for Doreen's grandfather, uncle and many other relatives were among the the tens of thousands of Lithuanian Jews who were shot and buried there in pits.
Here is an extract of the "Page of Testimony" submitted by Florence Shochat-Levine to the Yad Vashem memorial, relating to Doreen's father's brother, Abrashke Glasser: "In August 1941 he was captured with his father, and his cousin Elke Glasser, by the Chapponas, told he was to be taken to work, but was killed in Ponar."

---

April 10, 2004

April 10, 2004

Pesach celebrates freedom and spring. Moran, Mikhal and Maayan took advantage of the holidays to enjoy some of the pleasures of spring in the Upper Galillee. After a particularly wet winter nature was out in all her glory, as this picture taken by Moran shows.
For an account of their trip, and more pictures, see this page at Moran's site.

---

April 3, 2004 <no picture>

---

March 27, 2004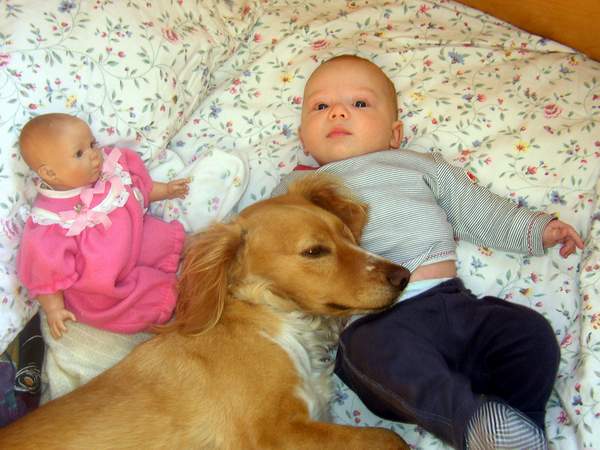 This is not only the Picture of the Week, it is the Babysitter of the Week. With so much attention being paid to Maayan on his visit last week to Hofit, and the corresponding neglect of Flopsy, it looks like Flopsy has decided: "If you can't beat 'em for affection, join 'em." Both seem very satisfied with the arrangement.

---

March 20, 2004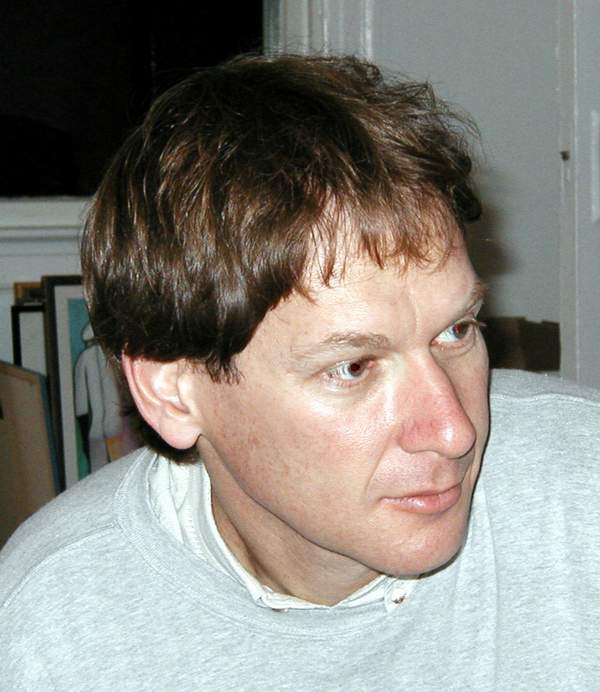 Happy Birthday this week (21st March) to our son-in-law Aviv Ron.
---
March 13, 2004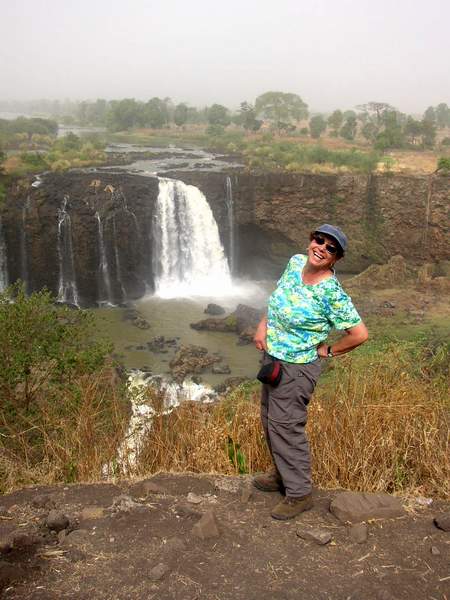 Doreen is back from her Ethiopian trip.
"Our four-day trek through the Semein National park was the high point of our trip. Because of the height the trekking was strenuous but it was constantly rewarding because of stunning scenery and good weather. Only at night did we all freeze. We also visited many beautifully decorated churches. Here I am, after the trek, at the Blue Nile Falls, the main source of the Nile River."
---
March 6, 2004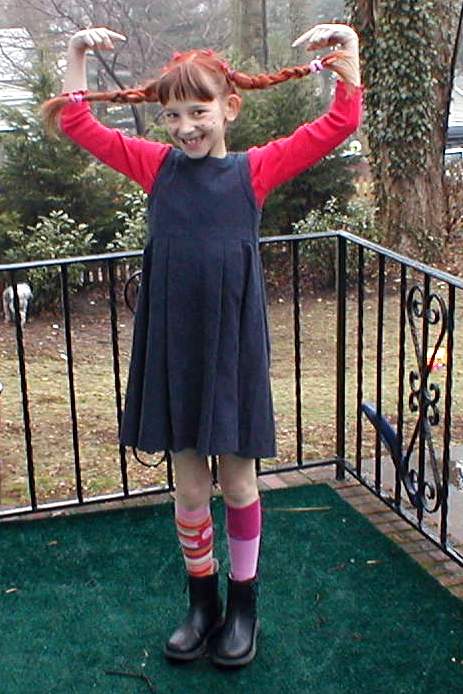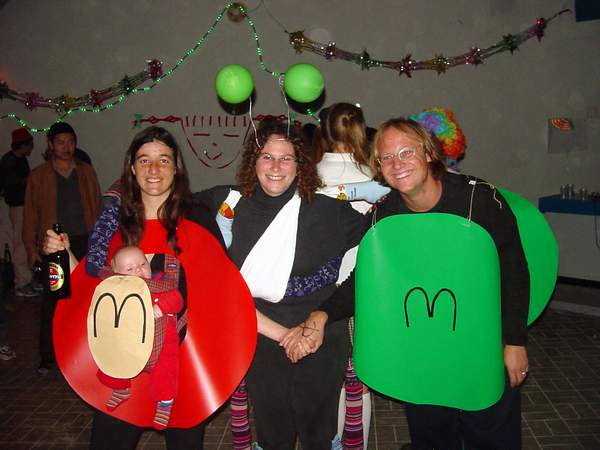 The Jewish holiday of Purim falls on Sunday. The holiday celebrates the deliverance of the Jews of Persia from the evil schemes of Haman, through the intervention of Mordecai and Esther. It's a fun day especially for kids. Firstly the scroll of Esther is read in synagogue and every mention of Haman's name is accompanied by children booing, screaming and generally making a noise. Secondly, it's the traditional day for fancy-dress, parades and parties. In Israel, nearly every pupil comes to school in fancy dress, and the streets are filled with traditional and current costumes. The adults, too, have parties, usually in fancy-dress also.
Here is Dani dressed up as Pippi/Gilgi/Bilbi ready to go to school, and Maayan enjoying his first Purim party Sde Boqer campus.
Here are some more pictures of Purim celebrations.

---

February 28, 2004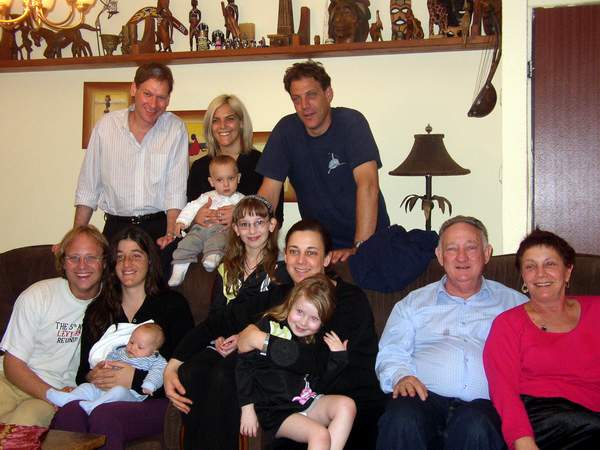 With the family being so spread out, occasions when we can all get together are much rarer. We try and have a family reunion at least once every 1-2 years. So it was time for a reunion. (We were all together for Mikhal and Moran's wedding, but that was a wedding so it was not counted as a reunion.).
The 12th Reunion took place in Eilat over the weekend of 19-21 February. Usually we have special T-shirts made up for the reunions, but this time Vered handed out coffee mugs with pictures of the family!
It was the first reunion with Mikhal, Maayan and Itamar, so it was extra-special. A wonderful time was had by all.

---

February 21, 2004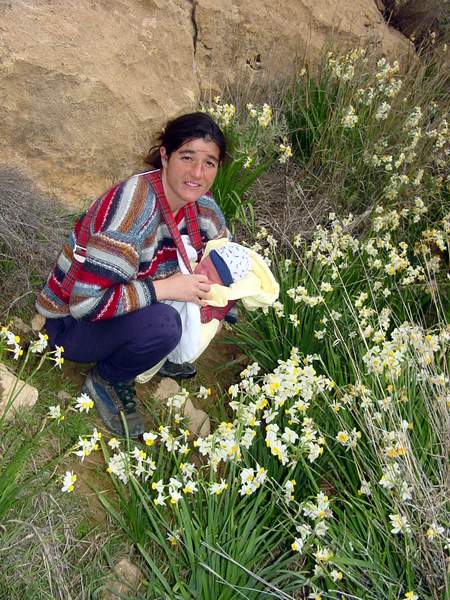 .

Moran and Mikhal have decided to act as if Ma'ayan is their second child. So despite the icy wind and grey skies we all went to see the daffodils in Wadi Hatzatz. . It was remarkable to see the contrast between the rocky river bed and the mass of delicate daffodils. The Negev desert in bloom after this year's heavy rains was exciting.

---

February 14, 2004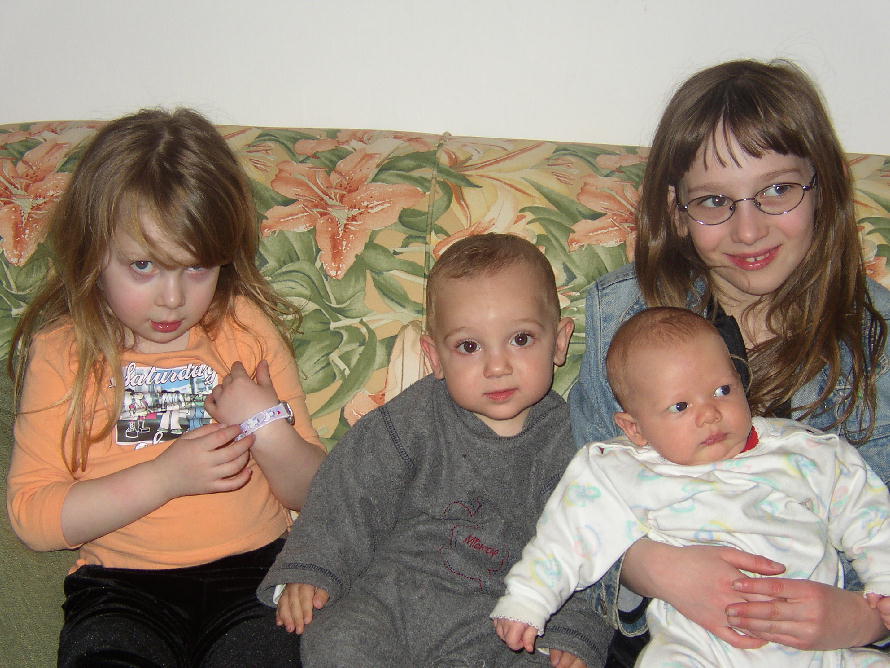 .

The four cousins at the family party in Hofit, together for the first time. Our family came to say hello to the Rons, and to welcome Itamar and Maayan.
l to r: Lior Ron, Itamar Levy, Danielle Ron holding Maayan Segoli.

---

February 7, 2004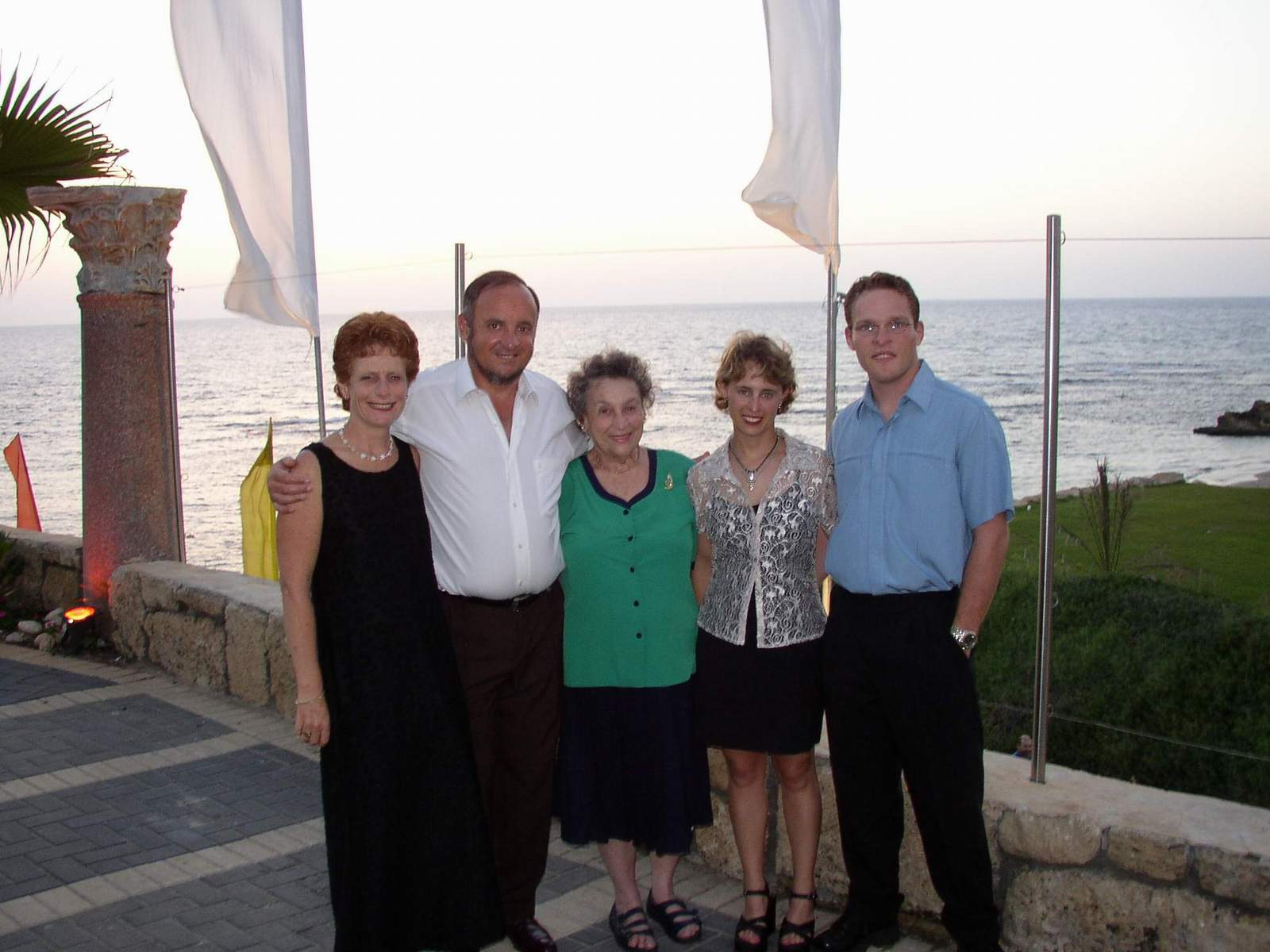 A triple celebration! Winnie Levy's birthday on the 10th, Charles Levy's birthday on the 12th and Charles and Sheenagh's 30th wedding anniversary on the 17th. MazalTov.
The picture, with daughter Katherine and Shaun, was taken at Mark and Serena Klotnick's wedding in September 2002 at Sdot Yam in Israel.

---

January 31, 2004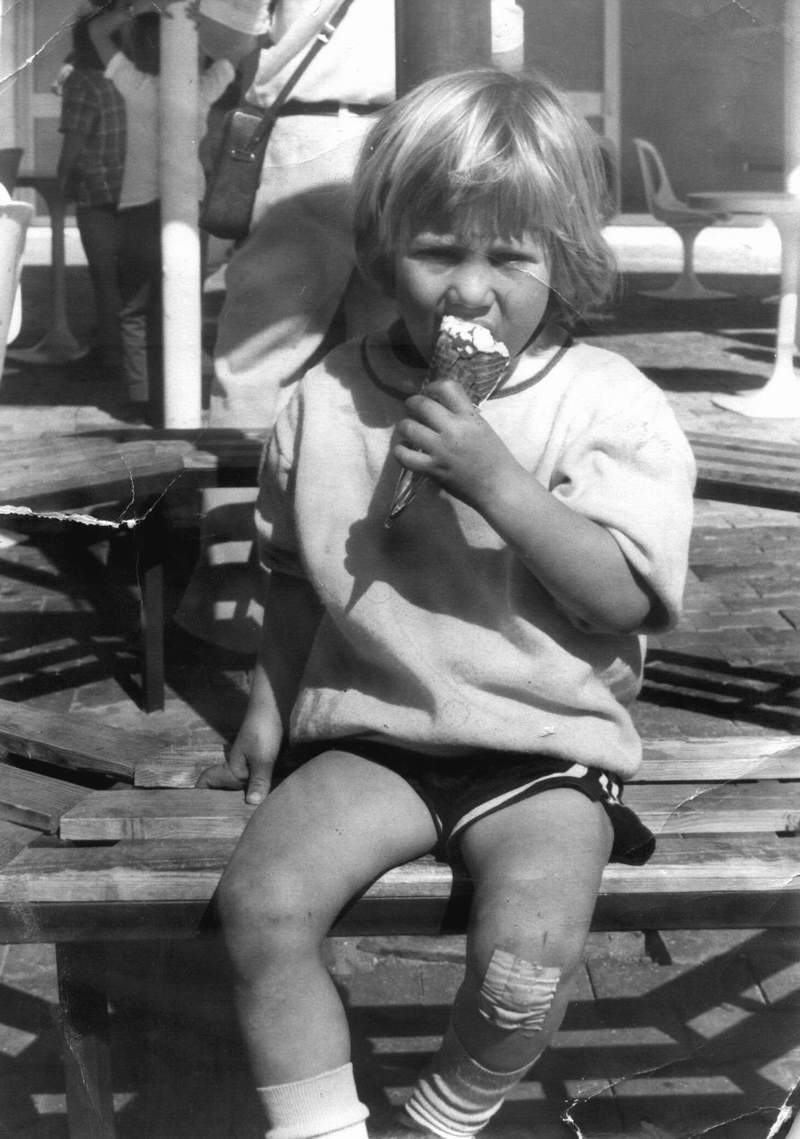 .

Picture of the Week features Moran, whose birthday falls this week (January 30). When Moran was small he was a frequent visitor to Coral World Underwater Observatory, often going there and back home by himself by bus. As can be seen from this week's picture, the main attraction for him at Coral World was not the fish but the ice cream. Click to see who also likes ice cream.

---

January 25, 2004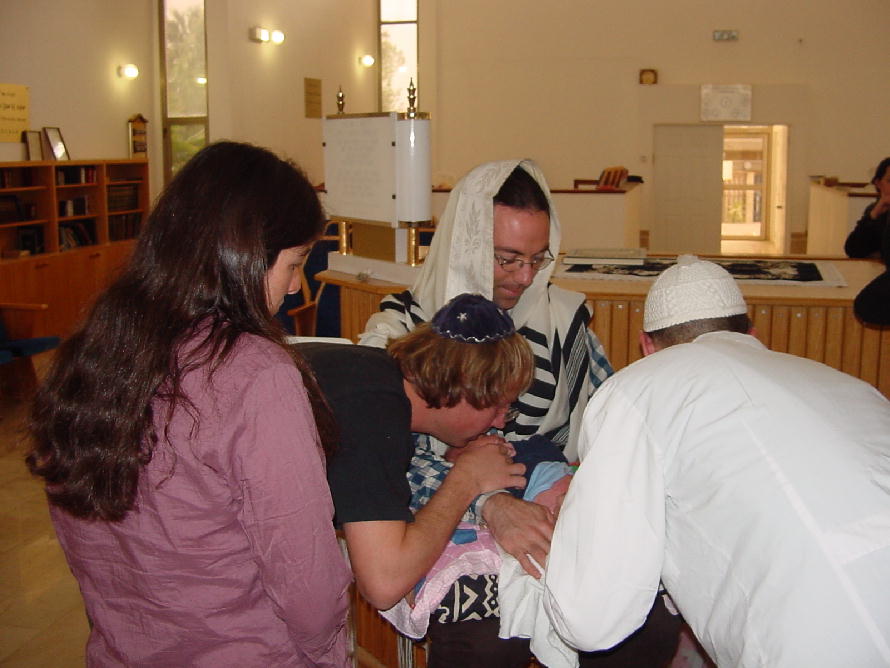 On 22nd January 2004, Ma'ayan Levi Segoli was circumcised and brought into the Jewish faith at the synagogue at Sde Boqer whereMoran, Mikhal and Ma'ayan live. Here Moran kisses Maayan held by Ran Kagan on Elijah's chair while Mikhal looks on as the Mohel works.

---

January 18, 2004
From left to right: Vered, Doreen, Aviv and Moran. The picture was taken somewhere in the mountains of Eilat about 1976.

---
Go to top of page
Go to Home Page