---
April 2023 - with Amit in Tel Aviv
Ilay and Amit came up north to us for a couple of days and enjoyed Tel Aviv. They didn't enjoy the trip home - a 5
1/2
trip home to Eilat took over 9 hours due to the roads being flooded.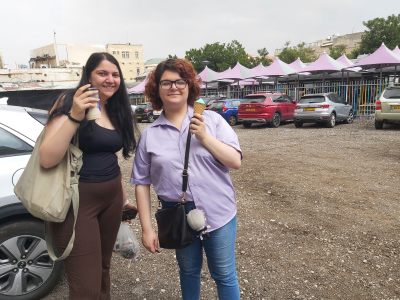 ---
September 2022
The Eilatis go on a trip in a motorhome
---
October 2021 - 27th Family Reunion
The Castle, Kerem Maharal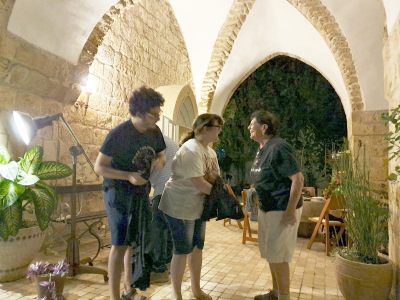 More pictures:
Archives
,
27th Reunion page
, and the pages of
Lior
,
Itamar
,
Maayan
,
Amit
,
Lotem
,
Zoe
---
August 2021 -
a morning at the pool.
---
June 2021 Aviv's 53rd birthday
Both Ilai and Amit helped granny decorate the poached salmon for AvivL's birthday on Friday evening.
See picture.
The next day Doreen, AvivL, Amit and Ilai went to Ein Aviel, about 1/2 hour from us, where springs in the area flow into the Nahal Taninim making a lovely spot for a short hike and a picnic.
Pictures here.
---
February 2021 - late celebration of Ilai's birthday
It's a little late (Ilai's birthday is 28 January) but lockdown prevented an in-time celebration, so we baked a cake and sang for Ilai's 14th birthday in February at a Friday evening family dinner.
---
December 2020 - 26th Family Reunion - 56th Anniversary Granny and Saba Eitan
On 16/12 we celebrated the 56th Anniversary of Granny Doreen and Saba Eitan, together with the 26th Levy Family Reunion. There are more pictures on the
Events page
, on
This Weeks Picture Archives
, and on the pages of
Danielle
,
Lior
,
Itamar
,
Maayan
,
Lotem
,
Amit
, and
Zoe
.
We also went sand surfing on a high sand dune. Click on the picture below to see a short video.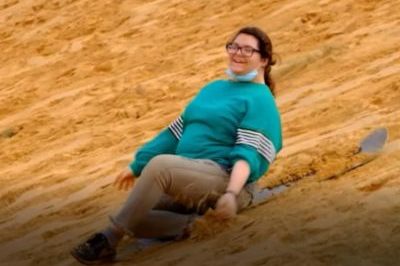 ---
December 2020
Eilat has been declared a Covid-safe "island" and entry to the city is only permitted to people who have tested negative for the virus. So we queued up and did our tests within the required 72 hours and after receiving "negative" results drove to Eilat, and were of course delighted to be able to spend a weekend with the Eilat Levys. We had brought some fresh pecan nuts from Ruti and Dani Erez's trees and Ilai helped us crack open the shells and separate the nuts as we talked and enjoyed quality time.
---
October 2020 - The Aviv Levy family spends a
weekend in the Galil.
---
Granddaughter Ilai found something useful to do during the Covid-19 lockdown. . She sand-papered the outside wood table and repainted it. We've got lots of work for you to do at our apartment, Ilai!
Purim 2020
Due to the coronavirus situation Purim celebrations and costumes were more subdued this year, but granddaughter Ilai Levy was happy to dress up in an Anime costume.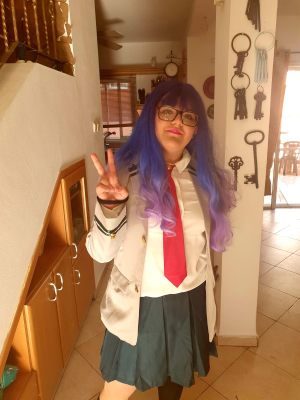 ---
January 2020 - Ilai celebrates her 13th birthday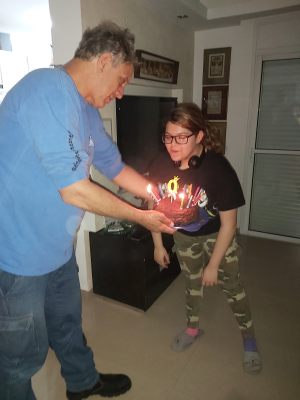 ---
July 2019 - A visit to Paris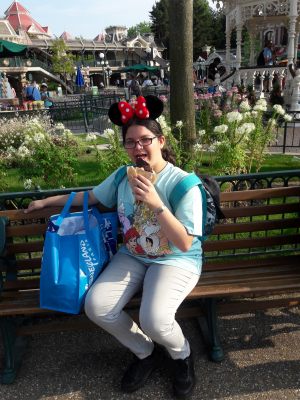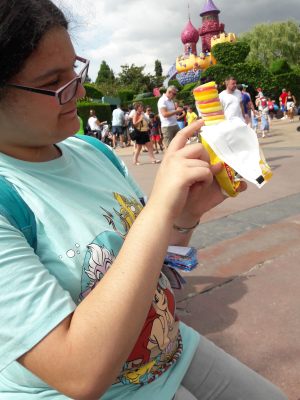 More pictures in
This Week's Picture
,
Miscellaneous Pictures
and sister
Amit's
page.
---
July 2019 - Ilai relaxing on a visit to Coral World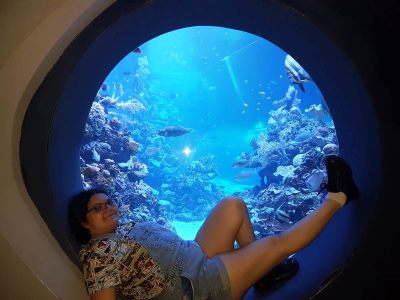 ---
June 2019 - A school trip to Jerusalem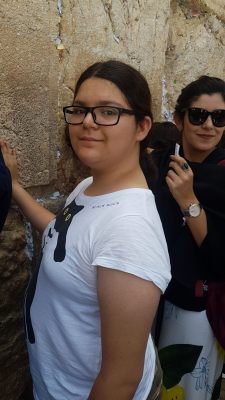 At the Western Wall
---
Family Reunion in Italy at the Villa Prato al Sole - April 2019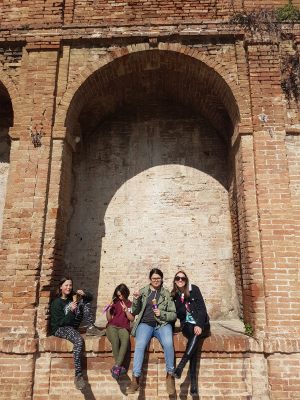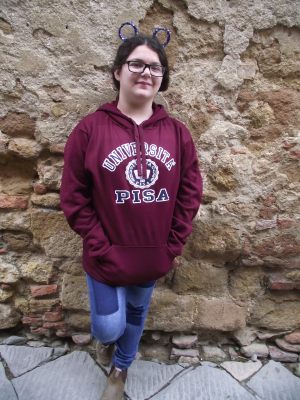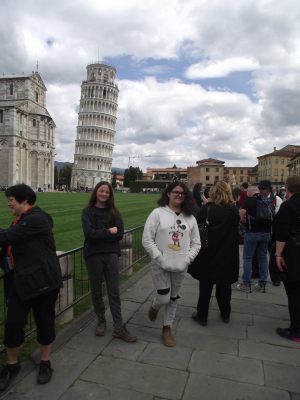 For more pictures of the reunion see:
---
March 2019
Ilai enjoyed taking part in the national Junior Cyber contest. Unfortunately spectators were not allowed, so we have to make do with this impressive picture of the participants.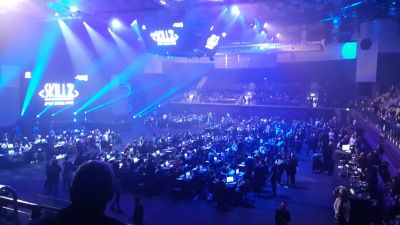 ---
March 2019
Ilai and 3 other pupils at her school receive certificates of distinction in recognition for representing their school at the 2019 Israel Cyber Championships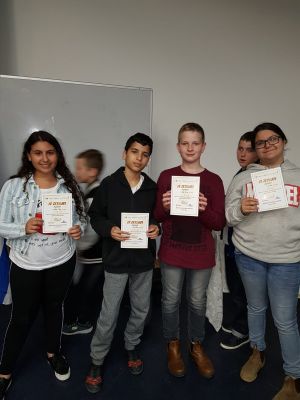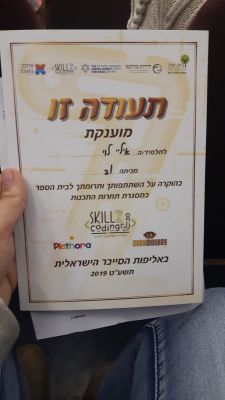 ---
March 2019 - Ilai is excited to receive a a letter informing her that she has been accepted into the high school she wanted .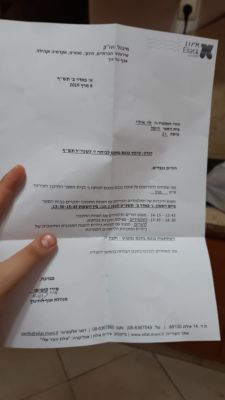 ---
February2019 - Ilai visits the Golan and takes a picture.
After her
birthday celebration
the family went on a short trip to the Golan where Ilai took this picture.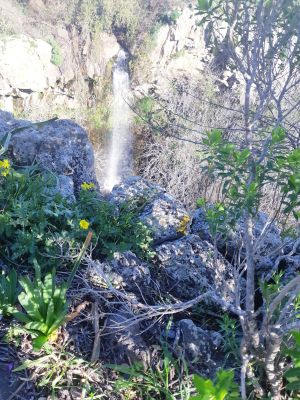 ---
Ilai's 12 birthday
We celebrated Ilai's 12th birthday together with Moran's 47 th birthday. The whole family (except for AvivR and Danielle who are overseas) came for Friday night dinner, which was followed by the birthday cakes - a large one with 13 candles for Ilai, and a small one with only one candle for Moran.
See also here.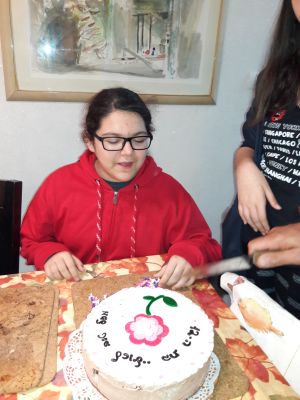 ---
June 2018: Ilai receives her certificate at the end of the school year for outstanding achievements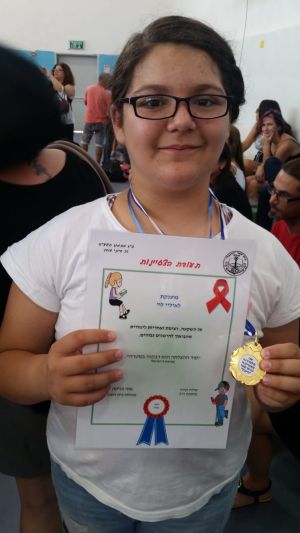 ---
May 2018 - The Eilat levys went up to Midreshet Ben Gurion to spend the weekend with the Segolis.
(see another picture here)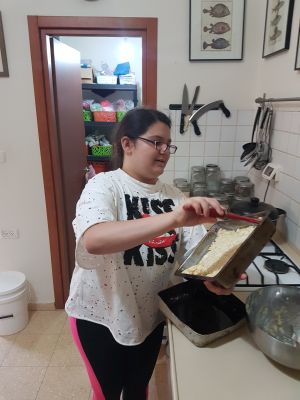 Ilai cooks vegetarian corn pie for sister Amit
---
January 2018 - 23rd Levy Family Reunion
There are pictures of Ilai and all the family
here.
---
July 2017 - Home after the operation
Ilai is progressing well after her surgery (
see last week's Archives
and
below
) and is at home. She will need to stay at home for several weeks as her arm and back movements are restricted.
Leaving Assuta Hospital A welcome party at home in Eilat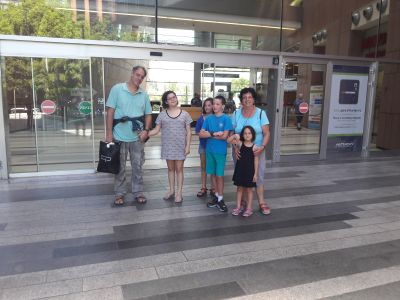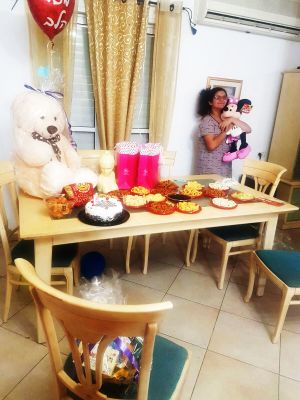 ---
July 2017 - Ilai undergoes back surgery
Ilai underwent a successful back operation and she is recovering well. She is walking well, though of course slowly, and is improving daily. She has been in hospital for a week and should be allowed to go home in a few days time. In the meantime she is a couple of centimetres taller because her back was straightened. See also
Archives.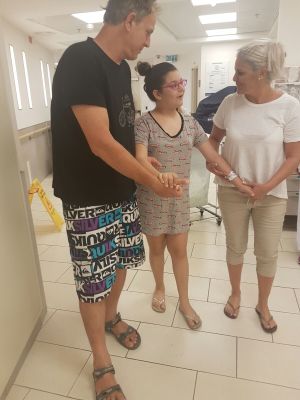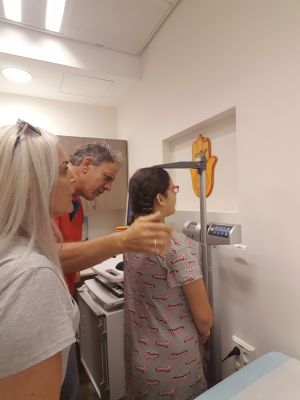 ---
April 2017 - The grandchildren go horseriding