December 2013: Ellen Grishman and Andres Bokser are married
Yesterday we celebrated the wedding of Ellen Grishman and Andres.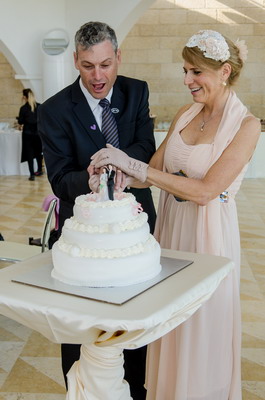 Ellen is a school friend of Vered (and, see below, a tennis partner) from the time we were in St Thomas and has been living in Jerusalem for many years. She and Vered keep contact and meet regularly.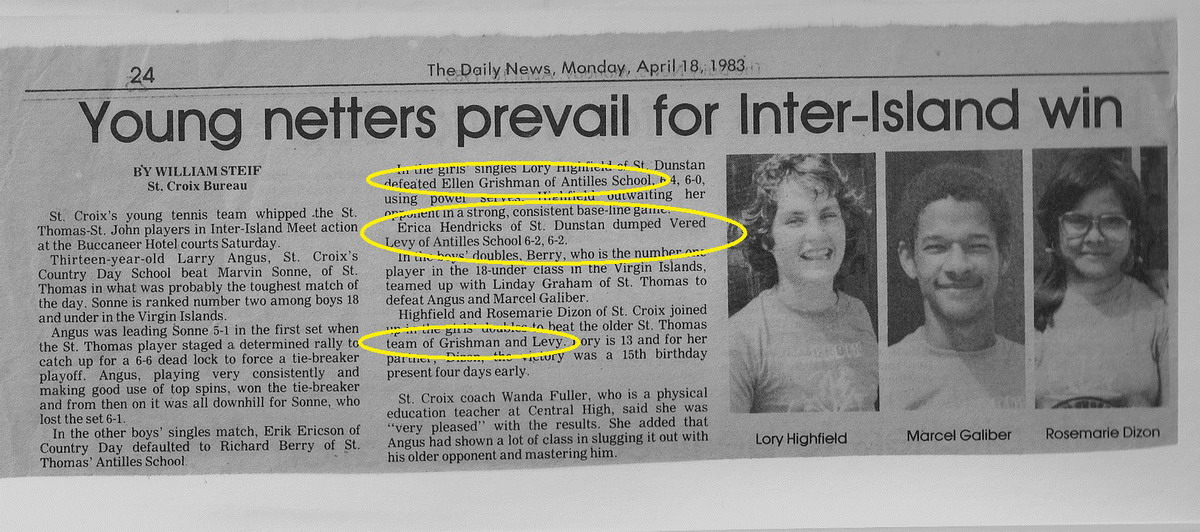 We were happy to see the father of the bride, Sandy Grishman, whom we have not seen for many years. Unfortunately Marilyn, the mother of the bride, fell and broke her hip the day before the wedding and, after flying thousands of miles, could not attend the wedding.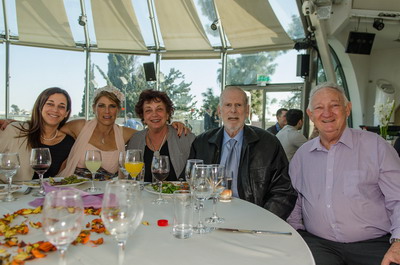 (Thanks to Aviv Ron for the photos)
---
December 2013 - A visit to the Jerusalem Biblical Zoo
Doreen and I spent a most enjoyable day at the Jerusalem Biblical Zoo with the family. Aviv Levy and Itamar, Amit and Ilai came up from Eilat and joined Moran and Mikhal Segoli and Maayan , Lotem and Zoe. Mikhal's mother, Yael Segoli, also joined us with three cousins from the Segoli side, Rotem, Ido and Amit (children of Mikhal's sister Naama and Moshik Yaniv). All the children got on extremely well and had a wonderful time. Vered Ron, who was working in Jerusalem, joined us for a short time. The zoo is large, well-organized and has many interesting animals.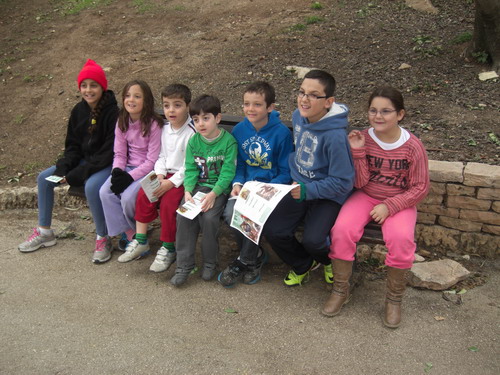 l-r: Rotem, Lotem, Ido, Amit, Maayan, Itamar, Ilai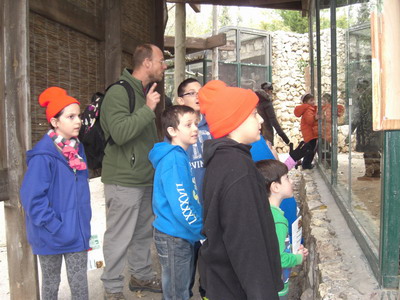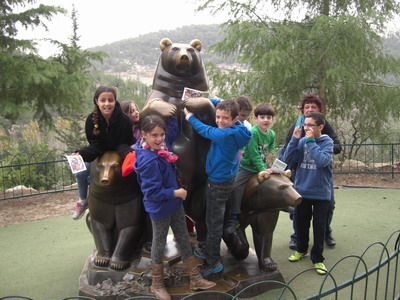 ---
December 2013 - 19th Family Reunion at Ein Gedi
We celebrated the Segoli visit to Israel with a family reunion at the desert resort of Ein Gedi, and also welcomed Zoe to the family.

We climbed Massada, went on a tour of the Dead Sea Salt Works, hiked in Nahal David, and most important of all had a great time together.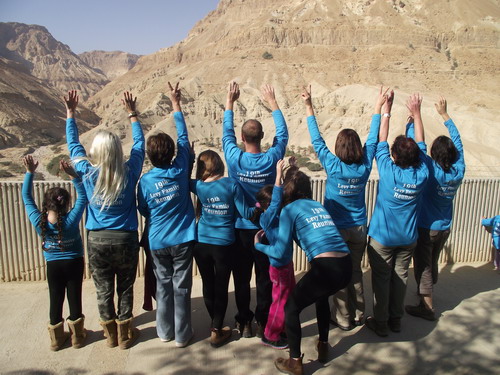 Displaying the backs of the T-shirts "19th Levy Family Reunion".
Click here for the group photo.
There are
also pictures on the pages of
Dani
,
Lior
,
Itamar
,
Amit
,
Ilai
,
Maayan
,
Lotem
, and
Zoe
.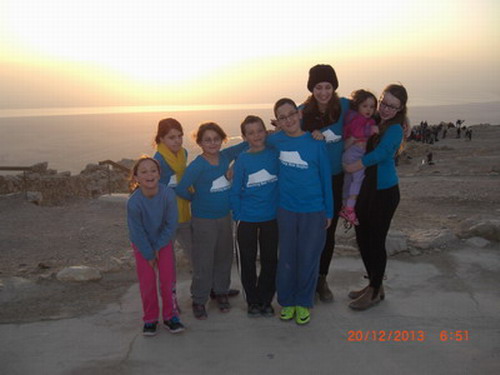 Our 8 grandchildren at the top of Massada at sunrise
Lotem Segoli, Amit Levy, Ilai Levy, Maayan Segoli, Itamar Levy, Danielle Ron, Lior Ron holding Zoe Segoli.
Our three children with their children, "Reaching New Heights"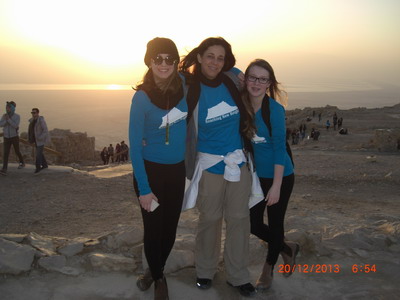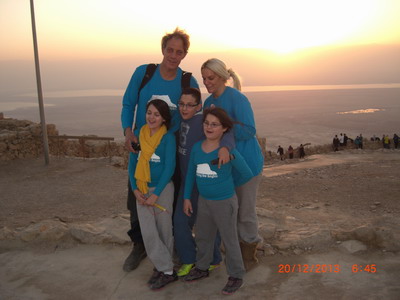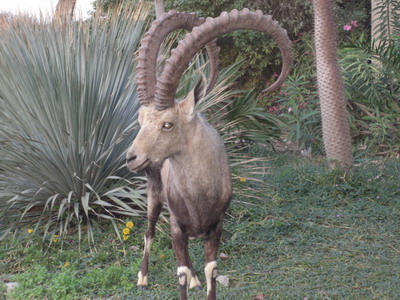 We had a visitor who had no trouble reaching heights.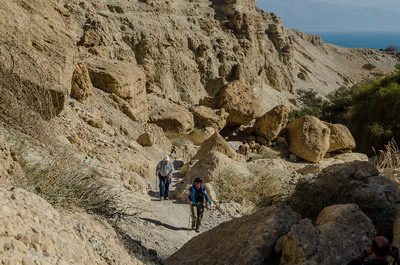 .... but one of us had a little trouble reaching heights.
---
December 18, 2013 - Ofra Segoli's wedding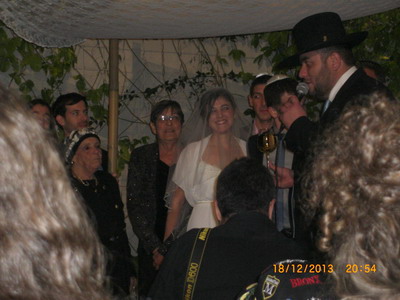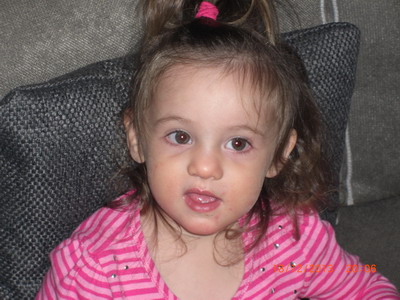 ---
December 14, 2013 - Stormy weather
The weather in Israel in the last few days has been extreme. There have been, heavy rains and winds and even snow storms in the north and in Jerusalem and Jerusalem has been cut off for the last 3 days. Doreen and the group she is guiding have been hard hit by the storms. The last few days of the tour were planned for Jerusalem, one of the highlights of the tour, but they have been unable to get there. Doreen has spent the last three days shuttling between hotels at the Dead Sea, Beersheva and Tel Aviv hoping for a break in the weather which will enable them to at least see Jerusalem.
Another victim of the weather - smaller but personally important - is my vegetable garden, which had been growing and developing very well but has now been destroyed by the rain and by the particularly heavy hail storms.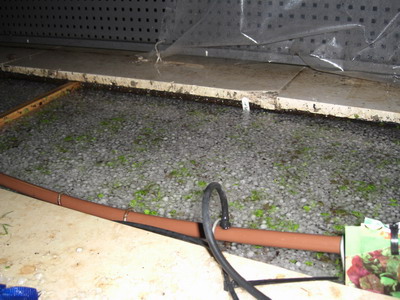 ---
Lighting
chanukiot
on Chanukah.
(Thanks to Aviv Ron for some of the pics.)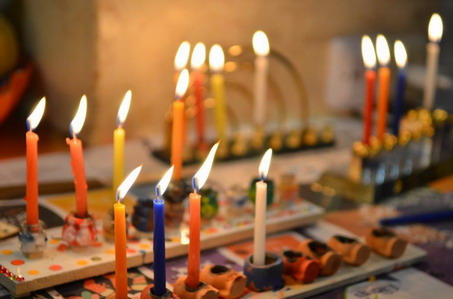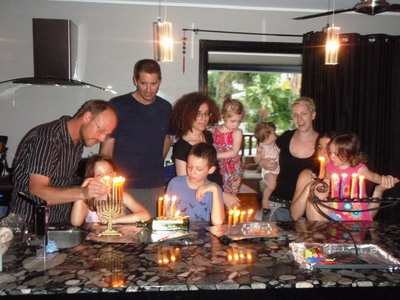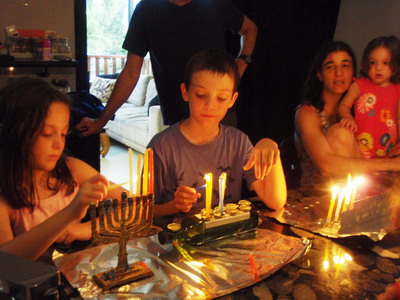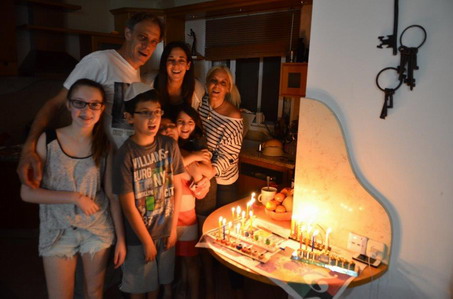 ---
Oren and Asher Klaff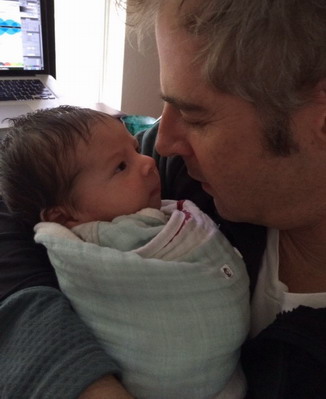 A delightful picture of Oren and one month old son Asher.
---
November 2013 - A visit to Istanbul
On our way back from our holiday in South Africa we visited Istanbul for 4 days. This was our third visit and we hope we'll have more opportunities of visiting this delightful city. On a previous visit Doreen wrote about Istanbul and its interesting and fascinating attractions.
You can see the pictures and read it here.
We enjoyed a morning in the Bazaar and Spice market with the charming Sevinc Atay, a bridge friend who lives in Istanbul; and another bridge friend, Ata Aydin joined us for lunch.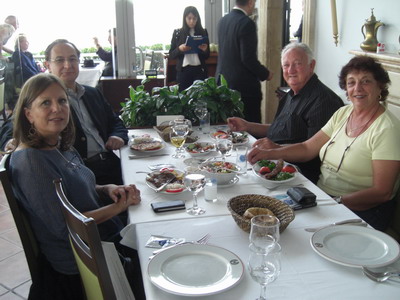 We found time to visit the Mosaics Museum, which we had not visited before. We were fascinated by the wealth of mosaics from 1600 years ago. These mosaics did not feature religious themes but mainly everyday scenes with a few mythological images.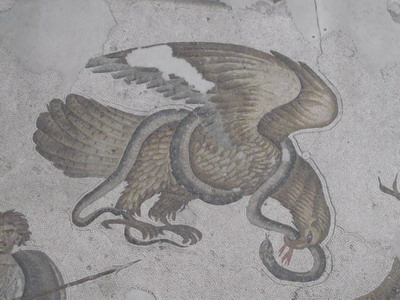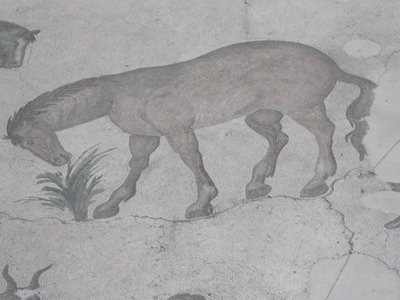 ---
October 2013 - Tranquility Lodge in Nature Valley in the Tsisikama Reserve.
In the Tsistikama Reserve on the Cape Garden Route, staying at Nature Valley in a delightful B&B called Tranquility Lodge.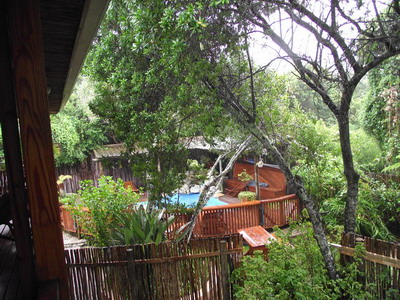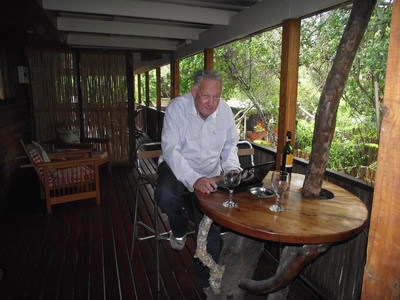 The pool and Spa at the lodge, and I prepare my site update (this!) on the verandah of our room.
For more on our SA trip,
click here.
---
October 2013 - with Neville Shotland at Browns B&B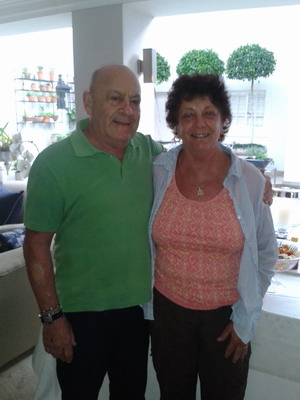 In Durban we stayed at the luxurious Browns Bed and Breakfast - highly recommended. The B&B is owned and run by Neville and his partner Shelagh. Doreen knew Neville when he was a young boy, and Neville remembers her and her family. Neville is the youngest son of the late Benny Shotland who was the best friend of Doreen's father, so they were happy to meet again after so many years.
For more on our SA trip,
click here.
---
October 2013 - A visit to two Kwazulu schools where there are science labs we built to honour my sister Fern's memory
At both the schools we visited we were struck by the povery of the local population, especially at Usizo school. The schools are situated in remote rural areas and yet the learners are impeccably dressed in school uniforms, that include ties! The teachers are dedicated and work hard to ensure that the learners, despite the limited resources available, get the best education they can in the circumstances. We were happy to hear that the pass rate for the Matriculation examinations is about 70%.
At the Usizo School in the Tugela Ferry area.8i9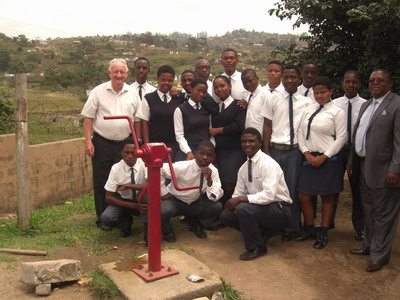 With learners at the Makhanda School near Port Shepstone.
For more on our SA trip,
click here.
Click her
e for an account and pictures of the dedication at the Magqibagqiba School three years ago
---
October 2013 - The Drakensberg with Charles and Sheenagh
We spent 4 wonderful days in the Drakensberg mountains with my cousins Charles and Sheenagh Levy. We rented a house high up in the mountains - about as high as a 4-wheel car could drive. The 5 km drive up the mountain took about 45 minutes. It was cold and rainy up there, but although we had no electricity there was plenty of firewood to keep us warm and to heat water for the showers. When the rain stopped we went for a long walk on our second day, but rain and mist the next day gave Charles and I an opportunity to relax and talk, while Sheenagh and Doreen walked the very muddy path down and back up the mountain. We enjoy Charles and Sheenagh's company and what could be better than to spend time with them in such beautiful surroundings.
(see This Week's Picture archives
)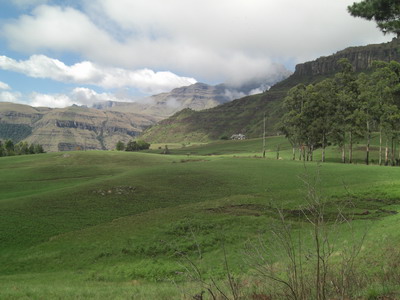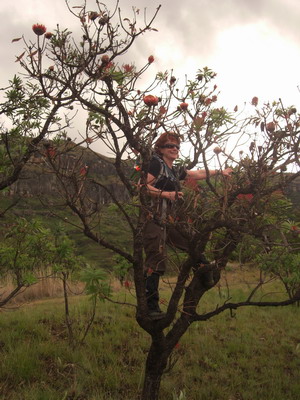 The view from the house where we stayed. Sheengh climbs a tree to photograph its flowers.
For more on our SA trip,
click here.
---
September 2013: The Rons spend the
Sukkot
holiday in Eilat
Eilat is a real fun place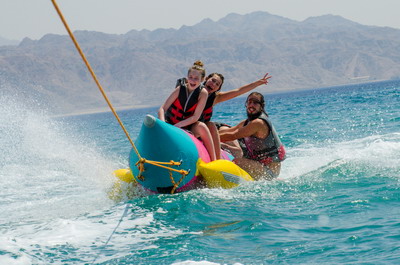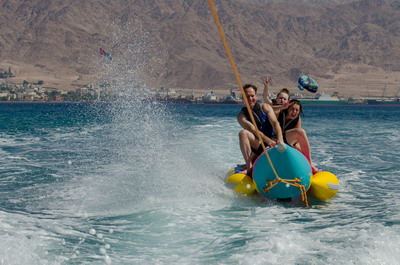 Aviv Levy has perfecting the improvised "Levy firewok Show" with kitchen grade steel wool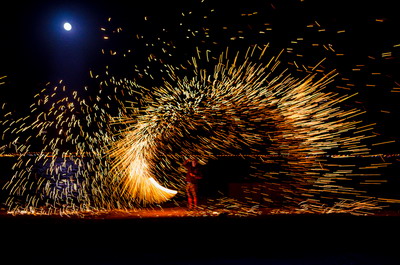 Apparently everyone was happy - they're all jumping for joy. (
see also Lior's page
and
Dani's page.)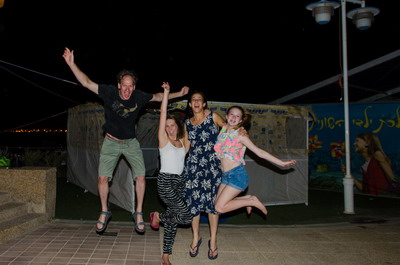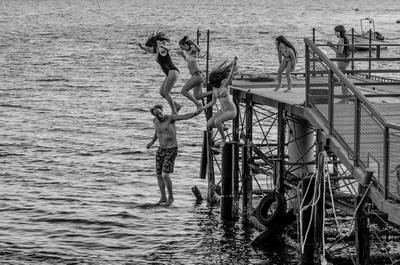 ---
September 2013:
Brit mila
of Ephraim Lev Klotnick.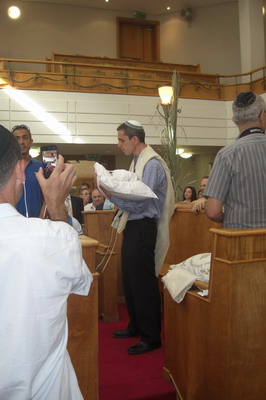 Mazal tov to
Ian and Talya Klotnick
on the birth of their fourth child. Mazal tov too to siblings Raphael, Aharon and Devorah and to grandparents
Joel and Beryl Klotnick
on their 9th grandchild. (
see Matz family tree
).
---
September 2013 - The Segolis meet "new" family in Australia
After Moran attended a conference in Sydney, Mikhal, Maayan, Lotem and Zoe flew in from Townsville and joined him for a few days in the big city. They took the opportunity to meet, for the first time, some family members living there.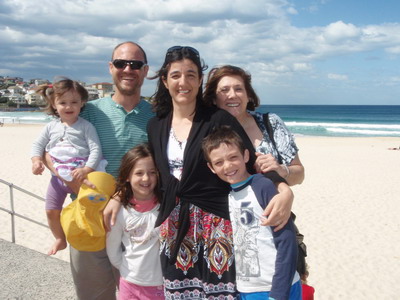 On the left: At the famous Bondi Beach with Belinda Levy, first wife of my late cousin David Levy. (
see Hershovitz/Levy family tree
)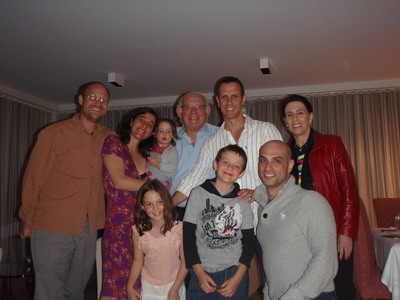 On the right:with the Hakims, Claude, Jean-Marc, Roslyn (Doreen's second cousin), and Daniel (in front). (see
Nochimovicz family tree
.). While the grown-ups talked and got to know each other, Maayan and Lotem were enchanted by the the Hakim's private movie theatre and have ordered one for themselves!
Thisy picture reminds us of our wonderful visit to the Hakims last year -
click here.
---
September 2013 - A building with
sukkot
(huts)
Building the traditional
sukkah
, or hut, is a popular tradition in Israel. This building, around the corner from where we live, has a
sukkah
on every balcony. in addition there were another 4
sukkot
on the small strip of grass in front of the building.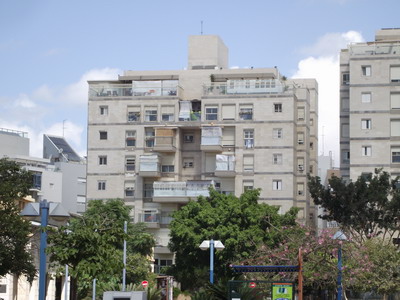 ---
September 2013 - The Eilat grandchildren visit us in Netanya
The Eilat Levy children came back with us after
Yom Kippur
in Eilat and spent the first few days of the
sukkot
holidays up north. Doreen planned activities for them
Below are pictures from Caesarea, being shocked by electricty from a dynamo, preparing a mixture for recycling paper at the Gan HaSolari, and making their own recycled paper at the Hadera Paper Visitor's Center..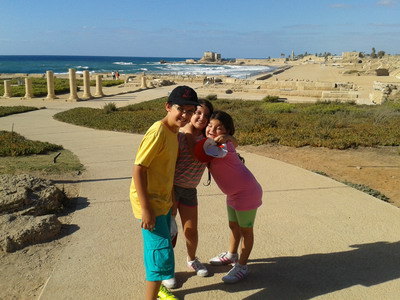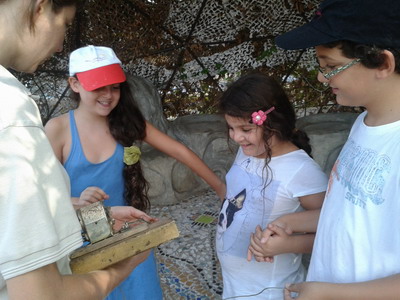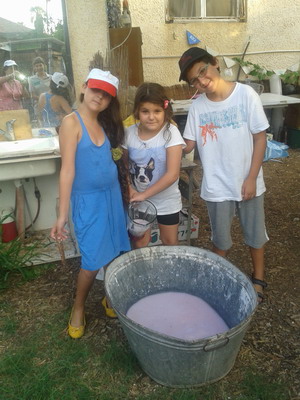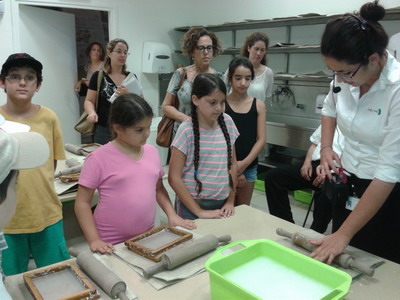 ---
Vered and Aviv and their girls joined Aviv and Limor Levy, their kids and some friends on a kayaking outing on the Dan River. There was lots of water to splash in and to fall into, and a great time was had by all.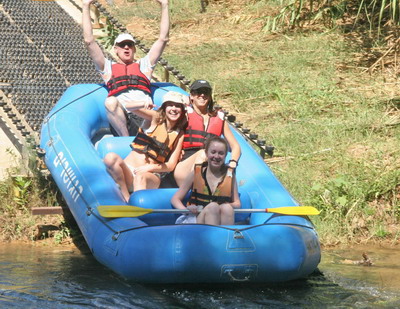 ---
Rosh Hashanah
at the Rons and The
Shofar
Blowing Competition
We celebrated the second night of
Rosh Hashanah
at the home of Vered and Aviv Ron - again a fun family evening with excellent food. We were happy that Yaffa and Andy Loew and the
Shavit family
(
see Schank family tree
) joined us. And of course we had a shofar blowing competition that has become a tradition at our family
Rosh Hashanah
(New Year) celebrations since
2004
. See some examples of
previous years here.
The favourite for the title of "Shofar Champion 5774" was again Lior Ron, winner of three previous competitions. As usual nearly everyone tried blowing. It was nearly a tie, but in a close and noisy contest between Lior and Itamar a new winner emerged - Itamar Levy (
see picture here
.).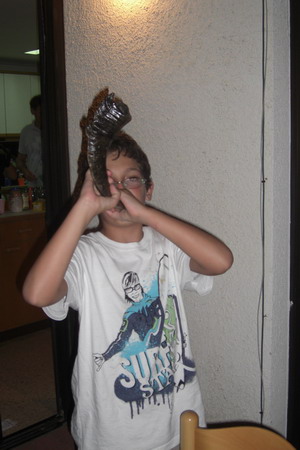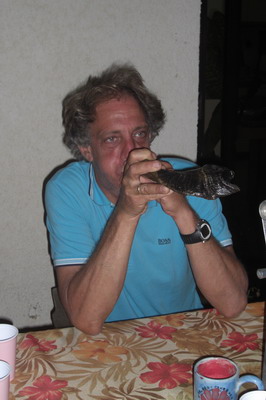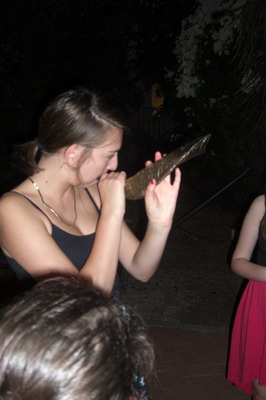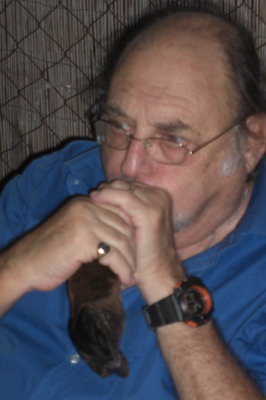 The blowers, clockwise from top left: Itamar Levy, Aviv Levy, Shai Arroyo, Aviv Ron, Limor Sadeh-Levy, Andy Loew, Danielle Ron, Lior Ron
The Shavit family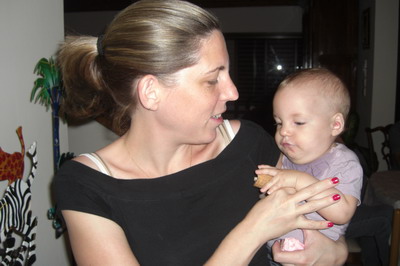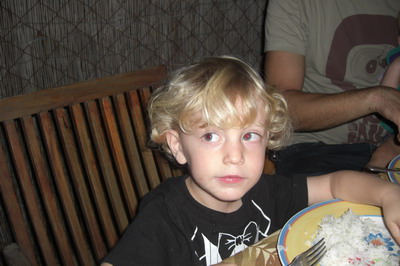 The Shavits: Yoav and Maayan; Vered and Maayan, Dotan; Eyal
---
Rosh Hashana 5774
We celebrated the first night of
Rosh Hashanah
at our home in Habashan. We are secular Jews, but enjoy celebrating the holidays which are wonderful opportunities for the family to gather together, talk about the meaning of each
chag
, and of course to enjoy delicious food!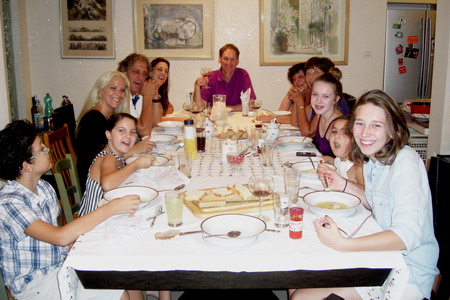 ---
August 2013 -
Road to Recovery
fun day.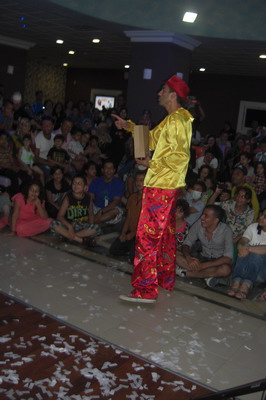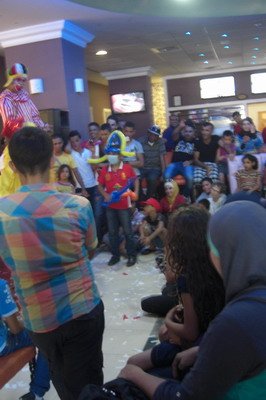 The
Road to Recovery
organization hosted a fun day for severely sick Palestinian children from the West Bank who are receiving medical treatment in Israeli hospitals with the help of the organization. Palestinians access to water is severely restricted in the West Bank so a morning splashing in the sea and playing on the beach was the realization of a dream for many of the children who were well enough to attend. Kfar Kara, an Israeli Arab village in Wadi Ara hosted the children and their families to lunch and a show.
For more on the organization
click here
and follow links to Doreen's column, a CNN featurette and the organization's web site.
---
August 2013 - Hofit bids farewell to Hazel Wolfson
Hazel Wolfson is the latest of our Hofit days friends to leave Hofit. Some Hofit and ex-Hofit friends gathered to say farewell to her and wish her luck in her new location.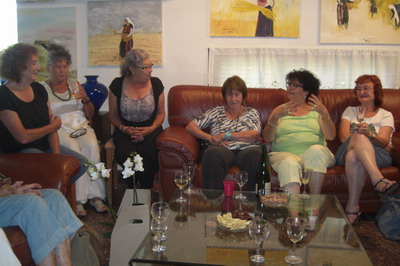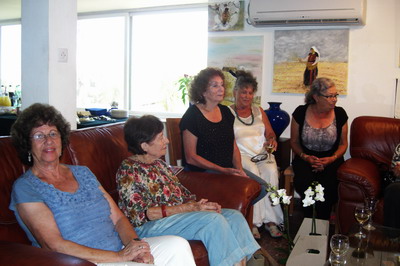 Hazel Wolfson, Ruti Preminger, Gila Naor, Yehudit Eitan, Ruti Michael and Pam Boner Malka Lev, Naomi Michaeli, Hazel Wolfson, Ruti Preminger, Gila Naor
---
August 2013 - Paradiving
PREPARATIONS: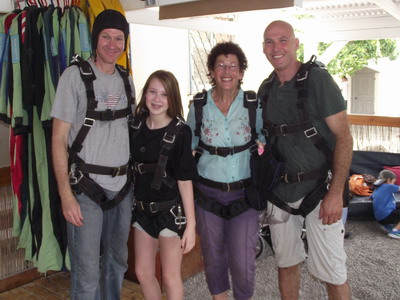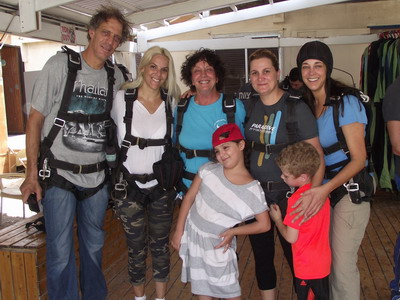 The skydivers: Aviv Ron, Lior Ron, Caroline Livne and Gideon Collins: Aviv Levy, Limor Levy, Doreen Levy, Sharon Collins, Vered Ron (Ilai Levy and Ori Collins in front).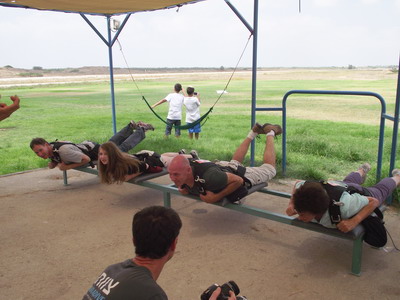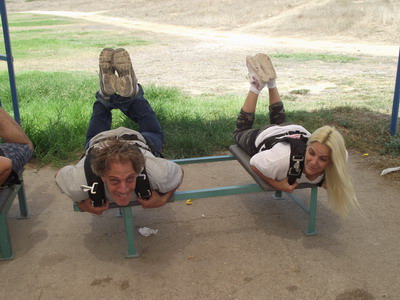 Buckled up and practicing the manoeuvres for the jump.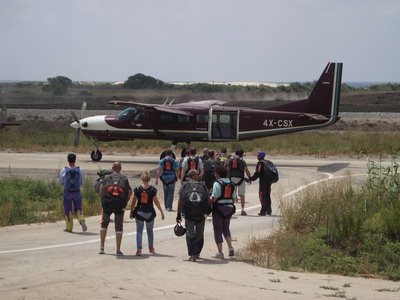 INTO THE PLANE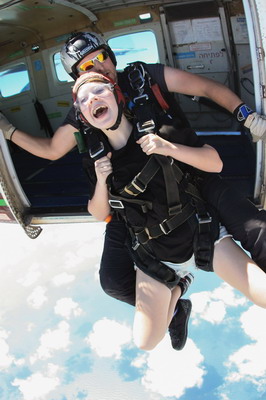 ....AND OUT OF THE PLAAAAANE!
SKYDIVING!
(
Click here for another picture of Lior
)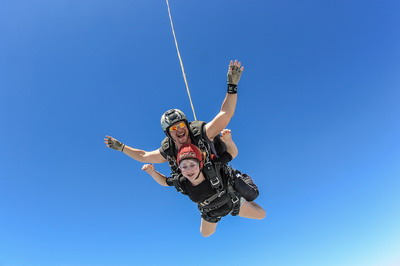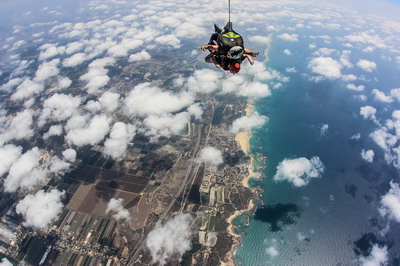 PREPARING TO LAND: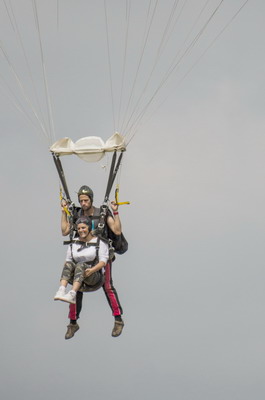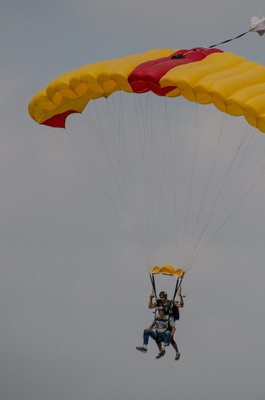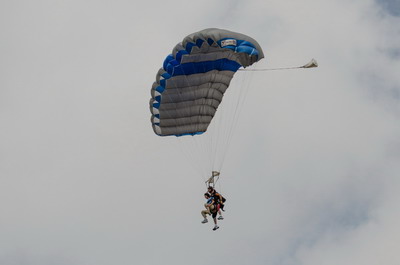 Aviv Ron, Aviv Levy, Vered Ron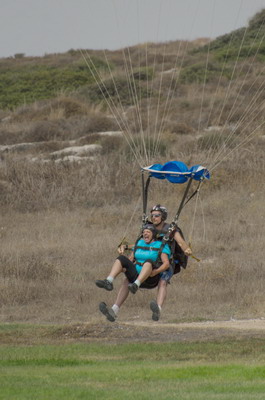 Caroline Livneh, Doreen Levy who thinks she's about to crash land!
AFTER THE JUMP: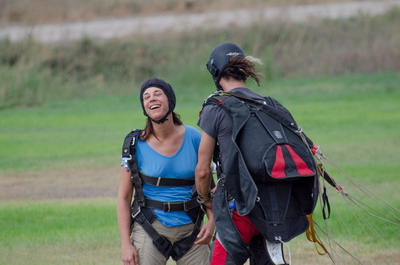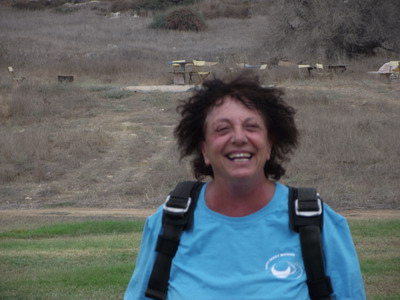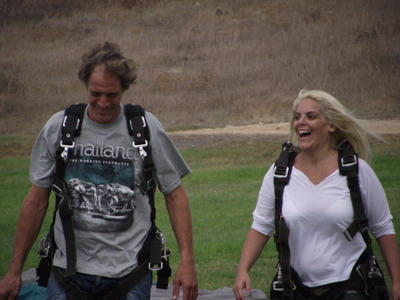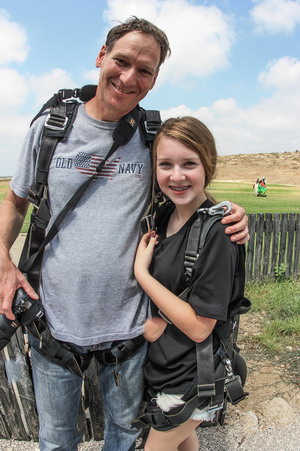 ---
July 2013 - The wedding of Jenna Cotton and Yonatan Carno (
click for wedding picture of the couple
)
The beautiful bride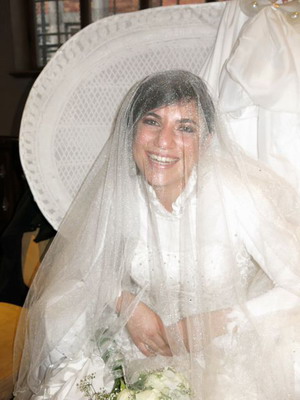 Aunt Sheenagh Levy and Raymond, the father of the bride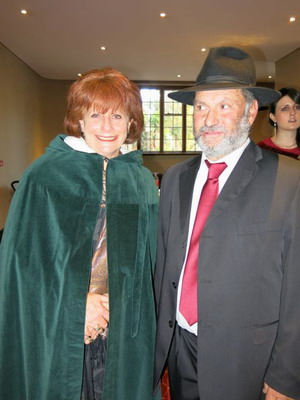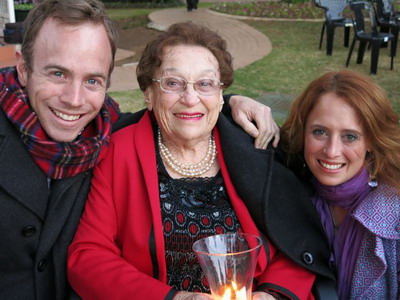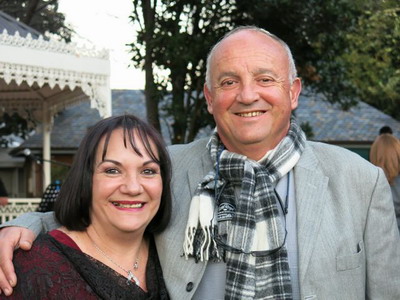 Cecile, the mother of the bride, and Uncle Charles Levy
Grandmother Winnie Levy and cousins Andrew and Katherine Levy
GO TO TOP OF PAGE
---
July 2013 - At the European Youth Bridge Championships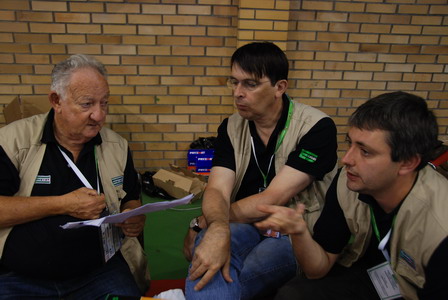 The judges (tournament directors) consult on a difficult case before giving a ruling. (l-r: me, Marc van Beijsterveldt, Kuba Kasprzak.)
See also here.
---
July 2013 - The Segolis visit Fraser Island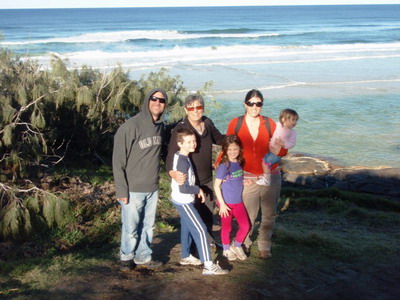 The Segolis: Moran, Maayan, Yael, Lotem, Mikhal, Zoe

Yael Segoli, the mother of daughter-in-law Mikhal Segoli, visited the Segoli family in Australia and joined them on a trip to Fraser Island and Lamington National Park. There are more pictures on the pages of
Maayan
,
Lotem
and
Zoe
. You can also
read about our trip to Fraser Island in 2002.
---
June 2013 - Amalia and Oren Klaff are expecting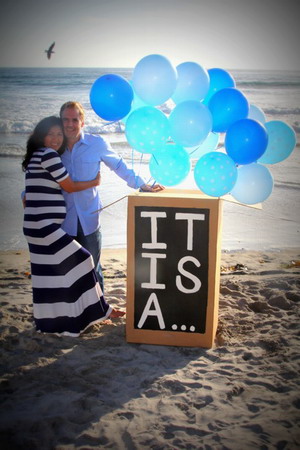 We are delighted with the happy news that Amalia and Oren Klaff are expecting their first boy? girl? in November.
---
June 2013 - Cooking workshop for Amit Levy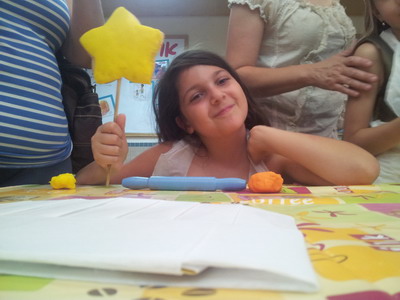 The school year is over, and granddaughter Amit Levy enjoyed the cooking workshop organized at school. She especially enjoyed the star made from sugar dough.
---
June 2013 - A picnic on the Mandarin beach in Tel Aviv.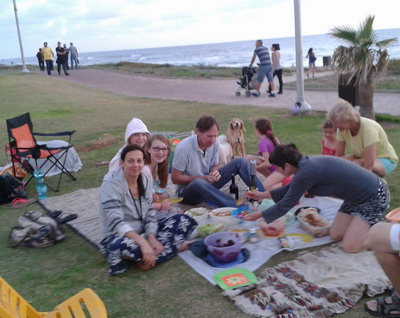 l-r: Vered , Avital (Lior's friend), Lior, Aviv Ron, Flopsy,Maya, Yuval, Yael Paperna, Roni Paperna
(missing from picture: me, Doreen (photographer), Yisrael (Roni's husband, also photographing.)


---
Enjoying the BBQ on the beach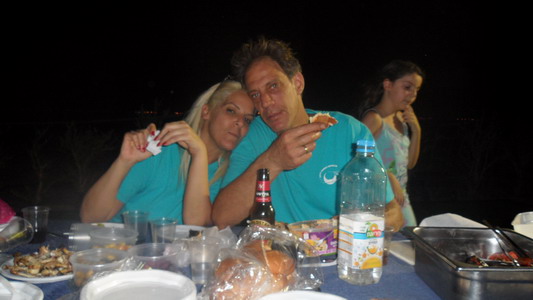 Aviv and Limor enjoy the beach BBQ which Aviv organized on our weekend trip to Eilat.
Click here for another picture.
---
Ready for the Thorsborne Trail
Our son Moran Segoli and family on the ferry boat taking them to Hinchinbrook Island where they will hike the 4 day Thorsborne Trail. This is one of the great hikes (
see description here
) in Australia, and is 32 Kms over varied wild terrain. As you can see from the picture they need to take supplies for 4 days with them.
---
Sara Olkienitski's 90th birthday
We joined in the celebration to my late mother's cousin, Sara Olkienitski
(see Goldberg family tree)
. In addition to the tributes and songs (see
This Week's Picture archives
), daughters Racheli Gilad (left) ans Shuli Haberman (right) reprised a song they had composed for Sara's 70th birthday.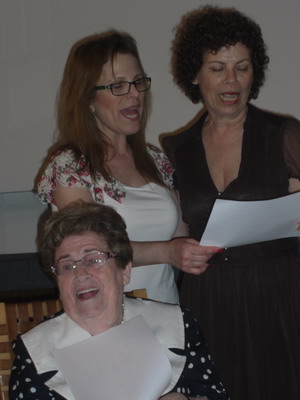 There have been many references to and pictures of Sarah and the Olkienitski family on this site. You can do a
search of this site
to see them.
---
Shavuot
picnic in Raanana Park
On
shavout
the Bravermans invited us to their traditional picnic at Raanana Park, where had a lovely relaxing time with delicious food. (Thanks to Donny Dvir for the pictures.)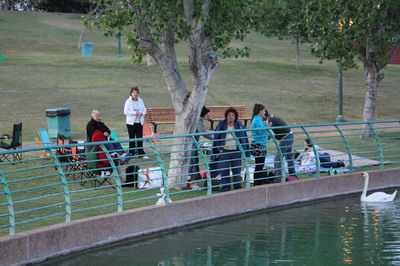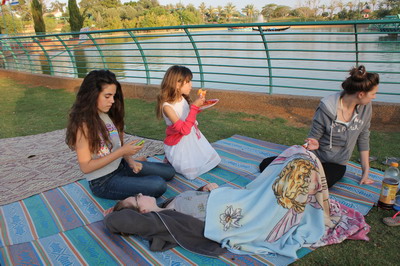 Gabi Dvir, Lior Ron(lying down), Avigail Dvir and Danielle Ron
Denise Braverman, Doreen with daughter Vered Ron, Rafael Braverman-Dvir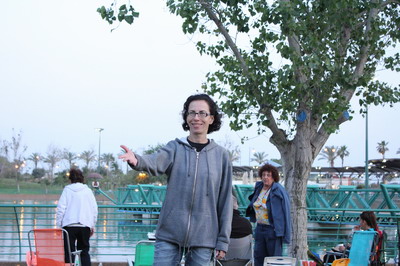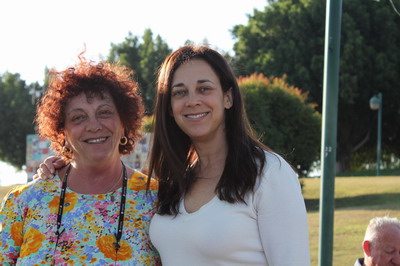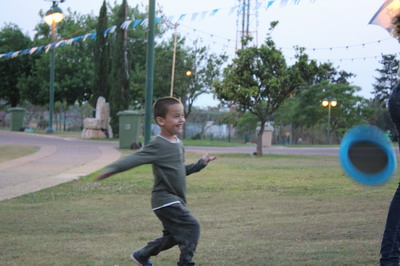 ---
Three children with three kites
Amit, Itamar and Ilai enjoy a windy day in Eilat flying kites.
---
Baking cheesecake from Granny's recipe book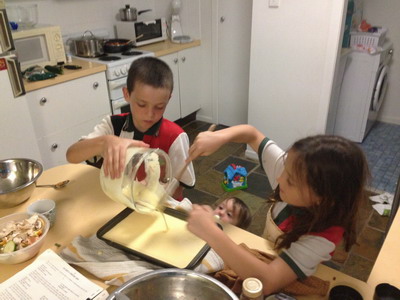 Grandchildren Maayan and Lotem (with anticipation from Zoe) prepare a cheescake from Granny Doreen's cookbook. As Lotem wrote to us, "it was delicious, 154 points (sic), even though we made mistakes". Click here to read
Doreen's column
, and
here to see the recipe.
---
Welcome, Eitan Forman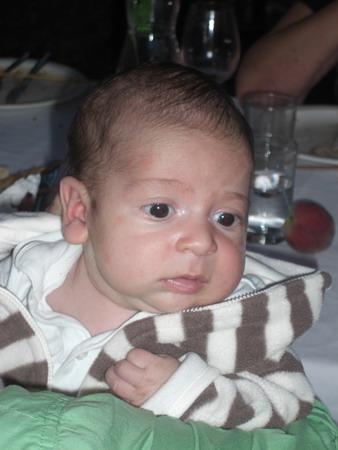 A warm welcome to the latest addition to the family, Eitan Forman, born in March this year.
Eitan is the first child of Leah (nee Engleberg) and Ziv Forman, and the sixth granchild of David and Charlene Engleberg of Denver, Colorado.(
see Matz family tree).
The enjoyable and delicious party was at the home of Ziv's parents, Dina and Yochanan Forman on Kibbutz Maabarot, where Leah and Ziv live. David and Charlene, Uncle Louis, Uncle and Aunt Yuvie and Rachel Moskovitz and cousins Tamar, Naomi and Ariel came from USA to celebrate with us.
It was a lovely evening under the trees, a perfect time to reconnect with family and friends.
Click here for a picture of mom Leah with Eitan
Louis, and Rachel with Ariel Grandparents David and Charlene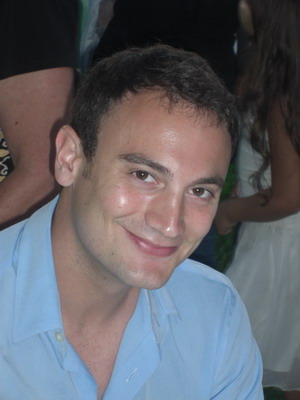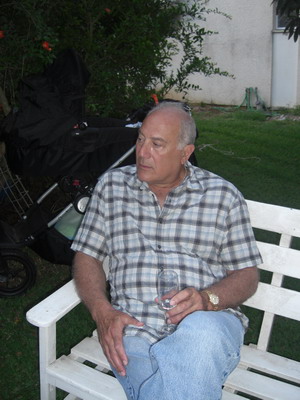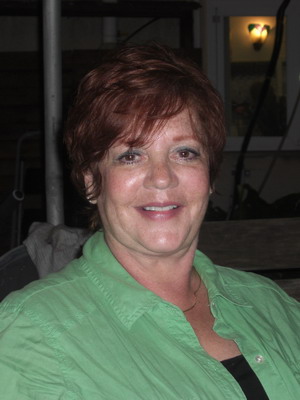 Tamar and Naomi and dad Yuvie.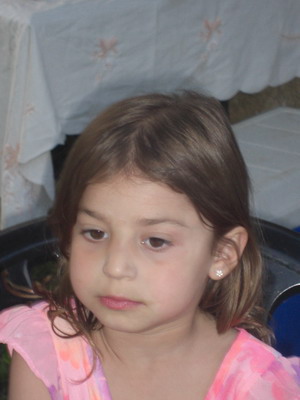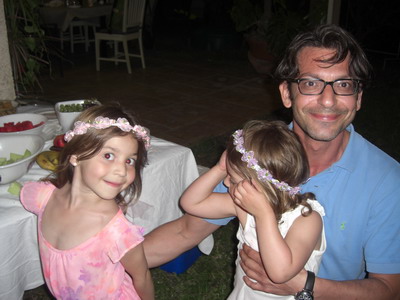 There have been many pictures of the Engleberg family on this site. You can do a
search of this site
to see them.
---
A surprise party for Caroline Livneh's 70th birthday
Family close friend Caroline Livneh celebrated her 70th birthday this week. Her son and daughter-in-law Gidon and Sharon Collins organized a very successful surprise party for her.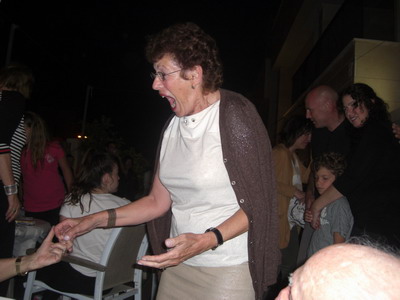 SURPRISE !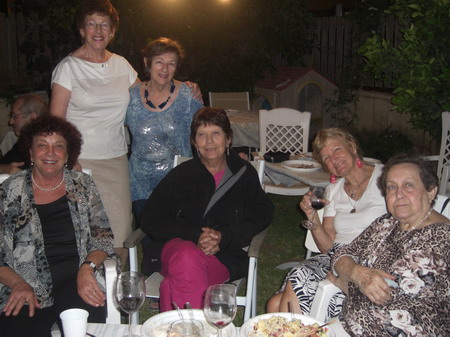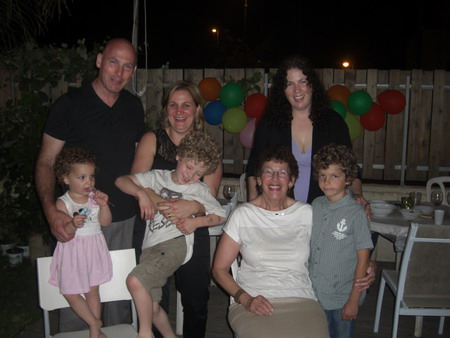 Friends: Doreen, Caroline, Maureen Fein, Louise Braverman, Yael Paperna, Ziona Glassman Family: (back) Gidon, Sharon and Avigail; (front) Maya, Ori, Caroline and Almog

---
A Luncheon for Yona Wiseman.
Doreen had a luncheon party for long-time friend and colleague Yona Wiseman, attended by some of Yona's many friends.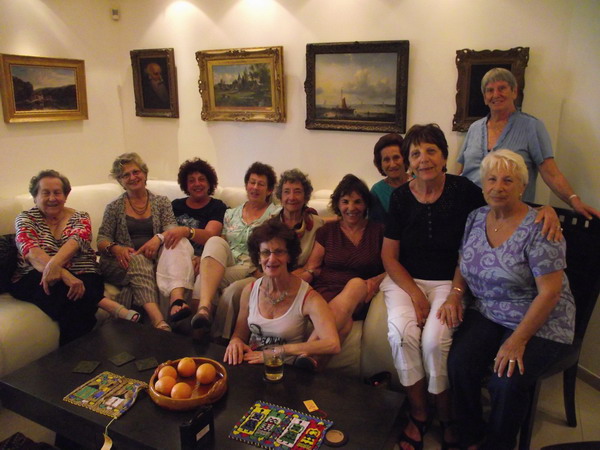 Ziona Glassman, Louise Kessel, Doreen, Caroline Livneh, Lola Katz, Yona Wiseman, Shirley Kantor, Louise Braverman, Pat Breiter, and Dennie Galland in front

Yona is a survivor of the deadliest natural disaster in recorded history - the tsunami which hit Sri Lanka, Indonesia, India and Thailand in December 2004. She was in Sri Lanka and was swept away by the tsunami. You can
read the moving story of her survival here.
---
In memory of Brenda Greenberg (Brazil)
A picture from more than 50 years ago - probably a rehearsal for a dance performance by Durban
Habonim
girls.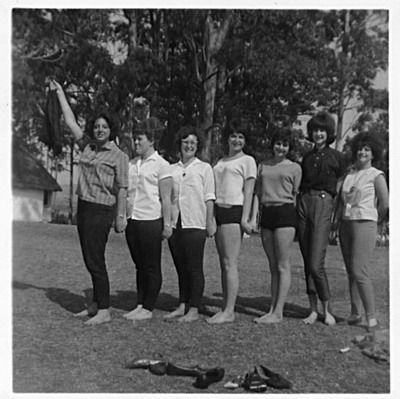 from l-r (maiden names!): Doreen Glazer, Naomi Levine, Maxine Konigsfest, Brenda Brazil, Frankie Klaff, Bess Danin, Lynne Strassburg
We have received the sad news that Brenda Greenberg (nee Brazil) a
habonim
youth movement friend from our young days in Durban South Africa, was killed by a truck while crossing a road in Toronto, Canada. May her memory be blessed. We extend our condolences to her brother Glen, and to all her family.
---
Celebrating Eitan's 73rd birthday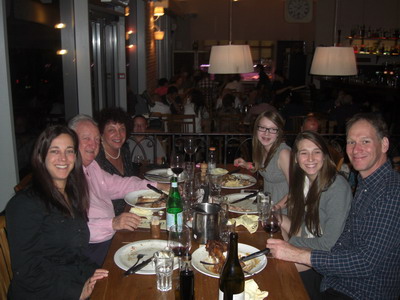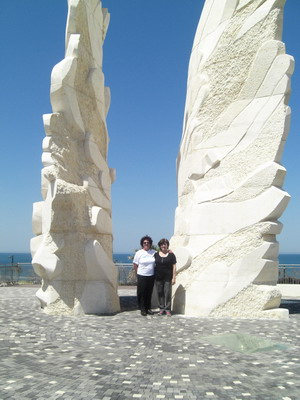 Eleanor Pines (nee Gamsy) of Johannesburg South Africa is a school friend of Doreen's. She was in Poland for the "March of the Living", and afterwards came on a visit to Israel. She stayed with us for a few days, and we enloyed having her and talking about common friends and experiences.
She and Doreen went on a walk on the Netanya Promenade and saw the memorial to Russian soldiers who fought against the Nazis in World War II .
---
April 2013 - Preparing a birthday dinner for Zoe
The Segoli kids decided to make dinner in honour of sister Zoe's 1st birthday. They looked through Doreen's cookbook and decided what to makeand did most of the cooking.
Maayan made '
Louise's Chicken in Orange Juice
' stuffed with '
Brown Rice Stuffing for Chicken
' and Lotem made '
Marble Minute Cak
e'.
Zoe loved the stuffing and the chicken. She was too stuffed for the cake but had it later on.
Maayan said the meal reminded him of the Seder and said that he choose the chicken to remind them that they would be stuffed like the chicken after dinner.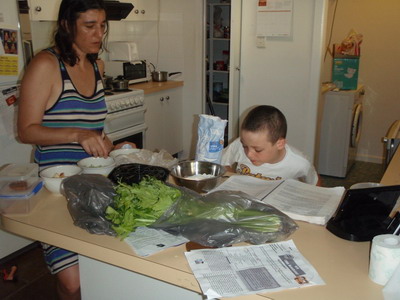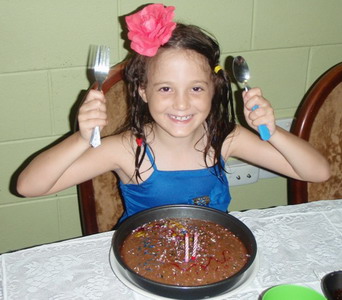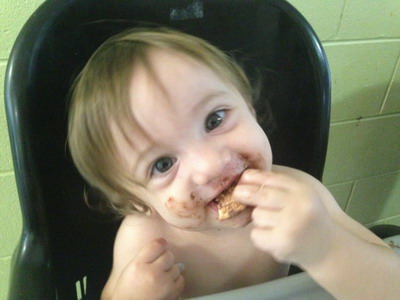 ---
April 2013 - A picnic in Eilat.
What to do with the left-overs from the Independence Day barbecue? Aviv took his three children with friend Yair Michelin to Canada Park for a little hike followed by a "left-overs" picnic. Looks delicious!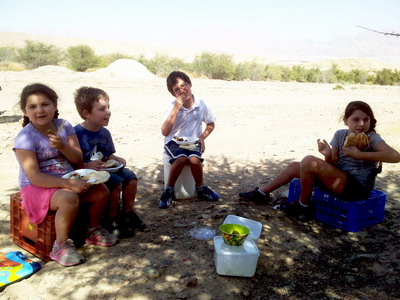 ---
April 2013 - Israel's Independence Day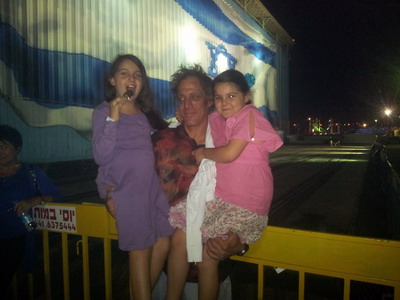 Aviv Levy and the girls celebrate Israel's 65th Independence Dayat the Eilat Naval Base..
---
March 2013 - and a THIRD night
seder
.
Due to mistaken timing we didn't enjoy a
seder
together with the Segolis even though we were all in Australia at the same time. So we decided to celebrate a "third" seder together on our trip to Tasmania.
After a long search, Lotem found the
afikoman
and while we were discussing her present, she told us that Maayan also deserved a present because he had behaved so well that day. Now that's a devoted sister!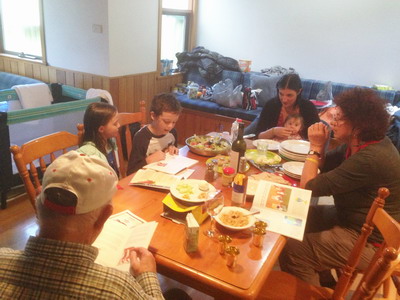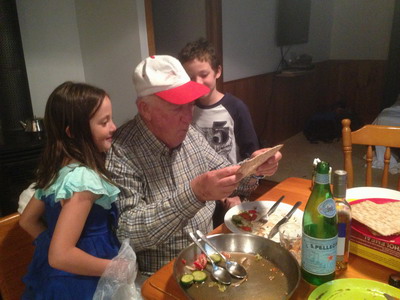 ---
March 2013 - 2nd night
seder
We celebrated the 2nd night
seder
with Mark and Sue and their children Danielle and Mikie, and met Sue's family (her mother Jeanette, her sister Sheryl and Murray, her brother David and Robyn with daughter Jemma and Ben,)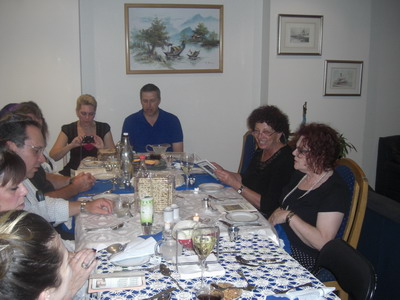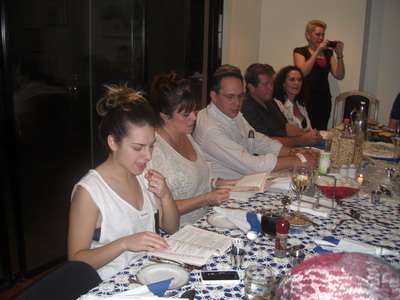 centre to right: Sue, Mark, Doreen, Jeanette l -r: Danielle, Robyn, David, Murray, Sheryl, Sue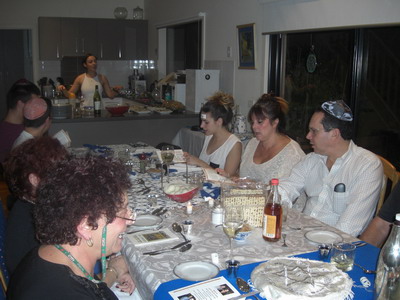 Ben and Mikie The
seder
table (Jemma in the background)
---
March 2013 - 1st night
seder
We celebrated the 1st night
seder
with the Leibowitzes and family and friends.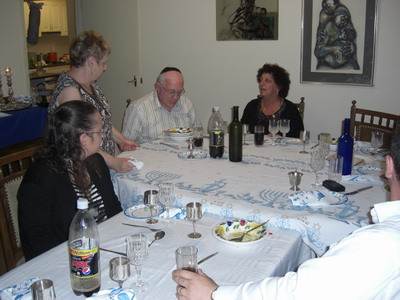 Natalie, Sharon, Joe and Doreen at the
seder
table.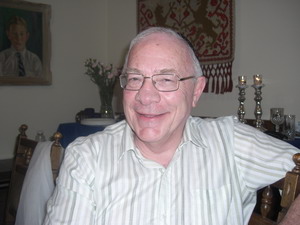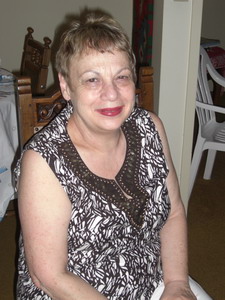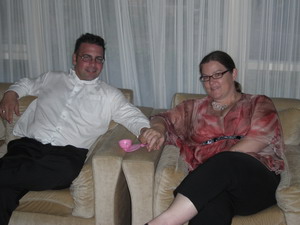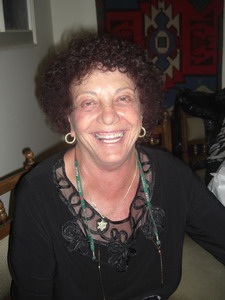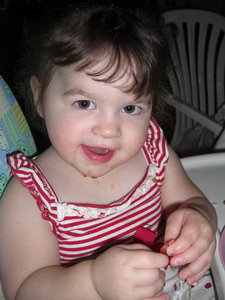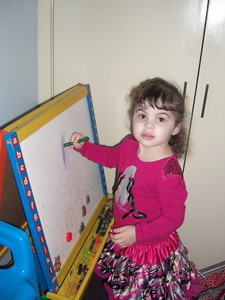 Joe, Sharon, Daniel and Donna, Doreen, Michaela and Erica

---
March 2013 - Hong Kong
On our way to Australia we had a 6 hour stopover in Hong Kong and took a train and walked a little through the centre. It was apparently a holiday day for the Phillipine migrant workers and we were amazed to see thousands spending their day relaxing in the pedestrian tunnels.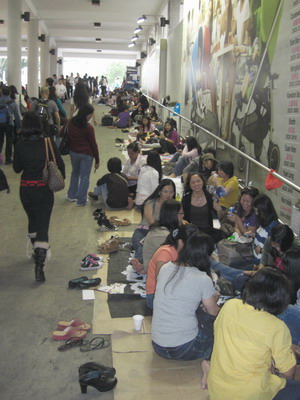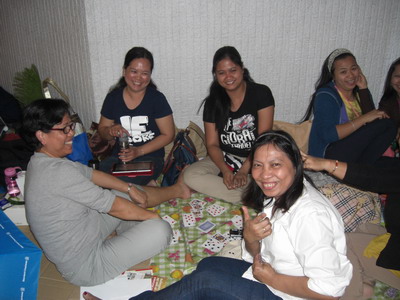 ---
March 2013 - A chance meeting with the Morrises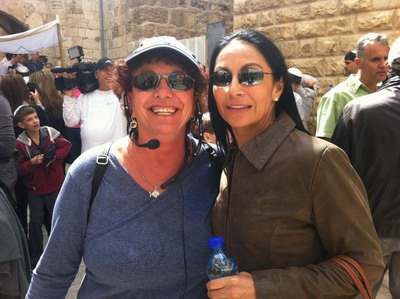 While guiding a tour in Jerusalem, by chance Doreen met Eilatis
Andrew and Orly Morris
, good friends of our daughter
Vered
and her husband
Aviv Ron
. Andrew, the son of old Eilat friends,
Fay
and the late
Reginald Morris
, took this picture of Orly and Doreen in her "guide uniform".
---
Looking after Yonatan
Surrogate grandparents? Unfortunately for us our great neighbours the Luizis are moving to a larger apartment to house their 5 children. While they are busy packing Doreen has taken baby Yonatan for walks, and yesterday we looked after him while the parents were busy.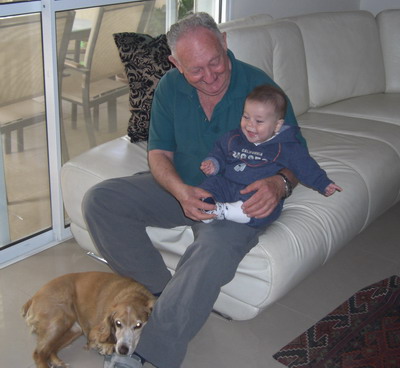 ---
March 2013 - Brita of Maayan Shavit
At the

brita

of Maayan Shavit. (see Schank family tree). The affair was lovely, and it was wonderful meeting again with the Loew, Bortenstein, Karlsblad and Kirshner families and offspring. Click here for pictures of newborn Maayan with mother Vered and grandmother Yaffa Loew, and here for a picture of Maayan and Vered at the brita. .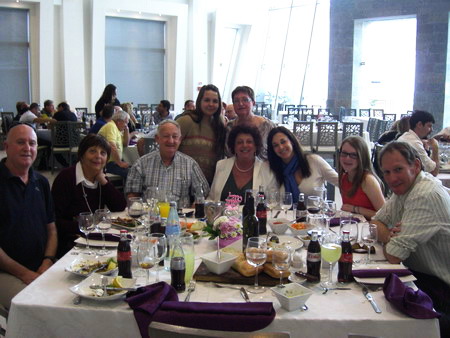 Back: Roni and Rachel Karlsblad
Front: Zvike Karlsblad; Louise braverman; me; Doreen; Vered, Lior and Aviv Ron.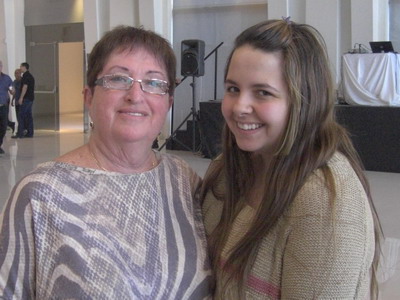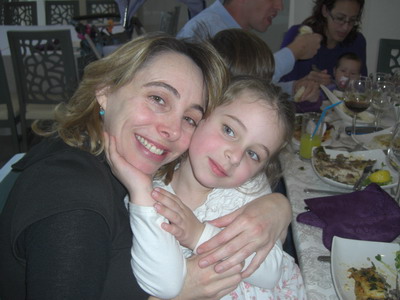 Rachel and Roni Karlsblad Moriah and Alma Pashas
---
March 2013 - Celebrating Nadav and Lee's marriage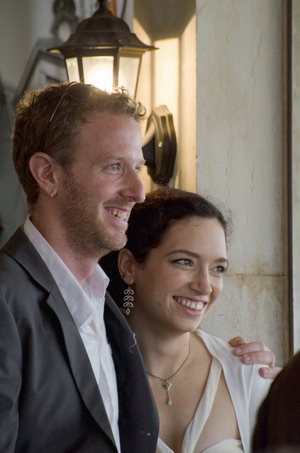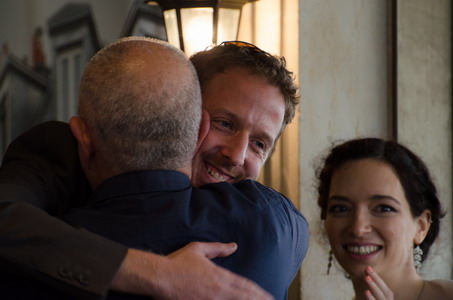 At the celebration of Nadav and Lee's marriage on 1/3/13.
See also
This Week's Picture archives.
For pictures taken on the wedding day in Cesky Krumlov on 12/12/12
click here,
and for a short and delightful video
click here.
(Thanks to Aviv Ron for the above pics).
---
February 2013 -
Purim
The festive holiday of

Purim
commemorates the deliverance of the Jewish people of the ancient Persian Empire from

Haman

's plot to annihilate them, as recorded in the Book of Esther.

Purim

, especially in Israel, is the occasion for fancy dress - during the day the streets are filled with children in costume (often reflecting the current "heroes"/celebrities), and the adults enjoy their costume parties at night. In many towns there is also an adloyada, a carnival-like procession of floats and costumed participants. Other customs in Purim include reading megilat ester with lots of noise at each mention of Haman, eating of hamantaschen, giving mutual gifts of food and drink (mishloach manot), and giving charity and gifts to the poor.
The pictures below show our grandchildren in their costumes. (You can relive memories and enjoy previous years' costumes, especially by clicking here. For some other pictures over the years click on these links: Purim1, purim2, purim3, purim4, purim5, purim6) .


Lior Ron and a friend were Dr Suess's "2 things" , Danielle Ron and friends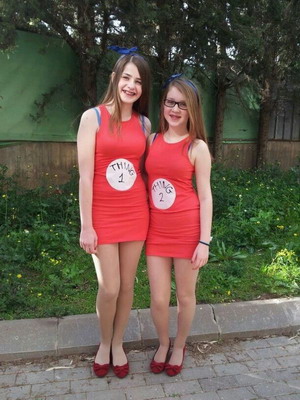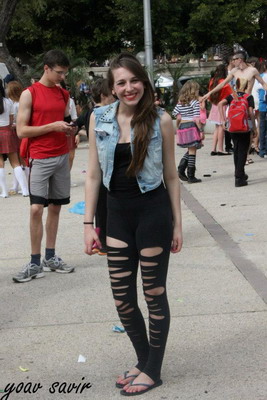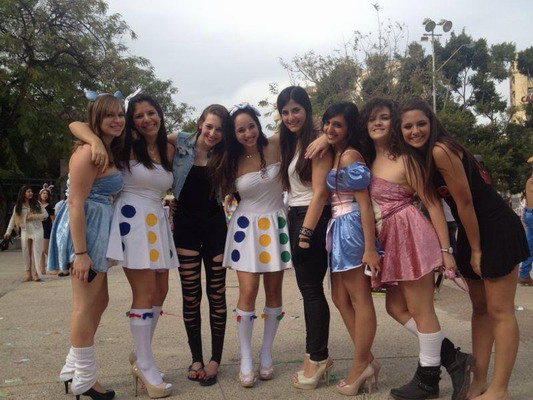 The "Eilat" Levys perhaps displaying their secret wishes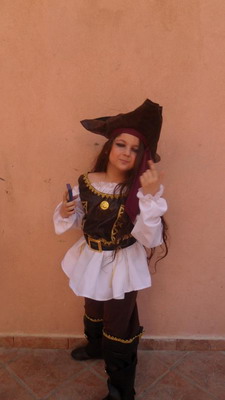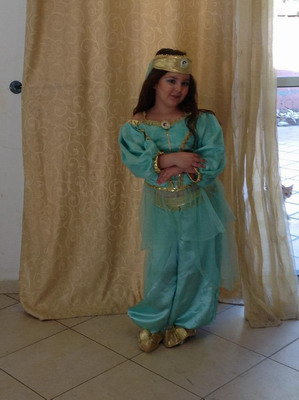 The "Australian" Segolis made their own Dragon costumes, with little Zoe showing that you only have to eat and not dress up to be a "Levy".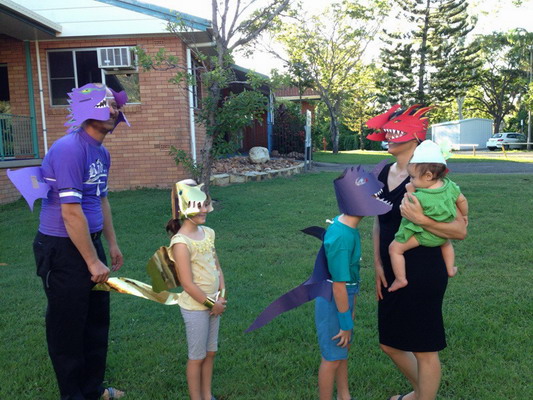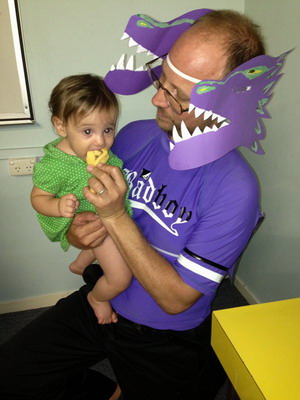 ---
January 2013 -
Tu B'Shvat
, New Year of Trees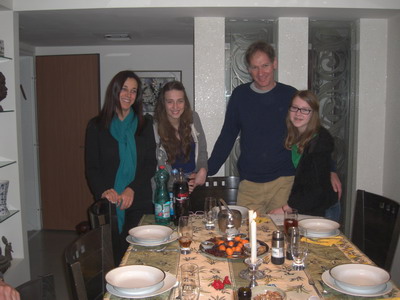 We celebrated the "New Year of Trees' the festival of
Tu B'Shvat
. The Rons and Louise Braverman came over. The plate with varios fruits, dried and fresh, can be seen on the table. We duly ate our symbolic dried fruit before tucking into a tasty meat meal.
---
Welcome, Maayan Shavit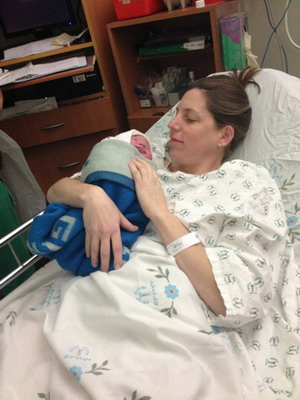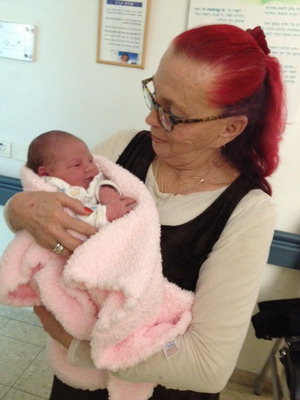 Mazaltov to Vered and Yoav Shavit on the birth of Maayan on 14 January 2013, a sister for Dotan and Eyal.

---
Entertaining Yael and Roni
A year-long project of discussing and planning and looking for suitable material culminated in Yael Paperna presenting me with cushions for our lounge sofa. Many years ago my late mother taught Anthony/Eitan how to sew on buttons as she said I would never do that. Yes, and I also never sew. As a child I was traumatized by having to stand still for fittings for dresses, made from scratchy material and having pins pricking me. I presume I couldn't stand still! In addition the one bit of advice my mother gave me on married life was: "Never mend anything" (she did, all her life.)... so Yael's handiwork is much appreciated. Her cushions also look great. In addition Roni Degan gave us a present made by her helper. My part was to make an excellent dinner while Anthony/Eitan had to 'suffer' the company of three women!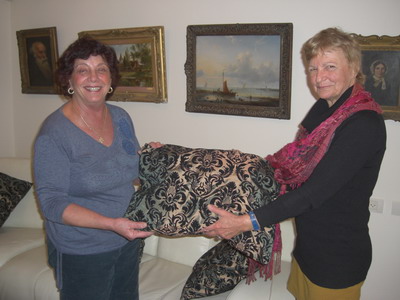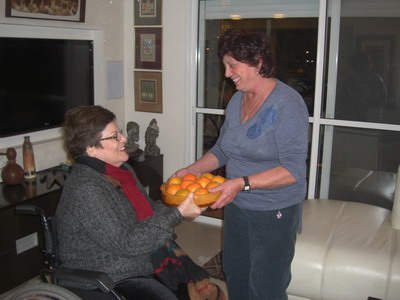 ---
Welcoming the new year with ex-Hofit friends.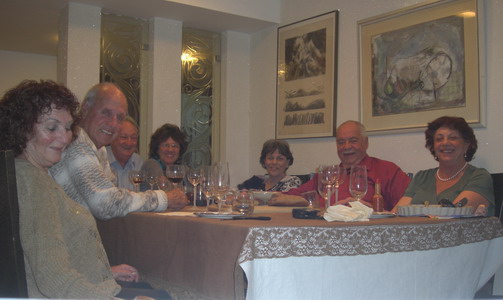 Hazel Wolfson, Alec Ron, me, Malka Lev, Rachel Ron, Haim Levv, Doreen

We saw the new year in quietly but enjoyably, at our house with long-time ex-Hofit friends The evening revolved around politics and "old times.". The years have gone by quickly, and we fondly remembered Alon Wolfson who passed away recently.
.