December 2019 - We celebrate our 55th Wedding Anniversary
We invited our closest friends to celebrate our 55th this evening. What started out as a light buffet supper turned into a full many course meal as Doreen added and added to the menu.
Click here to see the menu
. The food was delicious, the company wonderful and a good time was had by all. Some of our friends are "new", many of us have known each other since before we were married so there were plenty of reminiscences of the "good old times". Some of the stories were new and eye-openers to our children Vered and Moran. (Aviv unfortunately was ill and couldn't attend.)
Terry Kessel was at our wedding and said some nice things about us.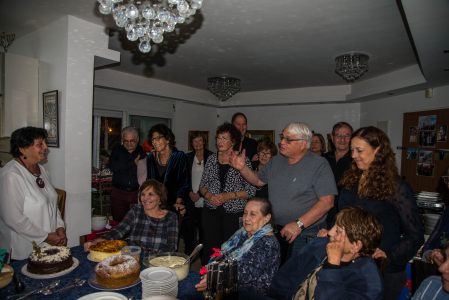 Enjoying the meal and the company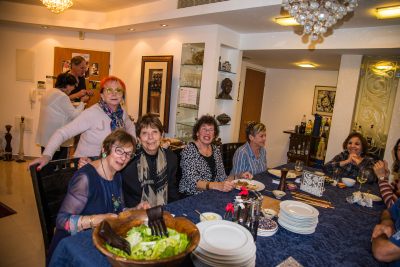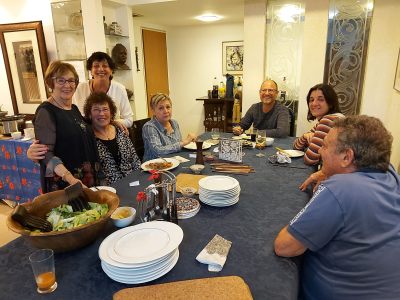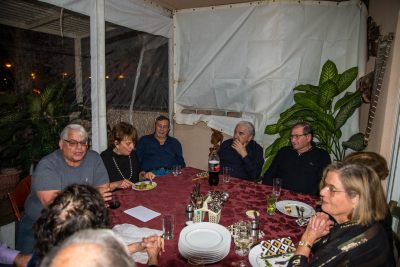 ---
December 2019 - Joannie needs stitches
Our poor dog Joannie somehow managed to slice part of her paw probably while out chasing cats. She needed stitches - for a dog that entails anesthesia and hospital , and 10 days on antibiotics with a head guard to prevent her licking or biting her paw.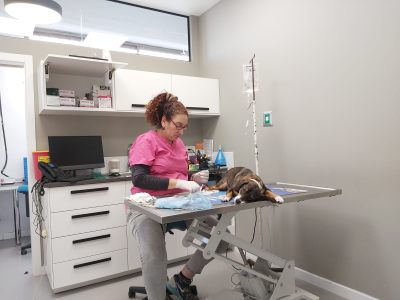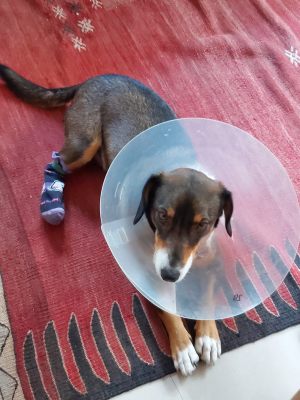 ---
December 2019 - The Reijzer family in Amsterdam
In Amsterdam for the unveiling of Lottie Reijzer's tombstone. See also This Week's Pictures
7/12/19
and
30/11/19
The Reijzer clan - Hans, children and spouses, and grandchildren.

---
November 2019 - with Elaine (Geshen) Finkelstein
I ran a bridge event organized by Bet Protea, a retirement home, to raise money for needy residents. We were happy to meet one of the volunteer organizers, a fellow ex-Durbanite (and Doreen's ex neighbour) Elaine (Geshen) Finkelstein. Elaine is younger than us, but we knew her well as we were very friendly with the Geshen family.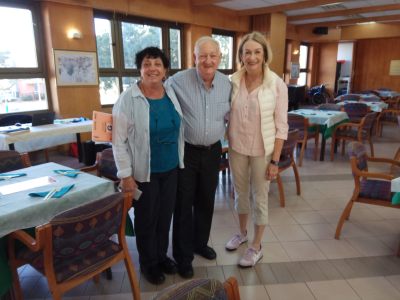 ---
November 2019 - Amsterdam = herring at the Albert Kuyp market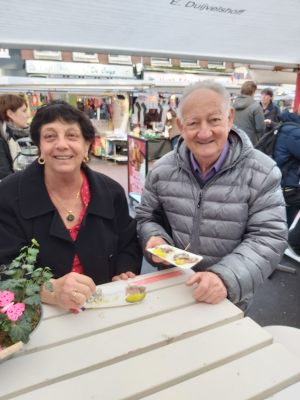 ---
November 2019 - Mark Nathan gets Kung Fu certification
Congratulations to Mark Nathan (and of course wife Melody and daughter Gabriella -
see Nickel family tree
) on receiving certification as a Sifu of Wing Chun Kung Fu (Master of Kung Fu Martial Arts within the Moy Yat tradition)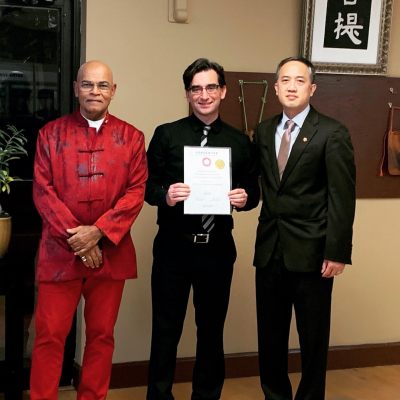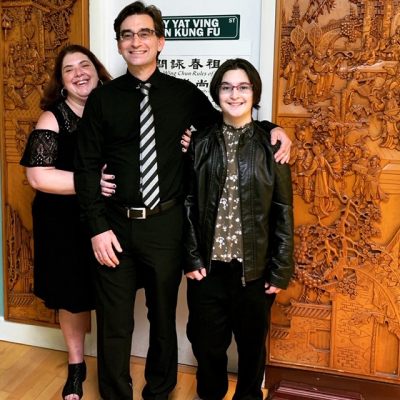 ---
November 2019 - Celebrating the Segolis final mortgage payment, and the Eilat Levy's anniversary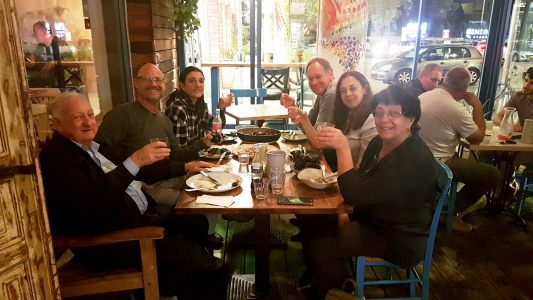 We celebrated the Segolis final payment of their mortgage with a very tasty meal at Yamas the local Greek restaurant. Son Aviv and Limor couldn't come as they were celebrating their wedding anniversary so we also used the occasion to celebrate with them in abstentia, via quite a lot of the restaurant's Ouzo-Campari concoction.
---
Yona Weisman celebrates her 80th birthday.
We were happy to celebrate, together with many of her friends, Yona's 80 th birthday. Sitting in the picture is long-time and dear friend Ziona Glassman.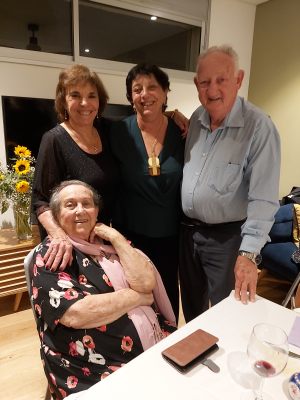 It is worthwhile reading, or re-reading,
Yona's account
of her near-death experience in the train disaster in the tsunami in 2004 in Sri Lanka.
---
KFC in Shenzhen China
Daughter Vered Ron, in China on a business trip, couldn't resist taking a picture of a KFC in Shenzhen that she saw to add to family KFC pictures. (
See, for example, here)
---
November 2019 - A visit to Ceausescu House
A visit to the Ceausescu House is most impressive, especially considering he was the ruler of communist Rumania from 1965 until 1989 when he and his wife were executed after the revolution in 1989. The opulence of the rooms, where no expense was spared is amazing - we toured the private chambers, bedrooms, bathrooms, dining rooms, winter garden and heated swimming pool, but not the bunker! The apalling cost of decorating this house must be contrasted against the people who suffered from food shortages, lack of heating, fuel and intense doctrination, leading a very grey existence.
The pool, the bathroom, the winter garden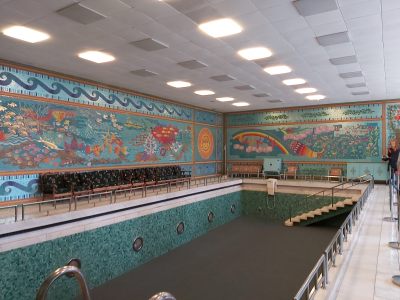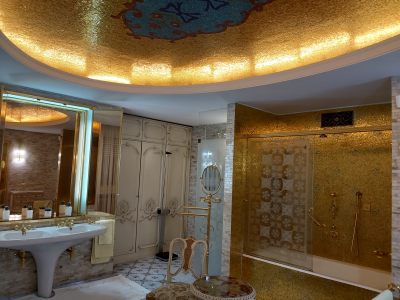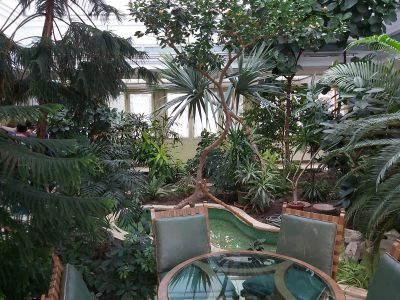 ---
November 2019 - With the Eilat Levys at the Eilat promenade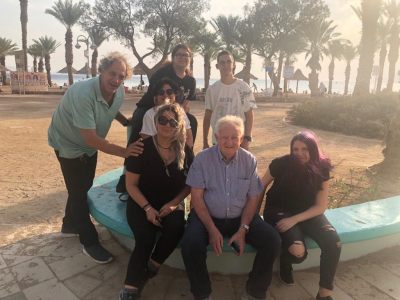 We enjoyed a short trip to Eilat where we enjoyed the visit with grandchildren Itamar, Amit and Ilai as well as Aviv's barbecue at home and an Asian meal outside.
---
November 2019 -The Segolis visit Park Yarden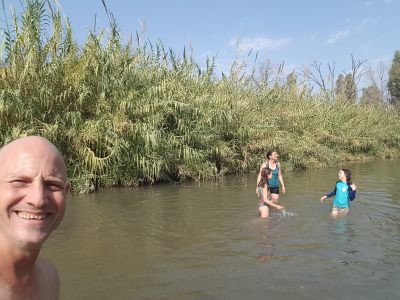 The Segolis Moran, Mikhal, Lotem and Zoe visited the park with Mikhal's sister Diki, Pini, Mili and Tal.
Click for another picture of Zoe.
---
---
November 2019 - Joanie makes friends with Shilo and Yonatan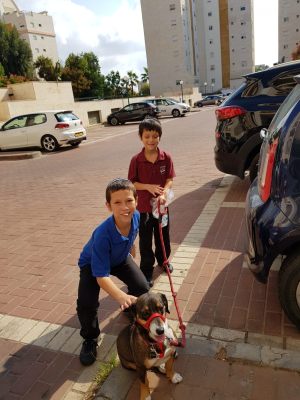 We were happy to see Einat our former neighbour who came to visit us - or more accurately visit Joanie - with two of her sons - Shilo and Yonatan. The boys had had no contact with dogs and Einat was keen that they learn not to be afraid of them. The children (and Joanie) had a very successful visit and the boys came a few days later to take Joanie for a walk.
---
November 2019 - Congratulations to Deganit Paikowsky Haberman
Read about Deganit's appointment as a Vice-President of the Internatioal Astronautical Federation (IAF) - the first Israeli in this position - in the
Archives.
We are all so proud of you, Deganit.

Between her time being married to Uri and mother to Alon, Nitzan and Geffen, Deganit is a visiting researcher at the Space Policy Institute at The George Washington University and teaches at Tel Aviv University's master's program in Diplomacy and Security Studies.

Here she is with son Nitzan at one of the Haberman's traditional Channuka celebrations.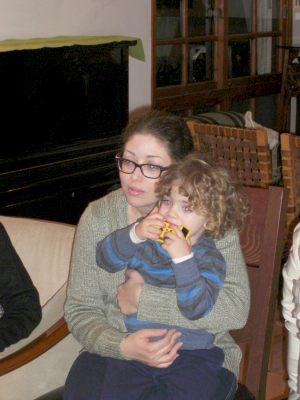 ---
October 2019 - diving in Eilat
Not only brothers but also buddies - sons Moran and Aviv go diving in Eilat with children Itamar, Maayan and Lotem. Selfies are Moran's obsession and he couldn't resist under water as well.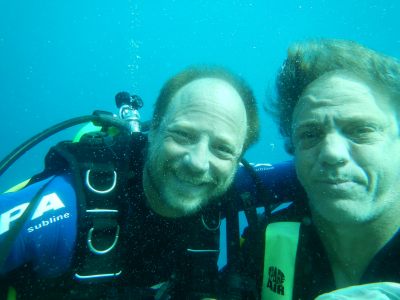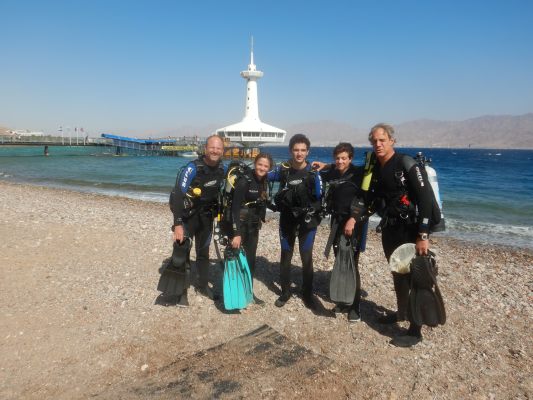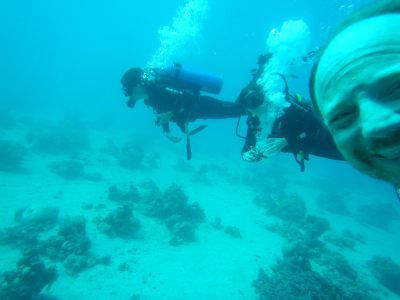 ---
October 2019 - Sukkot in Eilat.
Aviv barbecued the meat and Limor put on a virtuoso display of salads as we enjoyed a great meal in Eilat with the Eilati Levys and the Segolis. As always, Amit and Zoe were inseparable and shared some face painting.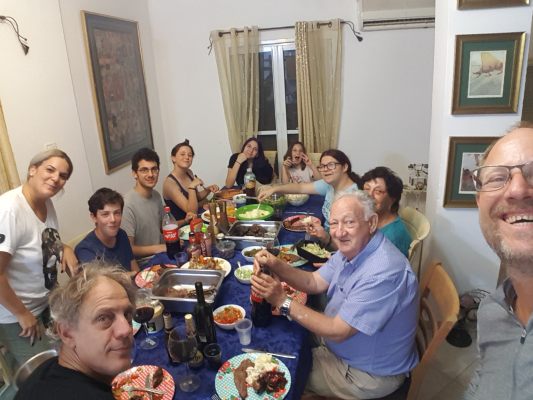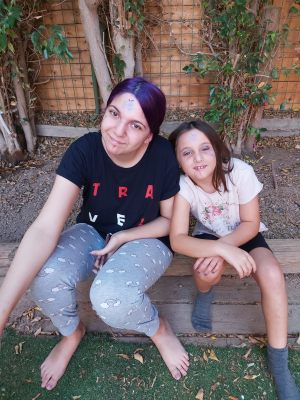 ---
October 2019 - with Aaron Miroz
I have known Aaron for nearly 50 years since I was in charge of Coral World in Eilat. Aaron was theoretically my employee but we were good friends and enjoyed a special relationship. Aaron is the senior consultant for the Coral World group and spends most of his time in Palma de Mallorca Spain, at the aquarium there. We have maintained our friendship throughout our various travels. It is always a pleasure when our trips allow meeting again and reminiscing about the "good old times".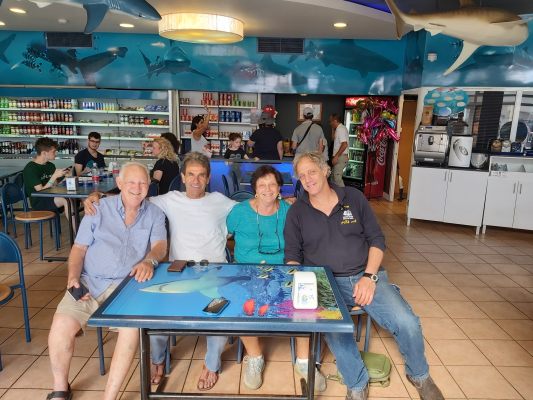 ---
October 2019 - Yom Kippur in Eilat
Jumping into the sea from a platform is fun.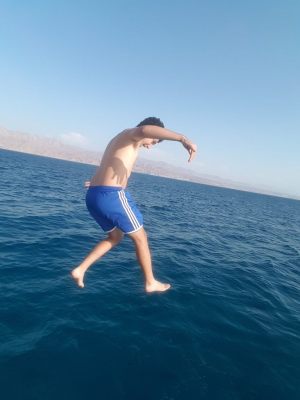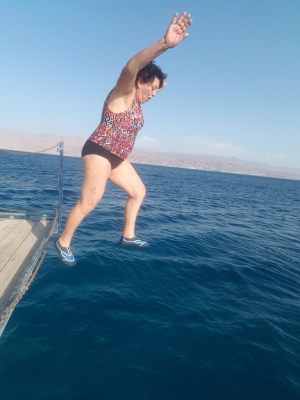 ...so is swimming in the sea (though not all were too happy)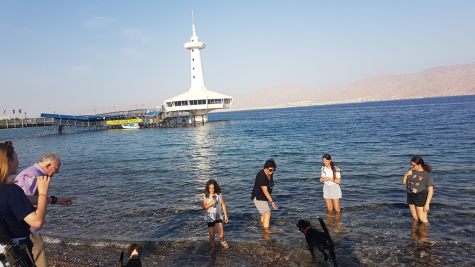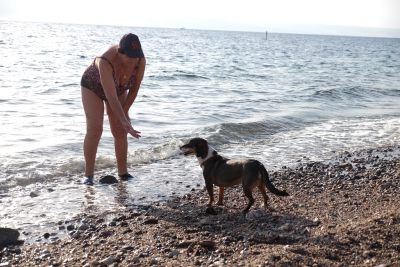 and the pool with corals and fish was also fun.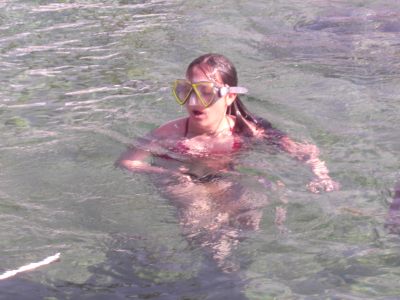 ---
National Watercolor Exhibition
Long time friend Maureen Fain was one of the winners of the 1st Israel National Watercolor Exhibition and Doreen, with friends Caroline Livneh and Yael Paperna visited the exhibition. Doreen and Maureen have been friends since their school days. Click for Doreen at one of Maureen's
previous exhibitions.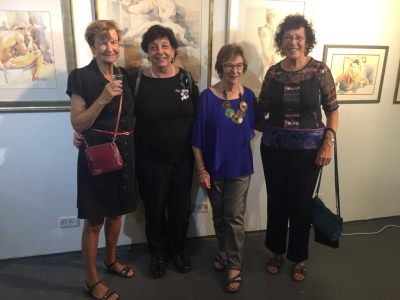 Yael, Doreen, Maureen, Caroline
---
September 2019 - The Segolis trek around the Ramon Crater.
During the
Rosh Hashanah
holidays Mikhal, Maayan, Zoe and Moran went on a four day trek on a new hiking path around the Ramon crater (
Sovev Machtesh Ramon
).
Moran writes: "We had someone leave us water and supplies along the path. There were amazing views of the
Machtesh
crater and it was a lovely hike. We had a wonderful time.
It was a bit hot, so every day we rested a few hours in the shade – something that wasn't the easiest thing to find.
On the way we saw gazelles and wild ass. I told the kids that I took care of the wild ass parents or grandparents when I was a volunteer at the Hai Bar Reserve about 30+ years ago.
On the last day Mikhal's family joined us for the last part of the hike.
(Another picture on the "This Week's Picture"
archives
)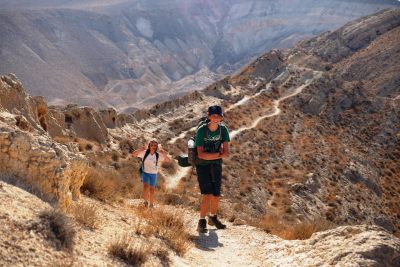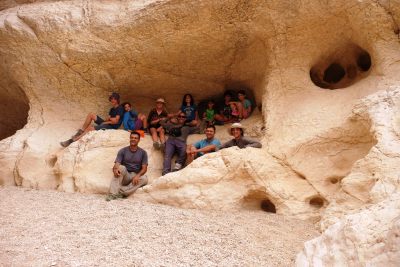 ---
The Braverman family (Mellie, Denise, Yahel and family) went to Aqaba during the Rosh Hashanah break and by all accounts had a fantastic time. They also visited the famous Wadi Rahm and Denise sent us this picture of herself.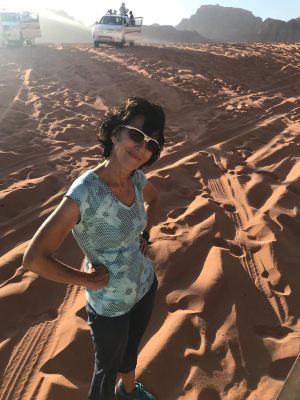 ---
Cinzia Tarazza's wedding.
Vanessa Tarazza sent us some pictures of the family taken at the wedding of her daughter Cinzia to Francois Mulder in March this year. Belated congratulations to Cinzia and family. The Australia Glassers came to South Africa for the wedding.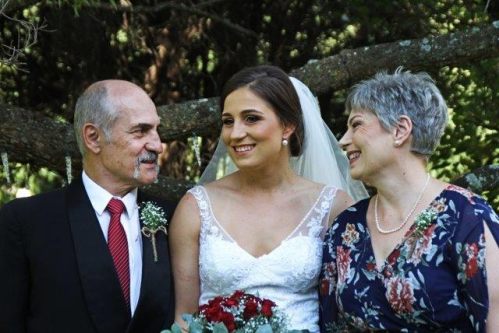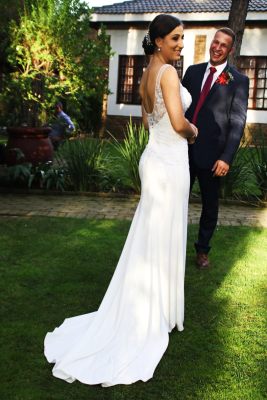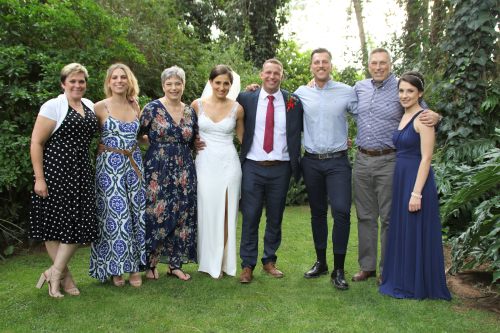 Giorgio, Cinzia and Vanessa Tarazza - Cinzia and Francois Mulder - Sue Glasser, Danielle Glasser, Vanessa Tarraza, Cinia and Francois Mulder, Mikie Glasser, Mark Glasser, Micaela Tarazza


See the Gordon/Glasser family tree.
---
September 2019 -
Rosh Hashana
At our Rosh Hashana dinner this year we'll dip an apple in honey symbolizing a sweet year in the traditional way ignoring the modern hi-tech method below.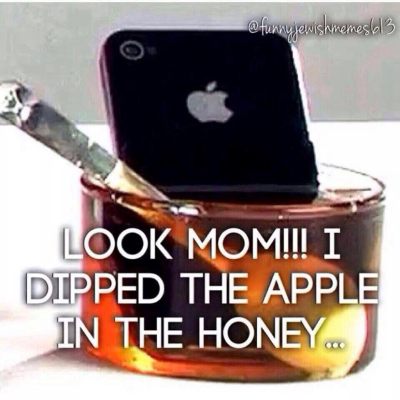 (Thanks to Ros in Australia for sending this to us - Happy New Year to the Hakim family!)
---
September 2019 - Vered in Mexico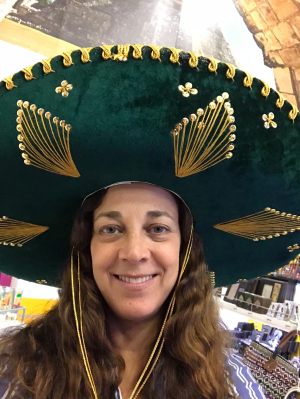 It's hard to keep track of the overseas business trips of daughter Vered Ron, but fortunately the pictures she sends give us a clue.
---
September 2019 - Wuhan, China
I am in Wuhan, the capital of Hubei Province, in the center of the country on the Yangtse River. Population over 13 million! I'm here to attend meetings of the World Bridge Federation.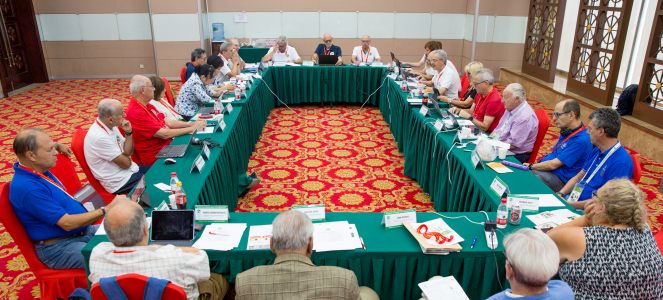 The opening ceremony included performances of Chinese song and dance (and too many speeches!)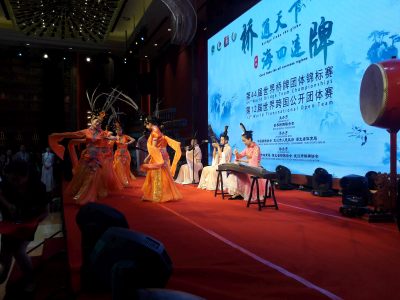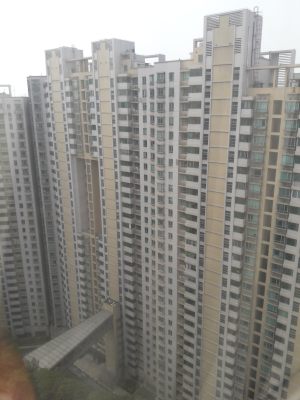 This is my third trip to China. The thousands of bicycles and ringing bells on my first trip have been replaced by non-stop traffic and incessant hooting of vehicles and scooters.
Even the progress I saw on my second trip 11 years ago is dwarfed by what I saw now.
On the way from the airport to the center I saw hundreds of completed or partially completed high rise residential buildings, grouped in neighbourhoods. .
By high rise I mean
high
rise - the buildings were 30 storeys or more high.
China now is a mix of traditional Chinese and Western civilization. Walking from my modern hotel along a main street there were rows of small specialist shops each selling a particular product usually of Chinese foods, but also some shops that are symbols of Western culture.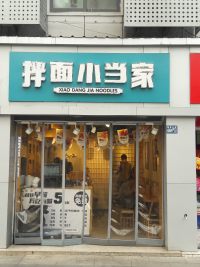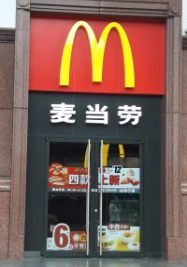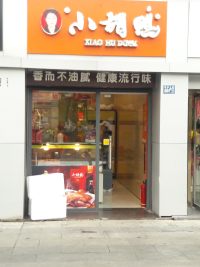 I took a short cut from my hotel to the Championship venue by walking through a large shopping mall containing all the well-known Western brands in large attractive shops. The car dealer dealt and displayed Toyota as well as the luxury cars Bentley, McClaren, Porsche, Rolls Royce and Ferrari. On the -1 level there is a super super market - the largest supermarket I have ever seen anywhere in the world and I've seen a lot of them.
---
September 2019 - A weekend at Sde Boqer with the family
While I was in Wuhan China attending bridge meetings, Doreen went down to Midreshet Ben Gurion (Sde Boqer) to the Segolis. The Eilati Levys also came and there was a "mini family reunion". Meeting for the first time were our dog Joanie and grandaughter Amit's dog Oreo. Fortunately they got on very well together. The family prepared sushi under the guidance of grandson Maayan who we have seen (and tasted) is an expert in this.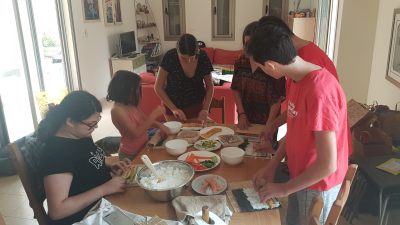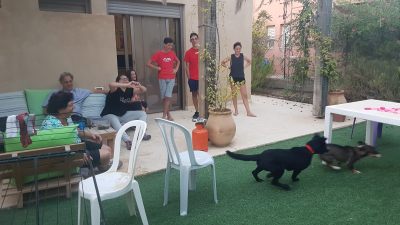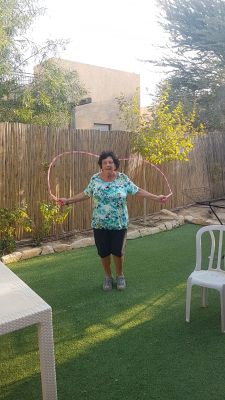 When we were in
Oslofjord
earlier this year Doreen was most impressed with the skipping
she saw at the World Rope Skipping Championships. She bought a competiton grade
skipping rope and showed (or I presume, attempted to show) what it was like.
Moran had hired a jeep and they drove to Ein Akev, a natural pool in the desert, where they swam and later ate the sushi they had prepared.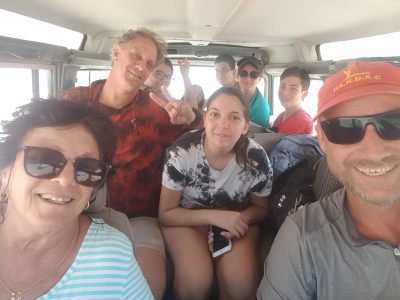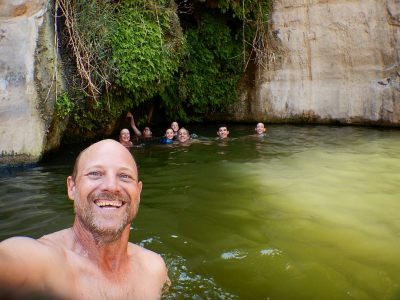 ---
August 2019
The Eilat Levys seem to agree with the English proverb, "More Hands Less Work" as they all pitch in helping in the kitchen - all except for Aviv of course, someone has to take pictures.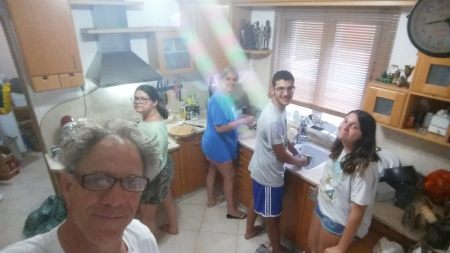 ---
August 2019 - The Rons visit New York
The Rons, Vered, Aviv, Danielle and Lior spent an enjoyable week in New York. They especially enjoyed the view from the top of the the wedge-shaped Flatiron Building - a National Historic Landmark - and a walk along the High Line, the old railway line turned park and walking path.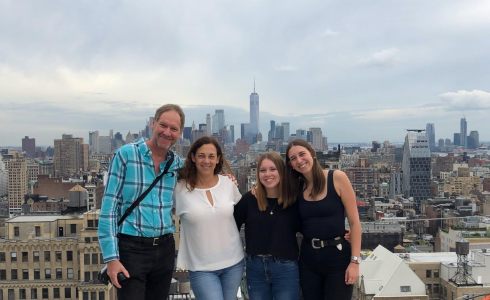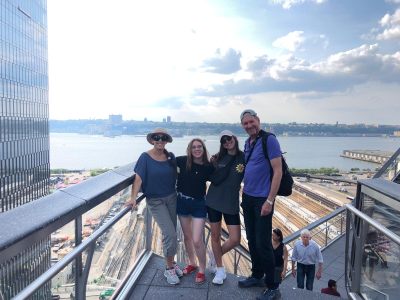 ---
August 2019 - Lotem paints her room
Granddaughter Lotem Segoli was not too happy with the colour of her room so she decided to repaint it, with the help of younger sister Zoe. It looks like they did a good job!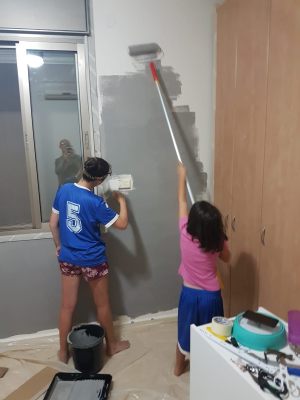 ---
August 2019 - The Levys and Segolis go on a coastal hike
Doreen with the Eilatis and Segolis and some friends from Australia went on a hike from Hof Dor to Habonim. Unlike the straight sandy coastline where we live, the beaches were covered with countless shells and were full of attractive coves and bays. It was extremely hot and they entered the water at every opportunity.
See another picture in the Archives of This Week's Picture.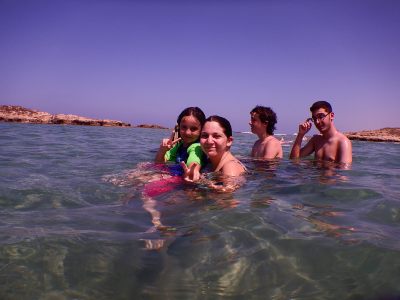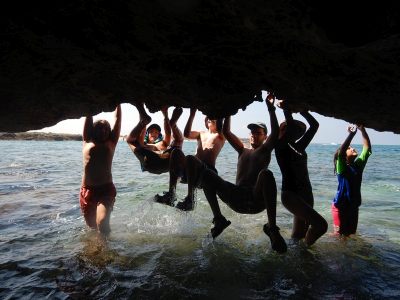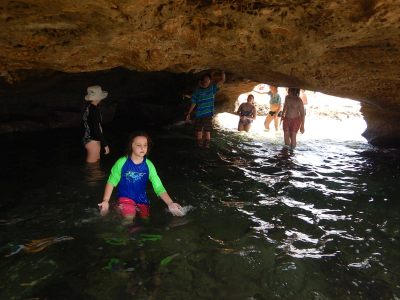 ---
August 2019 - The Levys and Segolis come for dinner
The Eilat Levys, son Aviv, wife Limor and Itamar, Amit and Ilai came for dinner on Thursday evening and slept over. On Friday the Segolis, son Moran wife Mikhal and Maayan, Lotem and Zoe joined us for a specially festive Friday night dinner deliciously prepared by Doreen with help from the grandchildren. Somehow we found room for 12 persons to sleep.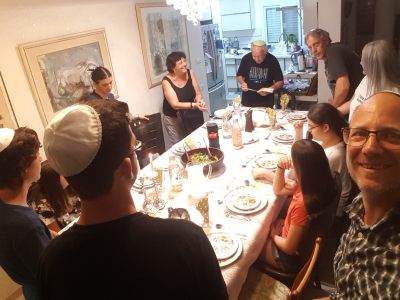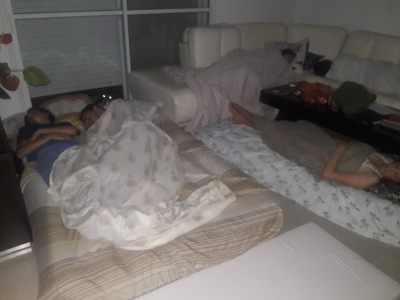 ---
August 2019 - The Segolis in Moscow
On the way back from their Mongolia trip the Segolis spent a few days in Moscow. Of course they sent me a picture of KFC in Moscow. Lotem made sure to have a meal at the Bar BQ restaurant that donates a portion of the cost of the meal to a fund for saving the tiger. (
see also from our trip to Moscow
)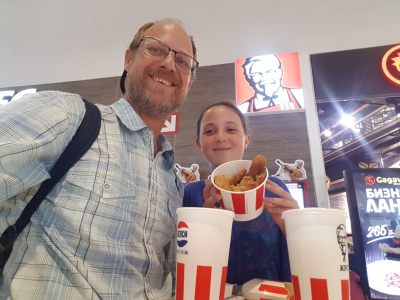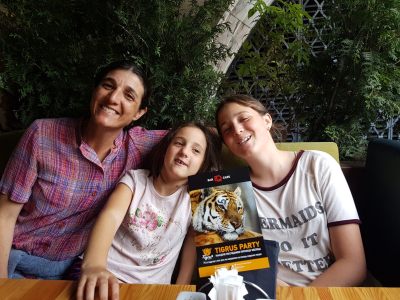 ---
2019 - Gabi Nathan
Gabi Nathan (
see Nochimovitz/Nickel family tree
) has received many awards for scouting (Arrow of Light, Camper of the Week.....). She is one of the first girls in what what was traditionally "Boy Scouts". We can all be proud of her.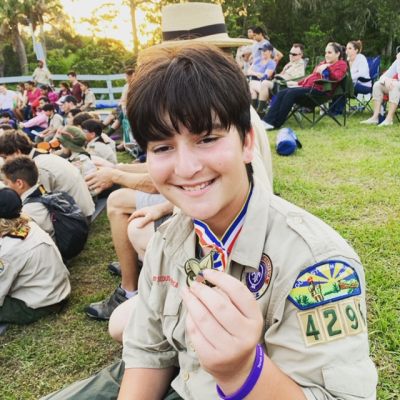 ---
July-August 2019 - Segoli family trip to Mongolia and Moscow
Some pictures from the Segoli trip to Mongolia. More pictures in the
Archives
, and on the pagers on the pages of
Maayan
,
Lotem
and
Zoe
.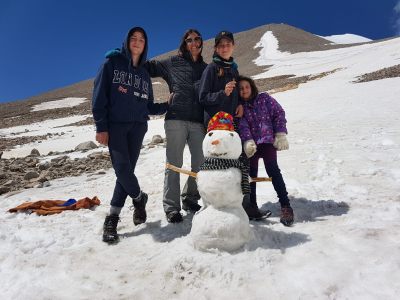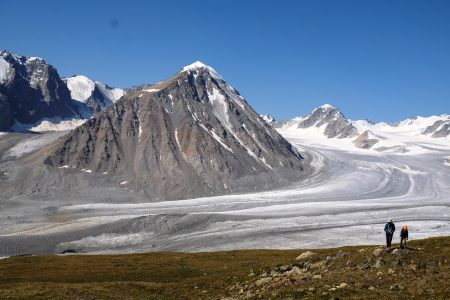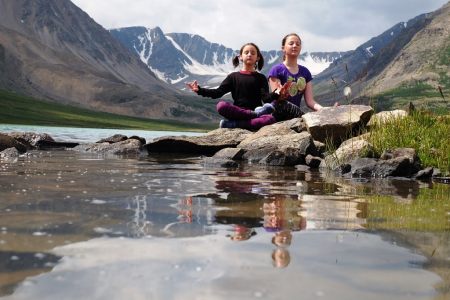 ---
July-August 2019 - KFC
The family know how much I like Kentucky Fried chicken and Doreen, Aviv, Vered and Moran regularly send me pictures of KFC in the various places they visit.
The Segolis in Mongolia, Vered in China, and (last month) Doreen in Istanbul.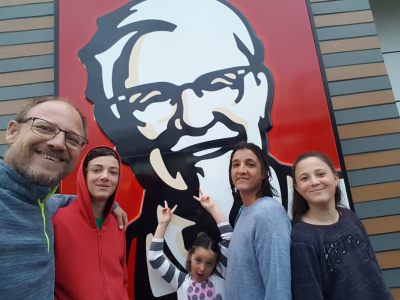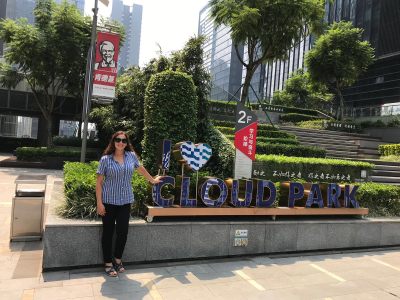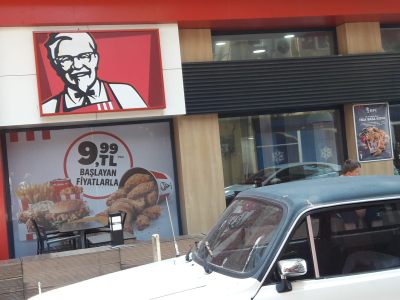 ---
July 2019 - Yaffa Loew (see Schank family tree) is a docent once a month at the local Museum at Mishar where she lives. Doreen, and friend Caroline Livneh. went to hear Yaffa's explanations and talks, and found it very interesting. Yaffa's sister Rochelle was also there.
Rochelle Kirshner, Doreen, Caroline, Yaffa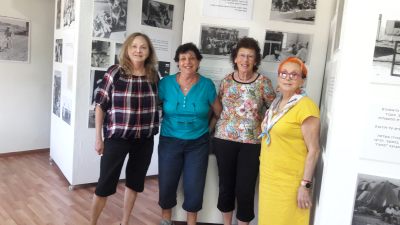 See also the Archives of This Weeks' Picture.
---
July 2019 - A visit to Paris
The pictures originally here have been moved, together with an account of the trip,
to this page.
( More pictures in
This Week's Picture Archives
,
Amit's page
and
Ilai's page.
)
---
July 2019 - the Segolis visit Mongolia
The Segolis, Moran, Mikhal, Maayan, Lotem and Zoe continue their visits to far-off places. During the next few weeks they will be visiting Mongolia. So far we have heard that it's very interesting and they have sent a few pictures.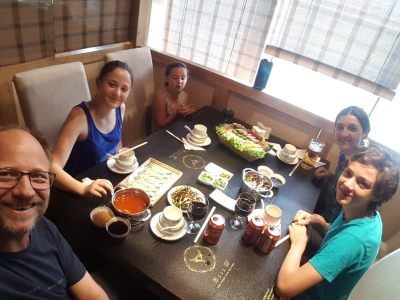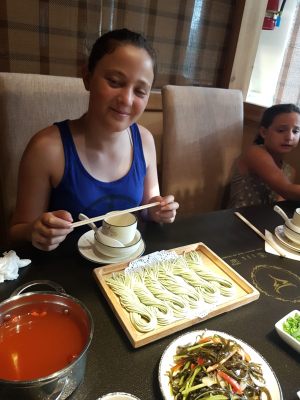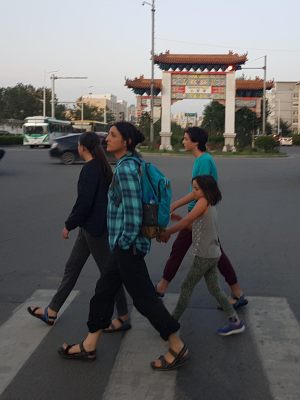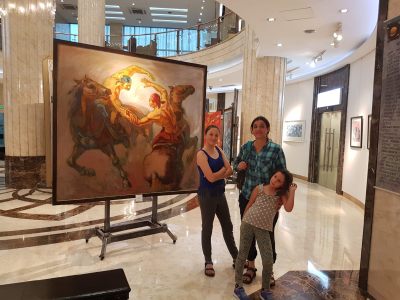 ---
July 2019 - During the summer holidays the Segoli and Levy grandchildren visited each in Eilat and in Sde Boqer.
While in Eilat they visited Coral World. (
See another picture of Ilay
)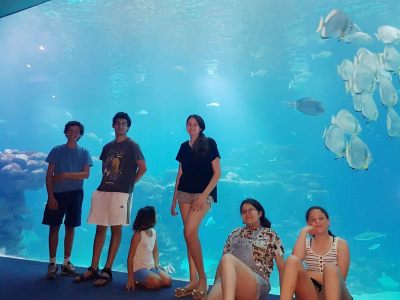 Maayan and Lotem dived with dad Moran. (see more pictures on the pages of
Lotem
and
Maayan
)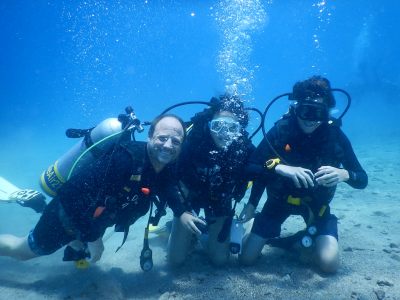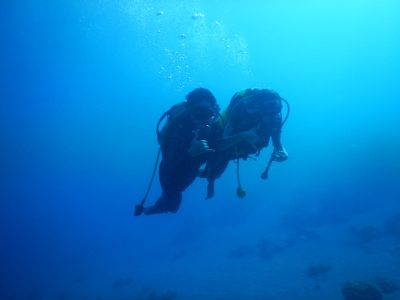 And, as Aviv posted
"I saw an amazing phenomenon while diving. Incredible!
Maayan and Itamar together without computers!!"
And, not to be outdone,
Zoe went snorkelling.
---
Doreen visits the "scorpion site"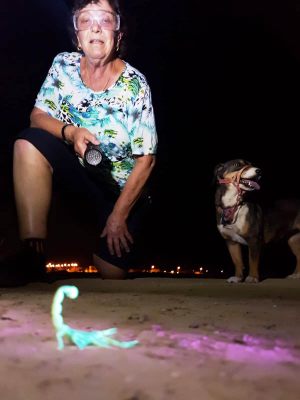 Joanie doesn't seem very intertested. Probably looking for someone to tickle her tummy,
---
July 2019 - Vigeland Park in Oslo
The famous Vigeland Park, with over 200 statues, an obelisk with carvings and a fountain, all the work of sculptor Gustav Vigeland, is a must for all visitors to Oslo. About 50 years ago we visited the park with daughter Vered. We remember how taken she was with a statue of a young child and how she wanted to hug the statue. So of course we had to visit the Park on our short trip to Oslo and take a picture of the statue. The statues represent people in everyday situations, and include subjects not usually depicted such as the old couple in the picture below..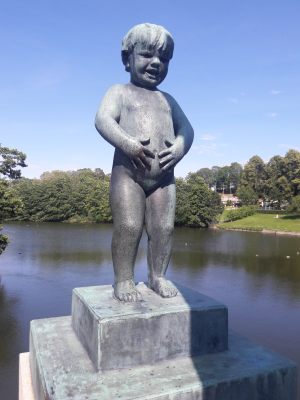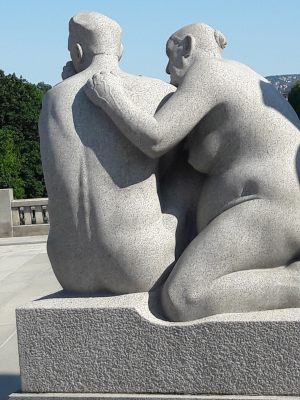 ---
July 2019 - Doreen helping at the Bridge Championships in Oslofjord
At the prize giving ceremony Doreen helped sort and distribute the medals.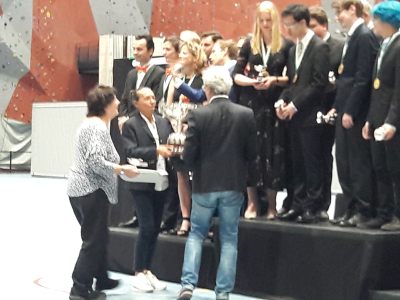 ---
July 2019 - Two more join the clan's divers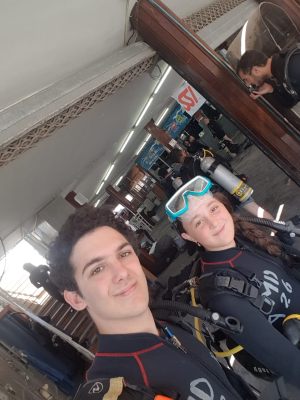 Grandchildren Itamar Levy and Lotem Segoli did a diving course in Eilat. (See also
Itamar's pag
e and
Lotem's page
)
---
July 2019 - The Klotnicks visit Moran's R&D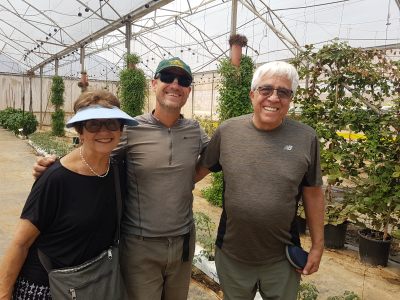 Moran took Beryl and Joel to see the R&D ("MOP") where he works
---
July 2019 - European Junior Bridge Championships
The Israel participants at the Championships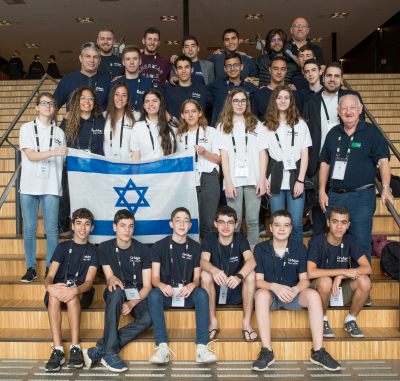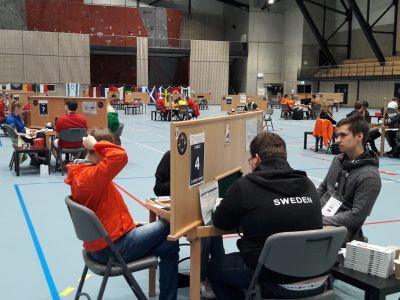 Some of the tables at play during the European Junior Bridge Championships held in the Oslofjord Centre Norway, the largest convention centre in Europe.

---
July 2019 - Cucumber time at the spa
The Segolis set up a "spa" in their lounge at their home in Midreshet Sde Boqer. Zoe, Lotem amd Mikhal try their cucumber treatment. Evidently Dad Moran was not too impressed, but he did try a potato treatment.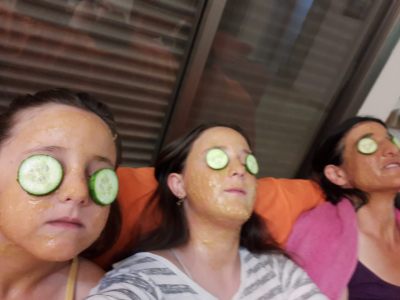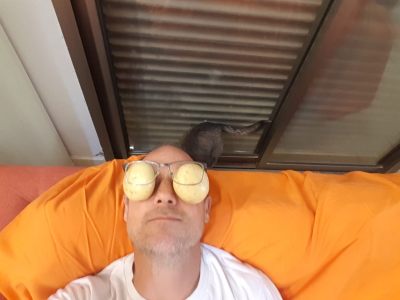 ---
July 2019 - The Segolis and Itamar at the pool
Zoe, Maayan, Itamar, 2 friends from Australia and Lotem pose for a group picture in the pool. (see
another picture
of the group looking at a scorpion)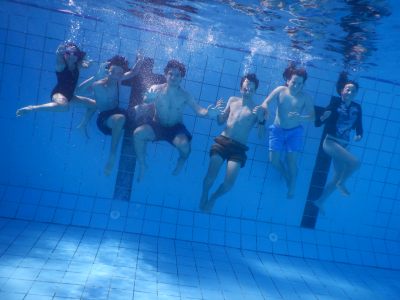 ---
June 2019 - A visit to Caesarea
As part of the June birthday celebrations (
see here)
Doreen took the family to the new exhibit at Caesarea which was of interest to all. However, the highlight of the visit undoubtedly was trying to stop the waves.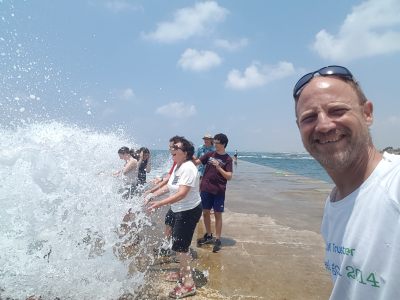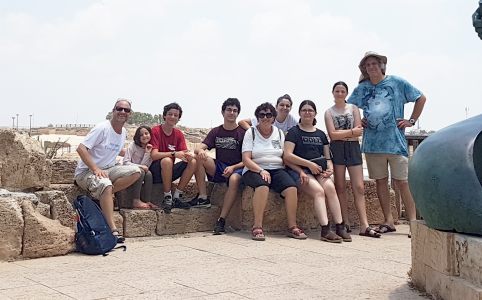 ---
June 2019 - Vered jumping
We were pleased to see that daughter Vered Ron, on a recent business trip to South America, had time for some fun.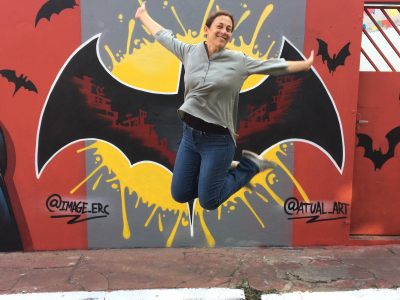 ---
June 2019 - Celebrating daughter Vered's birthday
Kisses from mother and daughters Lior and Danielle. Although living so far away, the Eilatis arrive first at the restaurant and wait for the others.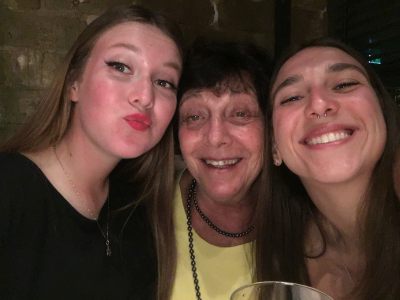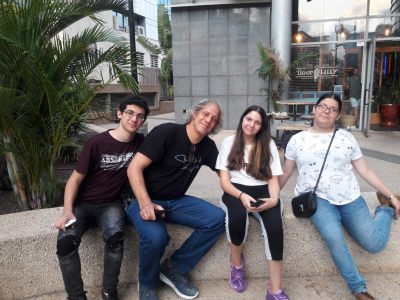 Click here
for another picture of Danielle and Lior.
---
June 2019 - Mikhal Segoli works and relaxes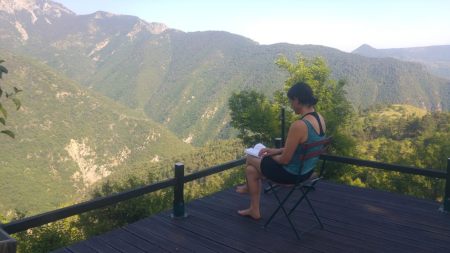 Mikhal is attending a conference in France north of Nice and had the opportunity to relax a little.

---
Istanbul June 2019
We are in Istanbul for the European Open Bridge Championships. Apart from the Championships which last just over two weeks, and at which I am an official, there were also meetings of the EBL Executive Committee over three days. (
see picture in the Archives)
Doreen spent most of the days touring the city, and visited the Blue Mosque with two "EBL wives", Nancy from the Netherlands and Maureen from Ireland; and enjoyed one of the many local markets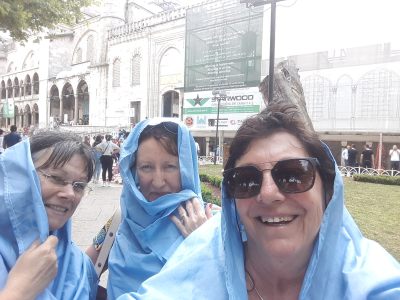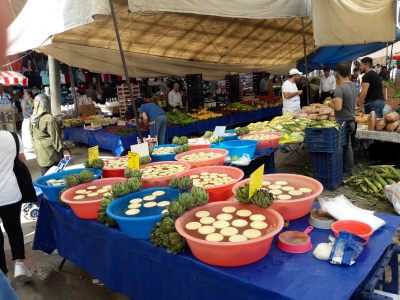 But the evenings were mainly spent enjoying the delicious cuisine of Istanbul.
Enjoying fish baked in salt in a fish restaurant right on the sea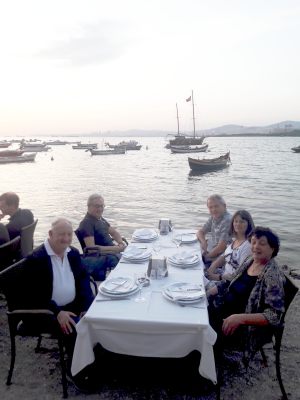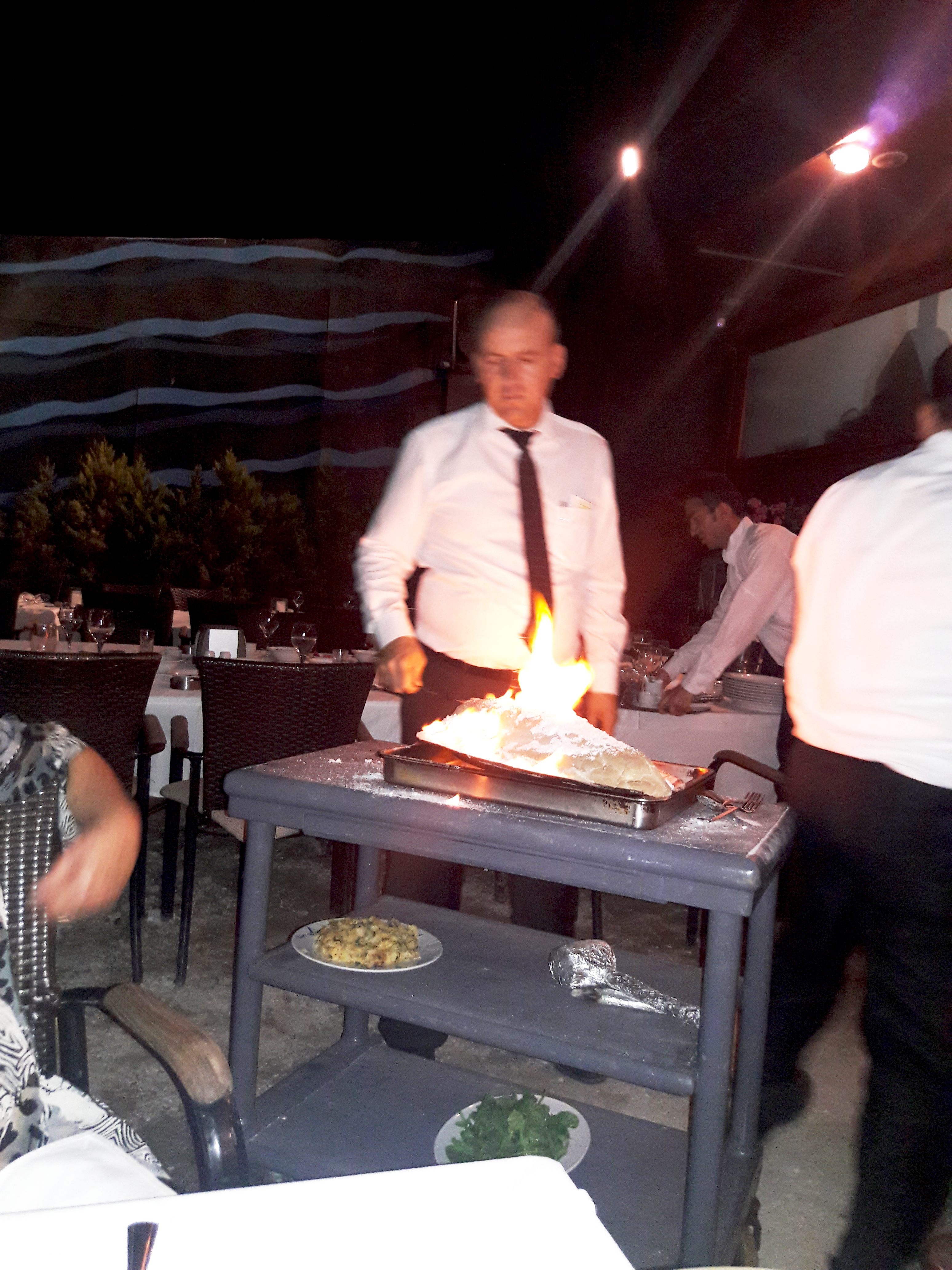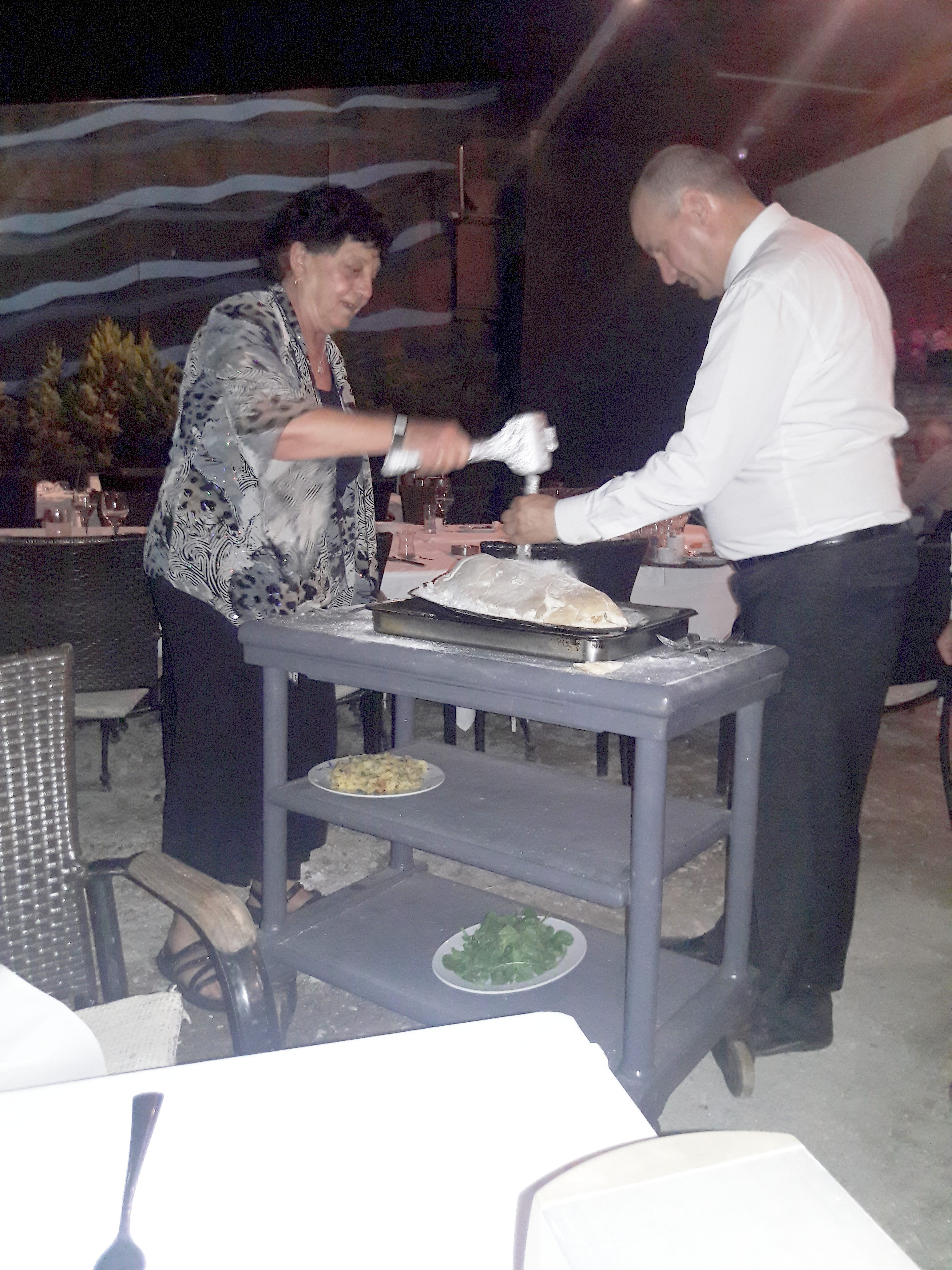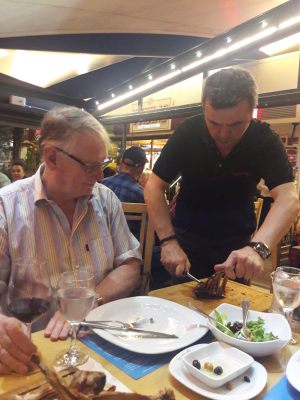 Rack of lamb - delicious and succulent at a restaurant with the friendliest and most helpful staff
we have ever envountered anywhere. We went there a second time not only for the food,
but to say hello to the manager!
We were royally and deliciously entertained by Sevinc Atay, a member of the Executive Committee from Turkey, at her home in Istabul,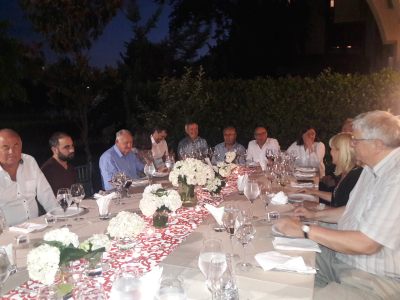 ---
21 June 2019 - Aviv Levy's birthday
Son Aviv Levy celebrated his birthday this week and his family took him to an escape room with the theme King Arthur and the Knights of the Round Table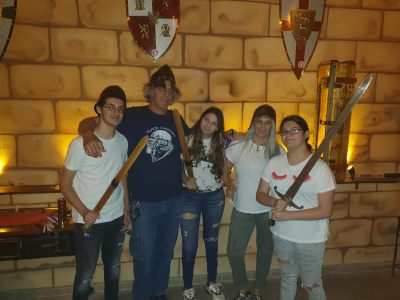 Itamar, Aviv, Amit, Limor, Ilai
---
June 21 - Doreen's 75th birthday
To celebrate Doreen's 75th birthday we went to an "Only Meat' restaurant in Jaffa to enjoy a steak and steak tartar.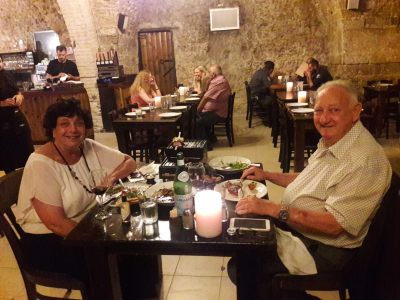 ---
June 2019 - The Abu Ghosh Music Festival
Shavuot is also the time of the Abu Ghosh Music Festival. We went to two performances and enjoyed them very much. Noam Heiman (
see Goldberg Family Tree
) is a singer in one of the performing choirs and we met him before the start of one of the performances.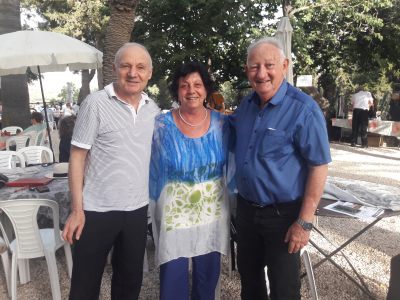 ---
June - jelly fish in Eilat
There was an "invasion" of jelly fish in the Eilat bay this week,and son Aviv Levy was quoted on a television article, assuring people that these jelly fish don't sting.. They also showed a short filming of the phenomenon that Aviv had photographed. Here is a still shot.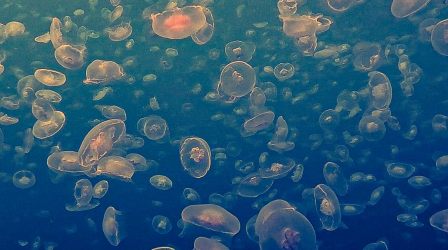 ---
June 2019 -
Shavuot
The Jewish holiday
Shavuot
is celebrated by many by folk dances to Israel songs. Here are grandchildren Zoe and Lotem Segoli celebrating at their school in Midreshet Sde Boqer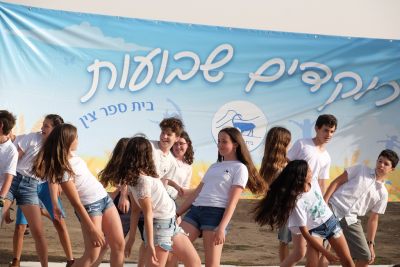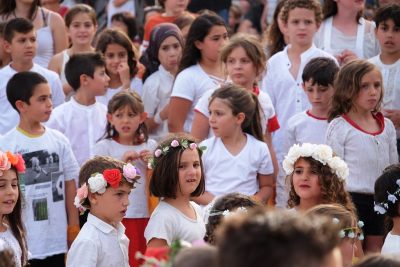 ---
June 2019
Doreen and I took part - unsuccessfully - in the Tel Aiv Bridge Festival held this week.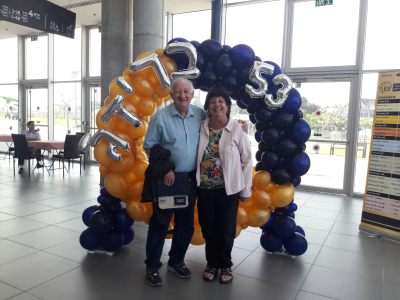 ---
Sailing in Greece.
Son Aviv Levy went on a week's sailing trip in the Greek Isles with some friends. He had an excellent trip and also enjoyed the views.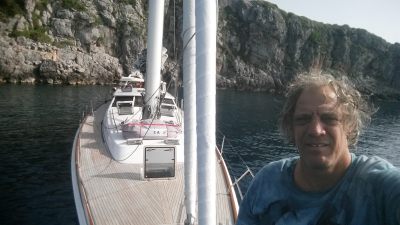 ---
Louis Nickel at work
Doreen's cousin Louis Nickel has started a new job working at Bardichev Humus in Haifa. We visited him there and could see why the restaurant is so
highly rated.
. See
Nochomovitz/Nickel family tree.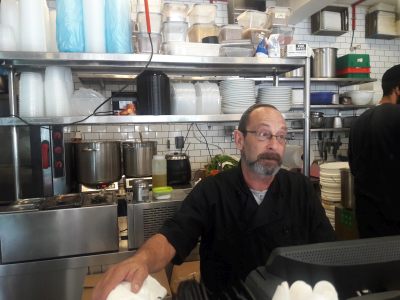 ---
May2019 - A visit to Eilat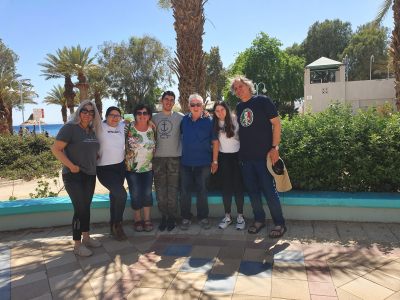 ---
April 2019 - Peter Royle's family
I was happy to renew contact with some of the Royle family, through an email from Peter Royle who lives in England. His family details have been updated in the
Goldberg Family Tree
and here is a picture of him with his 2 daughters, wife and mother.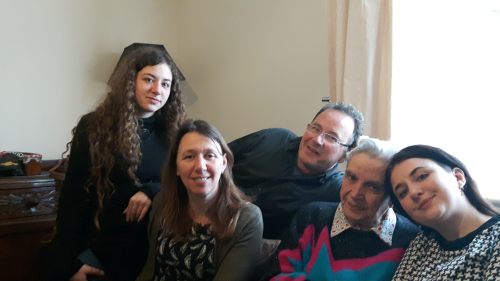 Chiara, Cinzia, Peter, Sarah and Orianna Royle
Peter's mother, Sarah nee Levy-Bencheton is a descendant of a family whose roots go back about 700 years to
Saragossa
in Spain. As Peter points out - THAT'S a family tree!
---
April 2019 - My 79th birthday
We celebrated my 79th birthday at home and were joined by Vered, Aviv and Danielle. Doreen went out of her way and prepared a delicious gourmet 4 course dinner.
see here.
And birthday wishes all the way from the Caribbean.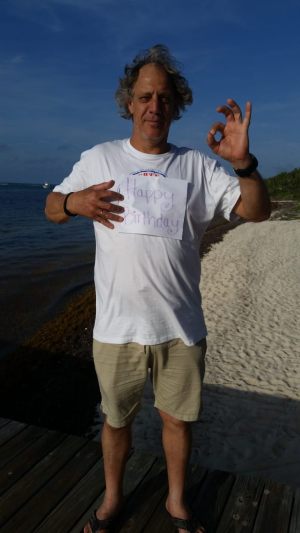 ---
April 2019 - Aviv in the Caymans
Son Aviv is in the Cayman Islands, in the Caribbean Islands. There he will be the diving companion of family friend Morris Kahn. Picured below are the pool area and a friend - all of which remind Aviv of the time we spent living in St Thomas in the Caribbean.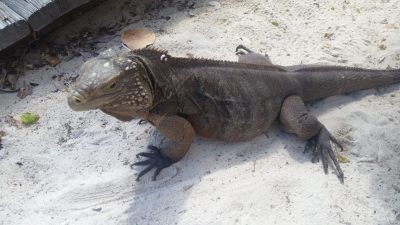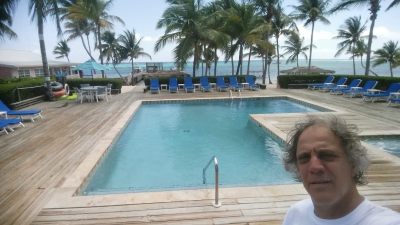 ---
April 2019 - The Segolis continue their hike in the Italian Apennines.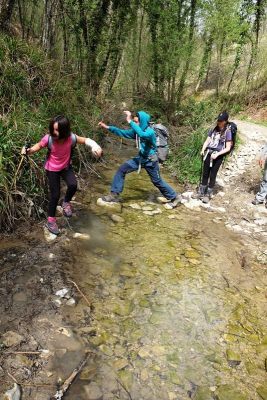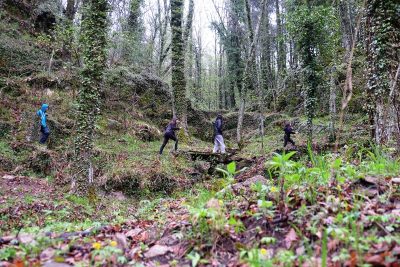 For more pictures, access the Segoli site in
English
or in
Hebrew
.
---
Pesach with the Braverman/Dvir family.
We were all most impressed with Rafael's excellent singing of the "4 Questions" and the traditional "
Chad Gadya
" song (with some modern touches) .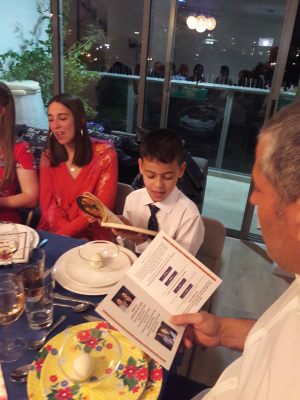 ---
The Segolis go hiking in the Italian Apennines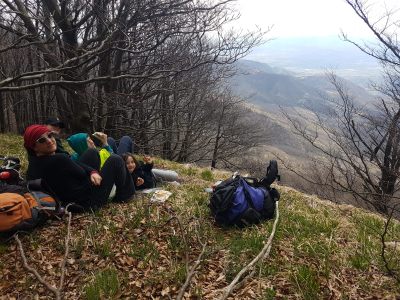 After the
24th Family Reunion
, the Segolis remained in Italy and went hiking in the Apennines.
---
The Eilati Levys in Rome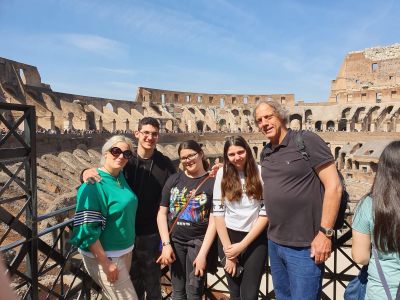 The Eilati Levys spent a few days in Rome after the
24th Family Reunion.
---
March 2019 - Purim
Purim is fancy dress time and the children - and adults - have a great time.
At Midreshet Ben Gurion at Sde Boqer there is a traditional adloyada - carnival - celebrated every year. The floats are prepared by the high school students. Grandson Maayan had a great time participating in the parade. Click on the picture below to see a few seconds of the parade.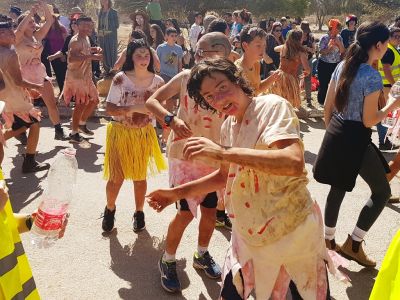 Purim is made for granddaughter Lotem who does wonders with make up. Look at what she did to her dad Moran, mom Mikhal and sister Zoe.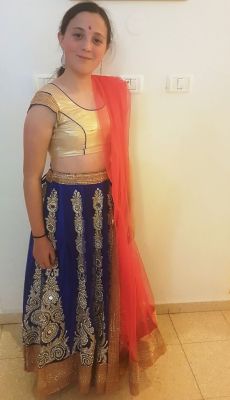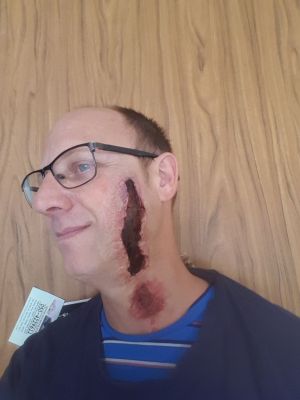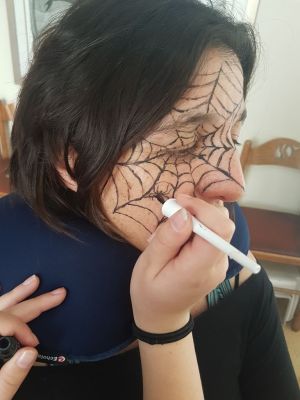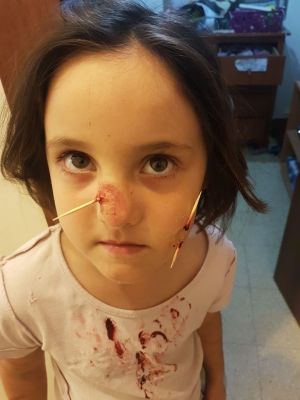 Granddaughters Danielle and Lior also dressed up. Grandaughter Ilai flew up from Eilat for a special purim party for Animea fans, and cousin Danielle took her their. Ilai is wearing a mask of the Tokyo Ghoul.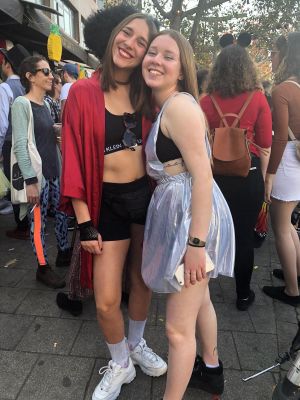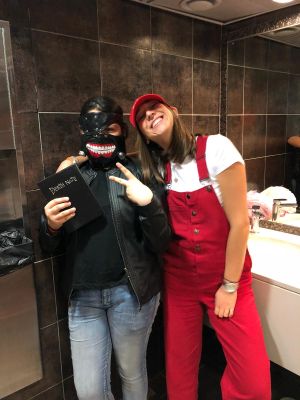 ---
March 2019 - A visit to Lausanne
Enjoying the traditional Fillet de Perche with Francoise and Pierre Collaros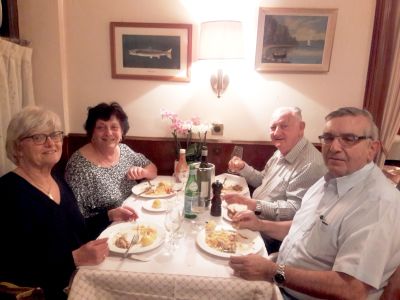 We re-visited some of our favourite places including: Vevey with the giant fork statue, looking like a picture on a Swiss box of choclates. At Gruyere where we were were fascinated by the robot in the centre of the aisle that looks after the cheese (turning it over etc), while at the Fornerod Patisserie in Morges we enjoyed coffee and looked at the chocolates made from donkey milk.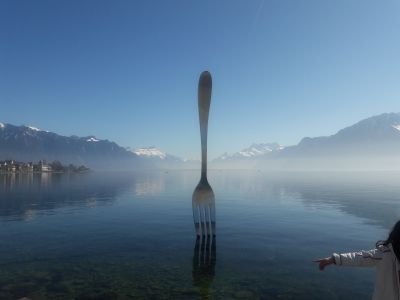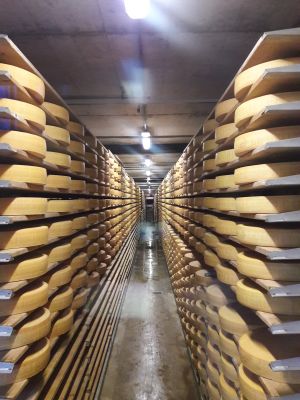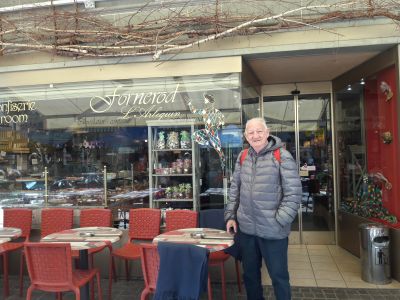 We drove to Gstaadt with the magificent mountain scenery. Doreen explored Lausanne with Cipi Rona, the wife of Gianarrigo, the President of the World Bridge Federation, here with the cathedral with its exceptional stained glass windows in the background. We discovered a wonderful restaurant Cafe du Village, only a 3 minutes walk from the home of Francoisse and Pierre.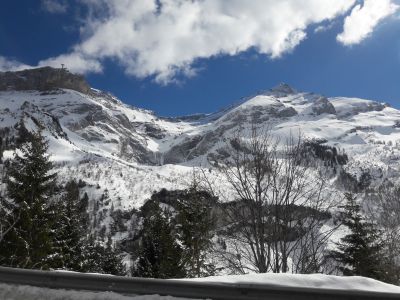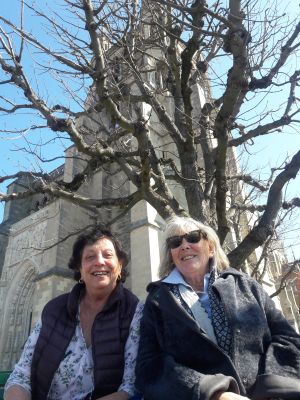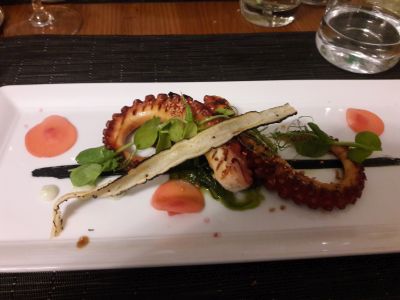 ---
March 2019 - Granddaughters Lotem and Zoe Segoli perform the dance scene by Ross and Monica from the sitcom
Friends
.
Click on the picture below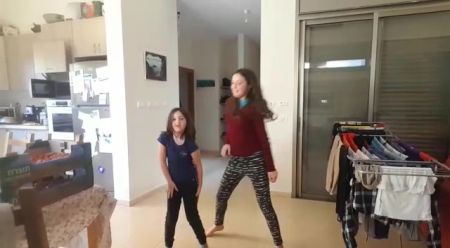 ---
February 2019 - still in Lisbon
Doreen writes about her touring first with grandchildren Maayan and Lotem, then by herself:
On the way to visit Evora we drove over the Vasco da Gama Bridge - 12 km over the Tagus River. We were a little disappointed to learn that it was not the longest bridge in Europe, but it was still a great experience.
In Evora we visited the Bone Chapel inside the Sao Francisco Church. Decorated entirely with bones of skeletons, above the entrance is carved: "We bones that are here await yours." We left them disappointed.
We also visited the Cromlech of Alamendres, 95 huge stones marking the equinoxes.. A few years ago we visited Stonehenge with Itamar and Maayan, but these are even older,.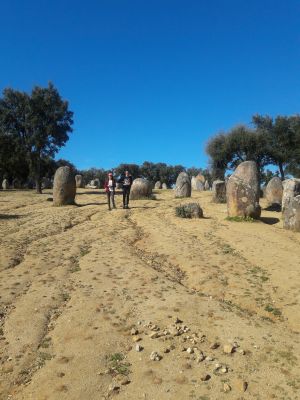 At Sintra we took a
tuktuk
up the steep mountain and then explored the colorful Palacio da Pena, the disney-like castle from every angle.
See another picture on Maayan's page.
)
Afterwards we went to the Initiation Well at Qunita de Regaleira, which involved a lot of walking uphill....and downhill.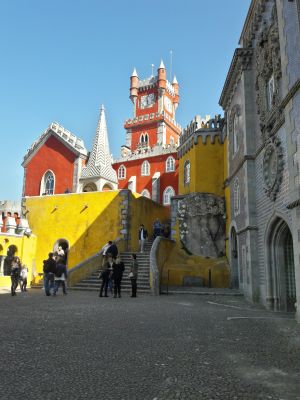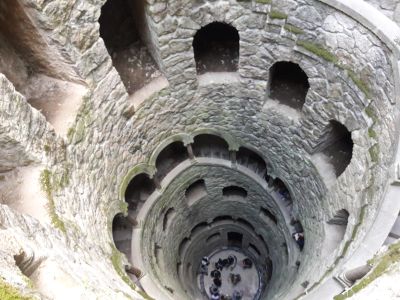 After the grandchildren returned to Israel I took a ride on tram 28 through the city, amazed how the trams climb the torturous hills on narrow, narrow streets. In the middle of the city there is the Justa Elevator, considered public transport. The metro ticket is valid for the elevator but one has to pay to climb the narrow steps for a great view of the city.
\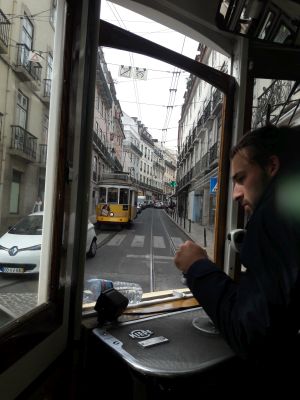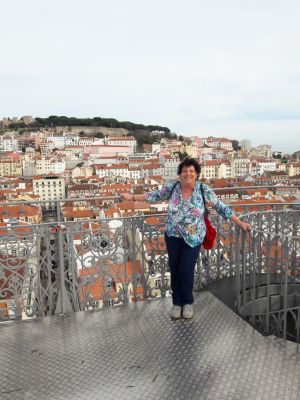 For more pictures of the Lisbon visit see
below
, the pages of
Maayan
and
Lotem
, and the Archive pictures
here
and
here
.
---
February 2019 - A visit to Lisbon with Maayan and Lotem
Doreen and the two grandchildren accompanied me to Lisbon here where I am officiating at the European Mixed Teams Bridge Championships. While I was busy with the bridge Doreen took the children to see a little of Lisbon and Portugal.
On the first day they went into Lisbon centre. Lisbon is very hilly and they walked their feet off as they climbed monuments and walked up and down the hills.On the way they stopped, not only at the oldest bookshop in the world, but also refreshed themselves many times (for energy?!) - ice roll specially made for Lotem - at the first coffee shop in Lisbon -at Alcoa for their famous pastries - lunch at Timeout - and enjoying noodles.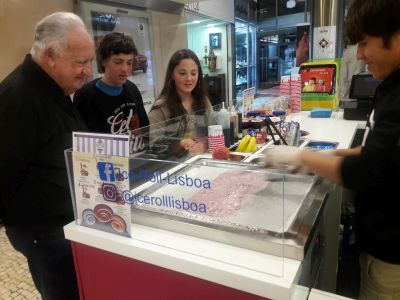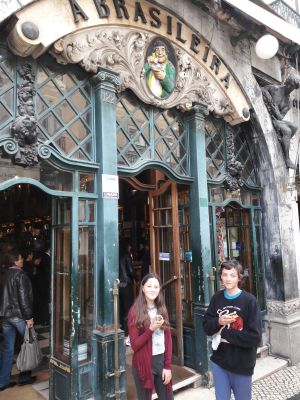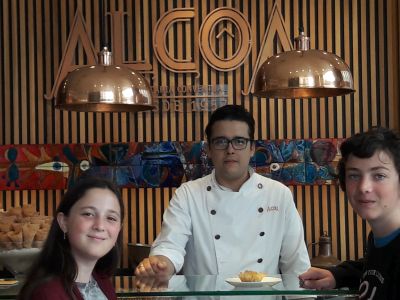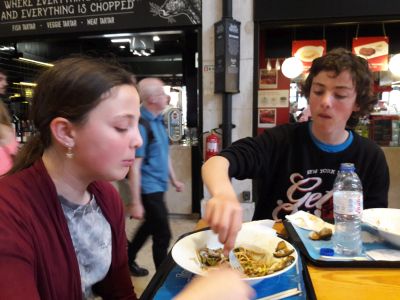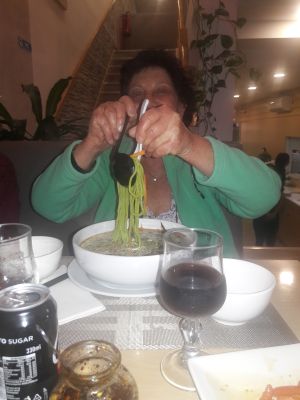 Doreen hired a car and off they went to see some of the area's beautiful nature, such a Boca da Inferno, with its waves smashing over the rocks. Boca do Roca, the westernmost point of Europe was just as impressive with its dramatic coastline and thinking there was nothing between them and the Americas except the Atlantic Ocean.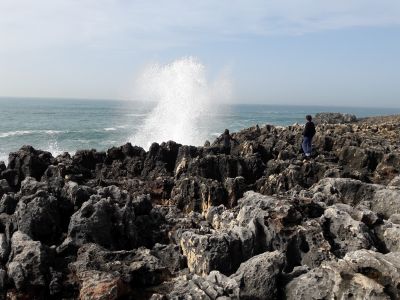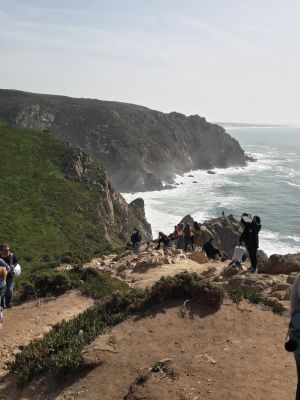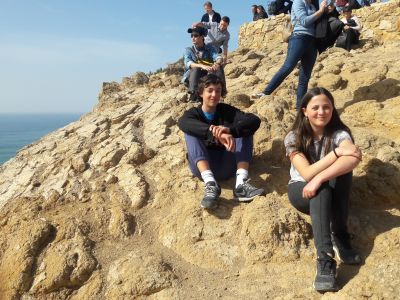 See more pictures on the
Archives page
and on the pages of
Maayan
and
Lotem
---
February 2019 - A new relative!
We were delighted to hear some months ago from Devra Hock, a relative on the
Nochomovitz side
, who would be in Israel to attend a meeting in Israel of a Museum Research Group as part of her studies for a Ph.D in paleontology. We have never met her or her parents but have met quite a few other Hock relatives
(for example, see here.)
. Over the weekend we got to know her as friendly and articulate. Her visit culminated in a Friday night family dinner, before her flight back home to the States.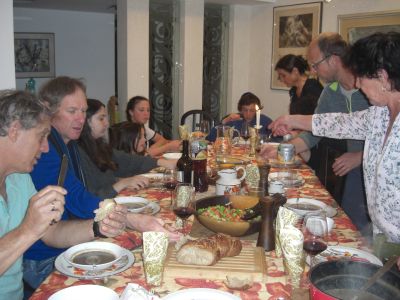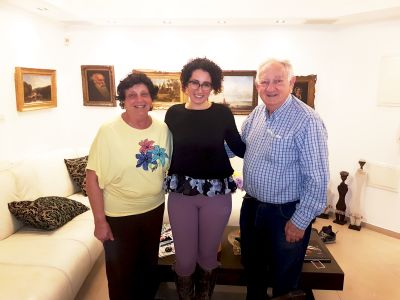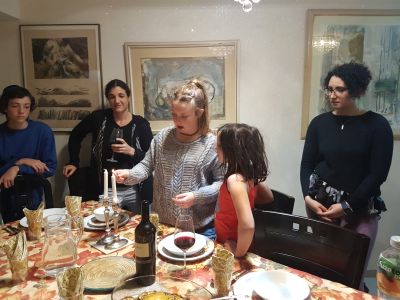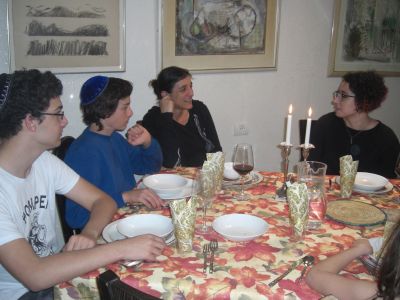 ---
February2019 - In Antalya for the Bridge TD Course
Grading test papers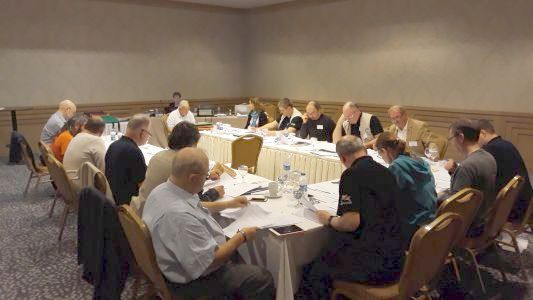 During the bridge course in Antalya (
see here
) I was busy and only managed to see a little of the city during the last afternoon, but Doreen had time to get around and see some more of the area.
She rented a bicycle and went on a long ride,even uphill!. She also visisted Perge, an ancient Roman city mentioned in the New Testament, and the Kursunlu Falls.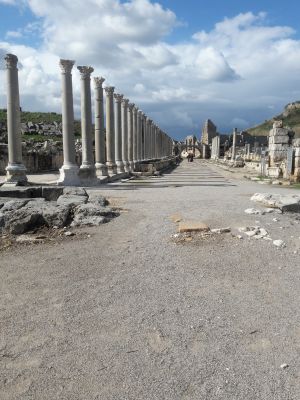 Some of the big advantages of these bridge events are meeting people from other countries, and meeting up with old friends and acquaintances.
Doreen went on a short tour with Mandie from England and Trish fom Australia and enjoyed the Duden Falls; and on the last afternoon we had the opportunity of seeing the port with Ton Kooijman (Netherlands) and Laurie Kelso (Australia) - both of the World Bridge Laws Committee, - and Catherine Vitry, secretary of the European Bridge Leahgue.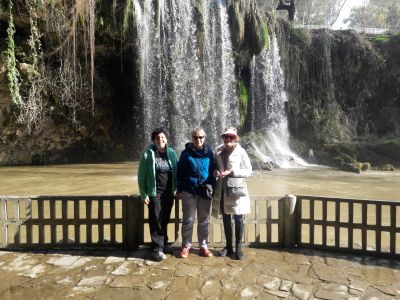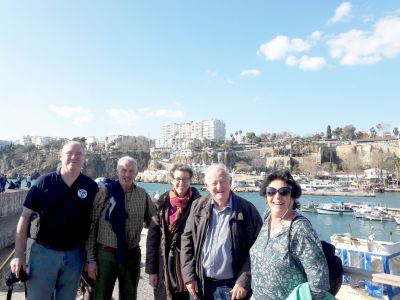 ---
February 2019 - Celebrating the birthdays of Ilai and Moran
Two days and a few decades separate the birthdays of granddaughter Ilai (28 Jan) from son Moran (30 Jan) and Doreen decided to invite the whole clan for Friday night dinner. 14 of the 16 (both AvivR and Dani are overseas) came from Herzliya, Sde Boqer and Eilat. It's a real pleasure to see how everyone enjoys being together and that the children get on so well.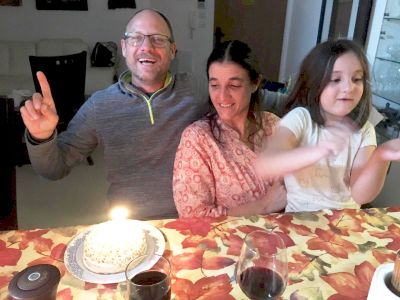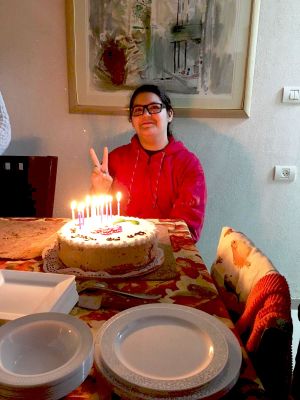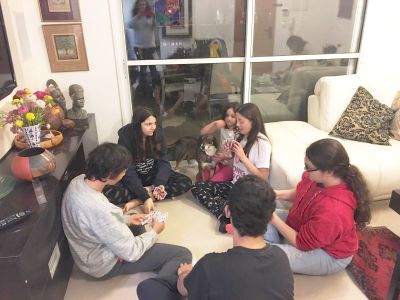 ---
January 21 - Dinner with some Reijzer grandchildren
We had dinner at daughter Vered's home and were happy to again meet newly married Jonathan and Alexandra Keyson , and Nadav Keyson
---
January 2019 - A quick visit to London
Doreen and I spent a week in London and were happy to see some old friends and relatives again.
We enjoyed meerting and having lunch at TPT our favourite Chinese Restaurant with long-time friend Shirley Poluck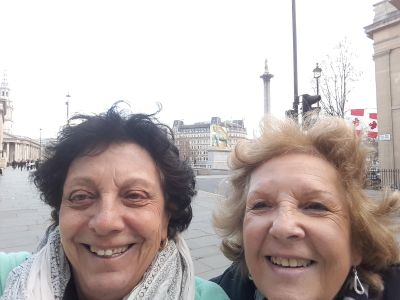 We visited Bletchley Park where, during the war, Alan Turing and others developed the codebreaking machine, the Bombe, to break the German codes generated by their Enigma machine. The move
The Imitation Game
was based on this.
It was a fascinating and worthwhile visit.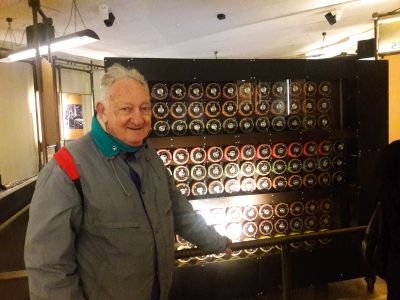 In front of a full-size model of the Bombe
We had dinner with Marianna and Bill Pencharz in a Polish Restaurant they used to frequent many years ago, and we all enjoyed the traditional Polish-style food.
Bill was President of the European Bridge Leauge when Eitan restarted his bridge career some 20 years ago. Doreen and Marianna became very friendly and
traveled to Timbuktu together
. We have remained good friends for a long time.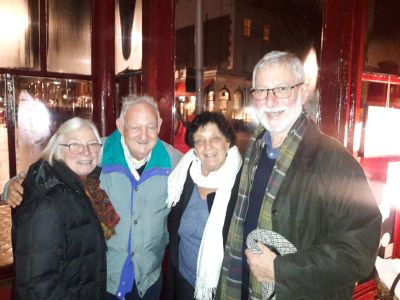 Frankie was one of Doreen's best friends before any of us were married, and when Frankie married Eitan's cousin, Vivian Klaff, that only cemented the friendship. (see
Vivian's memorial page
.). We were also friendly with Dave Rothschild before any of us were married , and when Dave and Frankie married a few years ago the close friendship between the four of us just came naturally.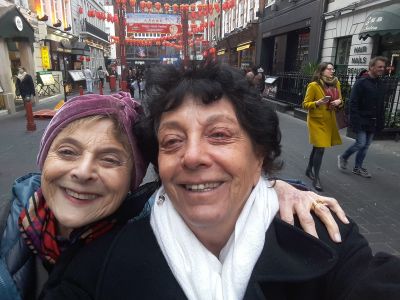 ---
December 2018 - January 2019: Moran's trek in Ethiopia
Son Maayan Segoli returned this morning from a six day trek with 2 friends, Eran and Kagan, in the Simian Mountains of Ethiopia. He reports a wonderful experience, including seeing the unique Gelada monkey ("bleeding heart monkey") found only in Ethiopia.