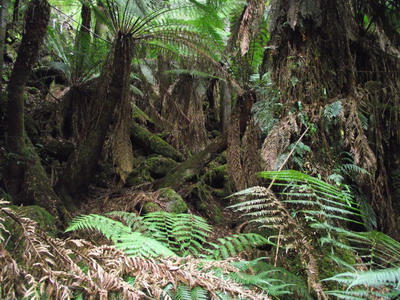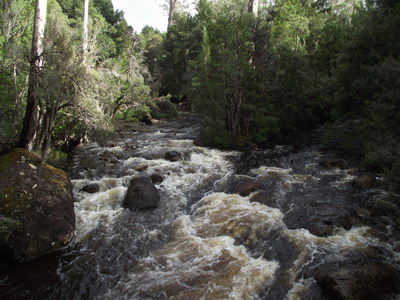 We left Hobart, travelled north, and spent the next few days walking in Lake St Clair- Cradle Mountain National Park.
It's hard to describe the differences between the various walks. The overwhelming impression was of pathways that wound between towering eucalyptus trees reaching for the sky. Holes in the canopy were formed by old trees crashing to the ground, usually due to fire damage. The old trees and the growing trees were covered with a variety of beautiful ferns and mosses. By looking through a metal pipe we were invited to measure the height of a eucalyptus tree regnans and correctly figured out that it was 79 meters high. These trees are the highest flowering trees in the world and only start flowering after they are well over 150 years old! (Redwoods are taller but they are pines and don't have flowers.)
The pathways wound alongside and over rivers and rivulets at Nelson Falls, and in Mount Fields National Park.
We went to see "The Wall in the Wilderness" by Greg Duncan. It is a 100 metre long wooden panel with sculpted figures carved into it depicting the early stages of British colonization of Tasmania, the backbreaking projects of building infrastructure and the heavy price the men and women paid. One heartbreaking panel showed a woman and her son laying a flower by a grave. Their dog lies inconsolable as his head rests on his paws and even the tired horse tied to their wagon, has his eyes closed and is so sad. The sculpturing was impeccable and since it is a work still in progress – spanning 10 years, parts of it are still not started and other parts not completed. www.thewalltasmania.com
We had our third seder this year,
this time with the Segolis
at Lake St Clair. Kneidlach, haroset, maror and matzo with all of us reading the Haggadah. Quite an achievement at the end of the world! (see pictures here)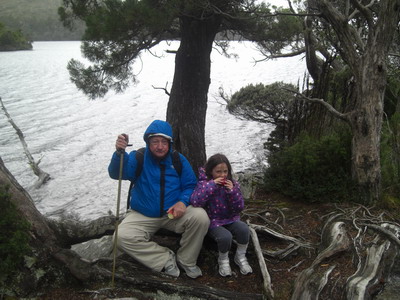 When we moved to Cradle Mountain we walked around Lake Dove. We were at 1000m and had to dress really warmly. I wore three long sleeved shirts, two pairs of trousers, a fleece, balaclava, scarf, and wind breaker

against the extreme cold and biting wind… and was still freezing cold in exposed areas!

But once in the forest the wind died down and it was a delightful 3 hour walk around the lake.


It must be mentioned how impressive Maayan and Lotem were. Although cold and hardly managing to walk against the wind they never complained. Zoe wrapped up in a baby backpack and plastic raincoat was as cozy as in a cocoon.
That evening, after an afternoon snooze we went for a night tour to spot animals. We saw wombats, Bennett's wallabies, and pademelons.

We then stopped at the Tasmanian Devil and quoll station and learnt about these strange animals.
Both the Tasmanian Devils and their relative quolls kill their prey by biting into the back of the neck at the base of the spine – unusual as other predators tear out the throat of their prey.
The Tasmanian devils are voracious eaters and after seeing two animals tear
apart
a piece of animal meat we believe them!

I will spare you a description of how the Devils eat through their prey from bottom up. The Devils are an endangered species and their situation is being worsened by a specific and contagious fatal cancer that is spreading throughout the Devils in Tasmania.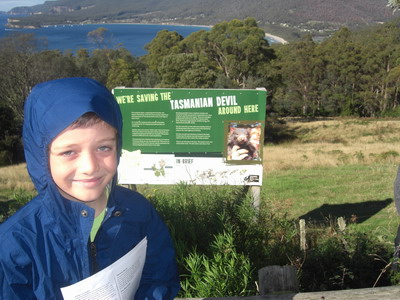 We had seen some animals in the wild - like this wombat - but in the morning we were delighted by a visit by pademelons on the veranda of our hut.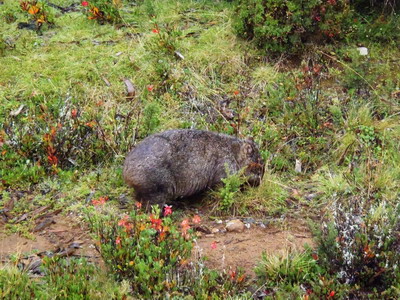 In the afternoon we had to repack in preparation for looking after the kids for three days while Moran and Mikhal went hiking, and we continued northwards to the Latrobe area.