Segoli's in Australia
Click here for previous Segoli's in the USA
Click Here for Hebrew version of site
2013 - Jan-Feb; Tasmania; Mar-Apr; May (Hinchinbrook);Jun; Jul-Aug; Sep; Oct; Nov-Dec
2014 - Jan (Thailand); Feb; Mar; Apr; May; Jun; Jul; Aug
Click here for the new Segolis in Israel
July – August 2013
For our tenth anniversary on July 10th we went on a diving safari in the Great Barrier Reef- the largest coral reef in the world.
After a 3 hours cruise we arrived at the first site and jumped into the water. Within 5 minutes we saw a turtle and immediately after that a shark, not to mention all the fishes and other sea creatures. Altogether we dived 11 times including 2 night dives (one of which Moran missed because he had a job phone interview on the boat!). Between dives we rested and ate a lot.
Every time we came out of the water there was a meal or at least coffee and cake waiting for us. The crew took care of everything and all we had to do was jump into the water. It was great!
| | |
| --- | --- |
| | |
| On the way to the reef, just before throwing up | Before the morning dive |
In August we went to Kakadu national park in north-central Australia. The park is larger than Israel.
We traveled with Andrey and Yulia, good friends from Israel
The park includes red sand stone hills surrounded by savannas and flood plains.
| | |
| --- | --- |
| | termite mounds |
It was very hot but we couldn't swim or even get close to the water, because it was infested by salt-water crocodiles.
We were compensated in the afternoon when we went swimming in the pool at the campsite and cooling down in the sprinklers whenever possible.
In addition, we saw lots of water birds including herons, pelicans, geese and many parrots.
| | |
| --- | --- |
| Sulphur-crested Cockatoo | |
We also saw a lot of kangaroos and wallabies
| | |
| --- | --- |
| Possum | |
| | A kangaroo breast feeding her juvenile |
Most of the park is under aboriginal authority with tribes that are still practicing traditional ways and many traditional rock paintings. Before the arrival of the white man in the previous century most of Australia was populated by aboriginals. In contrast to American natives that had developed agriculture, large cities and writing, aboriginals lived as hunter gatherers till modern times (If you want to understand how come, you can read the book "Guns, Germs and Steel" by Jared Diamond).
We joined a few guided tours to learn about their arts and culture (though we must admit that at some point we had enough of it).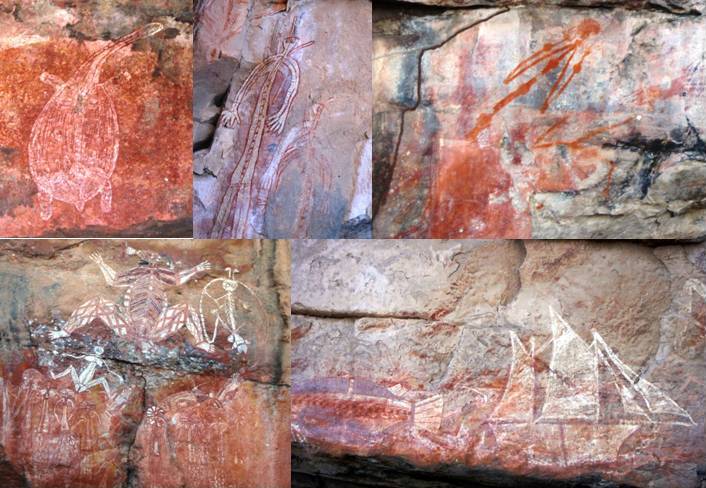 Typical rock paintings and a sailing boat from 1850
Finally, we went to Kathrine Gorge NP, a park with a beautiful red stone gorge. We walked 6 kilometers along the gorge until reaching a point where we could swim in the water (no salt water crocs there!) We spent a few hours before heading back on a boat.
| | |
| --- | --- |
| | |
| | Moran and Lotem jumping into the river |
Next month- Sydney and the Blue Mountains…